CARLTON young gun Sam Walsh has been recognised for his remarkable and record-breaking first season in senior football, claiming the NAB AFL Rising Star on Friday.
The overwhelming favourite for the award, Walsh polled 54 out of a possible 55 votes to claim the Rising Star in a landslide from Connor Rozee and Sydney Stack.
>> CHECK OUT THE FULL RISING STAR VOTES BELOW
The No.1 pick in last year's NAB AFL Draft, Walsh handled the pressure and expectation of his maiden campaign with class and composure to compile a stunning first year of football.
He averaged 25.1 disposals, 5.1 marks, 3.4 clearances and 3.2 tackles per game, breaking the record for most touches amassed by a first-year player in Champion Data history.
In claiming the Rising Star, he becomes Carlton's first ever winner of the AFL award.
Port Adelaide's classy forward Rozee finished in second place with 42 votes, while Richmond's Stack finished third with 28 votes after a fantastic year off the rookie list.
Bailey Smith and Gryan Miers rounded out the top five in voting.
Walsh earned his Rising Star nomination in round four, following a performance against Gold Coast that yielded 28 disposals, seven clearances, six marks, six tackles and a goal.
ALL THE NOMINEES The 2019 Rising Star class
It sparked a campaign that saw the teenager win more than 20 disposals in 19 of his 22 games, as well as winning more than 30 touches in a further four matches.
Carlton now has both of the current AFL and AFLW Rising Star winners on its books, with talented midfielder Madison Prespakis claiming the women's award back in April.
It follows Collingwood winning both of the AFL and AFLW Rising Star awards last year, when Jaidyn Stephenson and Chloe Molloy claimed the honours.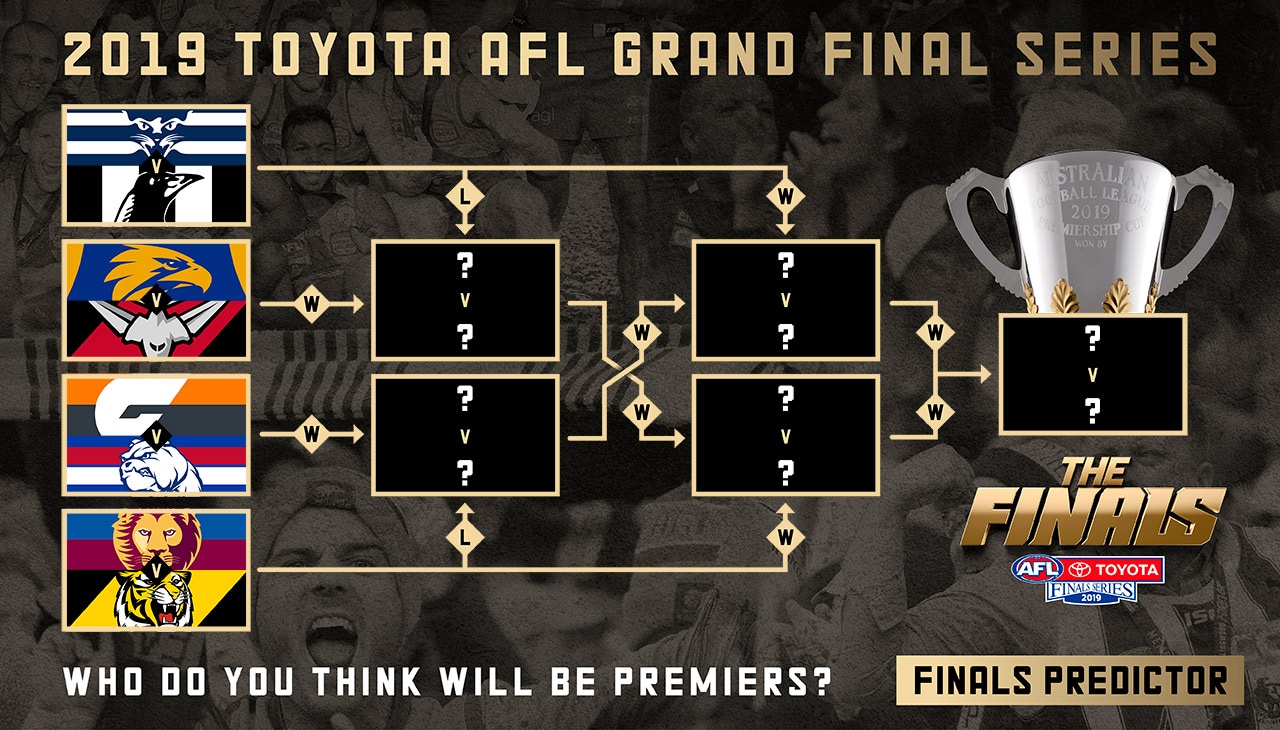 "It's a bit surreal," Walsh said.
"There are so many moments from this year that I'll look back on and just think 'did that really happen?' This is one of those moments.
"It's something that I have dreamt of, but I never thought it would happen. It's a bit of a crazy time, really."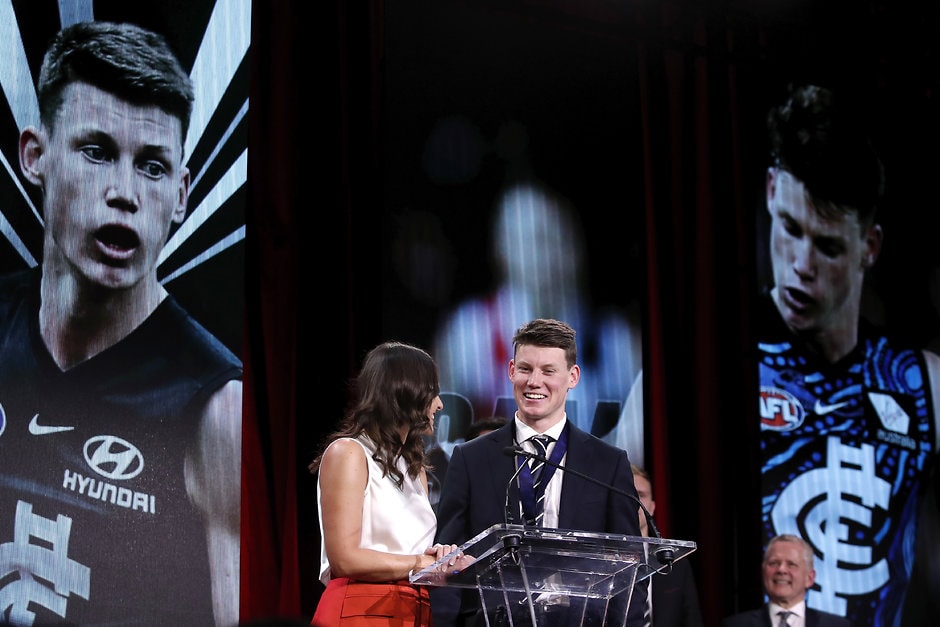 The award comes barely 24 hours after Walsh claimed the AFL Players' Association Best First-Year Player honour on Thursday night, making it a memorable week for the youngster.
However, with an attitude that resembles his work ethic on the field, Walsh immediately turned his attentions to next season and his desire to improve as a player.
FINALS PREDICTOR Who will win the 2019 premiership?
"It's been amazing, the past two days," Walsh said.
"I'll enjoy it now, but I'll move on pretty quickly I reckon. The footy world doesn't wait for anyone and if you don't put in the work, you won't get the reward.
"I've always put pressure on myself to perform, but I know that if I put in the work I'll probably be in a good place."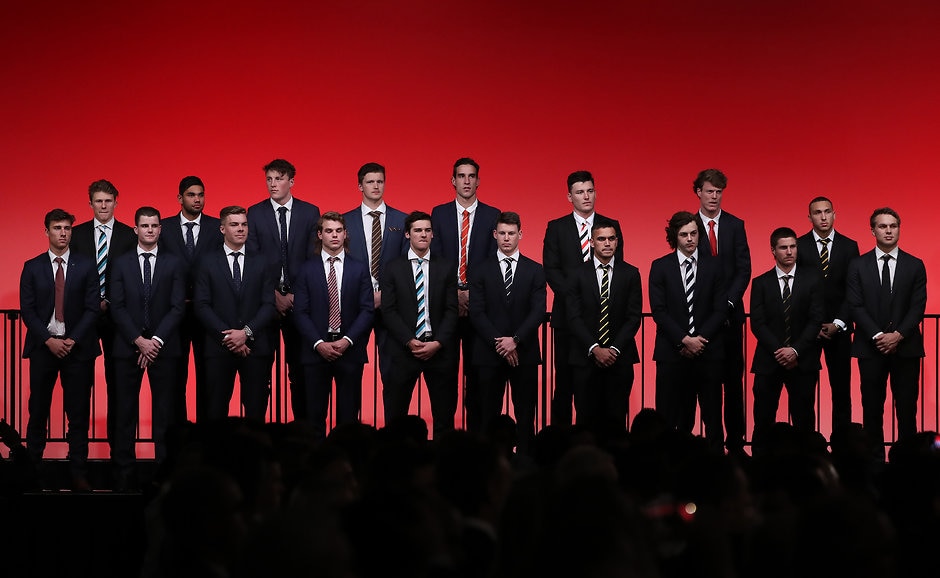 2019 NAB AFL Rising Star voting
Sam Walsh 54
Connor Rozee 42
Sydney Stack 28
Bailey Smith 21
Gryan Miers 5
Jordan Clark 4
Cameron Zurhaar 4
Nick Blakey 3
Liam Baker 2
Oscar Allen 1
Xavier Duursma 1

Gillon McLachlan
5 – Sam Walsh
4 – Connor Rozee
3 – Sydney Stack
2 – Bailey Smith
1 – Oscar Allen

Steve Hocking
5 – Sam Walsh
4 – Connor Rozee
3 – Sydney Stack
2 – Bailey Smith
1 – Jordan Clark

Kevin Bartlett
5 – Sam Walsh
4 – Connor Rozee
3 – Sydney Stack
2 – Gryan Miers
1 – Cameron Zurhaar

Kevin Sheehan
5 – Sam Walsh
4 – Connor Rozee
3 – Bailey Smith
2 – Nick Blakey
1 – Gryan Miers

Luke Darcy
5 – Connor Rozee
4 – Sam Walsh
3 – Sydney Stack
2 – Cameron Zurhaar
1 – Bailey Smith

Cameron Ling
5 – Sam Walsh
4 – Connor Rozee
3 – Sydney Stack
2 – Gryan Miers
1 – Cameron Zurhaar

Chris Johnson
5 – Sam Walsh
4 – Sydney Stack
3 – Bailey Smith
2 – Liam Baker
1 – Connor Rozee

Matthew Richardson
5 – Sam Walsh
4 – Connor Rozee
3 – Sydney Stack
2 – Bailey Smith
1 – Nick Blakey

Warren Tredrea
5 – Sam Walsh
4 – Connor Rozee
3 – Sydney Stack
2 – Bailey Smith
1 – Xavier Duursma

Danny Frawley
5 – Sam Walsh
4 – Connor Rozee
3 – Bailey Smith
2 – Sydney Stack
1 – Jordan Clark

Glen Jakovich
5 – Sam Walsh
4 – Connor Rozee
3 – Bailey Smith
2 – Jordan Clark
1 – Sydney Stack