NATHAN Buckley admits he's not a fan of players who are just 'cream on the top' types, but for injury-plagued midfielder Daniel Wells he's prepared to make an exception.
Wells, 34, is set to miss the start of the 2019 campaign as he continues to work through the foot injury that kept him to just four games last year.
Entering the last season of a three-year contract that has netted only 14 matches, Wells remains one of a host of Pies stars training predominantly away from the main group.
STRONGEST MIDFIELDS Every club's engine room ranked
While Buckley stopped short of putting a timeline on Wells' return, he suggested a fit Wells would be a handy addition to a star-studded midfield that has added Dayne Beams since its Grand Final defeat.
"The situation is a little bit different to what it was 24 months ago when he (Wells) came in," Buckley told AFL.com.au.
I've always said, you don't want guys who are just the cream on the top, but maybe we're in a position where we can have a cream on the top player or two.
"He's got to get past a few, get fit first and work past them."
On record as suggesting 15 games a season from Wells would be a "massive success" before the former Roo had even played a match for the Pies, Buckley has tempered his expectations.
"The (Lisfranc) injury was significant, we've got to consider and understand that," Buckley said.
"When you add that to his calf issues and body issues over the last three or four years, it makes it a long bow to get him back to full fitness, but he's making a pretty good fist of it.
FULL FIXTURE Every round, every game
"He's in pretty good shape physically and similar to Jordy (De Goey) and Beamsy, he's doing a lot of work away from the group.
"He's still understanding what that foot can and can't do and where it's going to settle. It might take a little bit of time yet, but he's travelling all right."
Buckley said any conversation around a new contract for Wells beyond this season would be judged on his output in 2019.
He also declared De Goey free of a lower leg complaint that was managed in late 2018, but wouldn't be drawn on what had been keeping him on a modified program this summer.
"He's going OK. He needs to ramp up over the next month, and there's no reason why he won't," Buckley said.
KICK-IN KINGS Who takes the responsibility at your club?
"His loads, when you include the match play, have actually been pretty good.
"He's had a few little issues that we're working through, just making sure his body's as good as it possibly can be when you hit the season.
"It's not really one specific thing, he's just had a couple of little irks. He'll be ready."
The returning Beams completed very little work prior to Christmas, but Buckley believes the premiership Pie would be there for the season opener against Geelong on March 22.
BEST FORWARDS We rank every club's attack
"He's been a little bit like Jordy, he's had a couple of things that are stopping him from full training, but he's still getting a lot of work in," Buckley said.
"His last couple of weeks have been spot on. He's really stepped up. No fears for him, he'll be ready by the time we come around."
Nathan Buckley is confident Dayne Beams will be ready for round one. Picture: AFL Photos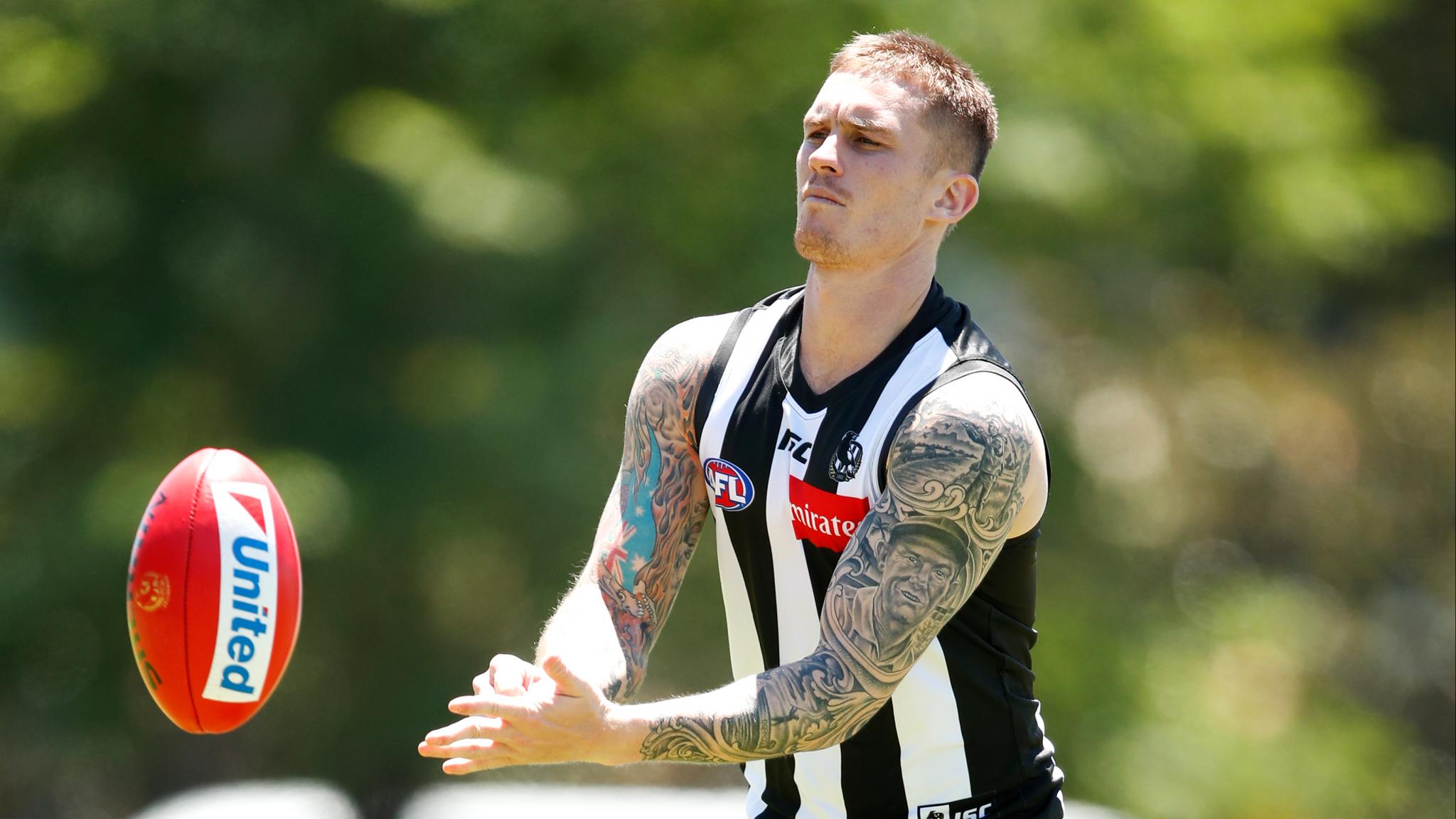 Ruckman Brodie Grundy continues to work back from a toe injury ahead of a potential scratch match with Max Gawn, while Jeremy Howe has gone under the knife again for a minor procedure.
Having missed four games late in 2018 with a corked thigh that required draining, Howe went back for his second operation this week after a knock at training.
In better news, Buckley said Darcy Moore, who missed last year's finals with a hamstring was "up and about" and Jamie Elliott, who suffered continual soft-tissue setbacks last year, was "training really well."
While Matt Scharenberg remains a while off from his third knee reconstruction, full-back Lynden Dunn hasn't given up hope of playing in 42 days' time.
CASE FOR THE DEFENCE We rank every club's backline
"He had a surgeon's review last week and they've mapped out his next month," Buckley said.
"Clearly, he wants to advance it quicker than what the medicos want him to.
"He still has round one in his head. He's trying to sneak into match drills when the physios aren't watching, so I think that's a pretty good sign he's feeling good about himself."
Fellow defender Jack Crisp, who finished fourth in last year's Copeland Trophy, was sent for hip surgery in the off-season and is slowly building to full fitness.
"Seeing him run around on the track yesterday (Wednesday), working up to coming back into the main group, he just looks like a racehorse," Buckley said.
WHO MAKES FINALS? Do the 2019 Ladder Predictor
"He'll come to hand really quickly because he's such an athlete.
"Bigger-picture sense, for him to have missed the pre-Christmas training block and (have had) a moderate January, it's not going to hurt him at all because his loads of what he's able to absorb during the season is ridiculous.
"Having this period, for him, may have be a blessing disguise for his longevity."
While Crisp's 98 consecutive matches for the Pies is in doubt, Buckley revealed draftee Isaac Quaynor was in contention for round one selection.
"Isaac's got a little bit of competition, but he's a strong young athlete with a really good attitude to attacking the growth that is clearly in him," Buckley said.
"He's showing some real strong attributes and he'll be in the mix."
After the Pies' scratch match with Melbourne, they travel to face Fremantle in week one of the JLT Community Series on March 4, before meeting Carlton in Morwell on March 11.