HERE'S the early warning: get ready to hear the word 'compromised' plenty of times next year.
The 2020 NAB AFL Draft is more than 12 months away, but already the chatter has started about what's to come.
While recruiters, particularly those focused on the 'futures' markets, are of mixed views about the quality of next year's group, there is no doubt about the overwhelming number of players already tied to clubs.
The talking point about next year's draft will clearly start with how many players are already off-limits, rather than the open pool.
The naming last week of the under-17s NAB AFL All Stars sides for their Grand Final morning clash at the MCG gave an insight into why clubs are already wondering whether next year's group looks like being one of the most compromised in draft history.
Of the 48 players selected for the game, 17 are tied to AFL clubs around the competition as either potential father-sons, Next Generation Academy picks or northern Academy products.
The All Stars squads are picked by the AFL as a guide for the best talent available the following year.
Find Road to the Draft on Apple Podcasts, Google Podcasts and Spotify.
In recent seasons the game has been an excellent insight into the quality to come down the track, with the likes of Matt Rowell, Noah Anderson and Caleb Serong all starring before being likely top-five picks this year.
Again the game will shape views of how strong next year's pool is, but this time there will be more than a third of the players who have established connections with clubs. In comparison, in last year's game there was eight players tied to clubs.
The Next Generation Academies, now in their fourth year, are a key reason why.
In the All Stars game, Jamarra Ugle-Hagan (Western Bulldogs), Brandon Walker and Joel Western (Fremantle), Connor Downie (Hawthorn), Reef McInnes (Collingwood), Lachlan Jones (Port Adelaide), James Borlase (Adelaide) and Cody Brand (Essendon) are all possible NGA picks for their clubs next season.
Reef McInnes is already tied to Collingwood with its NGA pick. Picture: AFL Photos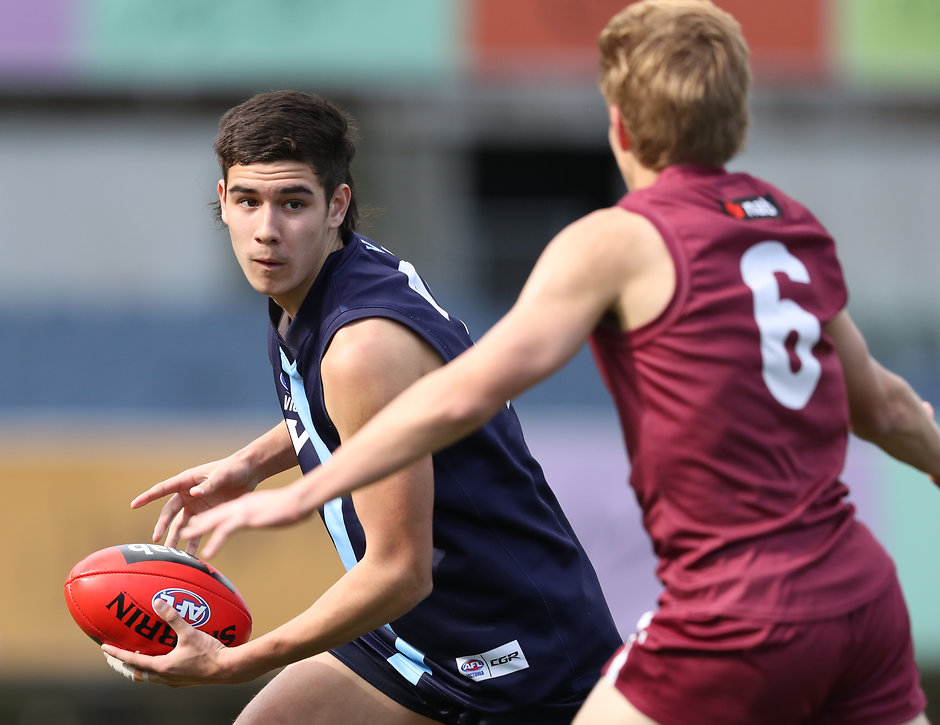 Ugle-Hagan shapes as the pin-up boy of the draft crop and could be a top three pick, having shown plenty as a key forward this season. Last week he kicked 3.3 in an exciting albeit inaccurate display for the Oakleigh Chargers.
Brand is a 195cm key defender from the Calder Cannons who will be in the Bombers' sights, while Jones has been playing for Woodville West Torrens' reserves side and caught the eye.
Then there are the Academy shots. Alex Davies is a tall and accomplished midfielder set to head to the Suns, the Swans have access to Errol Gulden and Braedon Campbell, Brisbane has first call on Blake Coleman, Carter Michael and Saxon Crozier, and Joshua Green is a member of the Giants' Academy.
Brisbane has first call on Saxon Crozier. Picture: AFL Photos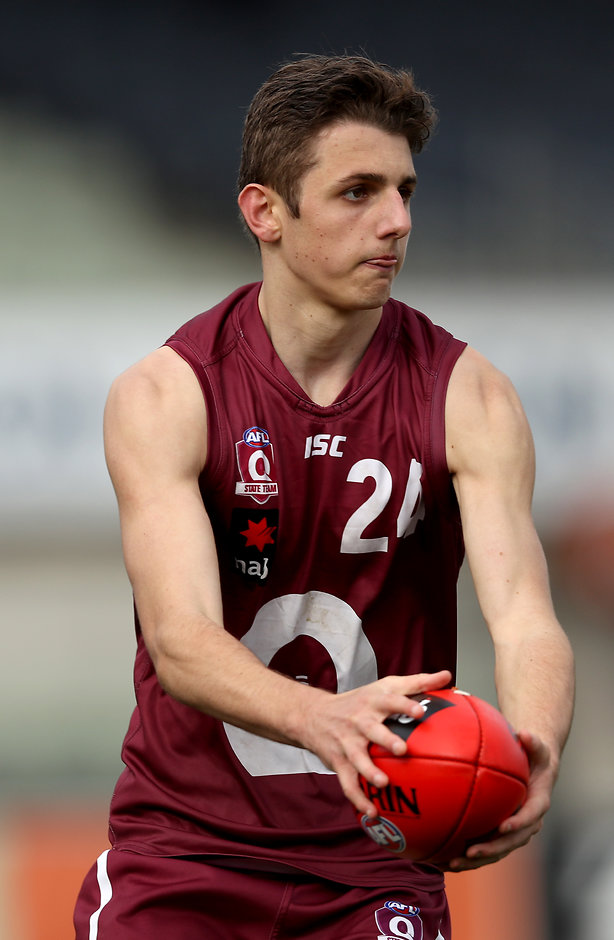 Green is the younger brother of Tom, who sits as a possible top-five pick at this year's draft for the Giants after a dominant season.
There are also a couple of possible father-sons on the horizon, with Taj Schofield, the son of 2004 premiership player Jarrad, eligible to join Port Adelaide, and Luke Edwards, whose father Tyson played in two flags with Adelaide, able to join the Crows.
These are only the names selected to play in the Grand Final curtainraiser. There are others who didn't make that squad who are also on the radar as NGA picks, including Ethan Baxter (Richmond) and Deakyn Smith and Kobi George (Melbourne).
Ethan Baxter didn't make the U17s All Stars squad, but is highly rated. Picture: AFL Photos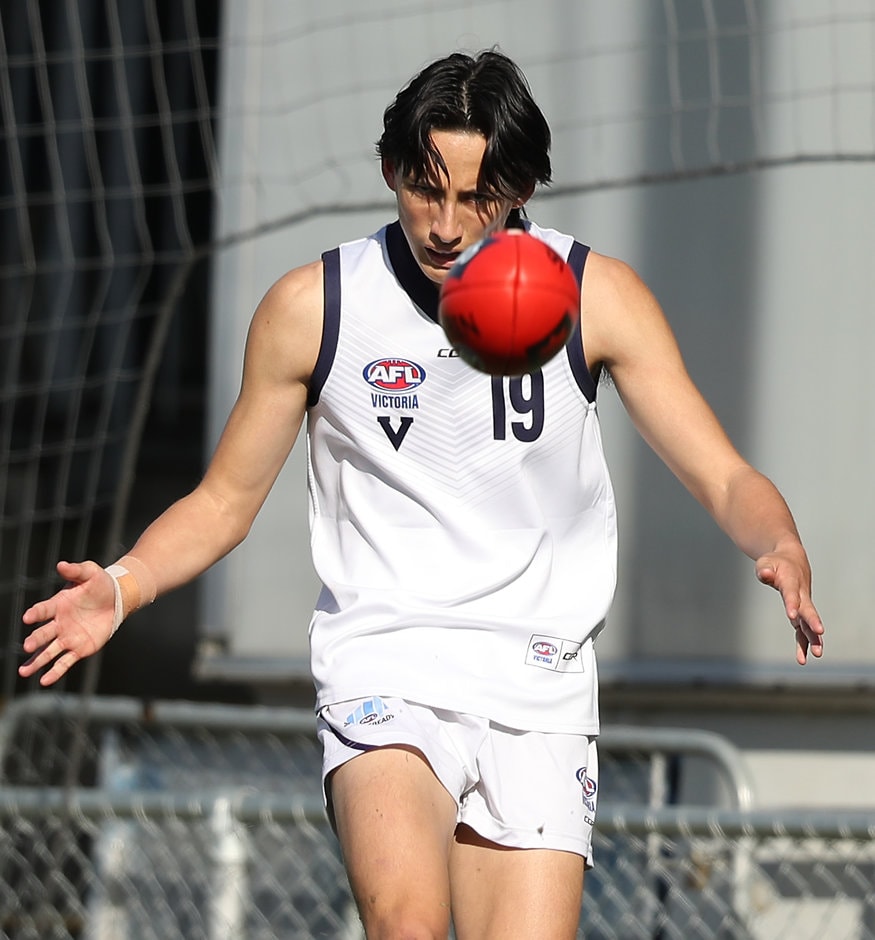 Scouts know there will be players bob up into contention as the next 12 months of under-18 football takes shape, with some players already joining sides as 17-year-olds in recent weeks who didn't feature in last year's under-16s championships, which were widely viewed as underwhelming. Prospects always emerge.
But the talking point about next year's draft will clearly start with how many players are already off-limits, rather than the open pool. It's also something that will be a factor in this year's Trade Period as clubs prepare to part with picks (and draft points) or bring more in.