THE SYDNEY board has a very simple task when it soon convenes for its June catch-up.
The Swans board members must vote to commit to having nine-season, premiership-winning as well as two-time Grand Final-losing coach John Longmire in charge of their football team for another three years, or join North Melbourne and Carlton in the search for a fresh face.
NEXT IN LINE Who's in the running to coach the Blues?
Longmire is contracted for 2020, so the Swans have control here. And there is nothing about Longmire as a person that says he would walk out on a contract.
But he needs and is owed security beyond next year. He almost certainly will get that at North Melbourne, if he gives their powerbrokers – two weeks after they moved Brad Scott out of Arden St – the nudge-nudge, wink-wink response they so desperately want him to give.
The Swans scored clearly their best win of 2019 on Sunday at the SCG with a 45-point win against reigning premier West Coast.
The cherry on top for Buddy and the Swans!#AFLSwansEagles pic.twitter.com/JuuFLVm37U

— AFL (@AFL) June 9, 2019
It was just Sydney's fourth success from its opening 12 matches, but there has been just one bad loss – to GWS, by 41 points in round six.
Every other defeat has been by 26 points or fewer.
Longmire has never missed finals as coach. He probably will this year. But he may be coaching as well as ever and the Swans board needs to use this month's meeting to realise it must re-contract, ASAP, one of the game's few absolutely, 100 per cent proven, A-plus-grade coaches.
His old team, the Roos, await the Swans' move.
Sydney's coaches box loved Buddy's goal after the siren!#AFLSwansEagles pic.twitter.com/IYvKR5bFoc

— AFL (@AFL) June 9, 2019
Clean-up was overdue, but where does it end?
Everyone in football, it seems, is calling things out in 2019.
Everyone has a voice these days and most of it is justified. The low-lifes in the crowd who racially abuse players are being banned; so too, the idiots who punch on.
FIVE-YEAR BANS AFL says enough's enough on crowd fights
Players can't find their preferred social media platforms quick enough to correct perceived media mistakes, and leadership groups of the clubs are sanctioning players who dare to have a drink in public, be it a lazy Sunday afternoon at a Richmond pub, or a Friday night at a charity event.
Dale Thomas was banished to the VFL for a week after drinking two days before a game. Picture: AFL Photos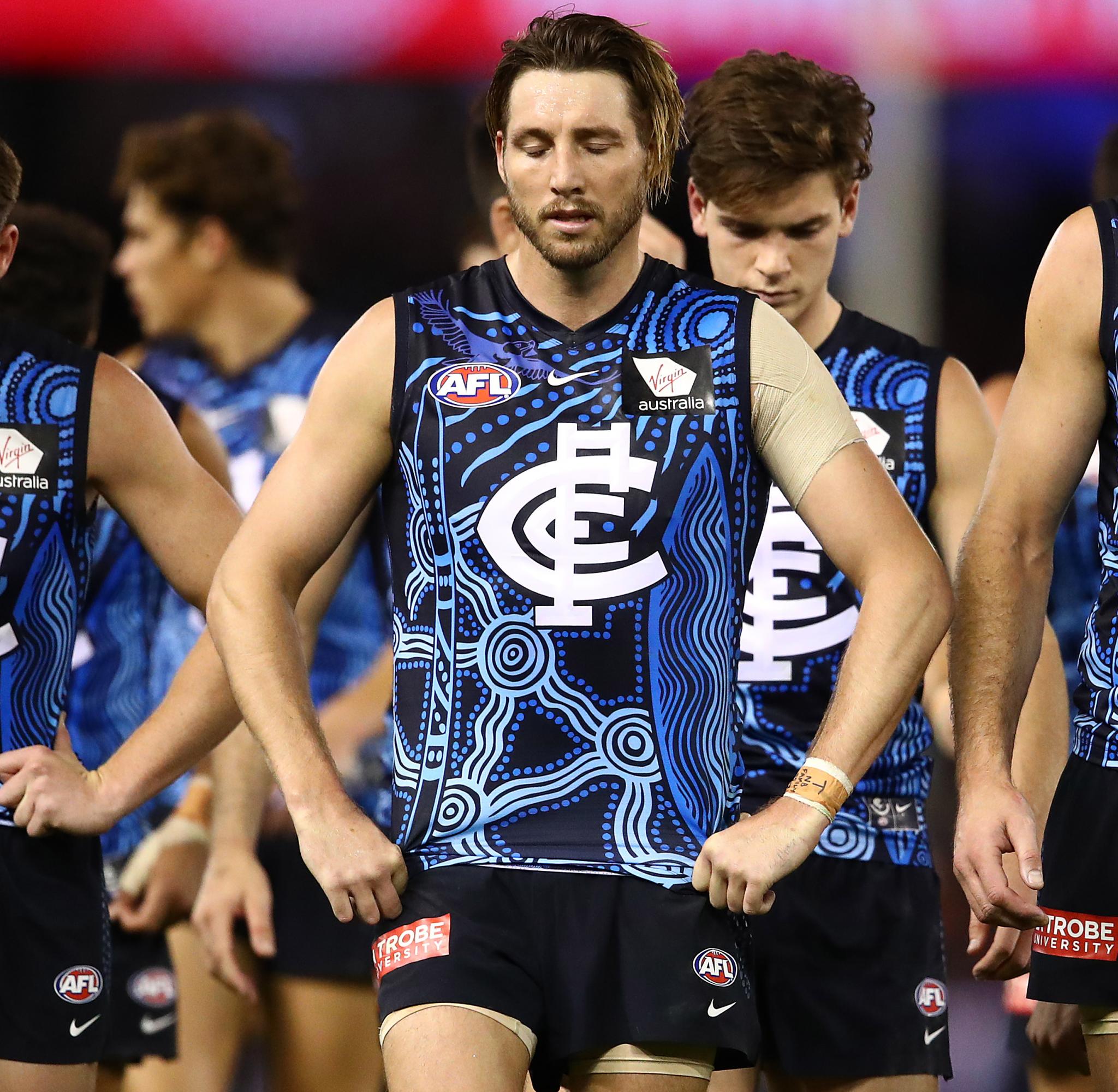 Two weeks ago, a supporter was given a ban for calling an umpire a "maggot". That word happens to rhyme with another one, but "maggot" was the one publicly revealed as the reason for the sanction.
On Saturday at Marvel Stadium, security removed a Carlton fan after he directed words at umpire Mathew Nicholls. The fan claimed the worst word he used was "flog".
Am really tiring of such incidents.
Don't want the raw emotion of fans to be eroded to the point where they will no longer bother attending. But, hopefully this latest batch of calling-out will sharpen everyone up to the point where their in-game utterances are cleaned up.
Fan behaviour has repeatedly come into question this season. Picture: AFL Photos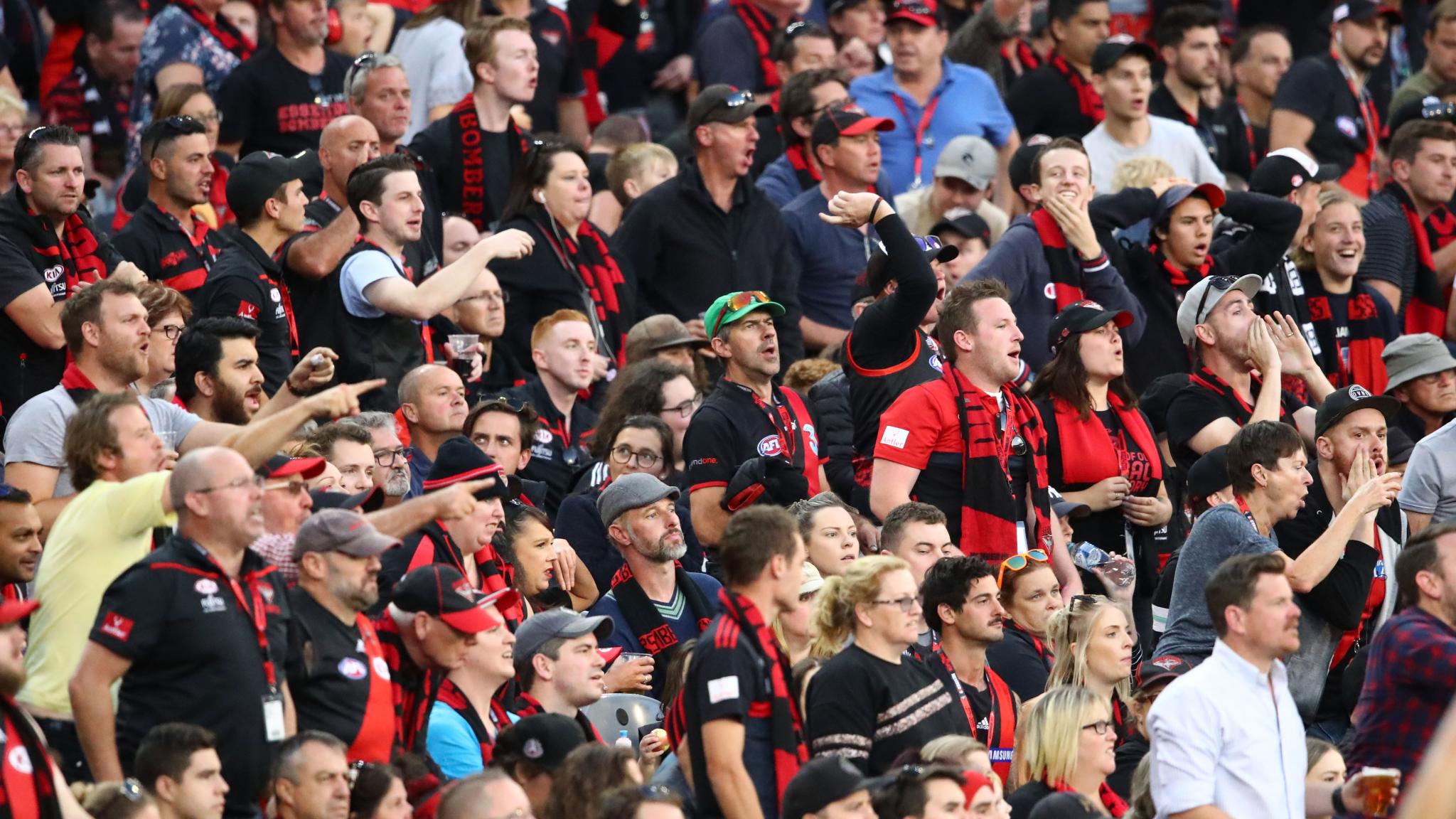 Buying a club membership or paying admission price to an AFL game does not give one the right to say whatever they feel.
But some of those doing the calling-out need also to reflect and maybe work backwards and ask themselves: what is the end game? Some calling-out is guaranteed to ensure the initial act is doubled-down on.
There are some things we're all just going to have to cop, whether we like it or not.
Find In the Game on Apple Podcasts, Google Podcasts or Spotify
Blues don't need another hero
The Brownlow Medal has been won just twice by a player in a wooden spoon-winning team.
That's some decent history that Carlton's Patrick Cripps must defy.
And after Saturday's Blues' win, under caretaker coach David Teague, against Brisbane Lions at Marvel Stadium, Cripps may not be a member of the last-placed team in 2019 anyway.
This was huge from the Carlton skipper! Carlton are back in this game.#AFLBluesLions pic.twitter.com/PXOLIjDmYs

— AFL (@AFL) June 8, 2019
Cripps played arguably the game of his life on the weekend – 38 disposals (16 contested) at 82 per cent efficiency, eight clearances, four second-half goals.
He actually deserved four votes from that game, such was his preparedness to lead, to care for his club, to hurt, to will himself through adversity.
"Captain Fantastic if you don't mind at Marvel Stadium!"#AFLBluesLions pic.twitter.com/bWbiBodZKy

— AFL (@AFL) June 8, 2019
Time for score reviewers to bunker down
After two score-review howlers in round 11, it was inconceivable and embarrassing that the Friday night fixture of round 12 could contain another one.
At least a positive will come out of the mind-boggling decision to rule "behind" on a clear Jack Higgins goal.
This kick from Jack Higgins was called a behind after a score review. What do you think? pic.twitter.com/SEfzg9cGV7

— AFL.com.au (@AFLcomau) June 7, 2019
As of round one next year, there will be a centralised 'bunker' operation to adjudicate such matters, not the amateurish, ad hoc system that has astonishingly been tolerated.
There was a game last season where a nervous official, after correctly analysing available footage, actually hit the wrong button.
WATCH Tigers' bizarre score review reversal
It's never too late to say 'sorry'
Genuine apologies are never too late, even when they are. For without acknowledging the wrongs of the past, the future will continue to be compromised.
Four years after Adam Goodes left the game a completely broken man due to the racism directed his way from so many people, the AFL said sorry for not acting adequately back in 2015.
UNRESERVED APOLOGY AFL says sorry for failing Adam Goodes
The apology came on the day the first of two documentaries about Goodes' exit from football was to be launched. Yes, people are entitled to ask whether the game's controlling body would have acted this way had it not been for the TV productions.
But the work behind the scenes with the treatment of Goodes and other indigenous issues is now significant. The AFL itself and its 18 clubs have worked diligently in recent times to better prepare the entire industry for proper positioning and better responses to racism.
Adam Goodes leaves the field after his final AFL game in 2015. Picture: AFL Photos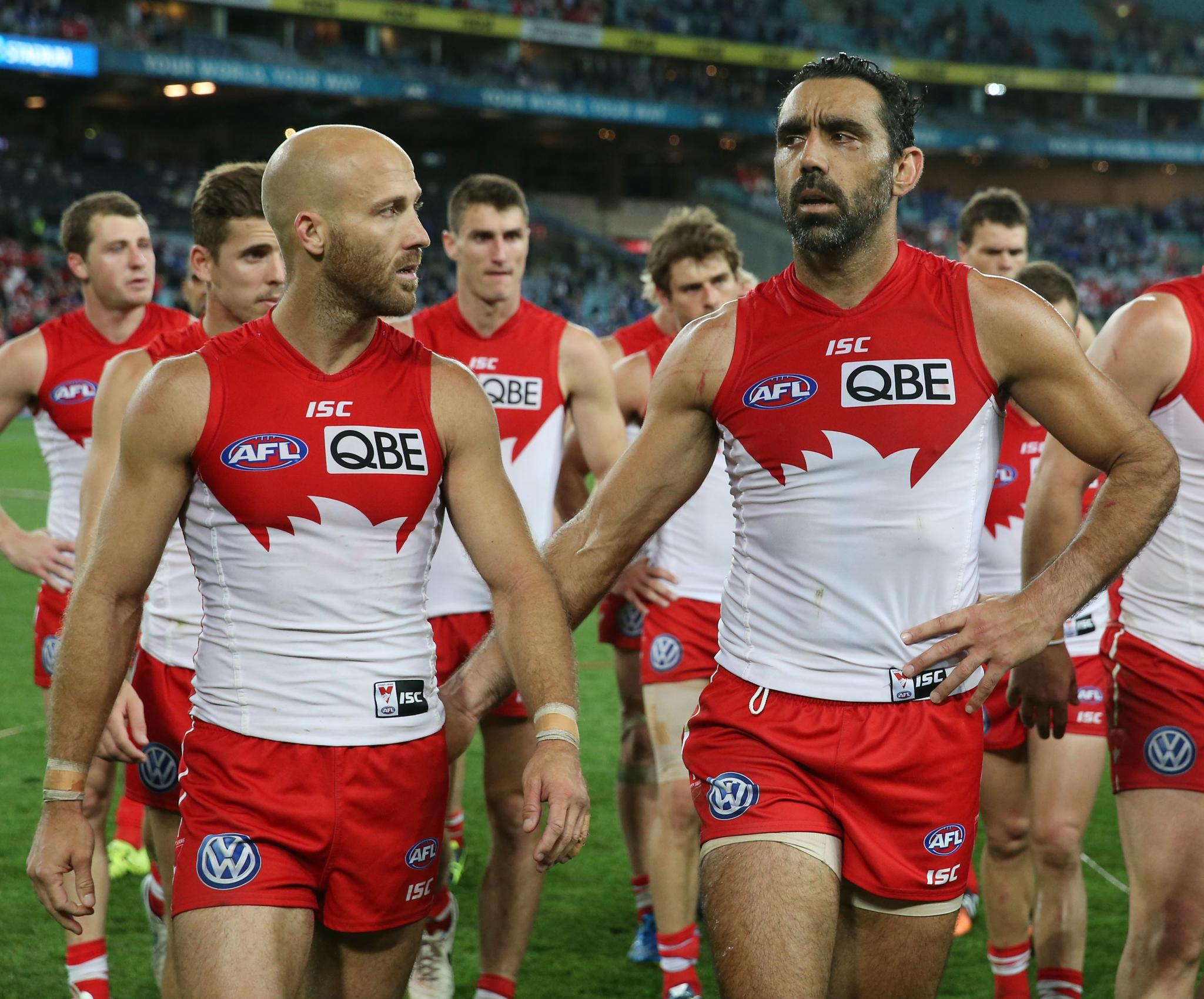 As always, do what you choose as individuals. But, if you get the chance to see either of the documentaries, The Final Quarter (an archival retracing of the media coverage of Goodes' final seasons) and The Australian Dream (a Stan Grant-produced film with Goodes' reflective input of his time in the game), I'd recommend you do so.
No matter your position, you will, at the very least, be asking yourself questions that you won't have previously considered.
Twitter: @barrettdamian