GEELONG will be without Tom Hawkins for its blockbuster preliminary final bout with Richmond this weekend, after the star forward's one-match striking ban was upheld at the AFL Tribunal on Monday night.
Hawkins unsuccessfully attempted to downgrade the conduct assessment of his charge from intentional to careless, having struck West Coast defender Will Schofield in an off-the-ball incident during his side's semi-final victory last Friday night.
It's a bitter blow for the Cats, with Hawkins among the best in last week's victory over the Eagles, kicking four goals from four contested marks in a dominant display up forward.
"I felt like we got a really fair hearing," Hawkins said afterwards.
"I'm really disappointed that I'm not going to be there with my teammates on Friday night, however my job now turns to supporting them as best as I can. I'll lend a hand where I can and prepare myself to play the next week."
Coach Chris Scott told Fox Footy on Monday night despite the suspension at a crucial juncture of the season, his star forward did not owe him anything.
"The idea that he's let the team down, I can see that, [but] I think it's a bit of a simplistic argument," Scott said.
"I can tell you, if we didn't have Tom Hawkins, we wouldn't be where we are now. My view is, he doesn't owe me anything. As a coach, if I didn't have him the last nine years, there wouldn't [have] been five prelim finals, he won us the premiership in 2011.
"[His teammates] would be really disappointed we don't have him this week. It's so hard to get an opportunity like the one we have this Friday night and to go in without one of your best players against the premiership favourites makes it that much harder.
"Everyone's disappointed, but not more disappointed than him."
Scott conceded there was no like-for-like replacement for the experienced key forward, who's booted 56 goals this year, although wet conditions are forecast for Friday night.
WHO WILL REPLACE TOM? The Cats' six options
"We've known for a long time he's a crucial player for us and he was really good on Friday night after a few weeks [where] his form wasn't quite as good.
"We'll present a different look to Richmond.
"We had a bit of time together on Saturday as a coaching group, and, let's say we've got three or four options that are pretty obvious to us, we worked through them and narrowed it down to one or two on Saturday afternoon."
Hawkins had attempted to argue that the strike was made as a result of Schofield grabbing his own arm, saying he was trying to wrench it free from his opponent's grip before instantaneously continuing on his initial trajectory.
He claimed that Schofield had "grabbed his arm … pretty forcefully" in an effort to stop him from running towards the ball, saying he was initially trying to "fight for best position" in order to make the next contest.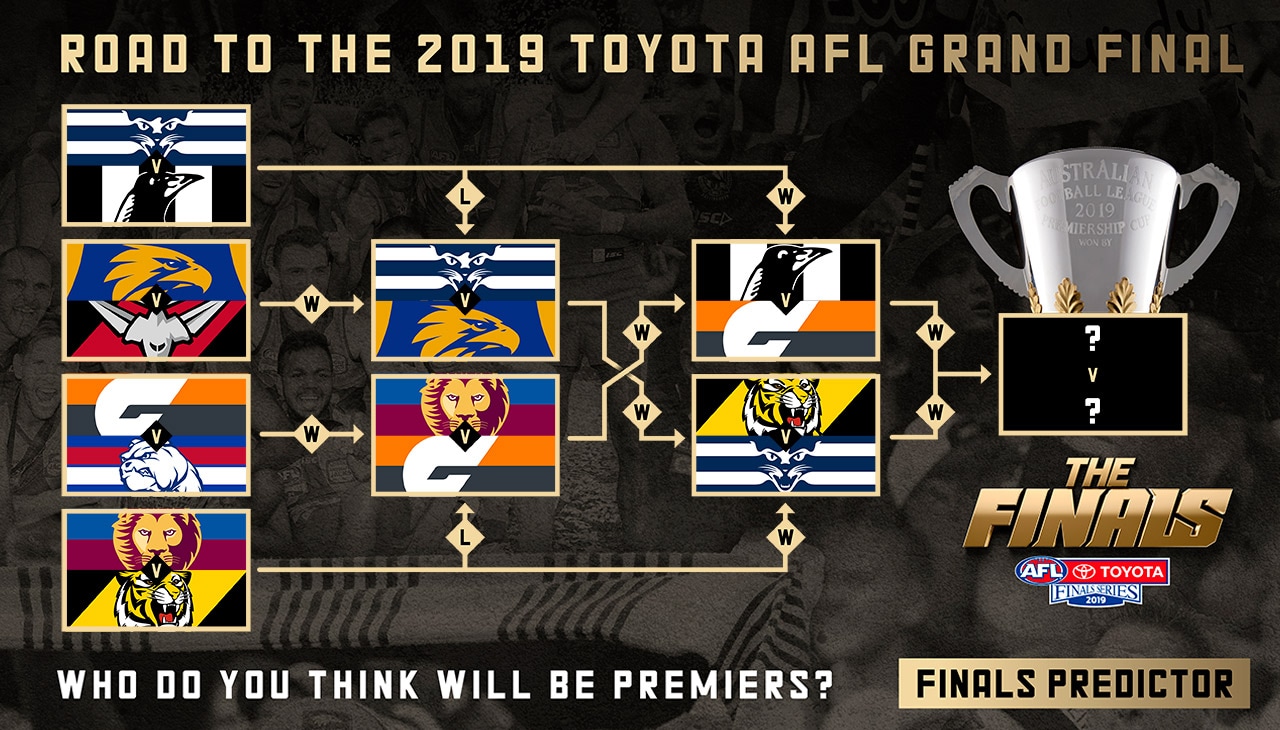 In doing so, he pleaded guilty to careless conduct, not intentional – a grading that would have seen him fined, rather than suspended.
Hawkins did concede that he struck Schofield high – a fact reiterated by West Coast's medical report, which said the defender suffered from "moderate pain to his temple" as a result of the blow.
TOM'S ALARMING TREND When is a brain fade no longer a brain fade?
The Geelong forward was handed a series of still images of the incident throughout the hearing by his legal representative, Ben Ihle, where he was asked to make markings on the photos of where he was attempting to run towards.
However, the AFL's legal counsel, Nick Pane QC, put it to Hawkins that his version of events didn't explain why he had an outstretched arm or a clenched fist. He also suggested Hawkins could have pushed Schofield, not struck him in such a manner.
Pane also argued that Hawkins made a "forceful swinging motion" with the intention of delivering a strike to Schofield.
It took the Tribunal just seven minutes to agree with Pane's series of events, upholding the Match Review's one-match ban and ensuring Hawkins will be unavailable for this weekend's crucial preliminary final.
Hawkins' chances of playing again this season now rest solely on Geelong progressing to the Grand Final on Friday night by overcoming flag favourites Richmond at the MCG.
TOM'S ROUGH RUN
Total: 9 charges
Suspensions: 6 matches
Fines: $8000
2016: Fined $1000 for engaging in a melee during Geelong's clash with Port Adelaide.
2016: Handed a one-match suspension for a jumper punch to the chin of Giants captain Phil Davis, the first of multiple "jumper punch" suspensions dished out to the Cats forward.
2017: Didn't learn his lesson from the season prior, as he was handed another one-game ban for a jumper punch on Adelaide midfielder Matt Crouch.
2017: Just eight games after his last suspension, Hawkins was hit with a two-match ban for yet another jumper punch – Sydney defender Dane Rampe was the victim on this occasion.
2018: Copped a $2000 rough conduct fine for a late spoiling attempt on Nick Haynes, where he collided with the back of the Giants defender with his knee.
2018: Just moments after that incident involving Haynes, he earned a one-match suspension for pushing the arm of umpire Dean Margetts as he argued against a free kick being paid.
2019: Fined $2000 for striking Hawthorn defender James Sicily, after elbowing the defender in the back in a behind-play incident.
2019: Given a $3000 fine for a forearm to the head of Sydney defender Jordan Dawson, having arrived late to the contest before lashing out after a mark was paid.
2019: Rubbed out during the finals, having earned a one-match ban for striking West Coast defender Will Schofield to the head in an off-the-ball incident.