SOME of the game's biggest names will be honoured on Thursday when the greatest NSW team of all time is announced at a gala function in Sydney.
The project, conceived by the NSW Australian Football History Society and AFL NSW/ACT, and driven by former Sydney chairman Richard Colless, will see 22 of the state's finest players and a coach picked from a pool of the nearly 500 to have played a minimum of 100 games in a senior competition (VFL/AFL, WAFL or SANFL) since 1897.
It is important to note that ACT products were not included given that Canberra always competed in Australian National Football Carnivals as a separate entity from NSW, and an official ACT Team of the Century was announced in 2000.
Colless, the man who helped turn the Swans from a basket case in the 1990s into an AFL powerhouse and oversaw two premierships in his time at the club, hand-picked a panel of experts to help with what has turned out to be a challenging project.
Respected journalist Mike Sheahan and 1988 Brownlow medallist Gerard Healy were installed as senior selectors, with footy historians and authors Ian Granland, Rod Gillett and Miles Wilks, AFL NSW/ACT boss Sam Graham and AFL commissioner Gabrielle Trainor rounding out the panel, which was chaired by Colless.
Former Swans great and 1988 Brownlow medallist Gerard Healy has helped select the team. Picture: AFL Photos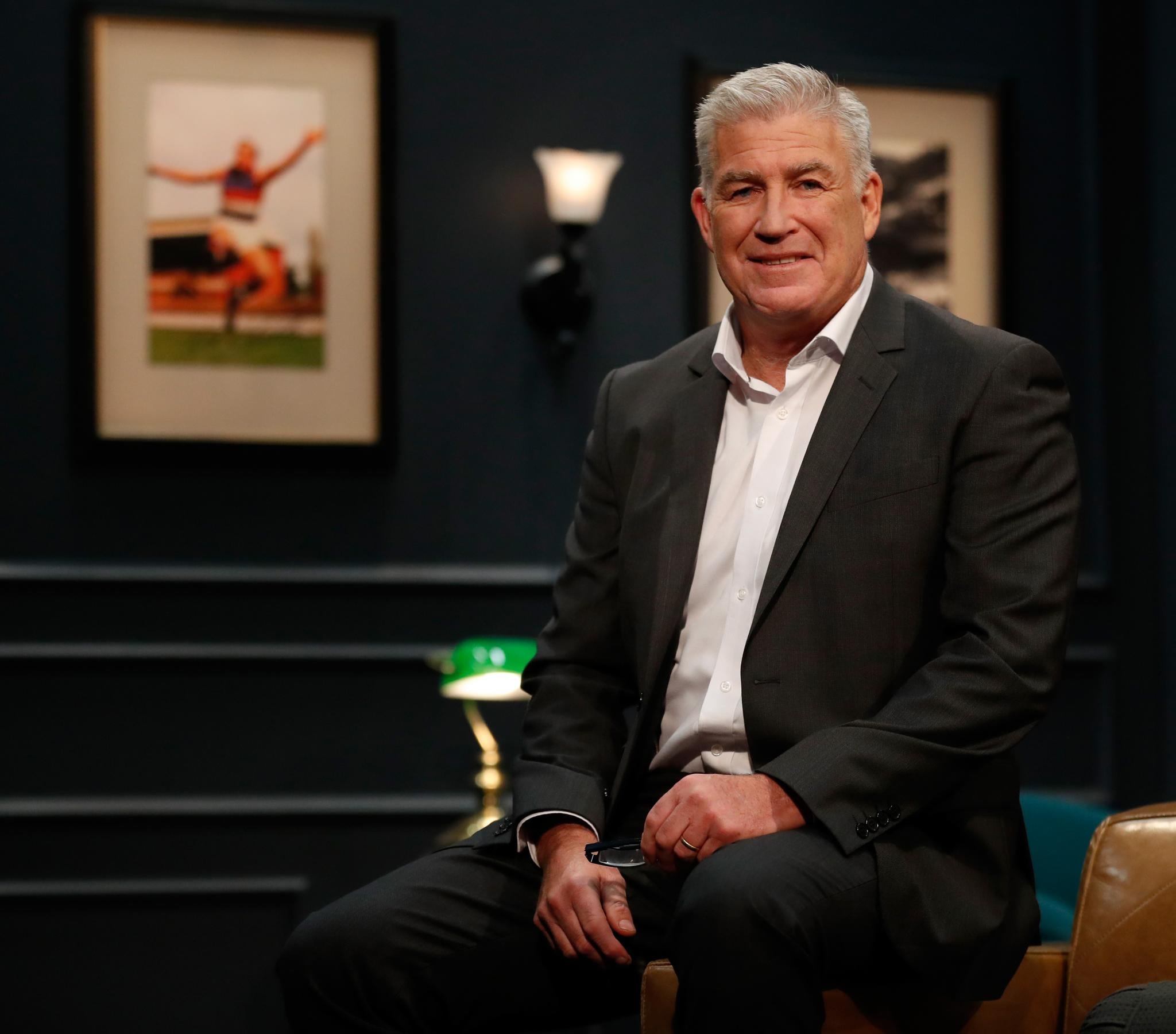 NSW products have won seven Brownlow medals, five Magarey medals in the SANFL, and three Sandover medals in the WAFL, and Colless told AFL.com.au that made the job of selecting an official team that embraces the game's 140-year history a gruelling yet rewarding task.
"Trying to compare a player that played in 1915 with players that played the same position in 1985 or in 2019 is so difficult, so we've had to rely on an enormous amount of research," he said.
"It wasn't uncommon for the best players back in the day to play 15-30 State of Origin games across their careers and now there isn't any, so that's another example of the difficulties we faced comparing players of different eras.
"I can't tell you that this is undoubtedly the best team that could have ever represented NSW, but what I can tell you that no stone has been left unturned to ensure that no player was overlooked.
"Some of the knowledge our historians have is unbelievable.
"It's been much bigger exercise than I could have imagined, and it's taken a fair bit longer than I would have thought, but it's been unbelievably exciting unearthing so many players.
"There's been so much bloody interest and our selectors have taken it so seriously that there's been some massive debate, but I think the team that we've come up with is fantastic."
Former Sydney chairman Richard Colless with the 2005 premiership flag. Picture: AFL Photos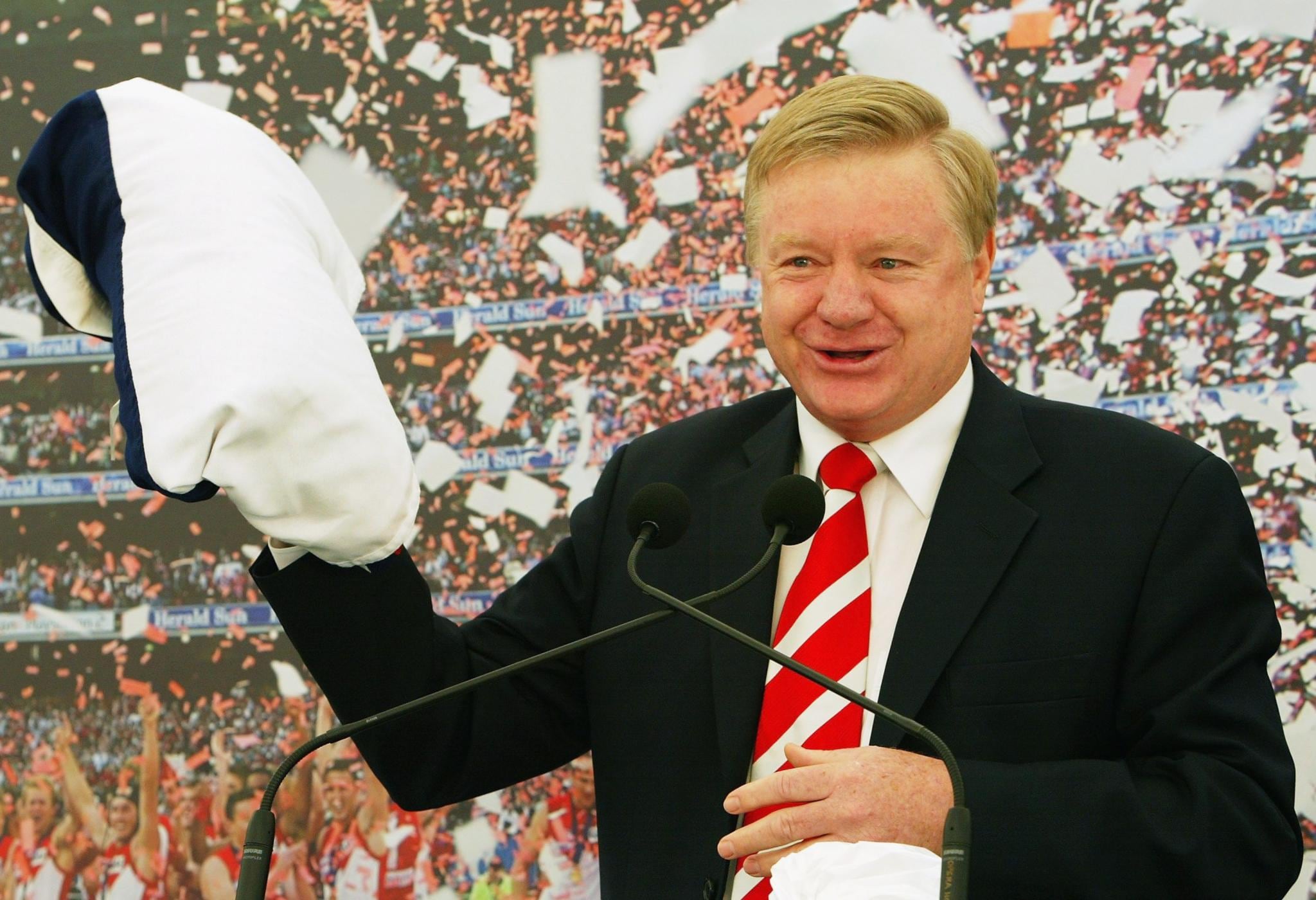 The star-studded side has been picked in position, another reason the task of settling on just 22 players was so difficult.
"Of the top 50 we identified as the best players, 11 were key forwards," Colless said.
"These were guys that won best and fairest awards and represented their state.
"They were significant players playing full-forward or centre half-forward, but we couldn't fit them all in.
"You can't have four centre half-forwards on the bench because they were the best players, so we took the view that we were picking a team that was playing a game.
"We had to have balance, so it was no different to the process the 18 coaches in the AFL go through every week."
Selection criteria
The rules governing selection for NSW in State of Origin apply.
If a player went to school interstate but their parents remained in NSW, they remain eligible (e.g. Shane Crawford and Neale Daniher).
A player had to have played a minimum of 100 games in a senior league (VFL/AFL, SANFL, WAFL).
Selection is based on quantitative and qualitative methodologies.
Players must be placed in positions where they predominantly played throughout their careers.
The NSW Greatest AFL Team of All Time will be unveiled at the NSW Carbine Club AFL Lunch on Thursday, May 9 at the Hyatt Regency, 161 Sussex St, Darling Harbour.
Tickets are $195 per person or $1950 per table, and anyone wishing to purchase a table should email event co-ordinator Victoria Ramirez at the Carbine Club NSW via carbinensw@bigpond.com this week.