IT WAS a chance meeting in a Perth café that changed Nat Fyfe's 2019 season.
Fyfe had just torn his hamstring in Fremantle's round 15 loss to Brisbane last year, when a Pilates instructor named Trudy recognised the Dockers skipper and introduced herself.
"She was at a café," Fyfe said on Monday night.
"I was just recently injured and she came up to me – she's a bit of a spiritual person – and she said she had an inkling that I was going to hurt myself in the last week."
Fyfe had looked at her quizzically and asked where she had been to warn him about the potential of the injury the week before, but instead got a surprise invitation in return.
FYFE JOINS THE GREATS Dockers superstar wins second Brownlow Medal
"She said if I was up to it, to come and see her," Fyfe said.
"No charge, one-on-one Pilates lessons, give it a go … I tried it for a month and 11 months later I sit here as a Brownlow Medallist. I'm incredibly grateful for her."
YOUR CLUB'S BROWNLOW NIGHT Leader, top five, total votes
Fyfe, now a dual Brownlow Medal winner, recreated his famous pose from 2015 on Tuesday morning – four years after the superstar Fremantle midfielder claimed his first 'Charlie'.
Although this time his right arm was cast in a sling following surgery on his troublesome elbow, the gun 28-year-old hasn't had any soft tissue injuries since meeting Trudy.

Fyfe's acceptance speech was a polished performance. Picture: AFL Photos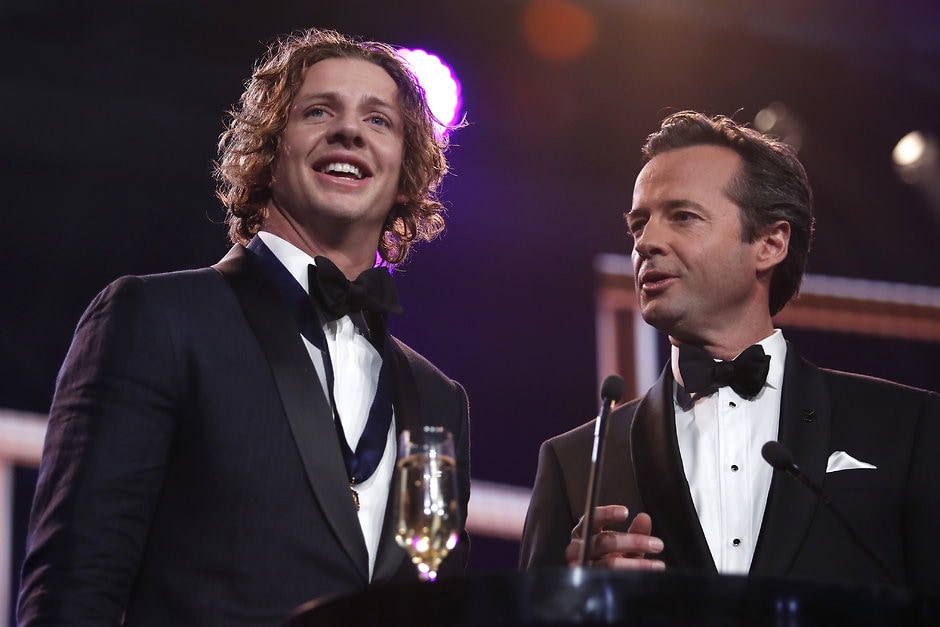 "I spent 11 months with her, two hours a week, every week, since November last year and I got through the season with no soft tissue injuries," Fyfe said.
"I played every game, bar two, where I had a concussion and a problem with my elbow. That becomes the blueprint for how I'm going to prepare for the next two or three years."
TEN TALKING POINTS Guess who got their first career vote for just eight disposals?
Fyfe polled 33 votes to claim his second Brownlow Medal on Monday night – including 10 three-vote performances –eclipsing the 31 votes he won to secure the award in 2015.
It capped a campaign that he described as the best in his illustrious 10-year AFL career.
"I think this has been my best year so far," Fyfe said.