IT'S EARLY 2013, the Essendon drugs story is exploding, and a heavily-hyped interview with the club's fitness boss Dean Robinson is airing.
About 15 minutes in, the phone starts pinging.
Danny Frawley is texting.
Mourners leave a loving trubute for Danny Frawley at St Kilda Football Club. Getty Images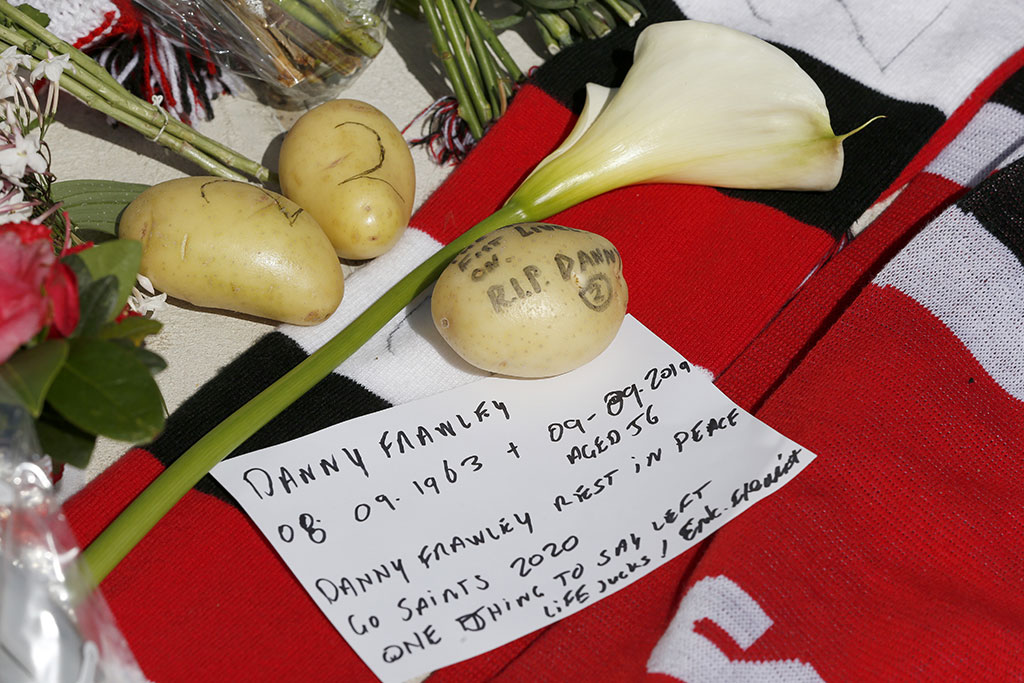 A moment probably initially unnoticed by most viewers was already a weird obsession, and after wading through the always apparent spelling mistakes and jumbled sentences of his texts, it was clear he had found his media material for the next week.
The phone then rings. "What about Darce? It's not about you, Darce! He's gone down the me, me, me, me, me path! Say that again … hahahahahaha!! And what about the mudflap at the back of his head?" Frawley blurts.
VALE DANNY Footy world sheds a tear for St Kilda great
Frawley was transfixed equally with the big issues of Luke Darcy's interviewing technique and the miniature mullet on his head.
Another memory for Danny Frawley at St Kilda. Picture: Getty Images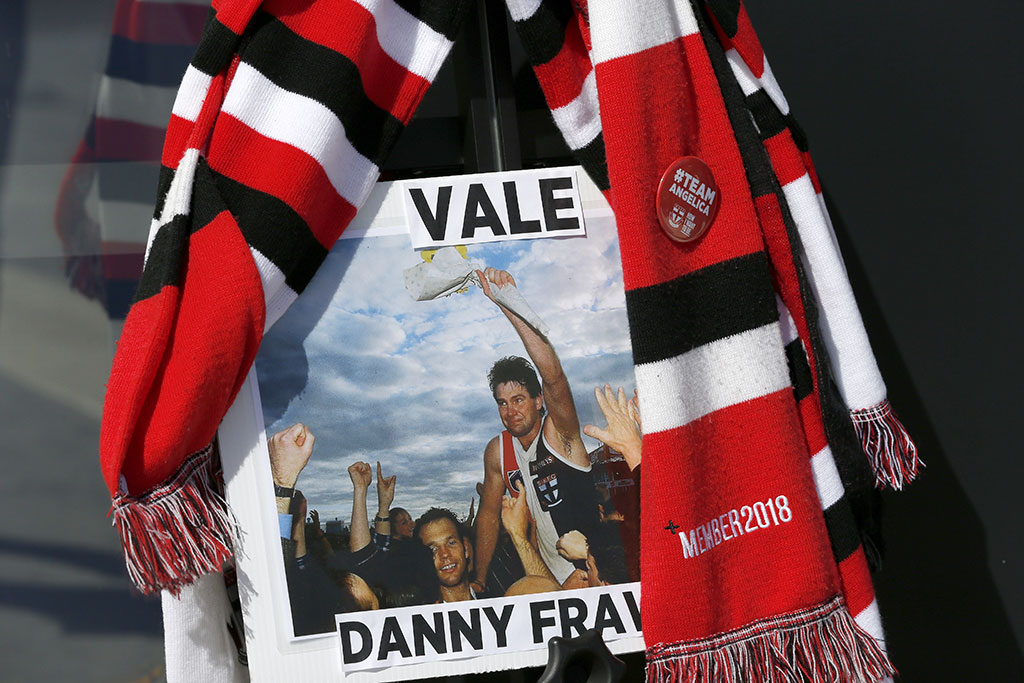 The following Saturday on Triple M, Frawley smashed Darcy. It forever entrenched the, "Say that again," skits into the football media landscape, and also provided an insight into Frawley's occasional ways of dealing with the pressures of life.
Taking oneself too seriously was a serious crime in his world, and while Darcy actually hadn't, he was to learn through Frawley that in his interview with Robinson he at least left himself open to that accusation.
Frawley was head of the AFL Coaches Association at the time and was highly and obviously stressed. Of all the jobs in football in that controversial period, his was at least equal to the toughest, most volatile and most conflicted.
Danny Frawley interviews Dane Swan in 2015. Picture: Getty Images



Essendon coaches felt they weren't being supported enough by their own association, and the coaches at seemingly every other club felt the Bombers people didn't deserve any form of backing.
The AFL had its own strategies, the media was breaking explosive details on a daily basis, the storyline, the narrative and the clashing motives were all out of control and Frawley was stuck somewhere in the middle of all of it.
Spud brought people together, and even when not feeling great about himself, made people feel better about themselves.
Frawley obviously had nothing to do with whatever went on at Essendon and he had his own strong view of events. He was no doubt pushed by some of the people he represented to do and say things that placed him in many situations he simply could not win.
The entire period was harrowing for him and ultimately led to his exit from the coaches' role.
As his own family, friends and the entire football community absorb the trauma of his death on Monday, it is pertinent to reflect on all of Frawley's actions, but particularly during the Essendon drugs saga.
Many people were beneficiaries of Frawley-arranged support even long after his parting with the coaches association, and on occasions after he had heated conflict with certain individuals.
As always, he placed the needs of others ahead of his own.
Danny Frawley interviews Cyril Rioli during the 2018 Grand Final. Picture: Getty Images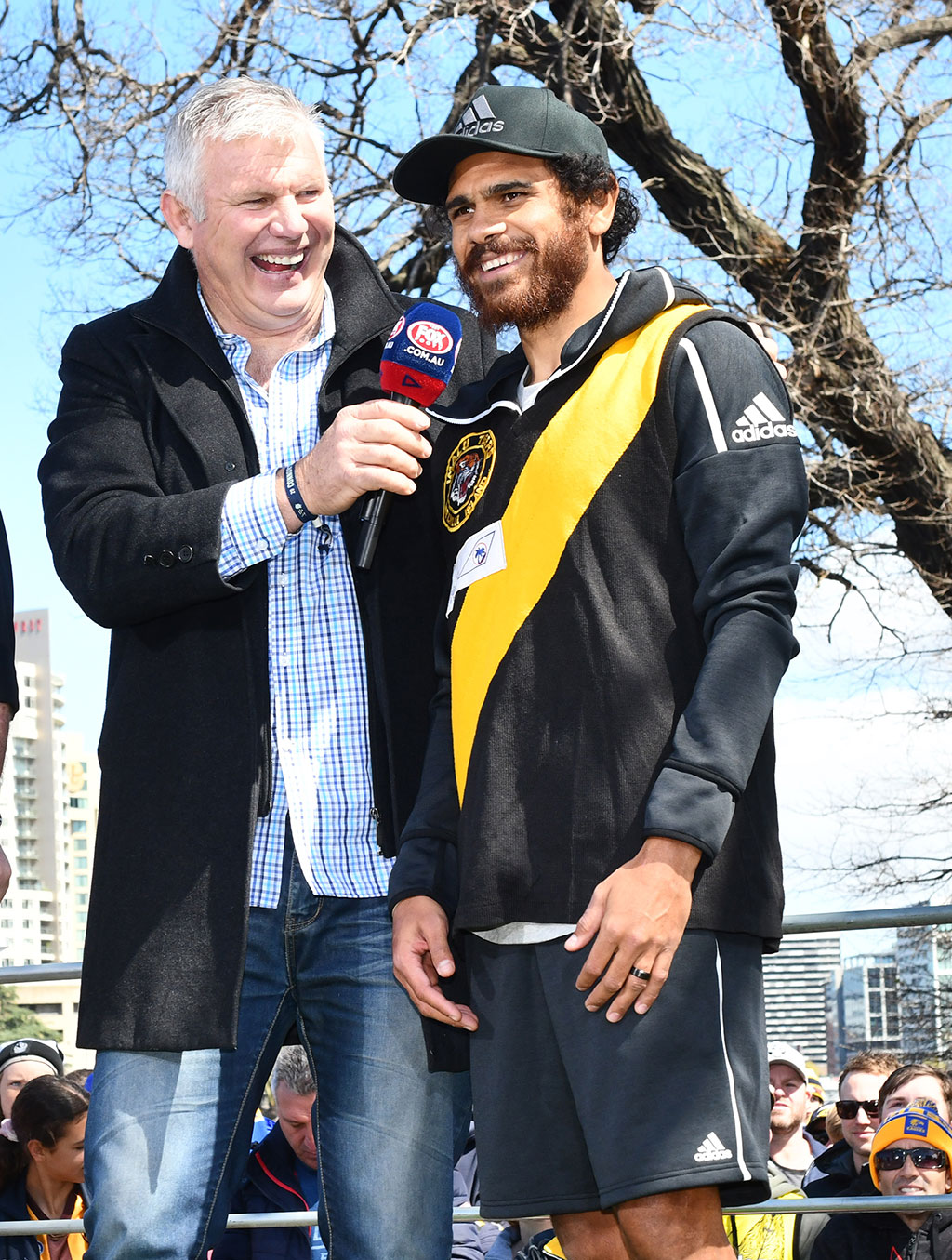 The Frawley I knew was as warm a person I have met. A funny, engaging, loving, often childish and complex person. A man devoted to his family and those closest in his life, a man who cared not how the laugh came, but as long as there was a laugh.
And it is the laugh that matters now.
It's 11.30am on any given Saturday from the mid-2000s to the mid-2010s at either the MCG or now-Marvel Stadium.
He was as funny, Spud, as he was emotionally raw, and people were drawn to him because of that combination. He loved people, wanted to be loved by people, wanted people to laugh, if not with him, then at him.
The Triple M team would assemble to prepare for two hours of talk before that afternoon's game. Other media outlets would be focused on the news events, but all Frawley cared for at this moment was for a thought bubble, or even better, physical audio evidence of someone in media or football doing something they would have been better off not doing.
Frawley would have spent the week plotting for someone's downfall, and he always had an extra stupid look on his face on the days when his material focused on one of James Brayshaw, Garry Lyon, Brian Taylor, Jason Dunstall or myself.
Danny Frawley with Garry Lyon and Gavin Brown in 1994. Picture: Getty Images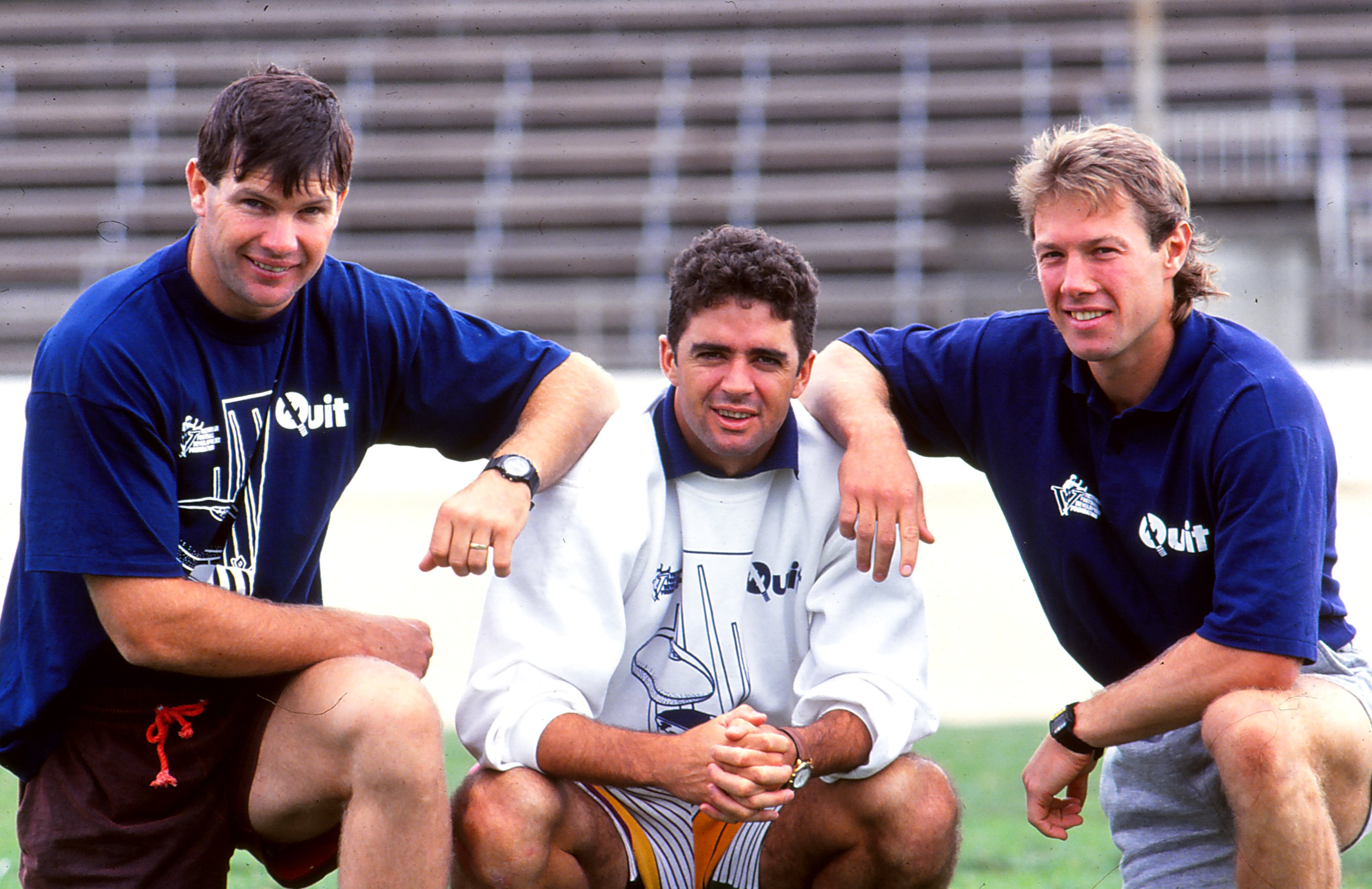 Some days, he would have pages of messily handwritten notes in front him, in a usually futile pre-show attempt to line up his words with the regularly too-excited brain that took over when the mics were turned on.
In fact, the days he had notes nearly always ended up badly for him. We'd seize a moment which he'd inevitably present us with and turn the spotlight back on him.
That was Spud's ultimate media genius, his preparedness to be the fall guy. His segments always worked, even when they didn't.
For our style of show, the many days he butchered his delivery and execution made for better radio.
"My brand is flying," he'd say weekly.
Always part of the Triple M family.

We'll miss you, Spud. ❤️ pic.twitter.com/L21JyhGoHL

— Triple M Footy (@triplemfooty) September 9, 2019
His preparation for each program always involved him being a double agent with at least one of us. Semi-regularly, he would send a text to me that was meant for Brayshaw, or vice versa, and in some group texts, he would often reply to all with words and plans that were clearly not meant for all.
While you would get used to it and even come to expect it on a weekly basis, it was never easy knowing who would be the focus of his carry-on.
In a media sense, Spud was intimidated by his longtime and great mate Lyon, which was hilarious to witness weekly.
One Saturday, though, he plucked the courage to "go" him. The Saturday Herald Sun sports section had a photo of Gaz, who was part of the Demons' group seeking a new coach, strolling through parkland in typically trendy get-up.
Spud went to town. He critiqued the manner in which Wolf's collar was "overlapping the knit", was fascinated with the walking style, the manner in which the mobile phone was being held, commented on the cost of the pants and boots, and the brand of sunglasses.
"The sheriff strides into town, gun ready in the holster," he said. It was childish, ridiculous radio, but I can't ever recall laughing harder. After he had somehow dragged five minutes out of it, Spud finished with something like this: "So tell me Wolf, when you look at that photo sitting there, do you look at it and do you say to yourself, 'Yeah, yeah, when I left the house that day, gee, I nailed that look'?"
Brayshaw was also generally a no-go zone for Spud as he would regularly subtly threaten him with verbal retribution if he focused on him too often or too long.
Which meant I was always there as his break-in-emergency option. He had a lot of emergencies.
Not one program would pass without references to four eyes or Mr Peabody or Wok Fry.
Over 30,000 people have signed a petition for the AFL to make Danny Frawley's 'Golden Fist' an official award that is awarded to the game's best defender on Brownlow night ✊

Petition ➡️https://t.co/55lYJV9Woo pic.twitter.com/WqDadmOX2c

— 7AFL (@7AFL) September 10, 2019
"News breaker, ha, you couldn't break a plate! ... I'll cave your head in, Warrior ... I'll use your head as a speedball ... Mate, 300 billion Chinese don't give a stuff ... Fair dinkum, you could put a glass eye to sleep."
I suggested to him one day that he should actually bring a glass eye in as a prop, not thinking he would.
The next Saturday, when I was again talking about something that bored him, he started bouncing the glass eye on the bench, slowing each bounce down until it stopped.
The glass eye became an in-house gag, too. Whenever one of our pre-match interview subjects was giving us nothing, the glass eye would, simply for our own in-house amusement, be bounced quietly enough for it not to be broadcast.
Out of nowhere one day, he used and immediately embraced the "Headwobbler" concept. The word is now as much a part of the AFL vernacular as contested possession. I think he twice awarded me Headwobbler Of The Year, a prize which came with him blowing into a little yellow, plastic kids' trumpet and the presentation of a neck brace.
On his drive home from seemingly every game, he would ring for a debrief. "Sorry mate, I had to throw you under the bus again, I had nothing else."
The bond Spud created on that show was unique in media and it forged and strengthened lifelong friendships.
He could create uneasy, awkward, unnecessary, stupid and childish moments, but as a starting point, his intent was in the right place and he always had your back.
His preparedness, even want, to be the fall guy in each segment was unique in an industry which has always taken itself way too seriously, and he would target those he felt were precious.
He'd ring nearly every day, Spud, sometimes two or three times.
If he was on one of his long drives, the chat would often bounce from life itself to a tip in the third at Wodonga ("it'll just win", though it and every other tip I can remember never did), to Anita and Chelsea and Danielle and Keeley, to the latest Headwobbler, to media, and only occasionally footy.
An AFL Life Member and a much-loved figure in football.

A tribute to St Kilda icon, Danny Frawley. pic.twitter.com/SKst2u5LbV

— AFL (@AFL) September 9, 2019
But the best and most common chats were the childish ones, where he'd wind himself up into one of his frenzies and just unload with some meaningless drivel that would lead to a conversation that would have embarrassed both of us if other ears had been on it.
He was as funny, Spud, as he was emotionally raw, and people were drawn to him because of that combination. He loved people, wanted to be loved by people, wanted people to laugh if not with him then at him.
Spud brought people together, and even when not feeling great about himself, made people feel better about themselves.
The laugh he so often created will always be around.