WEST Coast's premiership defence may have ended at the hands of Geelong on Friday night, but there was a silver lining to the weekend's results.
With Greater Western Sydney upsetting Brisbane in the other semi-final, the Eagles' draft position moved up and their first pick is now locked in at No.13.
That pick could be an important bargaining tool in the AFL Trade Period with West Coast hopeful of luring star Cat Tim Kelly to the club.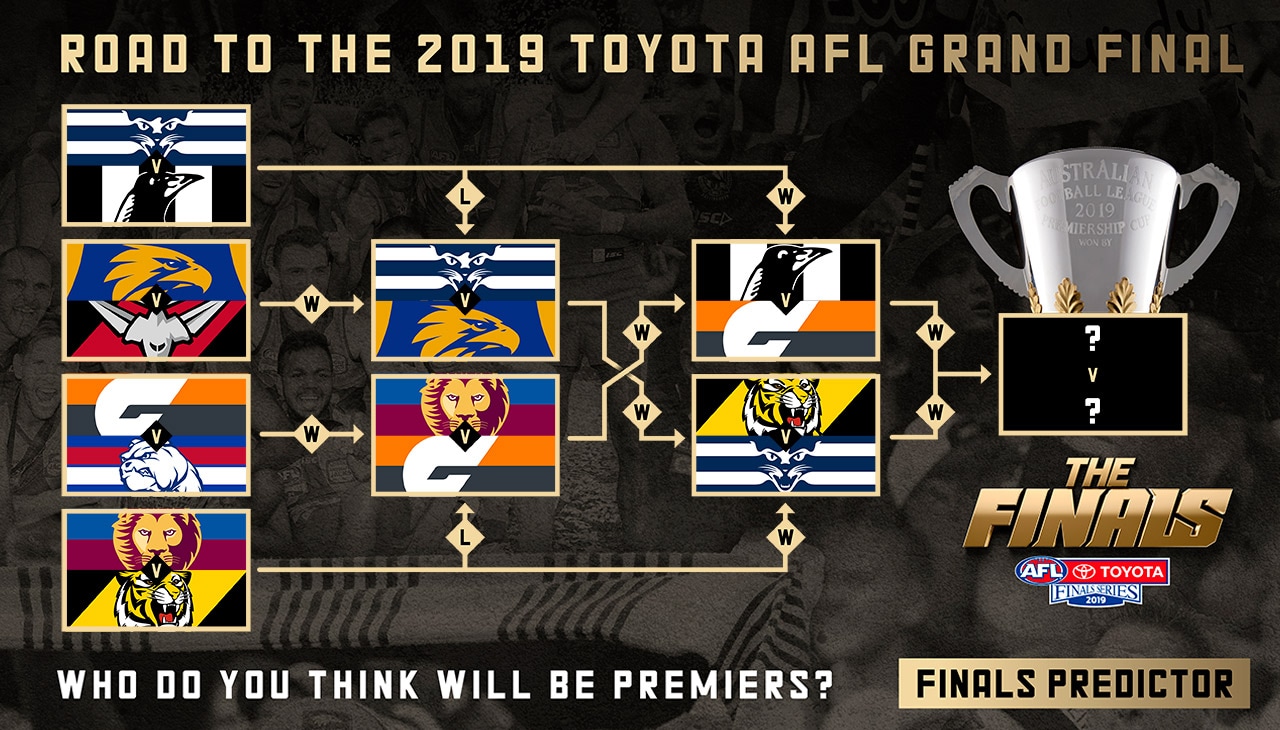 The Lions' loss to the Giants also confirmed the final picks in one of the most lopsided trades from last year's AFL Trade Period.
Brisbane gave up this year's first-round pick (14) to Gold Coast in exchange for pick No.19 last year, which was used on Ely Smith, as well as picks 19 and 46 this year.
Check out the indicative draft order after the second week of the finals, and all of your club's picks.
Indicative draft order after finals week two
ROUND ONE

GCFC

1. Gold Coast

MELB

2. Melbourne

ADEL

3. Adelaide (tied to Carlton)

SYD

4. Sydney

STK

5. St Kilda

FRE

6. Fremantle

NMFC

7. North Melbourne

CARL

8. Carlton (tied to Adelaide)

PORT

9. Port Adelaide

HAW

10. Hawthorn

GWS

11. Greater Western Sydney (tied to Essendon)

WB

12. Western Bulldogs

WCE

13. West Coast

GCFC

14. Gold Coast (tied to Brisbane)

GWS

15. Greater Western Sydney

GEEL

16. Geelong

BL

17. Brisbane (tied to Collingwood)

RICH

18. Richmond
ROUND TWO

BL

19. Brisbane (tied to Gold Coast)

MELB

20. Melbourne

ADEL

21. Adelaide (tied to Carlton)

WCE

22. West Coast (tied to Sydney)

SYD

23. Sydney (tied to St Kilda)

FRE

24. Fremantle

NMFC

25. North Melbourne

ADEL

26. Adelaide

PORT

27. Port Adelaide

HAW

28. Hawthorn

ESS

29. Essendon

WB

30. Western Bulldogs

WCE

31. West Coast

BL

32. Brisbane

ESS

33. Essendon (tied to Greater Western Sydney)

GEEL

34. Geelong

COLL

35. Collingwood

RICH

36. Richmond
ROUND THREE

RICH

37. Richmond (tied to Gold Coast)

MELB

38. Melbourne

CARL

39. Carlton

SYD

40. Sydney

WB

41. Western Bulldogs (tied to St Kilda)

BL

42. Brisbane (tied to Fremantle)

NMFC

43. North Melbourne

CARL

44. Carlton (tied to Adelaide)

HAW

45. Hawthorn (tied to Port Adelaide)

WB

46. Western Bulldogs (tied to Hawthorn)

ESS

47. Essendon

WB

48. Western Bulldogs

SYD

49. Sydney (tied to West Coast)

BL

50. Brisbane

GWS

51. Greater Western Sydney

GEEL

52. Geelong

COLL

53. Collingwood

GCFC

54. Gold Coast (tied to Richmond)
ROUND FOUR

STK

55. St Kilda (tied to Gold Coast)

MELB

56. Melbourne

SYD

57. Sydney (tied to Carlton)

SYD

58. Sydney

WCE

59. West Coast (tied to St Kilda)

ESS

60. Essendon (tied to Fremantle)

PORT

61. Port Adelaide (tied to North Melbourne)

PORT

62. Port Adelaide (tied to Adelaide)

PORT

63. Port Adelaide

COLL

64. Collingwood (tied to Hawthorn)

ESS

65. Essendon

PORT

66. Port Adelaide (tied to Western Bulldogs)

STK

67. St Kilda (tied to West Coast)

NMFC

68. North Melbourne (tied to Brisbane)

CARL

69. Carlton (tied to Greater Western Sydney)

RICH

70. Richmond (tied to Geelong)

COLL

71. Collingwood

RICH

72. Richmond
ROUND FIVE

GCFC

73. Gold Coast

MELB

74. Melbourne

GWS

75. Greater Western Sydney (tied to Carlton)

SYD

76. Sydney

STK

77. St Kilda

FRE

78. Fremantle

NMFC

79. North Melbourne

CARL

80. Carlton (tied to Adelaide)

PORT

81. Port Adelaide

HAW

82. Hawthorn

ESS

83. Essendon

WB

84. Western Bulldogs

GCFC

85. Gold Coast (tied to West Coast)

BL

86. Brisbane

GWS

87. Greater Western Sydney

GEEL

88. Geelong

HAW

89. Hawthorn (tied to Collingwood)

RICH

90. Richmond
Club-by-club draft picks
YOUR CLUB'S PICKS

ADEL

3, 21, 26

BL

17, 19, 32, 42, 50, 86

CARL

8, 39, 44, 69, 80

COLL

35, 53, 64, 71

ESS

29, 33, 47, 60, 65, 83

FRE

6, 24, 78

GEEL

16, 34, 52, 88

GCFC

1, 14, 54, 73, 85

GWS

11, 15, 51, 75, 87

HAW

10, 28, 45, 82, 89

MELB

2, 20, 38, 56, 74

NMFC

7, 25, 43, 68, 79

PORT

9, 27, 61, 62, 63, 66, 81

RICH

18, 36, 37, 70, 72, 90

STK

5, 55, 67, 77

SYD

4, 23, 40, 49, 57, 58, 76

WCE

13, 22, 31, 59

WB

12, 30, 41, 46, 48, 84
Draft value index
| ROUND ONE | ROUND TWO | ROUND THREE | ROUND FOUR | ROUND FIVE |
| --- | --- | --- | --- | --- |
| Pick/Pts | Pick/Pts | Pick/Pts | Pick/Pts | Pick/Pts |
| 1. 3000 | 19. 948 | 37. 483 | 55. 207 | 73. 9 |
| 2. 2517 | 20. 912 | 38. 465 | 56. 194 | 74. - |
| 3. 2234 | 21. 878 | 39. 446 | 57. 182 | |
| 4. 2034 | 22. 845 | 40. 429 | 58. 170 | |
| 5. 1878 | 23. 815 | 41. 412 | 59. 158 | |
| 6. 1751 | 24. 785 | 42. 395 | 60. 146 | |
| 7. 1644 | 25. 756 | 43. 378 | 61. 135 | |
| 8. 1551 | 26. 729 | 44. 362 | 62. 123 | |
| 9. 1469 | 27. 703 | 45. 347 | 63. 112 | |
| 10. 1395 | 28. 677 | 46. 331 | 64. 101 | |
| 11. 1329 | 29. 653 | 47. 316 | 65. 90 | |
| 12. 1268 | 30. 629 | 48. 302 | 66. 80 | |
| 13. 1212 | 31. 606 | 49. 287 | 67. 69 | |
| 14. 1161 | 32. 584 | 50. 273 | 68. 59 | |
| 15. 1112 | 33. 563 | 51. 259 | 69. 49 | |
| 16. 1067 | 34. 542 | 52. 246 | 70. 39 | |
| 17. 1025 | 35. 522 | 53. 233 | 71. 29 | |
| 18. 985 | 36. 502 | 54. 220 | 72. 19 | |