IT'S GONE beyond brain-fade levels now for Tom Hawkins.
Six striking charges in four years. A total of six matches lost to suspension and $8000 in fines across nine separate charges in the same time.
But it's the Geelong spearhead's latest hit on Eagle Will Schofield that comes with the worst timing of the lot, slapped with a one-match ban for Friday night's preliminary final against Richmond.
While the Cats will challenge the finding in a blockbuster AFL Tribunal hearing at 6pm AEST on Monday night, it's just the latest in a series of brain fades that now adds up to an alarming trend.
TOM TROUBLE Star Cat set to mis prelim after copping one-match ban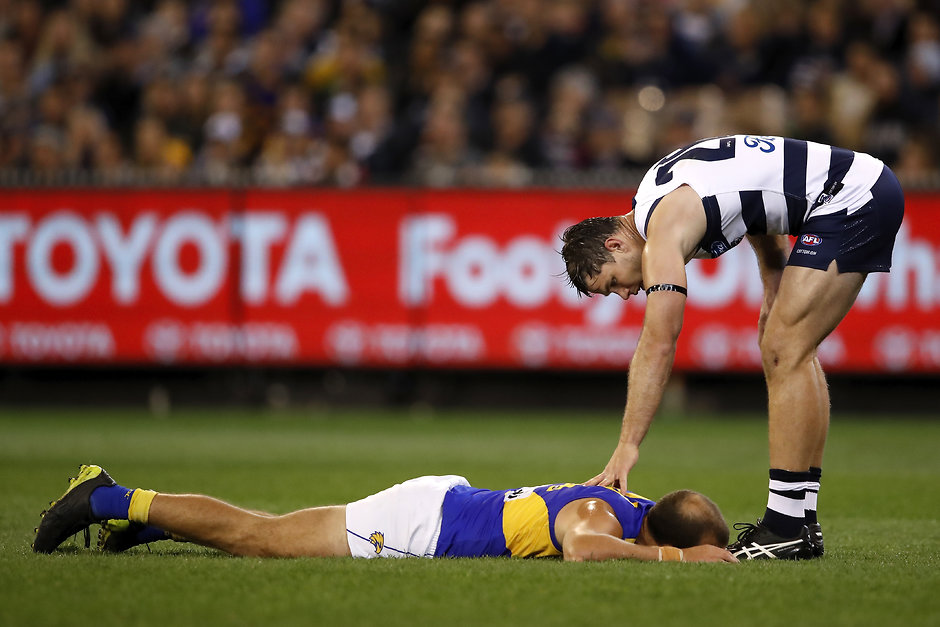 Hawkins accepted his three previous suspensions for striking, opting not to travel up the highway and plead his case.
Geelong has no other choice but to roll the dice this time around, but it looms as the hardest case of the lot, attempting to downgrade the intentional hit to careless – despite it coming more than 50m from the ball.
Back in 2016, a one-match suspension for a jumper punch on Phil Davis was met with remorse from Hawkins who had never been rubbed out in his previous 176 matches.
JUST A FOOTBALL INCIDENT Davis explains Hawkins' hit to the chin
It was seen as a spur-of-the-moment incident from a dual premiership player never associated with foul play.
But just a season later it happened twice. His jumper punch on Adelaide's Matt Crouch came less than a fortnight after the AFL delivered a 'crackdown' on punches.
Tom Hawkins got Matt Crouch with a jumper punch late in the second quarter. #AFLCatsCrows pic.twitter.com/nz4ibd0z51

— AFL (@AFL) June 2, 2017
Coach Chris Scott called the impact "insignificant" and superstar midfielder Patrick Dangerfield questioned the system against other findings before the Cats reluctantly accepted.
Even Match Review Panel member Jimmy Bartel issued a warning to his premiership teammate.

JIMMY'S WARNING Stop the jumper punches, Tom
Only eight weeks later Hawkins got sucked in again, his prior record coming back to bite as he was suspended for two weeks for a jumper punch on Dane Rampe. The Cats simply had no other choice but to accept.
In a 2017 post-season interview with Fairfax Media, Hawkins spoke of his "embarrassment" for the incident and vowed not to "flick the switch" again when he became "frustrated".
In a column for Players Voice in the same period, he said he had let his teammates down and said he and the club "had put a few things in place" to ensure it wouldn't happen again.

"I was embarrassed after the second time, so I'd be really embarrassed if there was a third," Hawkins said.
The hit on Schofield wasn't the same jumper punch action, but was built through the same frustration that has dogged him previously – including a one-match ban for touching umpire Dean Margetts last year.
A frustrated Tom Hawkins and Dean Margetts in round seven, 2018. Picture: AFL Photos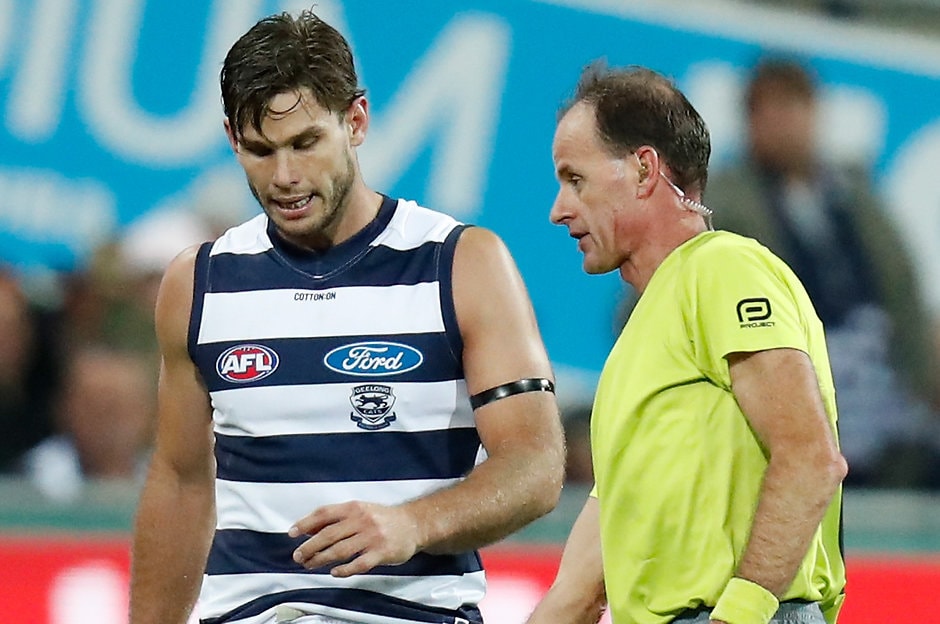 On Monday morning, Hawkins' teammates started preparing for Richmond in the knowledge their All Australian forward is every chance to miss.
Should the challenge fail, Hawkins will be watching from the stands at the MCG on Friday night, hoping and praying the Cats win the match so he gets the chance to make amends to his teammates. Again.
TOM'S ROUGH RUN
Total: 9 charges
Suspensions: 6 matches
Fines: $8000
2016: Fined $1000 for engaging in a melee during Geelong's clash with Port Adelaide.
2016: Handed a one-match suspension for a jumper punch to the chin of Giants captain Phil Davis.
2017: Didn't learn his lesson from the season prior, handed another one-game ban for a jumper punch on Adelaide midfielder Matt Crouch.
2017: Just eight games after his last suspension, Hawkins was hit with a two-match ban for yet another jumper punch – Sydney defender Dane Rampe was the victim on this occasion.
2018: Copped a $2000 rough conduct fine for a late spoiling attempt on Nick Haynes, where he collided with the back of the Giants defender with his knee.
2018: Just moments after that incident involving Haynes, he earned a one-match suspension for pushing the arm of umpire Dean Margetts as he argued against a free kick being paid.
2019: Fined $2000 for striking Hawthorn defender James Sicily, after elbowing the defender in the back in a behind-play incident.
2019: Given a $3000 fine for a forearm to the head of Sydney defender Jordan Dawson, having arrived late to the contest before lashing out after a mark was paid.
2019: Rubbed out during the finals, having earned a one-match ban for striking West Coast defender Will Schofield to the head in an off-the-ball incident.