WHETHER they were spearfishing, making boomerangs or simply sitting around a camp fire sharing stories, the AFL's indigenous players were among family.
There is a tightknit brotherhood between those who represent their people with pride each and every week on football grounds and on television screens across the country.
Bringing everyone together at the 2019 AFL/AFLPA Indigenous All Stars Summit, held every two years and in Adelaide for the first time last week, only strengthened those bonds.
"It's pretty important to just get together with the guys," Port Adelaide ruckman Paddy Ryder told AFL.com.au.
"There's a lot of new faces coming through so to be able to connect with all the new boys is great.
"The needs are always changing for the players with the game changing so it's important to sit down and talk about it."
The summit also helps prepare the young players, including Gold Coast's Izak Rankine and Richmond's Sydney Stack, for what they can expect as they enter life as full-time footballers.
The more experienced among the group are happy to pass on their knowledge and act as a support network to the next generation of indigenous stars.
"I was having a couple of chats with the young blokes – my message to them is just to stick at it," Ryder said.
"A lot of the time it's not going to be going perfect or not the way that they want it to be.
"My message to them is stick it out through the tough times.
"When things aren't going too well because we are very lucky to be in the industry we are and just stick it out."
One of the newcomers to the summit was St Kilda forward Robbie Young.
The 23-year-old was selected by the Saints with pick 67 in last year's NAB AFL Draft after helping North Adelaide win the SANFL premiership in 2018.
Power player Joel Garner and Saint Robbie Young. Picture: Mark Piovesan Photography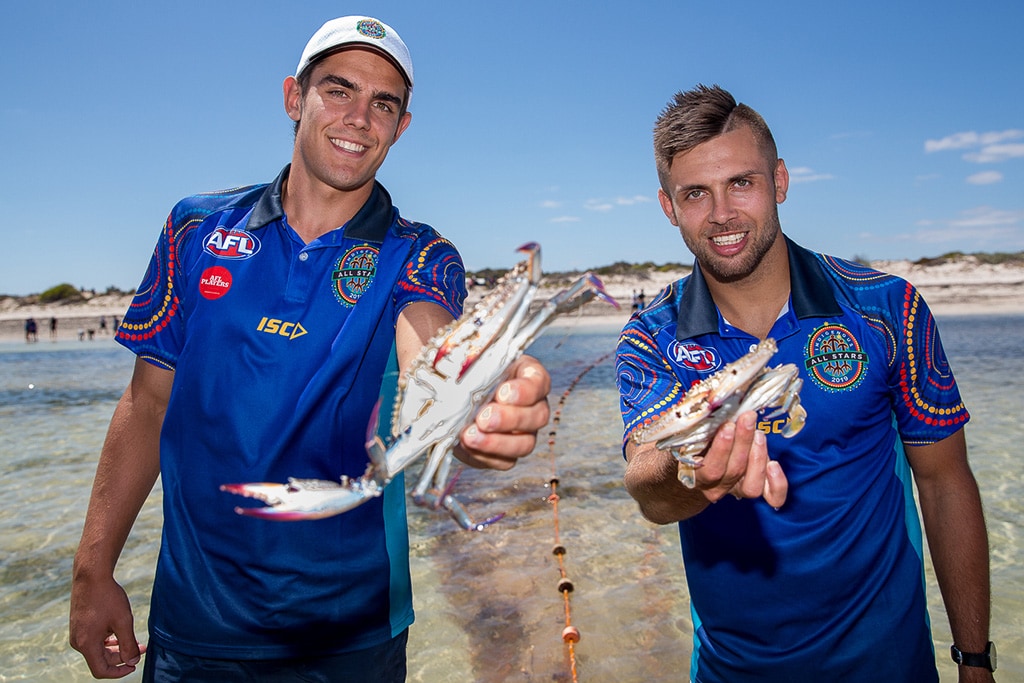 He felt right at home on the camp, especially when the players jumped on a two-and-a-half hour bus ride to the small town of Point Pearce on the Yorke Peninsula for cultural activities.
"It's always good to come back to my home land at Point Pearce," Young said.
"When I was going through the itinerary and found out we were coming back to my home, I felt really proud.
"There's nothing better than coming home than with the rest of the indigenous players and the AFLPA and all the other AFL members.
"My nan grew up here when she was little.
"Whenever I get the chance to come back home it's something I grab with both hands."
WHO MAKES FINALS? Do the 2019 Ladder Predictor
It wasn't just the players who enjoyed the experience.
AFL chief executive Gillon McLachlan joined the players at Lot 100 in the Adelaide Hills on the second day of the camp, while Melbourne coach Simon Goodwin, St Kilda football boss Simon Lethlean and Port Adelaide chief executive Keith Thomas were also on hand to get a greater understanding of indigenous culture and the issues confronting the players.
Melbourne defender Steven May said it meant a lot to see so many club officials making an effort to connect with the players.
"It's great to have all the AFL execs, a lot of high-powered guys here, Gill doing a dance last night around a fire," May said.
"Just those sorts of things, I don't think we would've seen that a long time ago.
"Now, they're so open to broadening their knowledge."
Who wants to learn how to spearfish? Picture: Mark Piovesan Photography

Indigenous players across the competition are taking steps to stay connected during the year.
Adelaide star Eddie Betts and wife Anna hosts 'Mob Nights' for the Crows' indigenous players.
At Melbourne, the Demons' contingent have started what they call BBC – Brother Boys Catchups – once a fortnight.
Demons forward Jeff Garlett wants to take the concept further and include indigenous players from all Melbourne-based clubs.
"We're going to try and create that goal from here," Garlett said.
"We've spoken about it on the camp, get all the brothers who are based in Melbourne, catching up more regularly than what we are.
"If we can create that, it closes that gap and builds that bond."
Jackson Trengove was invited to represent the Western Bulldogs at the summit. Picture: Mark Piovesan Photography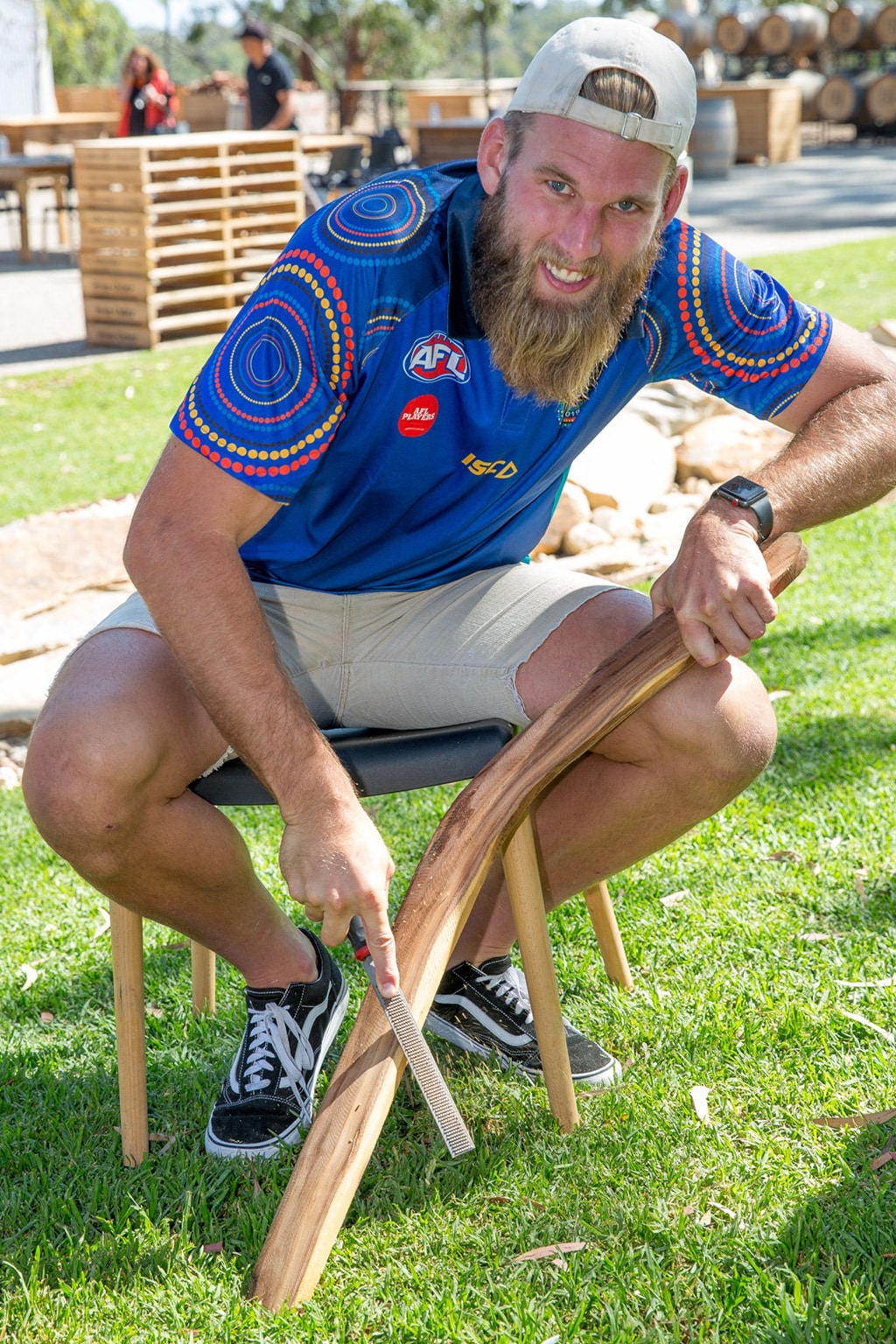 May knows first-hand how important it is to have support networks when players get drafted.
He grew up in Darwin before joining expansion club Gold Coast in 2011.
May spent eight seasons with the Suns before making the switch to the Demons at the end of last year.
"When you come on these camps, the good thing about them is you feel a bit more connected to your family," May said.
"We speak about strategies.
"Whether it's state-wide catch-ups, the guys who play for different clubs, make sure we catch up and make sure we have a family within a family, because it can be tough leaving towns like this, Port Pearce or Darwin or wherever you're from and going to Melbourne.
"Being able to pass on some advice and coping mechanisms in terms of getting homesick and that sort of stuff."