IT WAS a strenuous two-month process of forensic analysis, forecasting and interviews.
And for Carlton, it landed on David Teague.
The Blues got to work in June to find the club's successor to Brendon Bolton. They formally interviewed two candidates, approached a number of others and vetted many more.
They hired an internal analyst who worked nearly full-time alongside CEO Cain Liddle and football boss Brad Lloyd, tasked with the job of filing through the club's entire situation.
David Teague was all smiles at Thursday's announcement. Picture: AFL Photos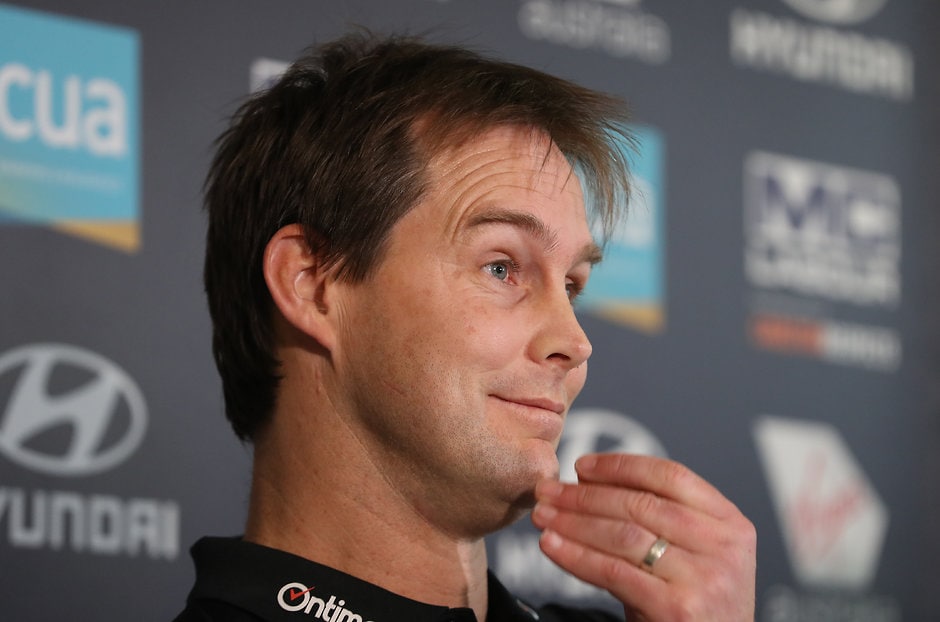 They investigated almost every facet of the club. From the playing list, to the coaching group as a whole, to the applicants for the position, to Teague himself. It was a gruelling, microscopic look at what type of person – and what type of coach – the Blues needed.
Yes, the 'Teague Train' campaign might have got some publicity. And, yes, the playing group's emphatic public endorsement of Teague might have won him some sway.
NEXT STOP, GLORY DAYS Belief fuels Teague train decision
But, no, this wasn't a popularity contest. In Carlton's eyes, Teague was the man for the job.
Port Adelaide assistant coach Michael Voss was the other person interviewed. But even he wasn't spoken to as often as Teague was. Liddle believes the former Carlton best and fairest winner was interviewed formally eight times. Informally, that number was far greater.
Michael Voss was the only other candidate formally interviewed for the role. Picture: AFL Photos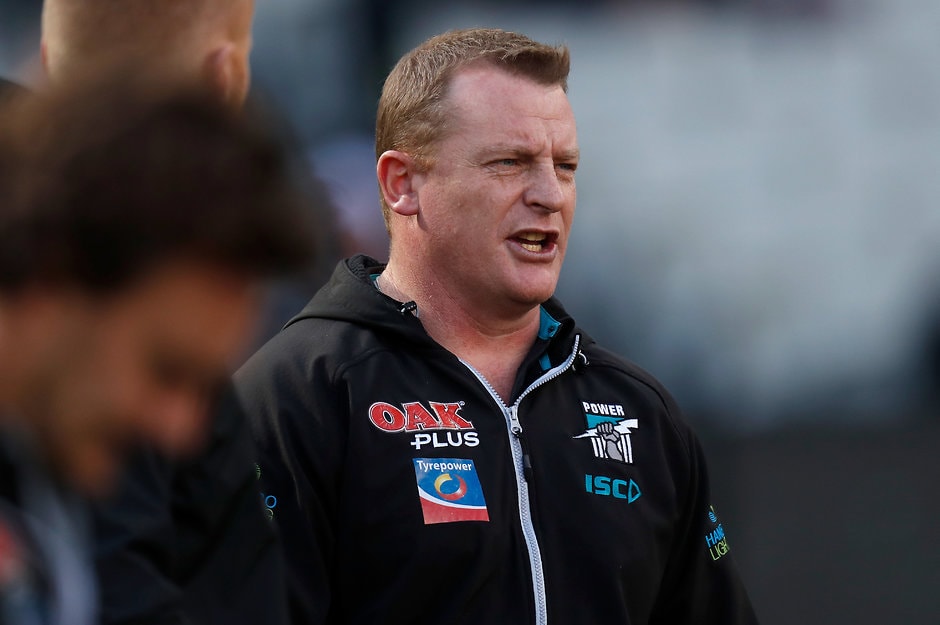 "We had the two months to watch and observe David as a coach," Liddle said on Thursday.
"Not only on match days, but in the lead-up to games and post-games, and we watched him interact with players in a number of other settings. So, we had that benefit.
"You might recall me mentioning a couple of months ago that we wanted a coach to come in, hit the ground running and who was perfect for the group with where we were at right now – not someone who would come in and need time.
"The profiling work we've undertaken has confirmed for us that David is absolutely perfect for where our group is at."
To say Teague was an outside chance for the job back in June would be an understatement.
However, while the club's shortlist – or 'longlist', as Liddle referred to it – initially targeted someone experienced, Teague had that in droves. All he needed was an AFL chance.
He got that when he was handed the reins of Carlton for the final 11 games of this season as its caretaker coach, having been endorsed strongly for the position of interim boss by Lloyd.
Five wins from his first seven games in charge put momentum on his side. From there, an almost unprecedented surge of public support from the fan base helped Teague's cause.
David Teague celebrates his first win as interim coach. Picture: AFL Photos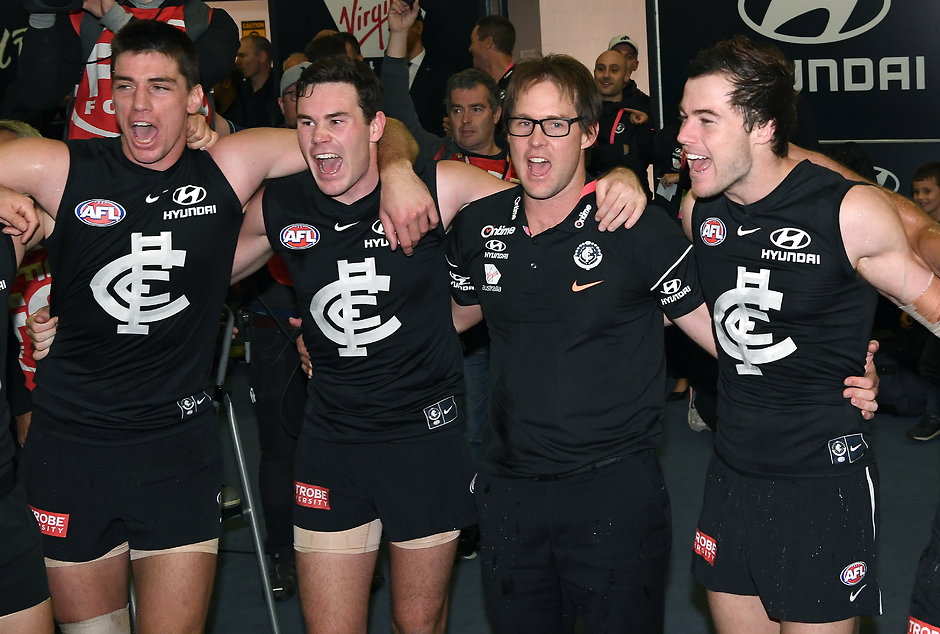 But behind the scenes, the vetting of Teague was backing up the flurry of goodwill.
His extensive coaching career, which started at the age of just 27, left a trail of success.
He coached the Northern Bullants to successive Grand Finals in 2009 and 2010, helped West Coast go from a wooden spoon to a preliminary final in one single season, then played a key role in reinventing Adelaide's forward line on its journey to the Grand Final in 2017.
David Teague with former Crow Charlie Cameron in 2016. Picture: AFL Photos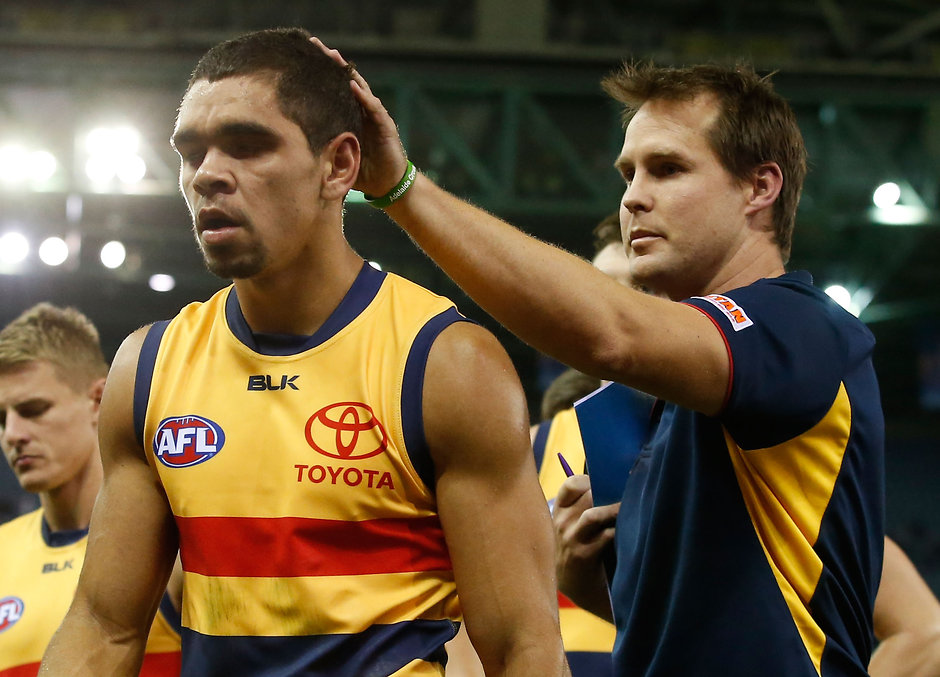 That 12 years of invaluable coaching experience served him well when he was handed the keys to Carlton for the second half of this season – the five wins he managed from his first seven games in charge was as many as the Blues had won in their previous 38 outings.
"David was on the list right from the start," Liddle said.
"While we were able to observe things away from match days, the things we were seeing on match days – his ability to attack, kick high scores and to just be in games for the entire nine weeks he's coached – you've always felt we were a chance to win this.
"That became compelling evidence, on top of everything else we could see.
"We talked about wanting a coach to come in … and the panel and our members were expecting rapid improvement and significant improvement. We feel like we've seen that."
Find AFL Exchange on Apple Podcasts, Google Podcasts and Spotify.
Many people would consider Teague's application process as stressful.
He was asked to front the media each and every week, before and after games, while he also went through his own formal interview procedures with the club's coaching committee.
Then came the other little matter of actually coaching the side.
He was eventually handed his reward for that effort on Wednesday afternoon, called into the office of president Mark LoGiudice where Liddle and Lloyd awaited him.
Teague was under the impression he was going to film a video to celebrate co-captain Patrick Cripps' 100th game milestone against St Kilda this weekend.
David Teague with co-captains Sam Docherty and Patrick Cripps. Picture: AFL Photos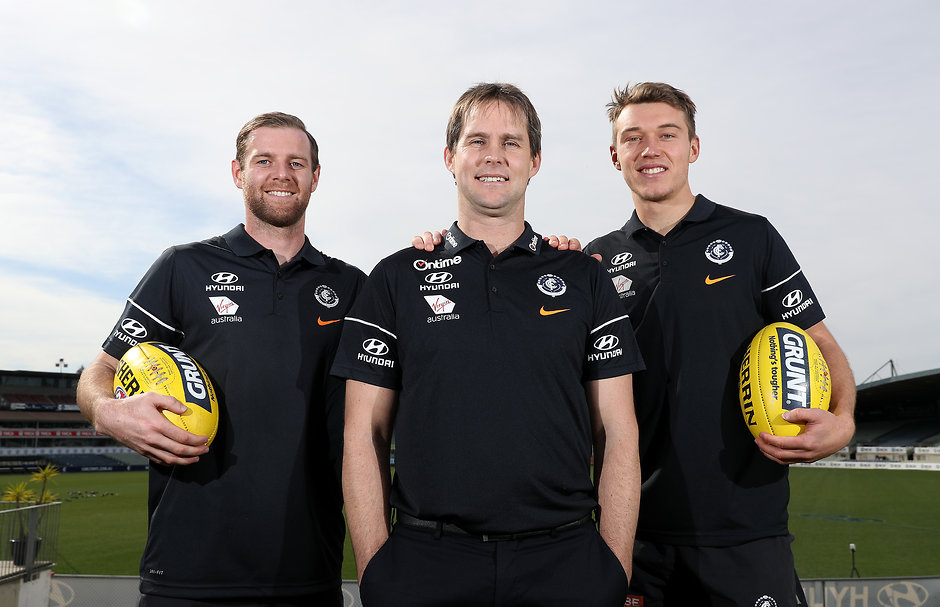 He was actually being informed that the top job at Ikon Park was his.
"(The process) wasn't too bad," Teague said on Thursday.
"It was probably more the time. I wanted to make sure I was getting my job done as a coach and making sure I was prepared well enough to make sure the players were prepared.
"The interviews along the way … it was a real balancing act. I was talking about the now in coaching and the future of the football club. Your mindset went from one to the other.
"I definitely felt most comfortable when it was about the now. I love coaching this football group and I love coaching these players."
Teague clearly has the support of Carlton. That was best summed up by the reaction of his playing group and fellow staff members to the news of his appointment.
The playing group welcomed the Teague appointment. Picture: AFL Photos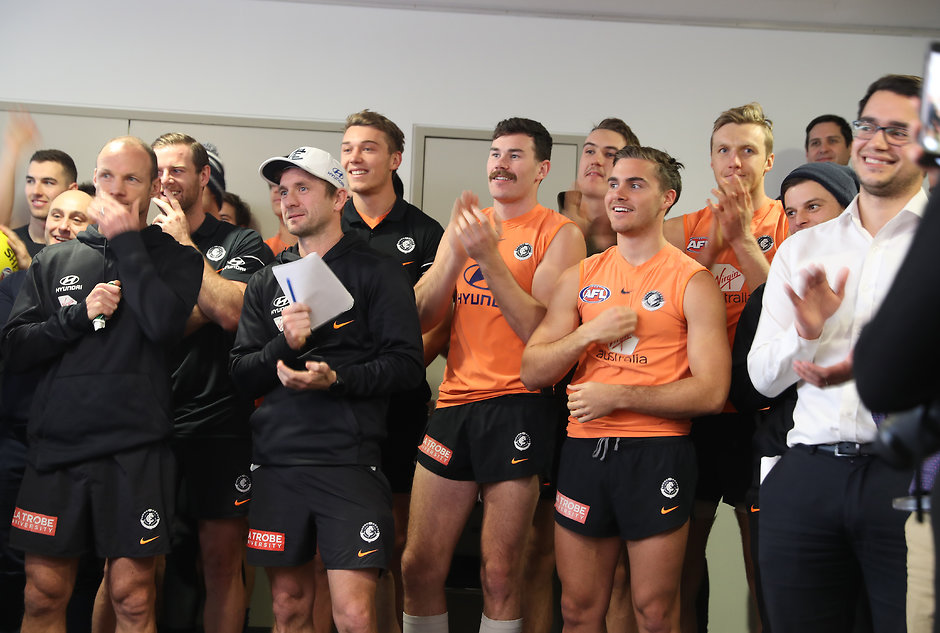 He also has their faith. That was reflected in a three-year deal, ensuring his future with the Blues until at least the end of 2022, and the lack of a mentor figure overseeing his work.
While the club has not ruled out the possibility of hiring a senior assistant to aid Teague in the coaches' box, it's clear he will be the man in charge going forward.
No one summed that up better than Liddle on Thursday morning: "We couldn't be clearer. He just could not be more ready to be a senior coach."