ALTHOUGH disappointed by Brisbane's heartbreaking finals exit, Chris Fagan was all smiles about a season that saw his Lions rise to prominence quicker than he expected.
The three-point semi-final loss to Greater Western Sydney drew the curtain on a season that lifted Brisbane from 15th in 2018 to fifth in 2019.
It went from five wins to 16 and after a decade in the doldrums, put the Lions back on the AFL map.
Dayne Zorko and Chris Fagan leave the Gabba after the semi-final. Picture: AFL Photos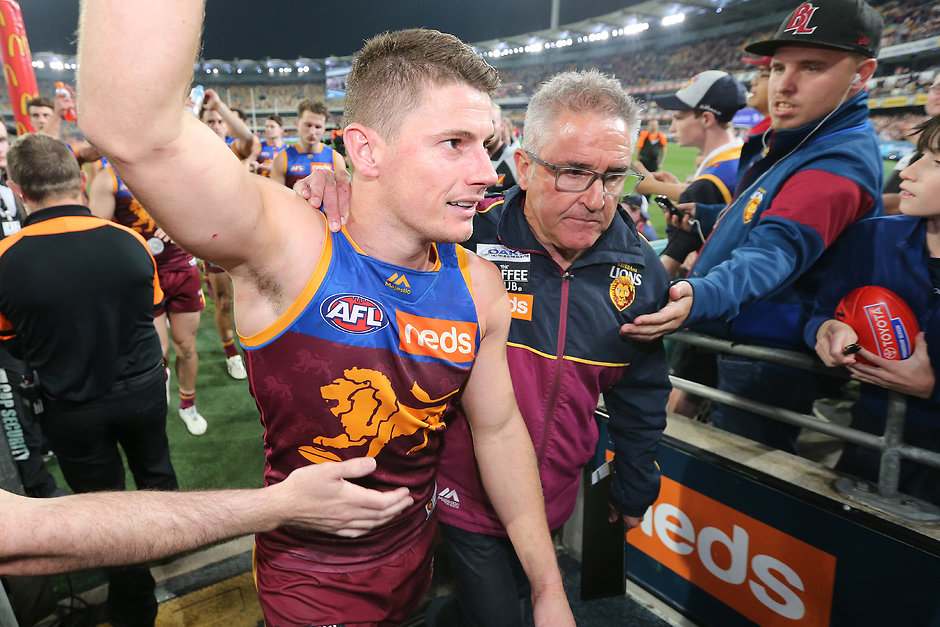 Although Fagan was left to rue some "little things" that cost his team dearly against the Giants, in the long run, it would all be valuable, he said.
HODGE DONE, AGAIN Champion quietly hangs up the boots
"It's been a brilliant season. No one would have expected this," Fagan said.
"I've got to be careful what I say here because this is a very hard competition and just because we won 16 games this year doesn't mean we're going to do it next year.
"What it does give them is belief.
"Three years ago these boys wouldn't have believed they could turn up this year and play a couple of finals and win 16 games.
"They'll know they can do it.
"We don't want to be a 'flash in the pan' club, we want to be a club that can consistently get into finals and press each year to be a chance.
"To be honest I thought that might have started to happen next year, it's happened a year earlier.
"Now we've got a reputation to live up to and that's a good thing."
Allen Christensen after putting the Lions in front late in the game. Picture: AFL Photos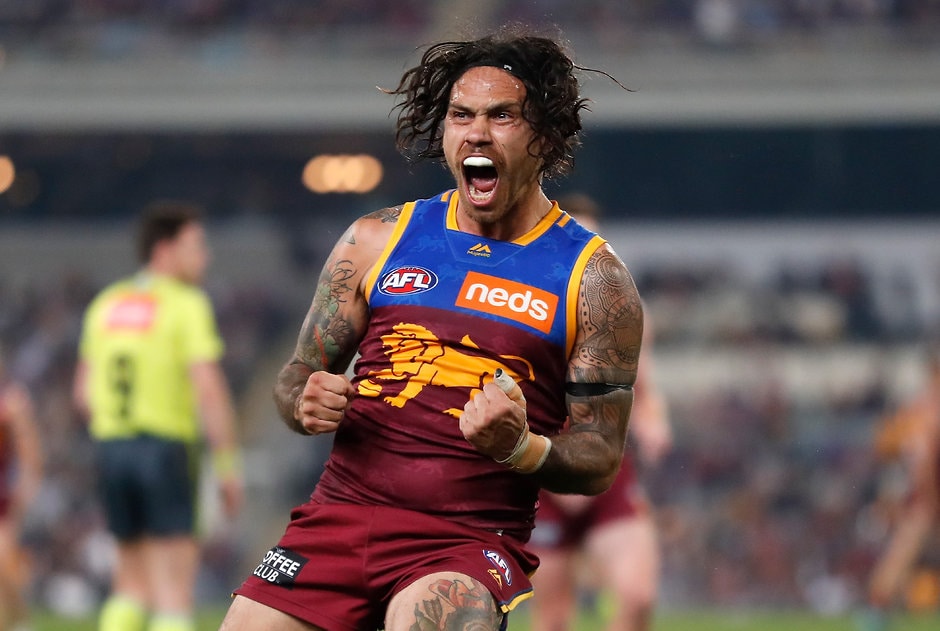 Despite being bundled out of September with successive home losses to Richmond and GWS, Fagan said the Lions did a lot right in both matches and should not lose heart.
By the numbers, he was right.
LIONS v GIANTS Full match coverage and stats
After wasteful kicking cost them against the Tigers, Brisbane again dominated most statistical areas against the Giants, winning inside 50s (61-44), clearances (48-34), and contested ball (155-131).
But conceding the game's first four goals, including giving away a free kick directly in front and another 50m penalty that led to another, proved costly.
"There was the handball-receive (Zac) Williams got from the (Shane) Mumford mark just outside 50, we've got to be good enough to not let that happen, Finlayson's shot that doesn't get touched on the line because we're not switched on," Fagan lamented.
"Just those little moments they were able to seize on.
"They probably took too many intercept marks in our forward end.
"I'm pulling things out, they're all true, but by and large, the things you need to do to win a game of football, we won all of them, as mostly we did last week.
"The learning is we've got to get all the little things right."
Just seven days ago there were 14 Brisbane players who hadn't played a finals game, but Fagan said bumper crowds against Geelong, Richmond (twice) and now GWS to finish the season had given his players a money-can't-buy experience.
"In the last two weeks I think we stood up pretty well in finals-like pressure even though we've got nothing to show for it," he said.
"I don't think our boys have taken a backward step at any stage and have competed really well and now they know what it's like.
"Everyone says you've got to play in a few finals to know what they're about.
"We've got that experience and hopefully can help us grow next year."