THE NEXT generation of AFL stars will take the field over the next month throughout the NAB AFL Under-18 Championships.
This year's carnival starts on Saturday, when Vic Metro and Vic Country lock horns at the MCG at 10.35am local time.
Those teams, as well as Western Australia, South Australia and the Allies, will play off for the division one title and here are 20 players (in alphabetical order) who are likely to catch the eye.
Find Road to the Draft on Apple Podcasts, Google Podcasts and Spotify.
Noah Anderson
17/2/01
188cm/86kg
Vic Metro/Oakleigh Chargers
Midfielder
Anderson just turns up and performs every week. The midfielder pieced together an excellent start to the year in the NAB League, averaging 32 disposals and nearly three goals in the opening three rounds, before playing at school level. He is a tall midfielder with a very strong endurance base and a good presence overhead. Anderson also regularly hits the scoreboard, be it a long running goal, a mark on the lead or a snap around his body. Has some genuine flash to go with his consistency, and is a worthy candidate as a top-two pick.
Lachie Ash
21/6/01
186cm/80kg
Vic Country/Murray Bushrangers
Defender
Ash brings real speed to the draft crop. He's a line-breaker off half-back who is given the licence to thrill: he enjoys whipping the ball under his arm and taking the game forward. Ash doesn't run aimlessly – he's composed with the ball but adds plenty of excitement. Ash has played at senior level before – he won a country premiership with Shepparton last year – and finished second in the Murray Bushrangers' best and fairest last season.
Nick Bryan
22/10/01
202cm/87kg
Vic Metro/Oakleigh Chargers
Ruckman
Has come from the clouds to be the best ruckman in the draft class by some way. Bryan's form early this season – he averaged 25 hit-outs a game in the first three rounds for the Chargers – saw him win selection in the Australian under-18s team to face VFL side Casey Scorpions in April. Although lightly framed, Bryan's strengths lie in being an extra midfielder around the ground. He has good skills and game sense, and can also provide a marking option.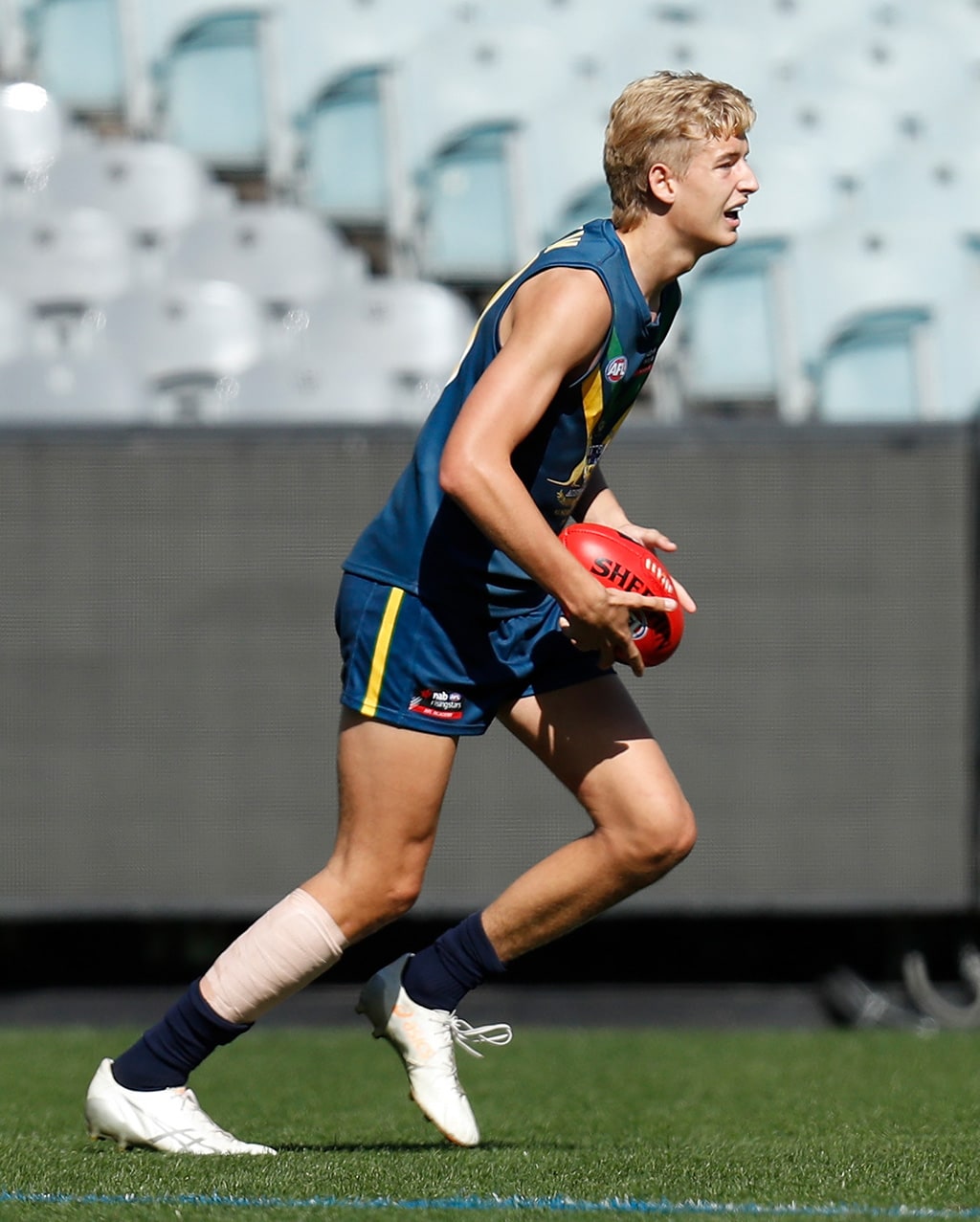 Thomson Dow
16/10/01
182cm/71kg
Vic Country/Bendigo Pioneers
Midfielder
The younger brother of Carlton's Paddy has taken the eye of recruiters this year. He is different to Paddy, playing a little bit taller and occasionally drifting forward to offer a target. Dow is lean but agile and with a burst, and started the season in strong form for the Pioneers, including a 28-disposal and two-goal effort against the Geelong Falcons in round one.
Sam Flanders
24/7/01
182cm/81kg
Vic Country/Gippsland Power
Forward/midfielder
Flanders has shown his best form as a powerful forward who can then take turns in the midfield. This season he has averaged 23 disposals, five tackles and a goal at NAB League level, and he's capable of doing some eye-catching things. Flanders has a mature build but is able to jump up and take a grab or cleanly collect the ball when it falls at the bottom of a pack.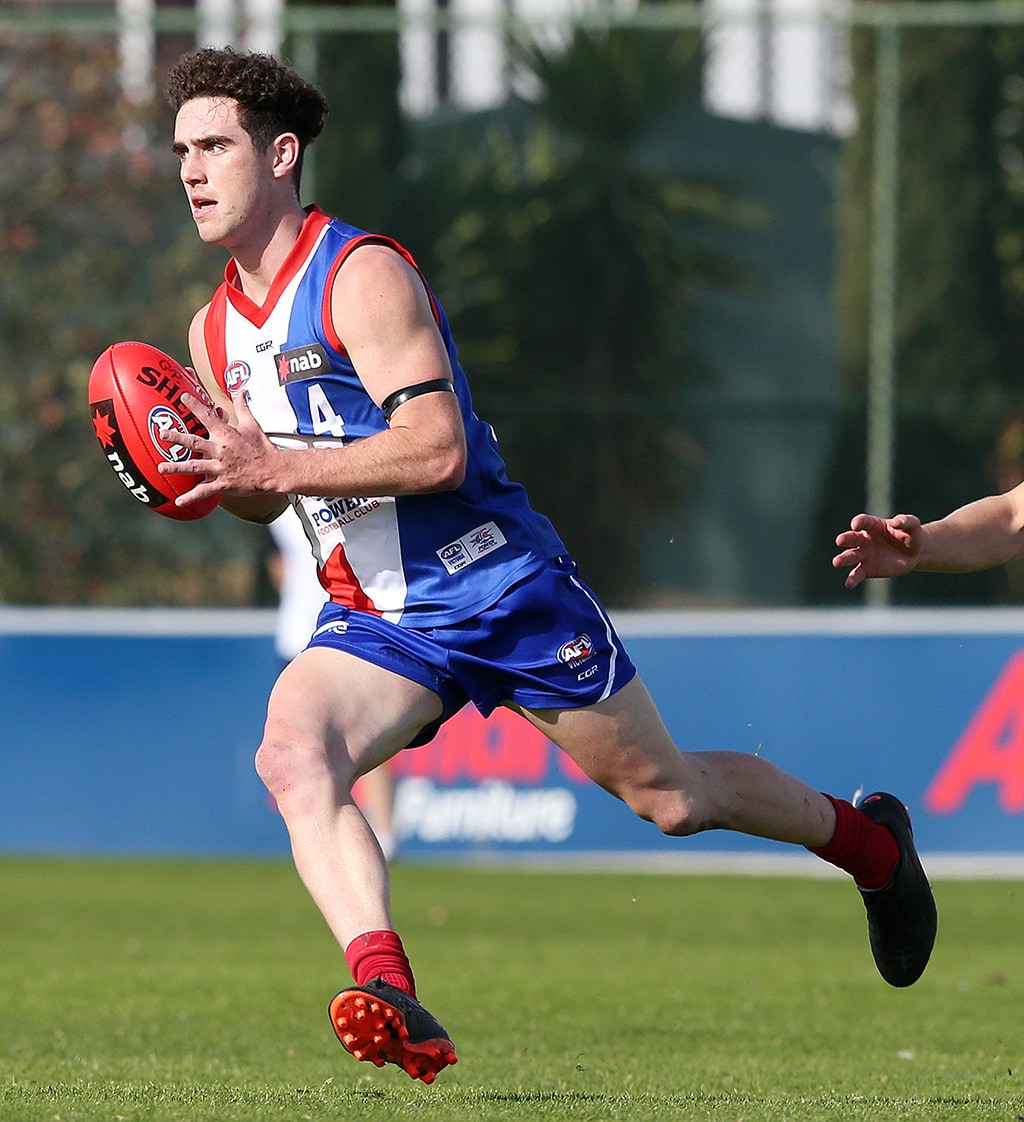 Will Gould
14/1/01
191cm/98kg
South Australia/Glenelg
Defender
One of only three bottom-aged players selected for last year's under-18 All Australian team following his impressive carnival for South Australia. Gould has stepped up to play well at SANFL level, where his mature frame and booming kick is relied upon across half-back. He reads the game well and gives excellent rebound, and has been likened to West Coast skipper Shannon Hurn in his powerful style.
Tom Green
23/1/01
188cm/85kg
NSW-ACT/GWS Academy
Midfielder
Green starred for the Allies in their trial match with Vic Country on Sunday, showing again his ball-winning ability through the midfield 20 disposals and eight clearances. The Giants Academy prospect shapes as a possible top-10 selection due to his status as a big and strong inside midfielder who can bullock through traffic and set up the game from the midfield. He shed eight kilograms over the pre-season and is a better runner than he was last season, which has led to improved numbers. He should be one of the most productive midfielders at the championships.
Liam Henry
28/8/01
180cm/67kg
Claremont
Forward
Fremantle will get first access to Henry as a member of the club's Next Generation Academy. The lightly framed indigenous teenager is a lively small forward who kicked four goals from 24 disposals for Claremont's colts side last month in an exciting display. A minor knee injury has halted some of his progress, but some recruiters believe Henry could attract a top-20 bid if he continues at his current rate of development given his blistering speed and delightful skills.
Brodie Kemp
1/5/01
193cm/82kg
Vic Country/Bendigo Pioneers
Utility
Because of his size and ability, Kemp can play in most positions on the ground. He's been used as a marking forward, as a tall midfielder who extract the ball, and also across half-back where his vision stands out. Kemp isn't a huge ball-getter, but has plenty of upside and may end up a top-10 selection. Kemp is athletic and moves well, and is a player who could rocket up the ranks with a strong carnival.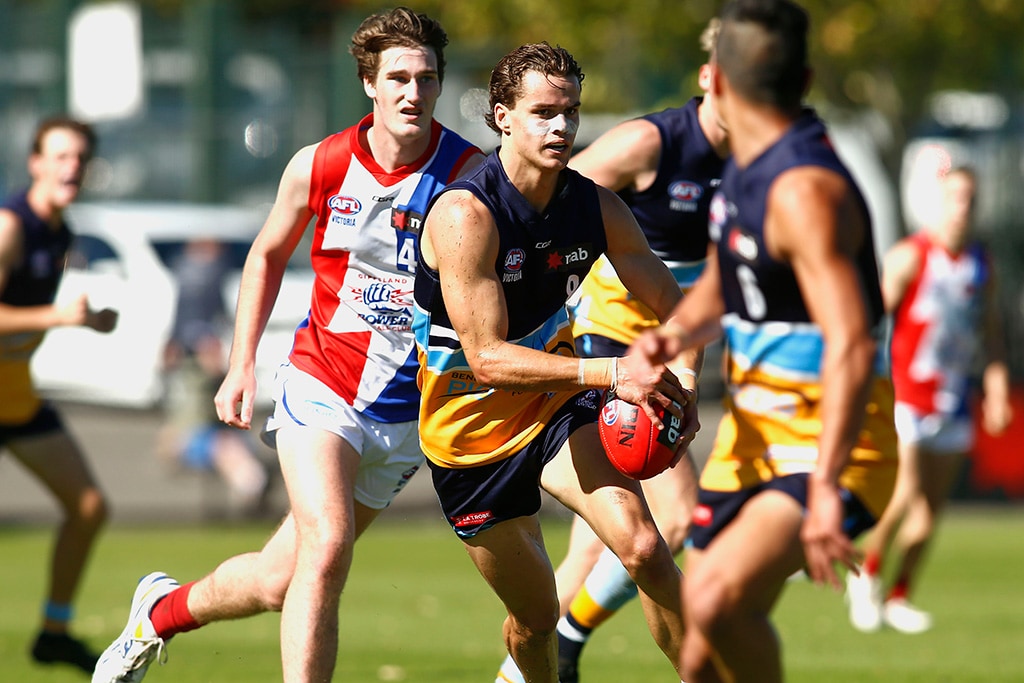 Finn Maginness
23/2/01
187cm/80kg
Vic Metro/Sandringham Dragons
Midfielder
The son of two-time Hawthorn premiership player Scott Maginness has enjoyed a strong start to this season to push him into top-20 contention. Maginness is a tall midfielder who uses his size to bust through traffic, and he's one of the most improved players in the pool. He booted four goals in a quarter at school level last week for Scotch College in a dominant display and he has the athleticism to be a modern midfielder.
Will Martyn
29/3/01
183cm/73kg
Queensland/Brisbane Lions Academy
Midfielder
A hard-at-it midfield option who should perform well for the Allies. He's a natural ball-winner who led his team's possession count in Sunday's trial game against Vic Metro with 24 disposals and nine tackles. Works hard across the ground and was a standout for the Lions' Academy in its games in the NAB League, averaging 29 disposals and five tackles in five games. Brisbane will get priority access on him at the end of the year under the father-son/Academy bidding system.
Deven Robertson
30/6/01
182cm/80kg
Western Australia/Perth
Midfielder
Robertson played all four of WA's games last year as a bottom-ager and continued his development through the midfield. Earlier this month he had a 37-disposal and one-goal game against Claremont at colts level, and he has improved his athleticism to get to more contests. Robertson captained WA's under-16s side and was named its MVP at that championships, and is the nephew of former West Coast skipper Darren Glass.
Matthew Rowell
1/7/01
178cm/74kg
Vic Metro/Oakleigh Chargers
Midfielder
In all the big games Rowell has played in over the past year, he has lifted to the occasion. In the under-18 championship decider last season, he almost singlehandedly lifted Vic Metro off the canvas in the third quarter against South Australia. He then was named best afield in the TAC Cup Grand Final in a losing team, and won the medal the following week for the standout player in the NAB AFL All Stars game on Grand Final day, and in April was judged best on ground in the Australian under-18 team's win over the Casey Demons. Rowell is a tough, explosive midfielder who excels at the stoppages and wills himself on games. It's no wonder he's seen as the leading contender for the No.1 choice.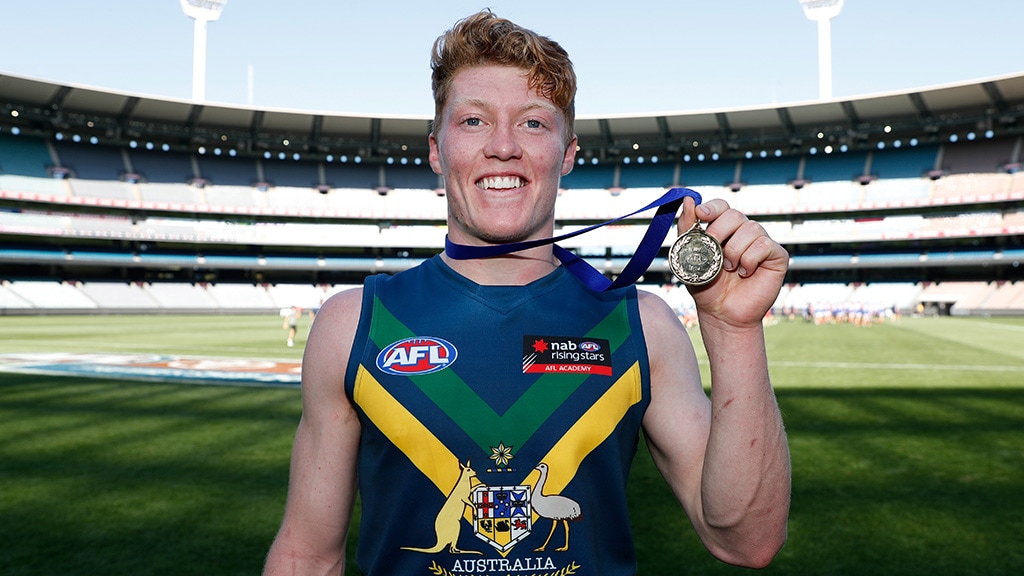 Caleb Serong
9/2/01
179cm/82kg
Vic Country/Gippsland Power
Forward/midfielder
Serong is a powerful small forward/midfielder who can influence a game in a number of ways. The talented cricketer is sharp at ground level and neat by foot, and is able to set up teammates with deft passes and clever ball use. He's crafty around goal, and when he's in the midfield has a burst of speed. Serong, who will co-captain Vic Country at the carnival, averaged 22 disposals and six tackles in his first two games of the NAB League season with Gippsland.
Jeremy Sharp
13/8/01
185cm/73kg
East Fremantle
Midfielder/defender
A slick prospect who performed well last year to be one of his state's leading draft hopefuls. Sharp was named an under-18 All Australian last season and was then a standout in the NAB All Stars game on Grand Final day across half-back. Sharp has good skills and dash, and made his senior WAFL debut for East Fremantle in round one this season.
Dylan Stephens
8/1/01
183cm/70kg
South Australia/Norwood
Midfielder
A strong engine, combined with a turn of pace and a classy left foot make Stephens one of the more desirable midfielders available. Stephens, who grew up in country Victoria before moving to South Australia for school, has played for Norwood at senior level this season but will take on more responsibility for SA's under-18 season. Models his game on Greater Western Sydney star Josh Kelly.
Cameron Taheny
3/8/01
185cm/80kg
South Australia/Norwood
Forward
Taheny has his 'wow' moments: he's dynamic and exciting and as a forward can produce anything from nothing. The 17-year-old has played at senior level for SANFL side Norwood and has performed well, booting five goals from three games, despite some injury niggles with his knee and quad. Has speed and a leap and will be someone to watch from South Australia.
Josh Worrell
11/4/01
195cm/74kg
Vic Metro/Sandringham Dragons
Key defender
The way Worrell is able to float into marking contests in the back half and make an impact in the air should bode well at AFL level as a third tall defender. Worrell's leap and agility, plus his versatility, should appeal to clubs, particularly given there is a lack of taller types at the top end of this year's draft. Has also been tried in the ruck at school level this year but is most comfortable setting things up in the backline.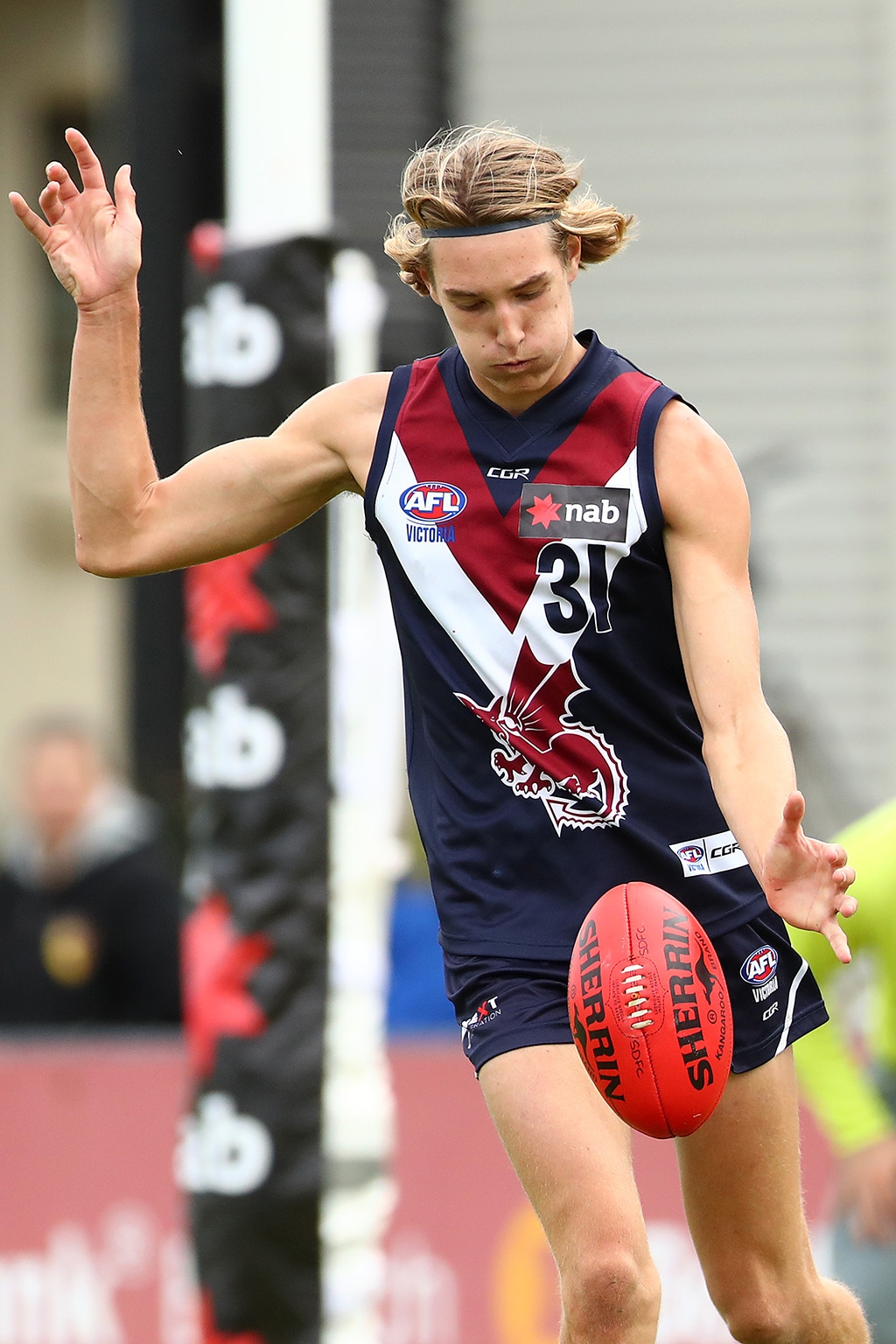 Dylan Williams
1/7/01
185cm/79kg
Vic Metro/Oakleigh Chargers
Forward
Williams showed his talent last year for the Chargers when he booted 14 goals in their finals series. When in attack Williams is a threat in the air, where his marking is a real strength, and also on the ground, given his savviness near goal and sharp left foot. He has also been used across half-back, where his reading of the play comes to the fore, and at times in bursts through the midfield. If Williams is having a quiet day he will often find a way to impact a game, and he has genuine X-factor and ability.
Hayden Young
11/4/01
188cm/82kg
Vic Country/Dandenong Stingrays
Defender
Young looked every bit the early pick at the MCG against the Casey Scorpions VFL side when he gathered 17 disposals and six marks in a polished performance. He has at times played in the midfield this year but looks most comfortable and is more damaging across half-back, where his vision, poise and precise kicking stands out. Young, whose brother Lachie made his debut recently with the Western Bulldogs, is a good size and considered a leader within his group.