IF THE AFL's decision to hand Gold Coast the top pick at this year's NAB AFL Draft on Monday thrilled anyone, it was the prospective first selection Matt Rowell.
Already set to be drafted to the Suns next month, the Oakleigh Chargers midfielder is now likely to make the move with his best mate and the clear second selection Noah Anderson.
Given the club's past retention issues, pairing the two long-time friends and gun footballers could reinvigorate the struggling side as it aims to finally move up the ladder.
Best mates Noah Anderson and Matt Rowell.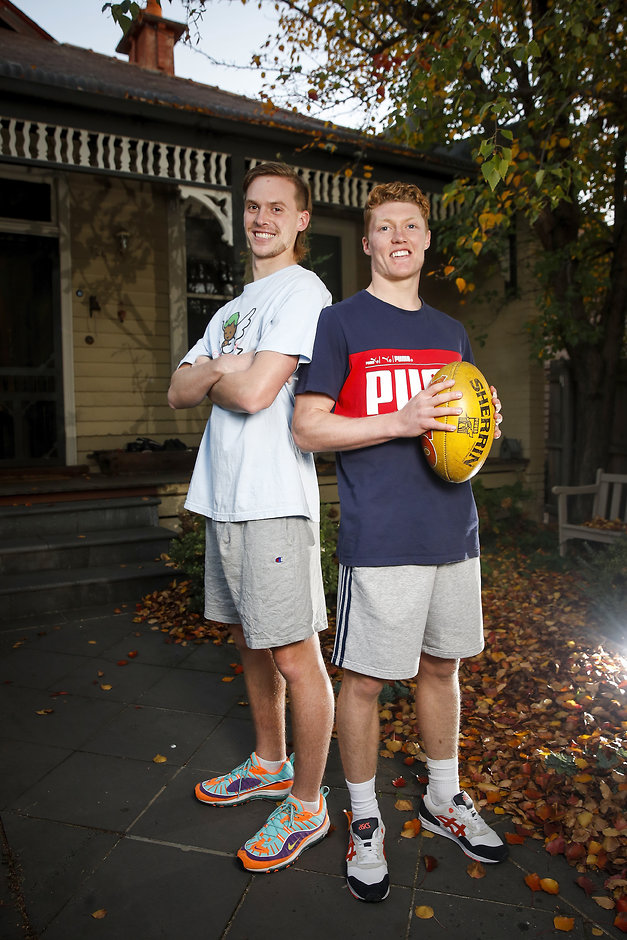 Speaking at the NAB AFL Draft Combine on Tuesday, Rowell agreed that having Anderson by his side as he gears himself to move interstate makes the prospect seem less stressful.
"Going up with a mate would make it easier," Rowell said.
"If I was to move interstate, it would be a bit harder because all of my family and stuff are back home. But I'm sure going up with a mate would make the transition easier."
Find Road to the Draft on Apple Podcasts, Google Podcasts and Spotify.
Gold Coast was awarded the first pick by the AFL on Monday as part of a significant assistance package, which included three years of draft concessions and an expanded academy access zone that will allow the Suns to pre-list junior prospects from Darwin.
Now holding the first two selections at the draft means Gold Coast is almost certain to snare both Rowell and Anderson, though the two friends are yet to talk about moving north.
INDICATIVE DRAFT ORDER Your club's latest picks
"We didn't talk about it too much (on Monday)," Rowell said.
"Nothing is set in stone with where we're going, so it's hard to know yet.
"If it was to occur that Noah and I went up to the same club, I'd love that. It would be pretty awesome to go up there with one of my best mates."
AFL TRADE HUB All the latest news
Rowell has long been considered the likely No.1 pick at this year's draft, following an outstanding junior season that culminated in the NAB League premiership last month.
The teenager capped his fantastic campaign with 44 disposals and two goals in the Grand Final, with the increasing hype surrounding his year not daunting him at any stage.
"I don't look too much into it to be honest," Rowell said.
"I've just been focusing on my footy this year. I'm just hoping to put my best foot forward and hopefully at the end of November I can get my name called out.
"That's the main thing for me."