FOR ALMOST four years now, Richmond fans have eagerly been tracking the progress of Mabior Chol.
Known simply as "Marbs" – or, as the club's podcast Talking Tigers calls him, "Two Phones" (self-explanatory) – something has clicked for the versatile big man this season.
Signed as a rookie at the end of 2015, the Sudanese-born Chol played his first AFL game in round 23, 2016, a thumping loss to Sydney at the end of a disappointing year for the club.
Mabior Chol celebrates his first win for the Tigers against St Kilda last weekend. Picture: AFL Photos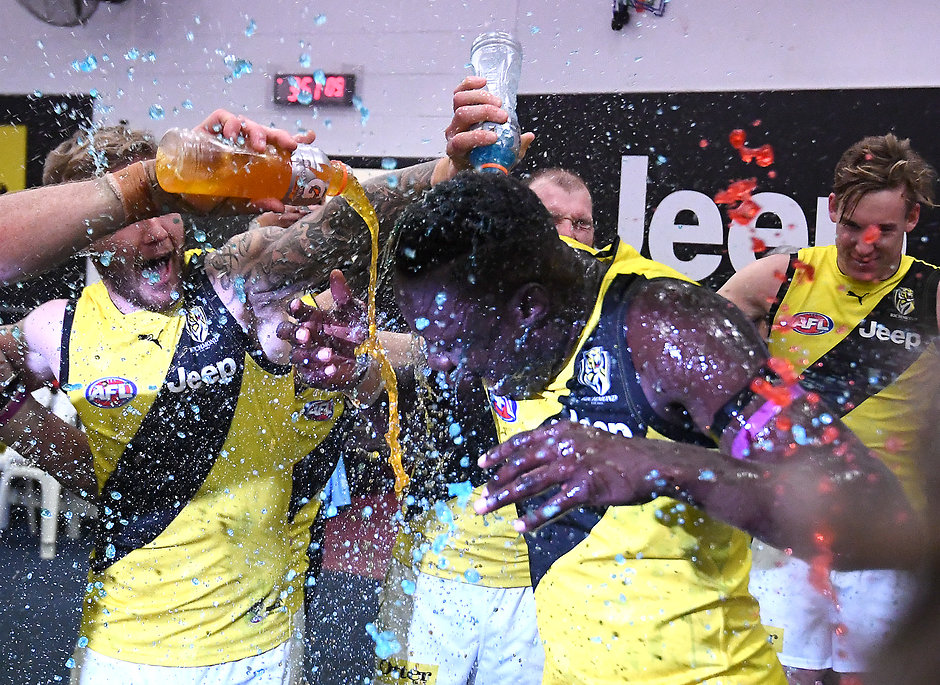 Athletically gifted, Chol then teased in the VFL, his high-flying feats and pace catching the eye but struggling to perform with enough consistency to break through for a second senior game.
That opportunity came nearly three years later against Adelaide in round 13, when after a career-best month in the twos, Chol was brought in to play as first ruck Steven Bradbury-style, as Toby Nankervis (adductor) and Ivan Soldo (illness) were unavailable.
BARRETT The 'Any Given Sunday' era has finally arrived
With Soldo returning after the bye, Chol held his spot and forced the exciting Noah Balta to the VFL, kicking a career-high three goals against the Saints and impressing with his footy smarts.
Richmond VFL coach Craig McRae has worked closely with Chol over the past few years and can see how the 22-year-old has changed, particularly this year.
"Watching his growth from a skinny boy to what he is today, we're really proud of him and it's been quite a journey so far," McRae told AFL.com.au.
"I think there's been some significant shifts in Mabior's game. Watching him and coding his games as his coach, I've seen his growth particularly around his consistency of effort.
FULL FIXTURE Every round, every game
"His contest stuff has always been strong, but the ability to do it for long periods has been a bit of a growth opportunity for him.
"He's had some standout games at VFL level, that Dreamtime game we had against the Bombers at Punt Road (for which he won the best on ground medal), his performance in the ruck was quite exceptional."
McRae said Chol is now fully understanding what is involved in being a professional athlete.
The easiest goal Mabior Chol will ever kick! #AFLSaintsTigers pic.twitter.com/jdpJseCKRZ

— AFL (@AFL) June 30, 2019
"I was a bit of a broken record sometimes in the early days, saying 'Marbs, you have to prepare to play and train how you want to perform and train at a really high standard.'
"He did that, but could he do it for long periods? You have to argue this year, he's really got that part of his game right.
"What you see on a Saturday, he's been training that consistently, so it's just there for him, rather than stretching for that real dynamic effort."
While McRae says Chol is a "modern prototype" of a ruckman due to his ability to cover the ground, he believes the Tiger is best suited to a dual role, as seen last weekend.

"I honestly think he's got that uniqueness to play that forward-ruck role, there's not many that can do that. You look through the competition, and they're either a forward or a ruck, but he's got that capability and he's shown that.
"At VFL level, he was our leading goalkicker before he went into the AFL, so he was able to impact the scoreboard through his marking capability, but then the opportunity through the injury to Nankervis, he's been able to play in the ruck."
And the bleached strip through his hair?
"He loves the bling earrings and the colour. To be honest, I remember when he first got it done, I thought it was better than the grey tinge I've got going at the moment," McRae said with a laugh.
Find Road to the Draft on Apple Podcasts, Google Podcasts and Spotify.
"I just thought to myself, it's an example of 'Marbs' being comfortable in his own self. There's nothing better than when an athlete, or anyone, feels really comfortable in themselves.
"He's a pretty easy read, the players like to be around him, he's just a happy, smiley guy. If he's not smiling, it's 'come on 'Marbs', what's wrong, talk to me, what's going on.'
"But he's been smiling a lot more lately, which is a great thing."