ADELAIDE assistant coach Scott Camporeale has shot down Brownlow medallist Chris Judd's claim that the Crows should split up ball magnets Brad and Matt Crouch to add more leg speed to their midfield.
In the wake of their embarrassing 57-point Showdown flogging at the hands of Port Adelaide last Saturday, Judd suggested the Crows were one-dimensional in the midfield and should part ways with one of the Crouch brothers.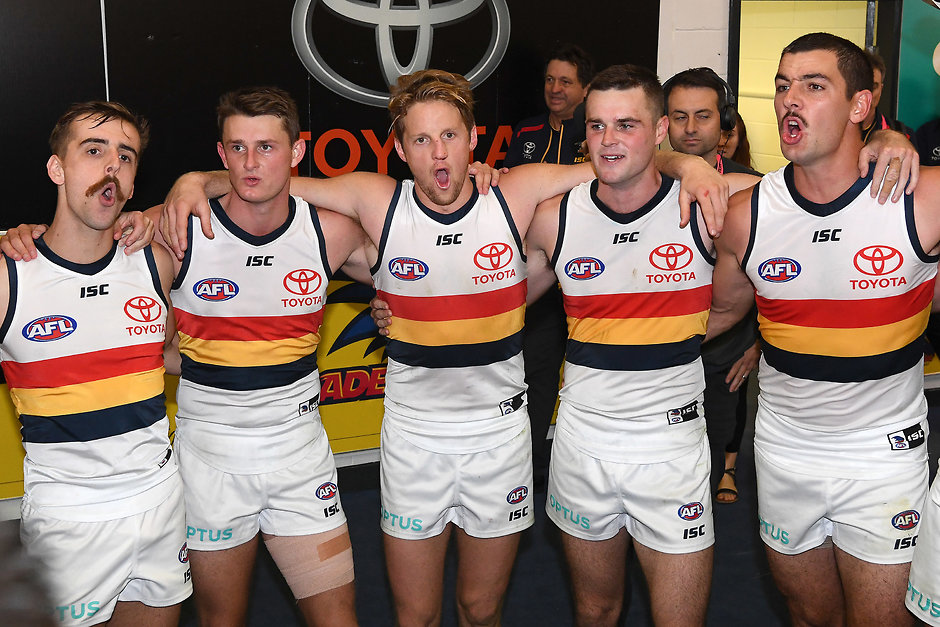 "I think you can only have one genuine ball-hunter in your midfield and I think, perhaps, even though both the Crouch brothers are brilliant players, one of them should look elsewhere to open up and get some leg speed into that team," Judd told Channel Nine on Monday night.
"They're great and I rate them both highly, but I don't know if their mix is working for them, because they're both a very similar style of midfielder."

Camporeale knocked Judd's proposition on the head immediately.
"Interesting comment," Camporeale told reporters at Adelaide Airport on Wednesday.
"I wouldn't have thought we'd be trading one of the Crouch boys away.
"Anyway, Chris is entitled to his opinion."
Matt, the Crows' best and fairest in 2017, is signed with the club until 2021, while older brother Brad is out of contract at the end of 2020, at which point he will enter free agency.
The brothers are having outstanding seasons.
NINE THINGS WE LEARNED Is the Eddie Betts show on its last legs?
Matt is sixth in the competition for disposals, averaging 31.5 per game, with Brad not far behind in eighth, averaging 30.9 touches.
While they are both strong in-and-under midfielders, they also have a nice mix of winning inside and outside ball.
Matt is averaging 11.4 contested possessions (36.2 per cent) and 19.8 uncontested (62.9 per cent), while Brad has a slightly bigger weighting towards contested ball (11.3 contested, or 38.6 per cent, 18 uncontested, or 61.4 per cent).
The Crows' three other main midfielders – co-captain Rory Sloane (13.6 contested, or 52.9 per cent), Cam Ellis-Yolmen (12.2 contested, or 51.3 per cent) and Hugh Greenwood (11.9 contested, or 66.9 per cent) – focus heavily on contested ball.
Camporeale said it was a constant balance to get the mix right with inside midfielders and outside runners.
"Speed is something you do need, but the game is heavily contested as well, so it's finding the balance of guys and that group dynamic of getting that right balance through there," he said.
"It's a constant work in progress for us."
The eighth-placed Crows face wooden spoon favourites Gold Coast – which has lost its past 11 games - at Metricon Stadium on Saturday night.