FOUR-TIME premiership-winning Hawk Grant Birchall's playing future remains unknown, with a decision set to drag out until at least next week.
Hawthorn was already going to wait until after the Telstra AFL Trade Period deadline passes before making a call on whether to retain Birchall.
Several clubs – not just Brisbane – are understood to be considering signing the unrestricted free agent, but none of them have made him a priority at this stage.
TRADE HUB All the latest news
Lions football boss David Noble confirmed on Monday that they had not made a contract offer to Birchall and were not even at the stage of medically running the rule over him.
The 30-year-old has played 248 games but only a combined eight across the past three seasons, mainly because of a persistent PCL issue and more recently soft-tissue injuries.
"We said we'd wait until we got through the Trade Period with 'Birch', and him and his management are aware of that," Hawks football boss Graham Wright told reporters.
"We wanted to wait and see what it looks like, spots-wise and that sort of thing, but obviously Grant would love to play and we'd love to give him that opportunity but we just have to wait."
Graham Wright chats with reporters after day one of the Telstra AFL Trade Period.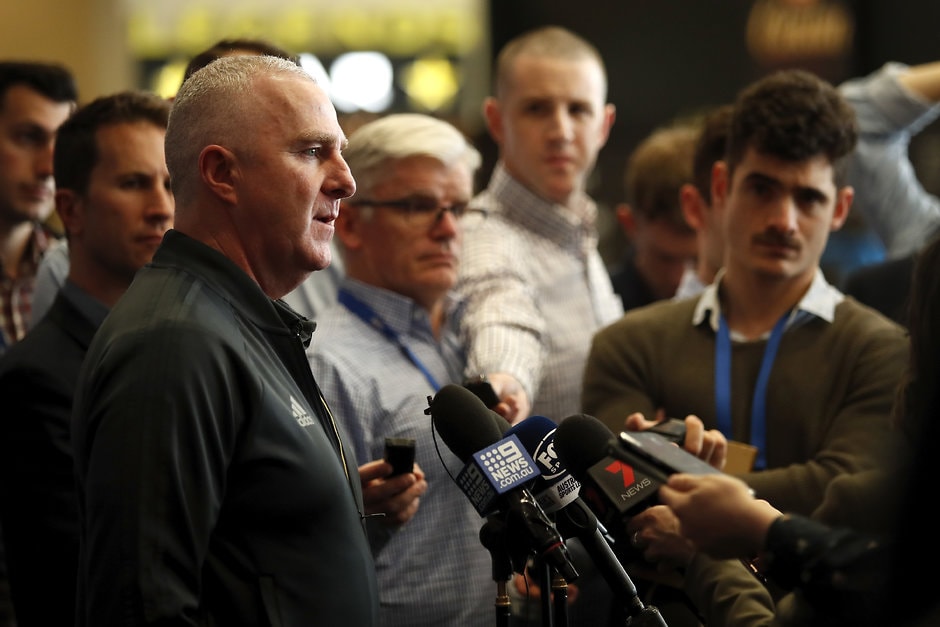 Asked if they would fight for Birchall if an official offer was extended, Wright said: "He's a free agent, so he can walk anytime."
Brisbane's interest in Birchall depends on whether coach Chris Fagan and co. believe former Hawthorn captain Luke Hodge's retirement will leave an experience void.
TRADE RADIO PODCAST Catch up on all the latest interviews
The Lions' average age (25.2 years) and games played (102) was the lowest of the semi-finalists this year and that was with Hodge in the line-up.
However, Noble hinted that was still a solid foundation with which to build upon.
"We are deciding where we're going to go; if we need to go with another mature-age guy. That's sort of where we're at," Noble said.
"Those sorts of things are going to play out a bit later – like later in the week or early next week – so we've just got to determine the impact 'Hodgey' has probably left us and whether or not we need to continue to go down that path.
KEY DATES What's coming up next in the off-season?
"We have a bunch of experienced guys now, with (Mitch) Robinson, (Daniel) Rich, Stef Martin and the likes, so the Birchall discussion is more whether or not we need another mature player."
Hawthorn has also put off contract discussions with veteran forward Paul Puopolo until after the Trade Period, but Wright indicated that Isaac Smith was a "required" player.
Get the AFL Trader newsletter in your inbox
Every weeknight during the Telstra AFL Trade Period, we'll send you a snapshot of what you need to know, what it means, and what happens next. Plus, an emoji ranking of the juiciest rumours.