NICK Larkey would be forgiven for feeling a few more nerves than usual this week ahead of North Melbourne's big clash with Essendon at Marvel Stadium on Saturday.
Two years ago, Larkey made his AFL debut against the same opponent at the same venue and became the first player in years to play a full game without having a single possession.
This time around the 198cm forward poses a far greater threat for the Bombers after tallying 17 goals in 10 games this season.
Nick Larkey is the round 16 NAB AFL Rising Star. Picture: AFL Photos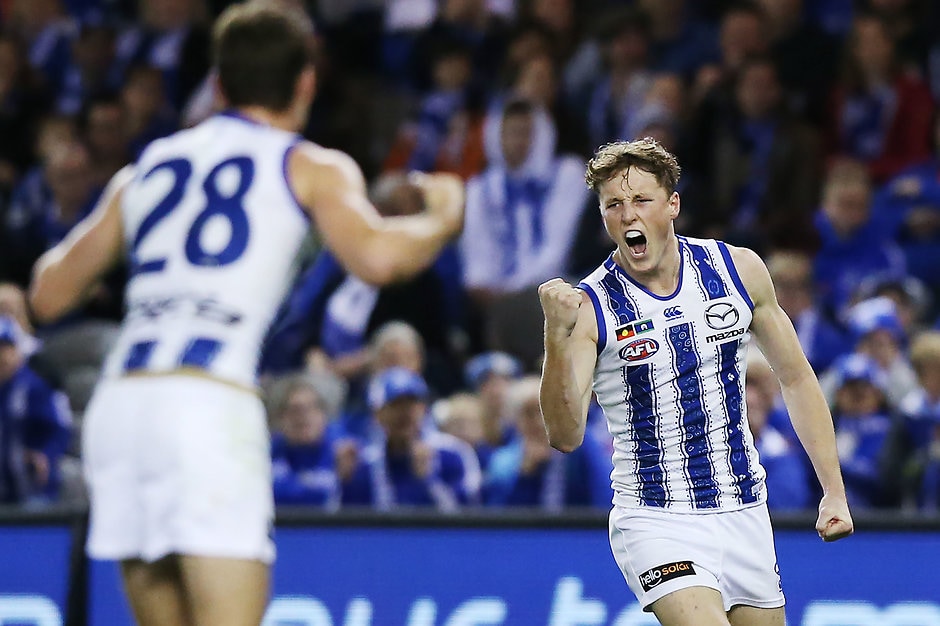 Larkey earned the round 16 nomination for the NAB AFL Rising Star award after bagging a career-best five goals in the 39-point win over St Kilda at Blundstone Arena in Hobart.
The big man, who turned 21 in June, rattled on three goals in the space of just nine minutes either side of quarter-time, and also snared the Roos' last two goals.
Larkey has scored a goal in each of his past eight games – a feat surpassing even Kangaroos spearhead Ben Brown.
The former Oakleigh Charger has helped the Roos' structure and, in turn, their performance. With Larkey, North is 6-4 this year.
There's not many better things than watching a player kick his first goal!

Nick Larkey's teammates mob him.#AFLPowerNorth pic.twitter.com/7b6UF48BuT

— AFL (@AFL) April 26, 2019
The Dons will encounter a stronger, smarter, better and more assured Larkey.
"I'd certainly hope to get better results against them than I got in my first game – that was an absolute stinker," the self-effacing Larkey told AFL.com.au with a chuckle.
"I'm definitely in a much better state now.
"I won't have that game in my mind going in but I'm sure I'll be reminded about it. That's all right though – it's all fun and games.
"I didn't think it was funny at the time but it's funny to look back on now.
"I'm looking forward to it. It should be a ripping game."
WHO HAS BEEN NOMINATED? This season's Rising Stars
Larkey is set to fall out of contract this year but it would surprise if he wasn't offered another deal soon. He revealed there had been "not too much" progress yet, but isn't looking elsewhere.
"I'm keen to say at the club. I love the club and I love everything they've given me. They took a chance on me real late in the draft at number 73 (North's final pick in 2016), which I won't forget," he said.
"I'm loving my time at the club, 'Shawry' (interim coach Rhyce Shaw) is such a great coach and there's a real good vibe around the place."
A career-best five goals for Nick Larkey! #AFLNorthSaints pic.twitter.com/6KDVMwfaQo

— AFL (@AFL) July 7, 2019
A fortnight after his 'donuts' debut in round 18, 2017, Larkey put in another self-confessed "shocker" in another loss to Collingwood, when he had six touches but was again dropped.
He spent the entire 2018 season in the VFL, winning the 'Frosty' Miller Medal as the competition's leading goalkicker with 41. Though disappointed he didn't break through for another AFL game, he now sees the silver lining.
"I got a bit frustrated at times down there (in the VFL) but it was probably a blessing in disguise because it prepared me for giving it a red-hot crack this year," he said.
After tallying seven goals in the opening three VFL rounds this year, Larkey earned a promotion for the round six clash with Port Adelaide at Adelaide Oval – his first AFL appearance in 629 days. He has kept his spot ever since.

"I've just loved getting a consistent run in the ones. I bided my time in the VFL and they've backed me in for a heap of weeks," he said.
"The whole forward line's really clicking and it's good to be part of it. If Browny's not kicking them, someone else bobs up, and I guess it was my turn this time."
Like Brown, Larkey has become an efficient set-shot. In the VFL last year he tallied 41.20 (at a strike rate of 67 per cent) and in the AFL this year 17.4 (81 per cent). He wasn't always so efficient.
Nick Larkey and Ben Brown celebrate a goal together. Picture: AFL Photos

"In my junior days I was a terrible set shot but I think I've improved just from all the training in an AFL environment," he said.
"I'm not really meticulous with my routine – I don't have to take a certain amount of steps or anything. I just get back far enough from the mark and hopefully it sails through the big sticks. Hopefully it keeps working."
Larkey is also providing valuable ruck support for veteran Todd Goldstein – a role he has enjoyed since inheriting it from Brown. Even if it means locking horns with stars such as Collingwood's Brodie Grundy.
"It adds another string to my bow to not only give a chop-out (to Goldstein) but to also get my hand to a few and become another tap ruckman that could really help us," he said.
"Rucking against Grundy the other week, he's such a gun that I was a bit star struck. I won one or two hitouts against him so that was a little win."
Larkey's nomination was another big win for the house he shares with teammates Cameron Zurhaar and the untried Declan Watson. Zurhaar was North's previous Rising Star nominee in round seven. He and Larkey kicked 10 goals between them against the Saints.
"Something's gone right in the household. Must be something in the food," Larkey said.
"If Dec Watson can get a gig in the ones soon, that'd be the trifecta."