AMID the chaos that has dogged Gold Coast's short history, one man has defied the odds.
David Swallow was the club's inaugural No.1 draft pick, overcame career-threatening knee injuries and watched talented teammate after talented teammate leave the club.
But in spite of it all, he stayed.
Externally it may have been a shock, but to those close to him, Swallow signing a five-year contract extension in November was no surprise at all.
The West Australian who came to Gold Coast to play in its VFL team as a 17-year-old has kept on keeping on and now he's desperate to see the Suns rise towards the top eight.
FUTURE PICKS Who you should barrack against in 2019
"I missed a couple of years of footy and I want to contribute my part and I felt to leave, not that it wouldn't have been fair, but I just wanted to help the club. That feeling of loyalty is always there," Swallow told AFL.com.au.
"I've got a strong sense of Gold Coast being home and I just love it."
Swallow could not have been blamed for exploring other options.
Knee problems kept him to just six games across the 2015 and 2016 seasons, a period that started a player exodus that has included Dion Prestia, Jaeger O'Meara, Gary Ablett and most recently Tom Lynch and Steven May.
WHO'S LEAVING YOUR CLUB? All the latest retirements and delistings
Swallow is a heart-and-soul player, using his body as a battering ram for most of his 117 career games.
Seeing him take his creaky knees up and down the 16km return trip of Queenstown's Ben Lomond Track during Gold Coast's pre-season camp showed just what he could put his body through.
While many understandably struggled with the steep downhill sections, Swallow just marched on.
Only he, Sam Day, Rory Thompson, Michael Rischitelli, Jarrod Harbrow and Tom Nicholls remain from the inaugural 2011 season.
First-round picks Dion Prestia, Josh Caddy, David Swallow, Tom Lynch, Harley Bennell and Sam Day. All remain AFL players; only Swallow and Day remain at Gold Coast. Picture: AFL Photos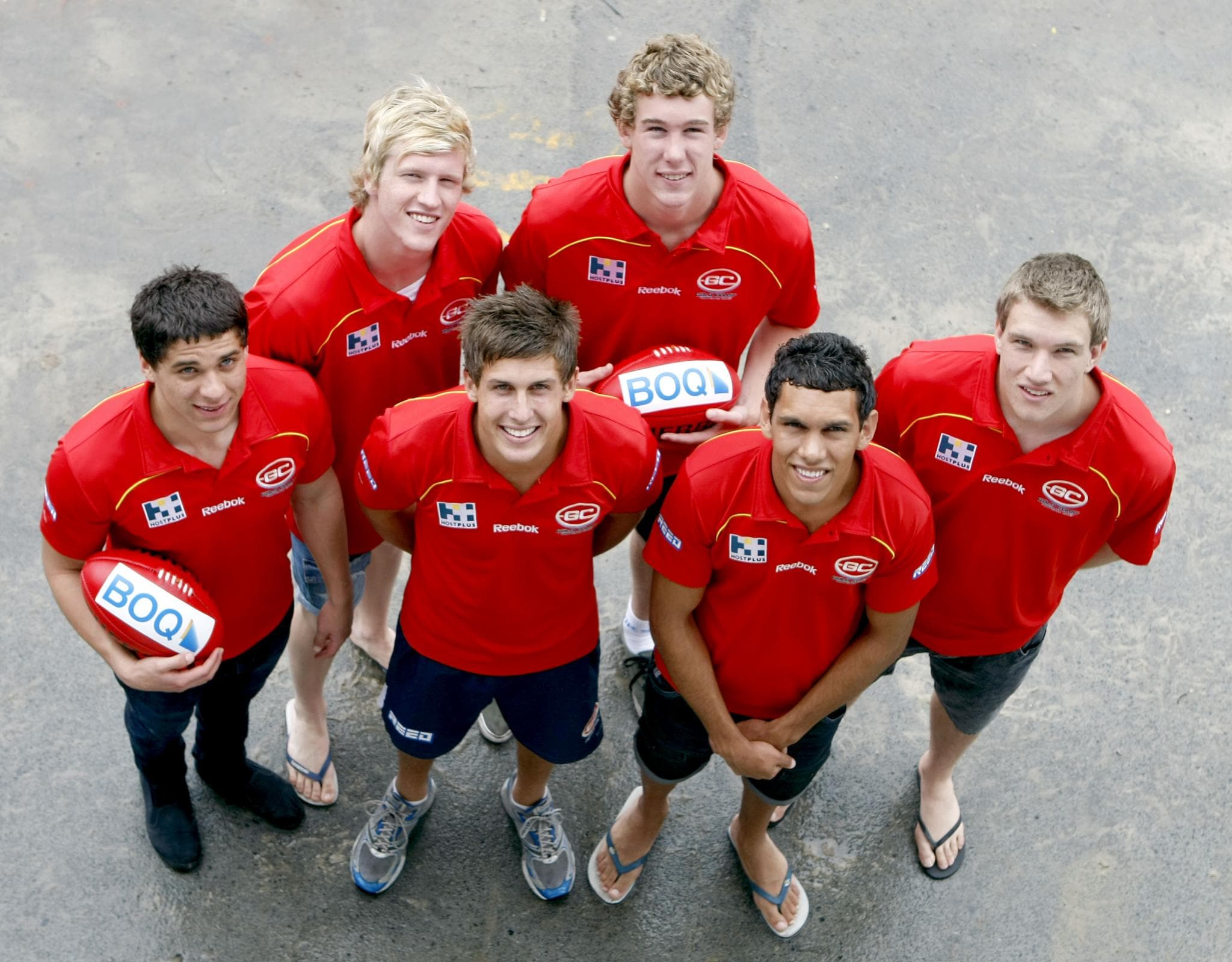 "You lose your mates and you never begrudge them," he said an hour after finishing the Queenstown hike.
"As much as I'd love them to stay, it's their choice and you've just got to get on with it.
"I'm still going to be mates with them, it's just how the industry works."
Swallow is well and truly settled on the Coast with his partner and young son Charlie. His brother Andrew, the former North Melbourne captain and now a Suns skills coach, lives an hour south at Byron Bay.
The 26-year-old has a fresh batch of teammates and all the way until the end of the 2024 season for it to work – not that he wants to wait that long.
"At times you do look at other people and get envious and jealous but at the same time everyone's got a different journey and just because I haven't made finals yet, I still want to get there as much as ever.
"You always hold on to hope you're going to get there.
"As long as we can keep those core players together, who knows when it's going to be but obviously in my time I hope to be playing finals, that's for sure."
Swallow is a frontrunner to take over as captain in 2019, although Touk Miller and Jarrod Witts also have strong claims.
Each has their strengths.
"I feel if I'm the one for the job, it'll take care of itself," he said.
"I'm not one to say: 'I'm the man'. I think it'll evolve. Whoever gets the job will take the club forward."
If one man deserves success in a Gold Coast jumper, it's the former No.1 who wears the No.24.