CARLTON forward Jarrod Pickett has suffered a ruptured patella tendon and will require surgery after injuring himself at training on Thursday morning.
Pickett's right leg looked to buckle underneath him in the early stages of the club's final session before Christmas, with a stretcher forced to help him from the field.
CLUB LISTS COMPARED Oldest? Youngest? Most experienced?
Training was halted for a short period as the 22-year-old left the track, with the club sending the lively forward straight for scans to assess the severity of the injury.
Scans determined a ruptured patella tendon, with the youngster set for surgery on Friday.
Carlton coach Brendon Bolton accompanied Pickett as he left the field, with the small forward's setback adding to an already disastrous start to the club's pre-season.
Jarrod Pickett leaves the field on a cart. Picture: Getty Images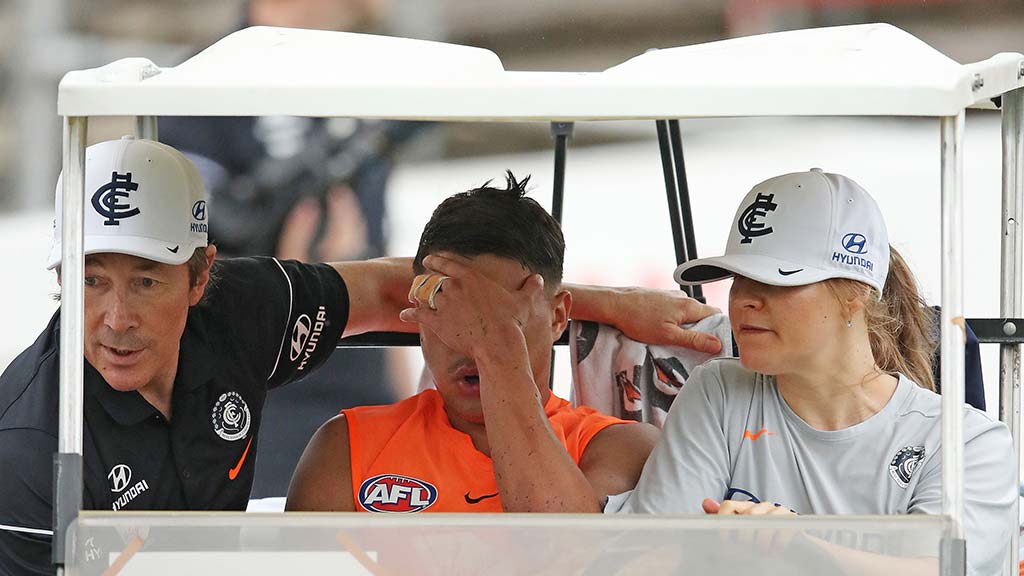 New co-captain Sam Docherty has already been ruled out for the majority of the 2019 campaign, having ruptured his ACL for the second successive time earlier in the month.
It came amid a brutal session at Ikon Park, with Mitch McGovern leaving play for a short period after colliding with Dale Thomas in a strong marking contest, before fellow new recruit Nic Newman was also helped from the field with blood pouring from his face.
FUTURE PICKS Who you should barrack against in 2019
According to newly re-signed forward Harry McKay, who penned a contract extension through until 2021 earlier in the day, it was emblematic of the club's summer as a whole.
"I didn't see exactly what happened (with Pickett)," McKay said.
"All I know is that he's going for scans. Fingers crossed he's all right, but it's not ideal.
"It's been pretty solid. We've been back for about seven weeks. (High performance manager) Andrew Russell has come in and been fantastic. He's brought a fresh outlook on everything and the sessions have been really solid.
"We've had lots of footy work and lots of game play, so it's been exciting."
WHO'S LEAVING YOUR CLUB? All the latest retirements and delistings
Pickett had been primed for a breakout season in 2018, before breaking his wrist in training on the eve of round one and subsequently missing the majority of the campaign.
He had only just resumed training with the main squad, having started his pre-season campaign with the VFL team after returning from holidays slightly out of shape.
Blues coach Brendon Bolton and staff surround Jarrod Pickett. Picture: Getty Images