ANDREW Gaff's season is over, with the West Coast star to serve the joint-longest AFL suspension this century after he was banned for eight matches for his punch on Andrew Brayshaw.
In what the AFL's legal counsel Jeff Gleeson QC described as an "historically significant event", Tuesday night's defining Tribunal hearing lasted just over two hours before Gaff's eight-match ban was eventually handed down.
Gaff had pleaded guilty to the crude off-the-ball strike that left his 18-year-old opponent with a fractured jaw and four displaced teeth.
However, a "devastated" Gaff told the Tribunal that it was his intention to strike Brayshaw in the chest after a tense examination period that lasted for almost an hour.
'STILL A HUMAN BEING' Port defender feels for Gaff
Gleeson described Gaff's strike as "unrestrained in its execution, ferocious in its impact and grave in its consequences" as he argued for an unprecedented ban of eight to 12 games.
"Good people do bad things. It doesn't make them bad people," Gleeson said.
"But the jury's responsibility is to punish the act, not just the person, and the act is very bad."
Gaff had his head bowed throughout the submissions process, with his legal representative David Grace QC saying Gleeson's suggestion of an 8-12-game ban would be "manifestly excessive" and a "demonstratively high figure".
He instead argued that the starting position for the sanction should be three matches, though he did not suggest a definitive penalty for the Tribunal.
But the Tribunal's jury – which was made up of Wayne Henwood, David Neitz and Shane Wakelin – deliberated for just 14 minutes before reaching its conclusion, serving Gaff with an eight-game ban that levels Dean Solomon's 2008 suspension as the longest this century.
A visibly shattered Andrew Gaff leaves the Tribunal on Tuesday night. Picture: AFL Photos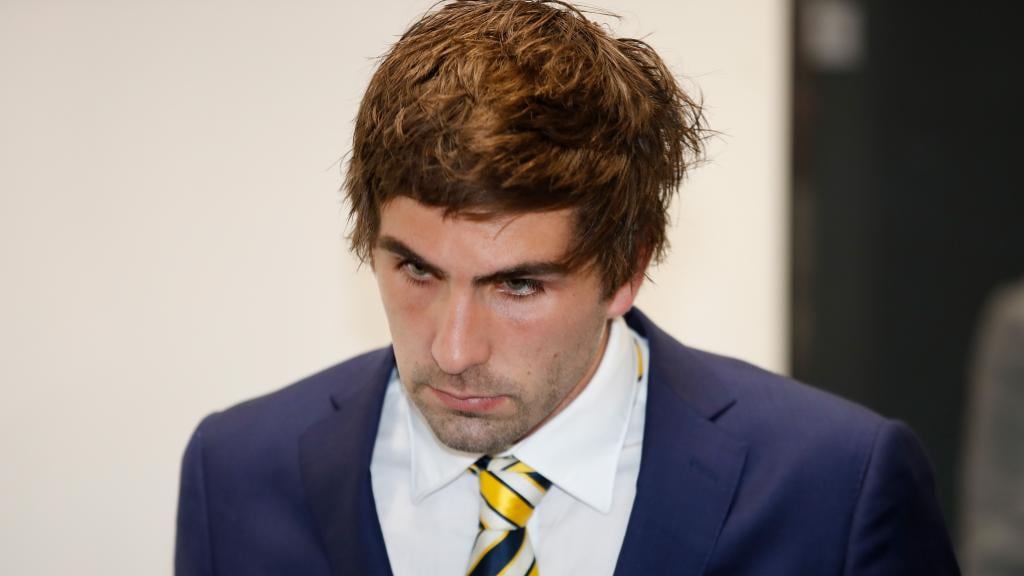 "First of all, I just want to say I'm so, so sorry for Andrew and the Brayshaw family and the pain I've caused them over the last 48 hours," Gaff said after his hearing, flanked by Eagles integrity services manager Peter Staples and his manager Paul Connors.
"I respect the Brayshaw boys so much and the way they go about it.
"I own my actions and it really hurts a lot. The last 48 hours have probably been the toughest couple of days of my life. The people that I've spoken to know the world of pain I'm in and how much I'm suffering.
"I see myself as a caring, gentle and measured person. That's why it's disappointing.
"I'm disappointed for Andrew, I'm disappointed in myself, I'm disappointed to let my teammates down at an important time of the year and I'm disappointed to let my supporters down as well.
"For the time being, I'm going to surround myself with my friends and family and those who care for me most. But once again, I just want to apologise wholeheartedly to Andrew and I hope he gets better soon."
PODCAST Emotional Angus on the hit that felled his brother
Grace had spent the first 10 minutes of the hearing reading through the extensive list of Gaff's sporting achievements – from his time as a talented junior cricket and tennis player, to his All Australian feats as a West Coast wingman.
He then kick-started a tense hour-long examination period by asking whether Gaff had ever been suspended, fined or even reprimanded before Sunday's incident.
"Not once," was Gaff's reply.
Grace then showed several examples of Gaff's opponents checking the run of the West Coast midfielder during Sunday's clash, before showing a passage that immediately preceded the brutal strike in which Brayshaw had impeded Gaff's run towards the footy.
The vision showed Gaff strike Brayshaw in the chest, with the 26-year-old fighting back tears as he argued he was simply trying to hit him in the midriff again when he struck the young Fremantle player's face.
Andrew Brayshaw left the ground bleeding from the mouth after an incident involving Andrew Gaff.#AFLEaglesFreo pic.twitter.com/ECZgNqiehg

— AFL (@AFL) August 5, 2018
"I meant to get him in the chest. I feel sick that I got him in the face," Gaff said.
"I had no intention to hit him where I hit him. I tried to do a similar hit to what I did 10 seconds earlier with my right arm.
"Once I saw him lying on the ground, I instantly felt sick. Mentally, I didn't want to keep playing. Physically, I was able to keep playing. But mentally, I felt shattered."
Gaff was then questioned about Fremantle's players attempting to seek retribution after the incident, replying: "I could understand where they were coming from."
He was forced to reject suggestions that he swung his dominant left arm as hard as he could at Brayshaw, as well as insisting the action did not stem from his frustration at being tagged.
But Gleeson countered, labelling Gaff's evidence as "troubling".
He said: "The alternative isn't very colouring. If it was a clear-headed, un-frustrated Andrew Gaff who threw this strike, it is a strike worthy of even more condemnation."
Fremantle's doctor, Dr Ken Withers, had already been called to give evidence via telephone link, saying Brayshaw suffered a horizontal fracture "a couple of centimetres" long through his jaw as a result of the strike.
He said Brayshaw's teeth were hinged backwards "a couple of centimetres into his mouth", revealing that a specialist has indicated four of his bottom teeth and one upper tooth will likely not be viable.
Dr Withers said Brayshaw will likely require "extensive dental work" once his teeth become unviable, saying it is possible he will need implants in the near future.
Gaff himself had 10 written character references – including those from Adam Simpson, John Worsfold, Shannon Hurn, Dean Cox and Matt Priddis. All were glowing in their praise of the West Coast player's conduct throughout his football career.
But it hardly reduced the ultimate penalty, with Gaff's eight-game ban set to rub him out for the remainder of this season – finals included – and the start of his 2019 campaign.
Longest AFL suspensions this century
| | | | |
| --- | --- | --- | --- |
| Club | Player | Matches | Year |
| West Coast | Andrew Gaff | 8 | 2018 |
| Fremantle | Dean Solomon | 8 | 2008 |
| Sydney | Barry Hall | 7 | 2008 |
| St Kilda | Steven Baker | 7 | 2007 |
| Melbourne | Tom Bugg | 6 | 2017 |
| Port Adelaide | Tom Jonas | 6 | 2016 |
| Gold Coast | Campbell Brown | 6 | 2012 |
| Fremantle | Jeff Farmer | 6 | 2007 |
| Collingwood | Ben Johnson | 6 | 2007 |
| Collingwood | Brodie Holland | 6 | 2006 |
| Port Adelaide | Byron Pickett | 6 | 2005 |