ON THE morning of every game, Sam Walsh starts his day with a football in his hands, bouncing it or tossing it from one palm to the other.
He'll do his stretches on the lounge room floor of his family's Ocean Grove home, before going out to the front garage. Outside it there's a basketball ring and inside a gym, but Walsh, a leading prospect in this year's NAB AFL Draft, heads for the 'Crazy Catch' rebound net.
He throws the footy and it flings back to him, sharpening him up for the game hours later. Walsh isn't one to leave things to chance. "I've always believed if you want to do something you do it properly," he told AFL.com.au.
The 17-year-old has proven that already on the field. "He's the best midfielder of this year's pool," said one recruiter. "As close to a sure bet as there is," said another. "A jet. That's all you need to say," was another recruiter's take. One scout's assertion that Walsh is a "future captain" was supported widely, too.
All of this could be a lot to take in for a player just starting his draft season, but Walsh has been priming himself for his AFL chance for as long as he and his family can remember.
It started with his obsession with the Brisbane Lions, a love that sees the club's 2001-03 premiership posters and a signed Michael Voss jumper still on his bedroom walls.
It saw him star for the Geelong Falcons on their way to the TAC Cup premiership last year and also represent Vic Country at under-18 level, and it has underpinned his start to this season (he gathered 26 disposals in round one of the TAC Cup before collecting 36 last week).
The midfielder is tough, consistent, reliable, a good kick and has a nice balance between winning the ball and getting on the end of things. Wrapped together, it all makes him a contender for the No.1 pick.
"I don't like to think about that too much. I'd love to go as early as I can in the draft, and I think you can keep improving if you have that competitive mindset. I always try to get the best out of myself," he said.
That was ingrained at an early age. His father Wayne remembers Sam being "a bit of a boot banger" when he first picked up a footy. Wayne would walk inside if Sam persisted with his rough technique, forcing him to refine it or miss out on a kick-to-kick session.
Wayne has coached football teams across Victoria, including Cobden, where Sam would head with his mum Jacque to watch.
"I was always hanging around training and wanted to be like them. When Ben Cunnington and Gary Rohan were drafted from Cobden, where I'd seen them around the club and then watched them on TV, that's when I started to think it's what I really wanted to do too," he said.
The Walsh family, including younger brothers Henry, now 15, and Tommy, 10, headed to Darwin in 2010 when Wayne got a job there with the AFL and that too served Sam's huge interest in the game. "They had wet season footy and dry season footy, so it was footy all year round," said Wayne.
"Sam was 10 playing in the under-14s team. One day it was about 37 degrees and 90 per cent humidity at 9am and the kids were coming in at quarter time and putting ice in their socks to cool their feet down. Going up there was one of the best things we did as a family."
Walsh played with the Northern Territory's under-12s state side, and by the time his family returned to south-west Victoria, his burgeoning football hopes had started to take shape.
Throughout, Walsh has often been the captain of his team, a role he shares at the Falcons this year with father-son prospect Oscar Brownless. Jacque remembers his teachers at primary school saying Sam was always captain during the recess and lunch breaks, but not because he demanded it – the other kids had nominated him.
Sam Walsh is widely considered as the best midfielder in the 2018 draft pool. Picture: AFL Photos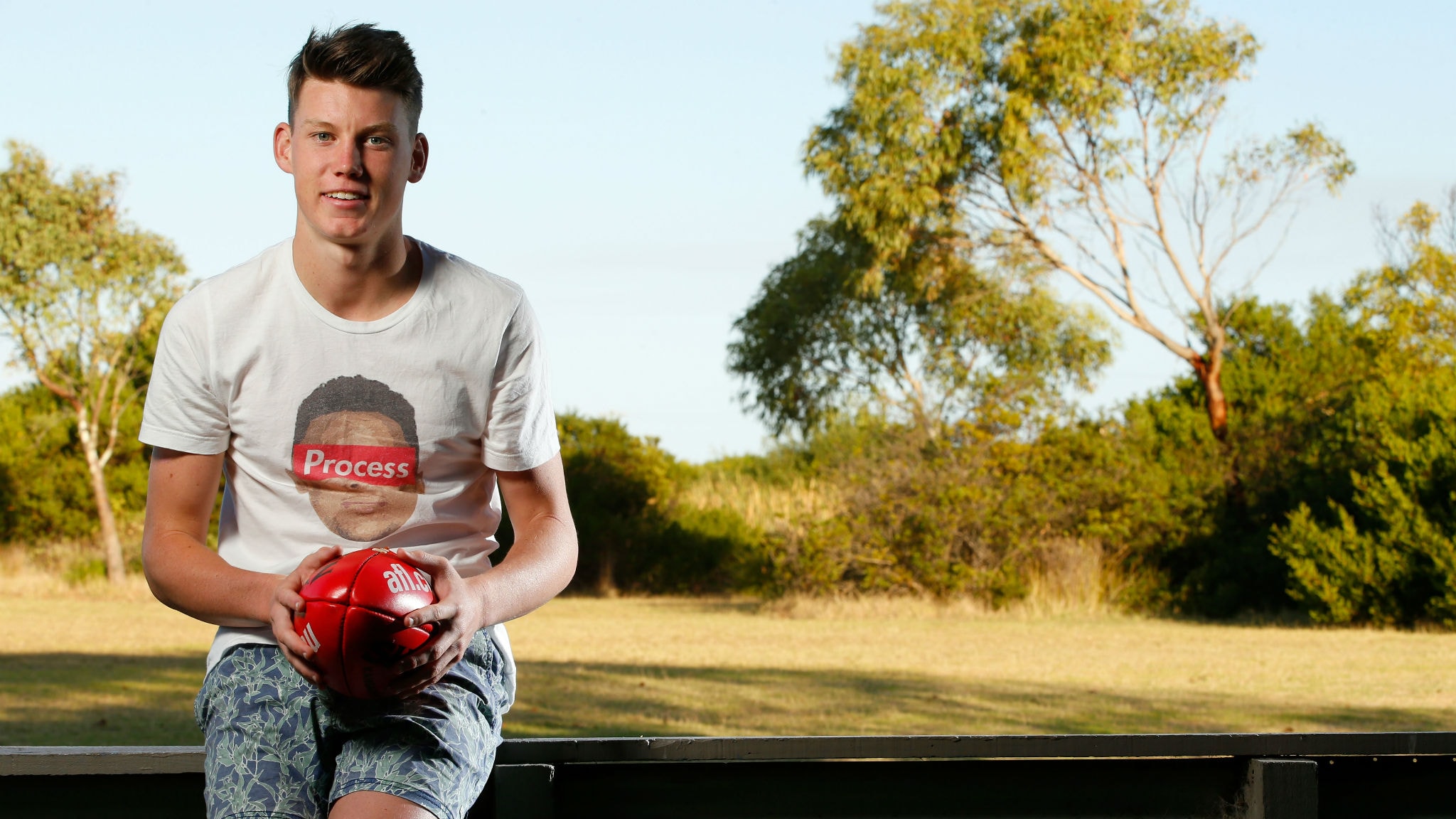 "I don't try overly hard to be a leader, I just want to be the best person I can be," he said. "If you're a good character around people you earn their respect, and I think after that you can lead by example."
When training with Geelong late last year as part of the NAB AFL Academy's program, he observed how Cats skipper Joel Selwood maintained his leadership as well as controlling his own form, and marvelled at how the champion midfielder and teammates Gary Ablett and Patrick Dangerfield trained.
"They never fumble, they're always hitting their kicks and their intensity is game-like all the time," he said. "I was pinching myself."
Some Cats players even said they were keen for Walsh to stay, such was his own ability to impress in a short space of time on the track.
On Saturday he will get another chance to stamp his credentials when he takes to the MCG to play for the Academy against North Melbourne's VFL side.
The game will close out Walsh's time with the Academy and having seen top picks such as Luke Davies-Uniacke and Will Brodie establish themselves as early selections in corresponding games in previous years, he's determined to do the same.
"I would love to play a good game. To play against AFL-calibre players and some bigger bodies, which I haven't got to do too much, will be a great experience, and hopefully we can go all right."