LAST year, Janet Baird was running water in Adelaide's NAB AFL Women's match against Melbourne at TIO Stadium, in her home of Darwin.
Next month, she hopes to be training with the women she was carrying drinks for.
The versatile runner (who's comfortable either in the middle or bounding off half-back), has been playing footy since she was 13, and represented the Northern Territory and the Central Allies in this year's NAB AFL Women's Under-18 Championships.
"I got to be out there on the field giving water to Chelsea Randall, which was pretty cool. She's a great player, and if I wanted to be like anyone, it would be her," Baird said.
Having played all her junior footy for the Palmerston Magpies, Baird made her debut in the club's senior side in the NTFL Women's competition last summer.
"Playing seniors was good, but different," the 17-year-old said.
"It was a faster pace with bigger bodies, but they let me have a run around in the middle most of the time. If we played a tougher side, I'd be pushed into defence, sometimes even full-back."
It was a successful senior debut for Baird, who finished equal fourth in the competition's best and fairest count and won the rising star award.
Baird is deceptively quick, covering the ground easily with long strides. She has clearly spent time studying her hero Randall, as another of her strengths is her intercept marking.
"I like the competitiveness of football – I'm very competitive as a person," she said.
"I like going up for a mark in a pack and being the one who comes down with the ball."
Adelaide star Chelsea Randall has starred in the first two seasons of AFLW. Picture: AFL Photos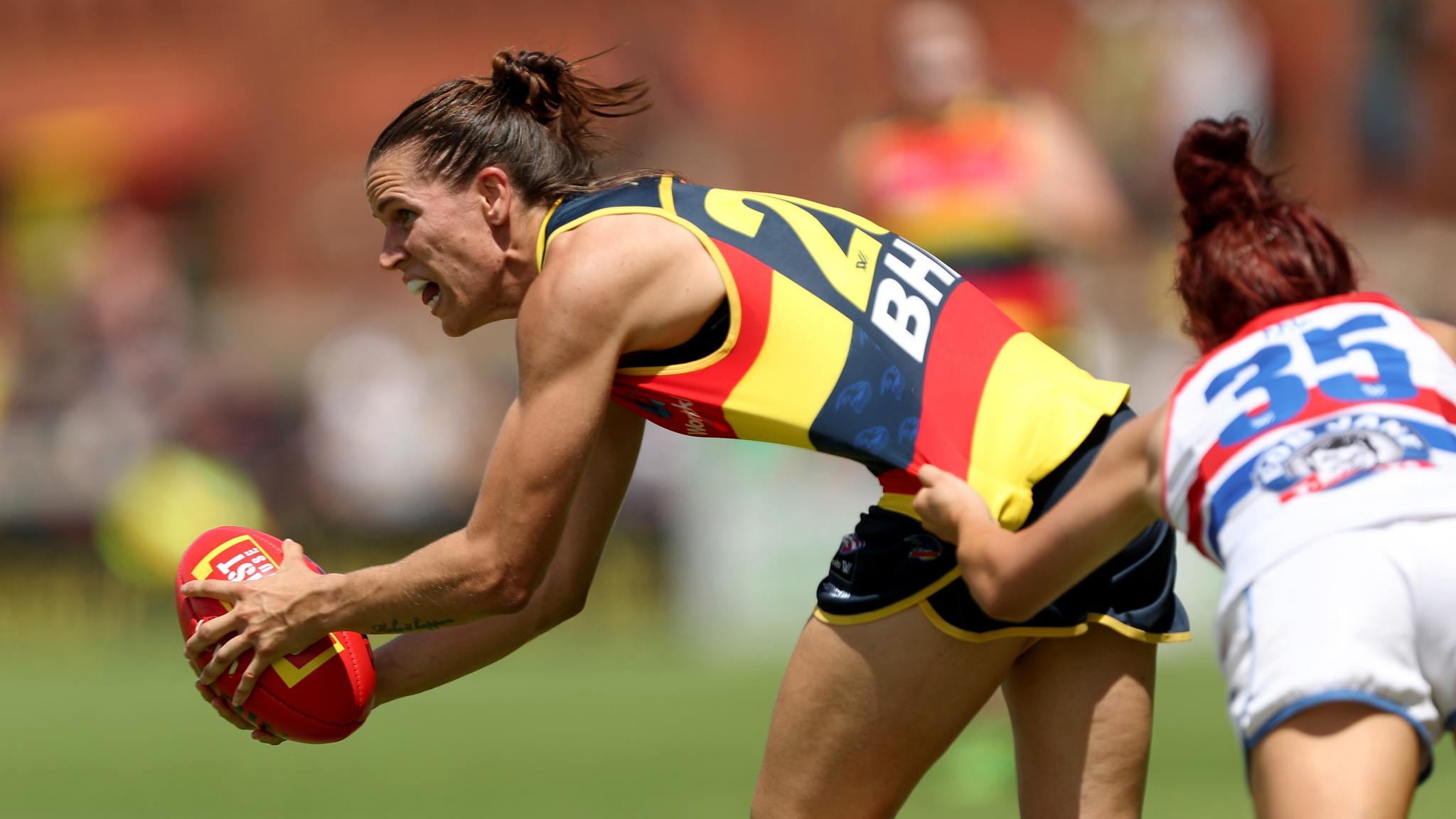 Baird played three VFL Women's games for the NT Thunder this year, which the AFL's AFLW talent manager Aasta O'Connor believes assisted her development.
"If and when she gets her opportunity, she'll accelerate again in that AFLW program, because of her willingness to improve. That's probably her biggest asset," O'Connor said.
"She's a pleasure to be around and her teammates say that about her as well. She's a really well-balanced young person.
"Her outside run and ability to read the play are her biggest strengths. She's had a couple of injury setbacks this year, a few knee injuries from collisions, and it's been good for her development to learn how to be in rehab. She's a pretty resilient young person."
Off the field, Baird graduated from high school last year, and has an unusual job for a 17-year-old.
"I work at the Peter McAulay Centre, which is the police centre for the Northern Territory. I update criminal history for people, correspond with other states on criminal history and update court results. It's a lot of data entry," she said.
"I was a police cadet in school (Palmerston High School), so recommendations from my sergeant helped me get the job once I graduated."
The self-assured Baird is also in charge at home.
"I have a really big family, six brothers (one older and five younger) and a niece. I'm my dad's only daughter and I have a half-sister who doesn't live with us, so I'm the only girl in our house," she said.
"I'm the boss."