HAVING a 324-game Western Bulldogs champion as your father certainly has its perks.
For Vic Metro midfielder Rhylee West, the advice his dad Scott has given him across his football career has him in a position where the Bulldogs are considering him as a father-son selection in November's NAB AFL Draft.
And he couldn't thank his dad – a seven-time best and fairest winner at the Dogs – enough for his guidance.
"I've got a special opportunity where my dad is my coach. Every bloke hopefully has a dad that's their coach, but mine's a bit different in that he played 324 games and he doesn't let me forget it," Rhylee West told AFL.com.au.
"That's not something that every kid's dad gets to do. And his teachings are from the best and that's why I've excelled so much and become the player I am today because of that."
When you watch Rhylee West play, it's difficult not to see the similarities between father and son.
Like the Bulldogs' champion No.7, the younger West is an inside midfielder who thrives on winning contested ball and burrowing down to the bottom of packs to feed the footy out to teammates.
West, who stands at 180cm and 80kg, has averaged 25.3 disposals and 6.3 clearances across the Under-18 Championships and been a key part of Metro's midfield mix.
Rhylee has fond memories of his dad's decorated career at the Kennel and the time where he had the opportunity to run out on the ground for his father's 300th AFL match against West Coast in Perth in 2006.
"I was only a little tacker but I still remember snippets of dad's career here and there," West said.
"It's exciting to think what might be coming for me."
Rhylee West (left) runs out on Subiaco Oval for his father Scott's 300th match. Picture: AFL Photos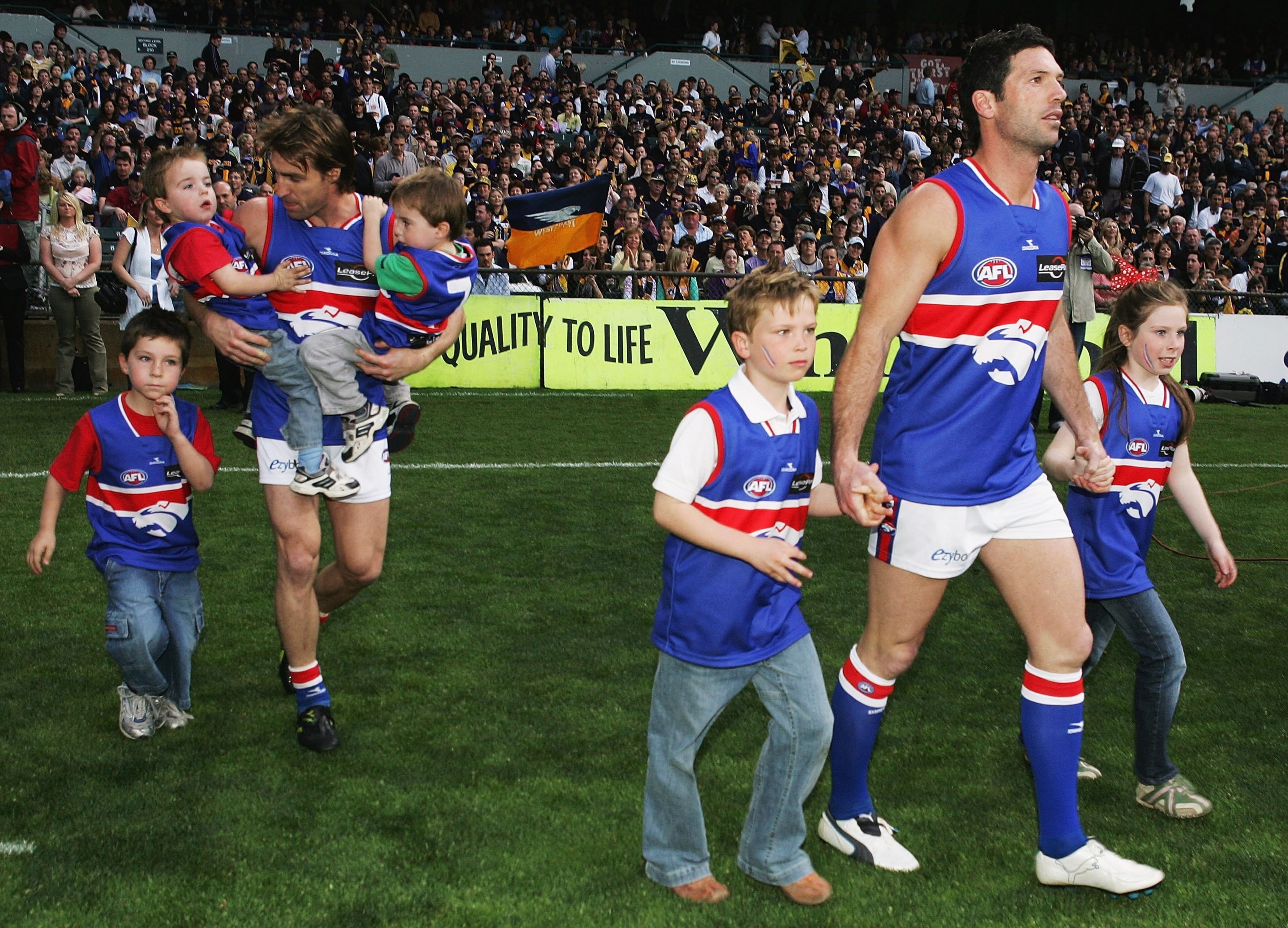 The Calder Cannons product admits he would love to join the Bulldogs at season's end, but if it doesn't happen, for whatever reason, he's just as happy to go elsewhere so long as he definitely gets picked in the Draft.
"It's a great opportunity to go to the club that I've barracked for my whole life," West said about the prospect of joining the Bulldogs.
"At the end of the day, it's all about getting drafted. Whether that's the Dogs, down the Coast in Geelong or whether it's in Perth or any other club, it doesn't bother me as long as I'm on an AFL list at the end of this year."
West and his Vic Metro teammates are set to do battle in a grudge match against fellow unbeaten side South Australia in the final round of the 2018 NAB AFL Under-18 Championships at Etihad Stadium on Wednesday – a game that will decide the Under-18 title.
Vic Metro is chasing its third successive under-18 crown and West said the stakes are high.
"There's definitely a rivalry between Victoria and South Australia," West said.
"They're (South Australia) a great side and they've got a lot of talent. We're pretty happy to be here and in the position that we are, so hopefully we can match it with them."