THE NORTHERN Territory is preparing to explore whether it could realistically be home to an AFL club.
AFLNT chief executive Stuart Totham and NT Chief Minister Michael Gunner met with AFL chief executive Gill McLachlan in Melbourne this week to discuss the plan.
The Territory has produced a number of great AFL footballers, including Norm Smith medallists Andrew McLeod, Michael Long, Maurice Rioli and Cyril 'Junior Boy' Rioli, and Nathan Buckley.
Tasmania, which has long coveted its own AFL team, the NT and the ACT are the only states or territories not represented in the AFL.
The NT Government is taking the idea seriously enough to allocate $100,000 towards a 'scoping study' to investigate whether the Territory should aim for an AFL franchise if one becomes available.
The study would look at various things, such as the challenges an AFL team would face in the NT, sponsorship opportunities, local talent pathways and facility upgrades.
Totham's belief is people in and around Territory football should be "as aspirational as we can be.
INDICATIVE DRAFT ORDER Your club's picks
"If you look at how far footy's come in the Territory in the past 10 or so years; Tiwi Bombers are in (the local competition), there's an NT Thunder women's team, the Michael Long Centre," Totham told AFL.com.au.
"A lot of these things are fantastic achievements, so why shouldn't we keep pushing forward?
"Why can't we have our own team? No-one's actually said we can't, and people will put a lot of theories out there as to why it can't work – well, let's have a look at it."
The Territory already has a joint arrangement in place with Adelaide's AFLW team, which benefits from the NT's talent base and government funding.
NT Thunder competes in the NEAFL and the VFL women's competition and is set to be part of a revamped national under-18 league.
NT Thunder already has a side in the VFLW competition. Picture: AFL Photos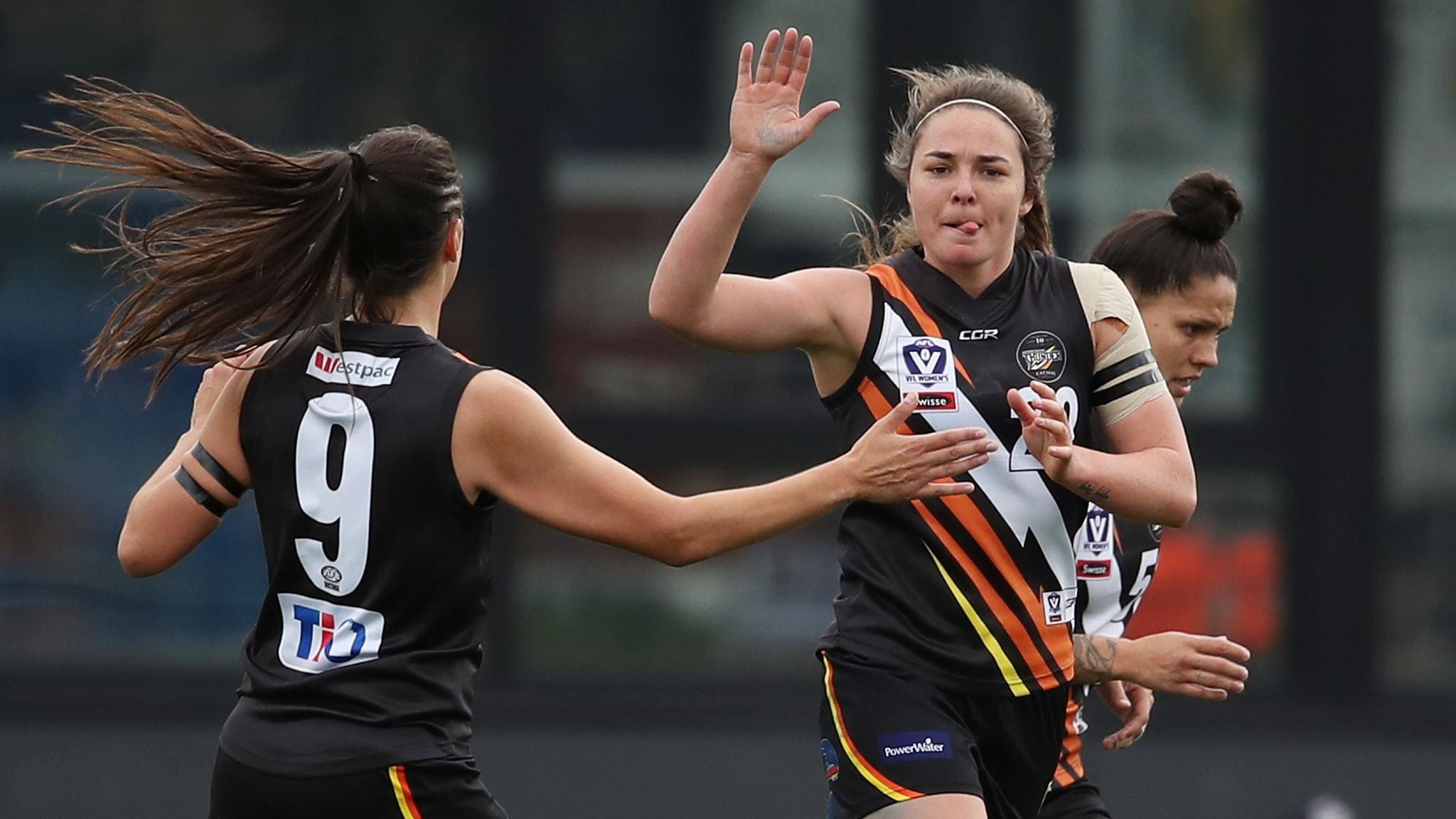 Any potential Northern Territory AFL team would be based out of Darwin and play home games at TIO Stadium, but also at Traeger Park in Alice Springs.
"The AFL would benefit (from an NT club) because it would bring a genuine point of difference and diversity to the competition and show a commitment to developing indigenous talent," Totham said.
"It would bring a really nice flavour to the competition … and that indigenous link to our game is certainly one that would be driving a lot of the outcomes."
Totham conceded the NT's population of less than 250,000 could be problematic, but pointed out that the Territory was "a football state and people genuinely love the game".
He said AFLNT programs reached about 43,000 Territorians and would only heighten with an AFL team in their backyard.
The AFL is also set to announce in the coming weeks that Melbourne will continue to host matches in Darwin and Alice Springs.