WHEN plans for Optus Stadium were being drawn up, Adam Simpson hoped for a ground with long and skinny dimensions replicating Subiaco Oval.
Despite never believing ground sizes impacted the way West Coast played, the coach wanted to maintain a stranglehold over visiting teams on an unfamiliar-shaped oval.
After all, a 75 per cent win-rate at narrow Subiaco (175m x 122m) under Simpson since 2014 wasn't the sort of advantage given up lightly.
But as this season has unfolded, it has become crystal clear the Eagles' move to Perth's new home of football – with similar dimensions (165m x 130m) to the MCG (160m x 141m) – has been a significant factor behind their resurgence.
Not only have Simpson's men adapted to Optus Stadium – boasting an 11-3 record – but they became road warriors in 2018, adapting to different shaped venues and finishing the regular season 7-3 interstate.
West Coast's best result away from home since going 10-2 (including finals) in the club's last premiership year in 2006 helped secure a top-two spot and meant the Eagles haven't left home comforts so far this September.
Heading into the Grand Final against Collingwood, there also aren't the same doubts hanging over West Coast's ability to transfer Simpson's revamped game-plan to the MCG as there were before their 2015 battering from Hawthorn.
The Eagles are different to the territory side which was shell-shocked by the occasion and broke down defensively against the Hawks.
West Coast now kicks more than any other side, using the full width to shift opposition zones, and puts the foot down from half-back to give a dangerous forward line space to work in.
After training all summer at the club's under-construction headquarters at Lathlain Park, which has an MCG-sized oval adjacent to an exact Optus Stadium replica field, the Eagles have learned to attack and defend differently on bigger grounds.
Eagles HQ's Optus Stadium-sized field (left) and MCG-sized field. The third compares Subiaco Oval. Source: Reddit

"To have the foresight to look into the future several years ago and develop the land that we've got and have the two ovals, it's helped us," Simpson said before West Coast's finals campaign.
"We feel more comfortable on the bigger ovals. As much as I've never claimed that the size of an oval affects the way you play, it hasn't hurt this year to have those ovals available.
"Playing at home (Subiaco) had so many advantages of a skinny, long ground that you couldn't help but flip into that mode a little bit.
"Even training for a bigger ground in the west was difficult. We couldn't find any.
"We'd train at Subi and train across the ground. All that sort of stuff is gone now."
The Eagles are preparing for only their third MCG visit this year after edging out cellar-dweller Carlton by 10 points in round five before emphatically dispatching the Pies by 35 points in round 17.
West Coast was too good for Collingwood earlier in the season. Picture: AFL Photos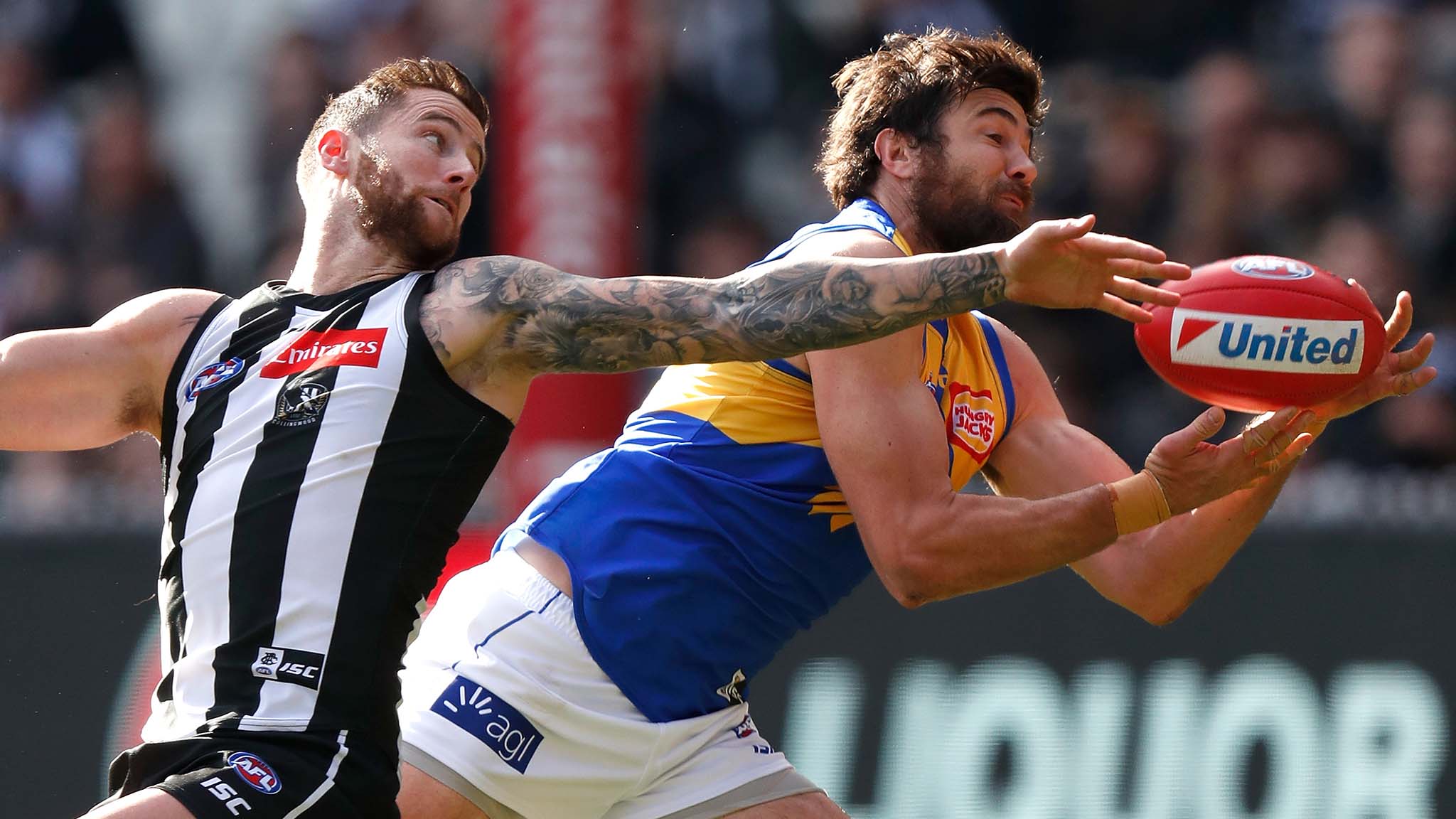 West Coast will hold a captain's run at the 'G on Friday after the Grand Final parade, and rounded out preparations in Perth by staging main training at Lathlain Park on Wednesday.
"That's been really beneficial for the playing group and coaches to train on the (MCG) width, because it is different," forwards coach Jaymie Graham said.
"It's not quite as long, but it's a lot wider (than Optus), so there's a lot more space, to use the ball but also to have to defend.
"We've trained out there and we've done that for the other two games we've played at the 'G this year.
"I think this new stadium, playing in front of 60,000 people each week, has been a really big bonus as well.
"Potentially you don't get overawed by the occasion because you're just doing it week-in, week-out.

"There's a few different factors, but I think the boys are confident enough going out and playing on the 'G.
"Last time we played there we played a good brand of footy."
Plenty has been made of Melbourne-based teams winning the past five Grand Finals against higher-ranked non-Victorian outfits this week.
For the Eagles to reverse that trend, they will have to end a streak of four MCG finals losses since their one-point Grand Final triumph over Sydney in '06.
But history isn't weighing on their minds, especially for West Coast's younger players.
"I think you take confidence generally from the wins throughout the year, playing different teams and winning in different ways," 22-year-old defender Tom Barrass told AFL.com.au.
"Beating the Pies at the 'G (in round 17) gives you a bit of confidence and beating other teams at the 'G too gives you a little bit of confidence.
"There was a bit of hype about an MCG hoodoo that the media likes to run and grab with.
"We'll go out there and try our best and it's certainly not in our minds."