NORTH Melbourne and the Brisbane Lions can take him as a father-son pick, and he's eligible to join Sydney as an Academy selection, but highly rated draft prospect Nick Blakey wants to prove himself as a player before making any call on his future.
Blakey, the son of former Kangaroo and Fitzroy player John, who is now an assistant coach at the Swans, missed the second half of last season with stress fractures in his back.
He has trained with the Roos' father-son program, last year spent time at the Lions with their Academy, and has been a part of the Swans' Academy for nearly a decade since John joined the club's coaching panel.
But he says he will leave it to later in the year before making a decision on his preferred club.
"I don't think about it too much. I haven't played football for six months, so firstly I have to play some good footy and put my best foot forward so hopefully I am in a position to make that tough decision later in the year," he told AFL.com.au at the NAB AFL Academy's training camp at the IMG Academy in Florida.
"At the moment, I still have to play a lot of good football before I think about it.
"Dad has a rich history at both North and Brisbane, so I'm not just focused on Sydney. I love Sydney and Sydney's home at the moment, but obviously dad won two premierships at North and started his career with the Lions which was so good for him.
"I'll keep my options open and I'm not set on what I'm going to do."
Blakey impressed for the Swans in the under-18 Academy series last season, before being selected for the Allies in the division one national carnival.
After a growth spurt in recent years he now stands at 196cm, which has seen him played more as a marking forward, but he sees himself mainly as a tall midfielder who can pinch-hit near goal.
Rival clubs believe Sydney is the frontrunner for Blakey given his involvement with the club's academy and being based in the city, but he said location would be only one factor.
Nick Blakey with the Harrison Medal after the 2017 NAB AFL U18 Championships. Picture: AFL Photos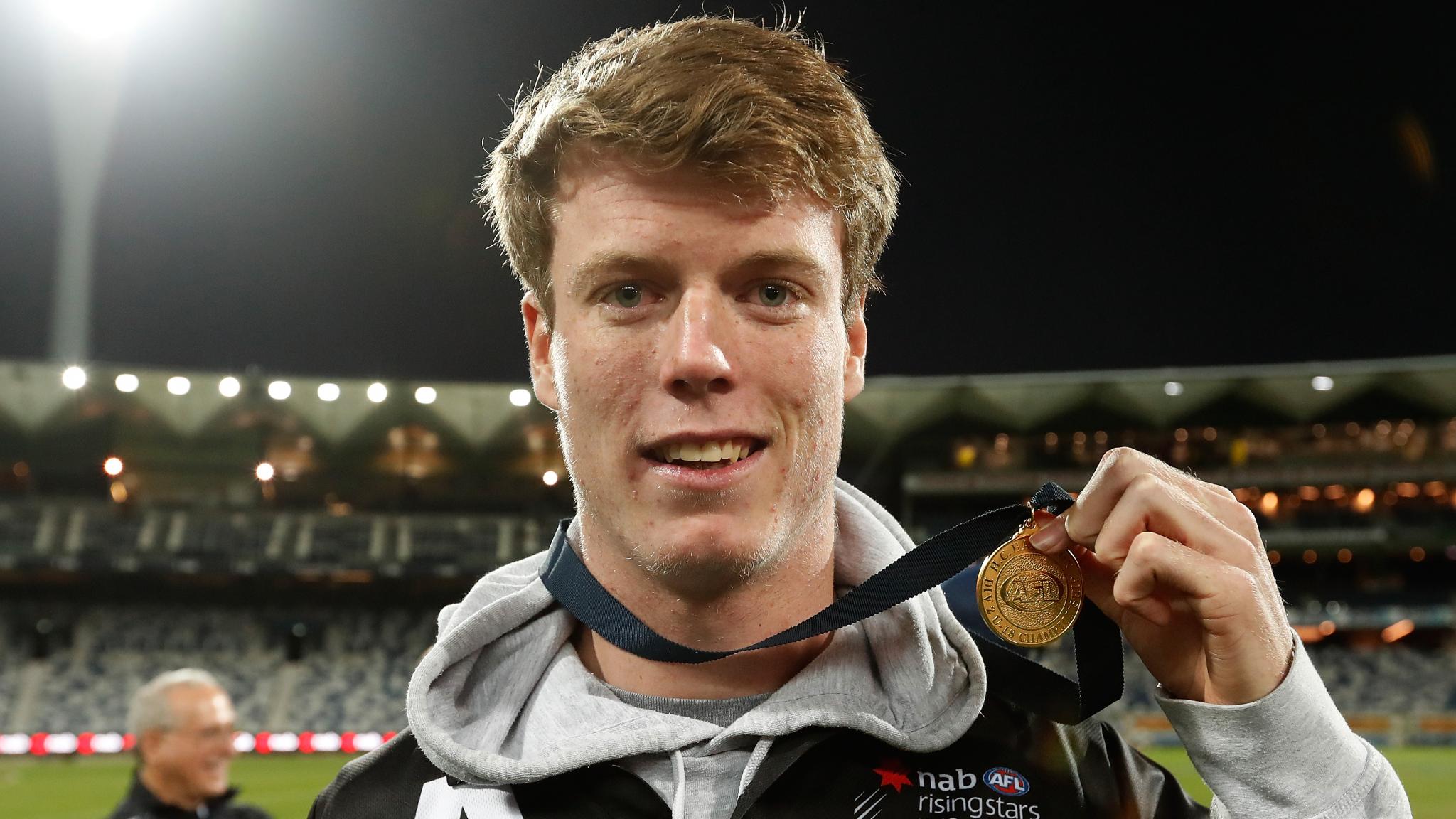 "That'll be big, but it's just one part of it all. All the rest of my family's in Melbourne – my mum, dad and I are the only ones in Sydney, even my sister's moved to Melbourne," he said.
"Sydney is home and I've lived there most of my life, but I get to Melbourne every Christmas with my family and I love both. And Brisbane I grew up there just about and it's nice and hot. Sydney is home, though."
John played 135 games with Fitzroy from 1985-92, before crossing to North Melbourne, where he played 224 games, including the 1996 and '99 premierships.
Nick thinks he has watched most of the tapes of his dad's games – "Especially the Grand Finals," he said – but said John doesn't go into 'coach mode' at home.
"I know if I have a poor game or a good game, and he tells me what I need to work on, but he doesn't say too much and leaves it to the coaches I've got," he said.
"I'm lucky he's my dad and I definitely wouldn't be here without him."
Blakey's football has taken him around the world, with the versatile prospect joining more than 30 other players from around Australia in training at the IMG Academy this week.
The centrepiece of the national Academy's program, the trip will see the players train and stay at the Bradenton centre in a high-performance camp designed to mirror an AFL club's program.
"It's probably some of the best facilities in the world at under-18 level at the moment. You can only improve by being in this environment. Being here, it's exceeded my expectations," Blakey said.