SIXTY-SEVEN players found homes on AFL Women's lists on Tuesday at the NAB AFLW Draft.
There will be another three players signed under free agency rules by Friday, with Carlton, Melbourne and Fremantle choosing to pass their final selections.
So, who did your club select? And how will they fit into the line-up come next year?
TOP TALENT Cats snare local footballer with No.1 pick

IN: Nikki Gore (pick 8, South Adelaide SA), Jess Foley (30, Sturt SA), Chloe Scheer (37, Central District SA), Katelyn Rosenzweig (41, Salisbury SA), Danielle Ponter (48, St Mary's NT), Hannah Martin (53, West Adelaide SA)
Adelaide needed to add midfield depth, and new coach Matthew Clarke certainly has more at his disposal after this draft haul.
Star under-18 contested bull Nikki Gore arrived at the club with its first pick and will be joined by the highly talented Chloe Scheer, who was unable to be drafted last year due to an ACL injury.
Scheer has dominated the South Australian footy scene for some time, having won the SAWFL's best and fairest in the seniors at just 16.
The silky-skilled Hannah Martin will join them in the midfield, fresh off the SANFLW best and fairest.
The forward line will be bolstered by the additions of 18-year-olds Katelyn Rosenzweig and Danielle Ponter. Rosenzweig has developed nicely into a powerful lead-up forward after making the switch from defence.
Ponter has all the talented attributes we've come to expect from members of her family, being the cousin of Cyril Rioli and the niece of Michael Long.
Former Australian basketballer Jess Foley, 35, will provide ruck support for Rhiannon Metcalfe.
Inside midfielder Nikki Gore should help the Crows' contested ball stats. Picture: AFL Photos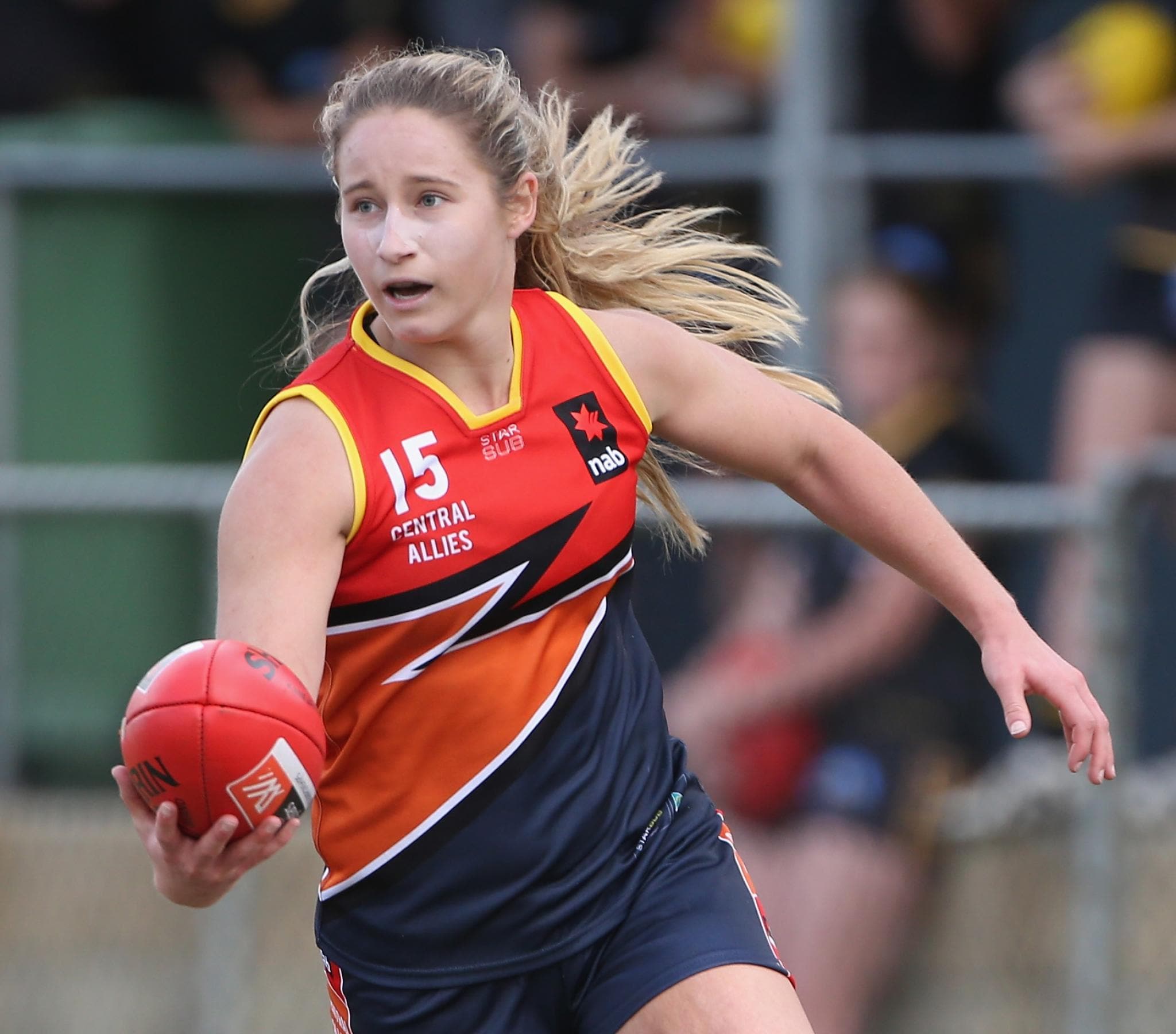 IN: Paige Parker (pick 9, Coorparoo QLD), Natalie Grider (22, University of Queensland QLD), McKenzie Dowrick (33, Subiaco WA), Lauren Bella (45, Bond University QLD), Tori Groves-Little (56, Coorparoo QLD), Jesse Tawhiao-Wardlaw (61, Coorparoo QLD)
Jacqui Yorston (Wilston Grange QLD) and Jade Ellenger (Wilston Grange QLD) added as compensation picks for players lost to expansion clubs
Rebound defender Paige Parker has been a train-on player with the Lions for the past two years and was rewarded for her hard work by being selected with the club's first pick.
State under-18 captain Nat Grider will join Parker as a cool head in defence, while Western Australian star McKenzie Dowrick has chosen to cross the country to play for the Lions.
Dowrick has a booming left foot, reads the play well and can slot in either in defence or in the middle.
Lauren Bella fills the ruck void nicely, Tori Groves-Little is a bounding winger who loves to run and carry, while Jesse Wardlaw is a forward who played for the club in the recent Winter Series.
The Lions received two replacement rookie picks outside of the draft for players lost to expansion clubs, signing inside midfielder/forward Jacqui Yorston and defender/midfielder Jade Ellenger.
Queensland U18 captain Nat Grider will be a Lion. Picture: AFL Photos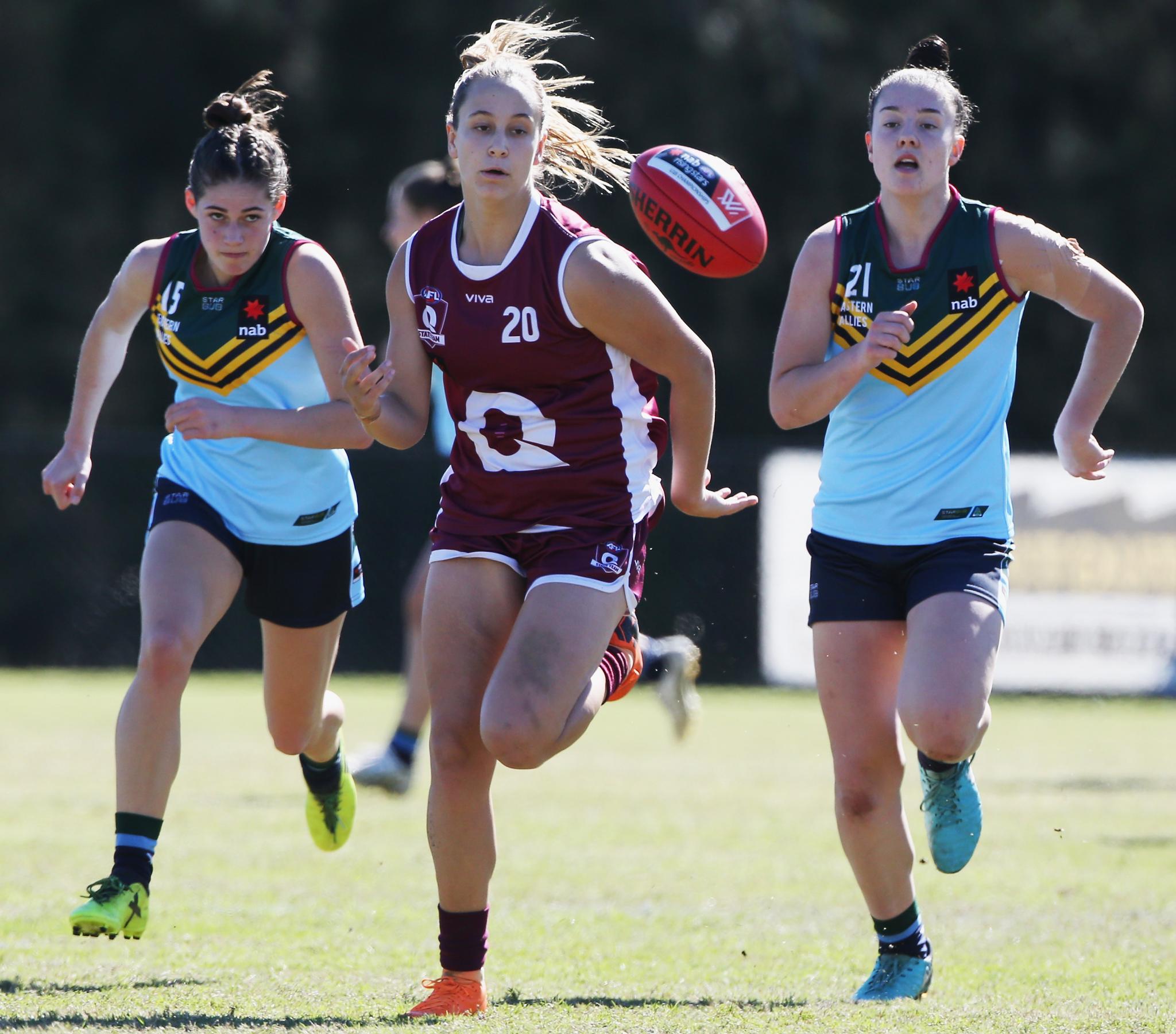 IN: Madison Prespakis (pick 3, Calder Cannons/Melbourne Uni VIC), Abbie McKay (pick 16 father-daughter, Sandringham Dragons/Carlton VFLW VIC), Jayde Van Dyk (21, Hawthorn VFLW VIC), Charlotte Wilson (27, Eastern Ranges/Southern Saints VIC), Emerson Woods (38, Eastern Ranges VIC), Rhiannon Watt (40, Southern Saints VIC), Jess Edwards (42, Collingwood VFLW VIC), passed pick 49
Carlton got the prized signature of Madison Prespakis; the talented midfielder will slot right into the Blues' 21 in round one.
She will be joined in the middle by father-daughter signing Abbie McKay, daughter of Andrew, who had already been announced by the club.
Carlton had a keen eye on defence having lost key backs Danielle Hardiman and Kate Gillespie-Jones to North Melbourne, with Charlotte Wilson and VFLW Rising Star winner Jayde Van Dyk going some way to addressing that need.
Emerson Woods will add some pace to the midfield and across half-forward, the Eastern Ranges product setting a Combine record of 3.13 seconds in the 20-metre sprint.
The club bolstered its ruck stocks with the acquisition of Rhiannon Watt, with Jess Edwards' drive meaning she is able to swing between the middle and half-back.
Carlton passed on its final pick, meaning it will sign an undrafted free agent from another state between Wednesday and Friday.
New Blue Madison Prespakis is among the draft's finest talents. Picture: AFL Photos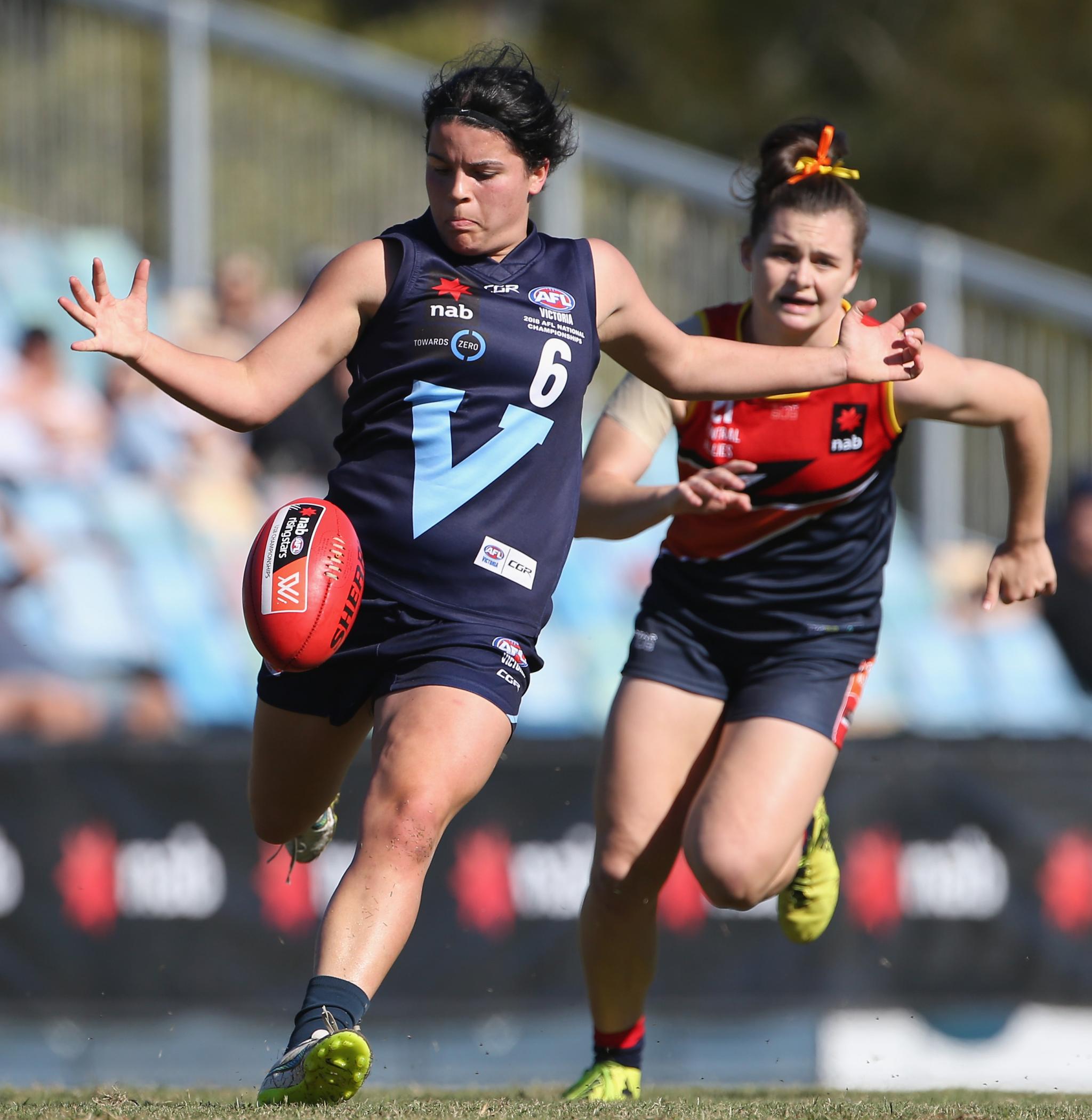 IN: Jordyn Allen (pick 5, Dandenong Stingrays/Casey Demons VIC), Katie Lynch (11, Oakleigh Chargers/Collingwood VFLW VIC), Mikala Cann (13, Eastern Ranges/Hawthorn VFLW VIC), Lauren Butler (18, GWV Rebels/Western Bulldogs VFLW VIC), Maddie Shevlin (19, Melbourne AFLW/Casey Demons VFLW VIC), Sophie Alexander (29, Collingwood VFLW VIC), Georgia Gourlay (32, Casey Demons VIC), Jordan Membrey (51, Wilston Grange QLD), Erica Fowler (70, Collingwood VFLW VIC)
Collingwood's stated aim was to attack the draft hard, targeting young players in particular, and it recruited 18 year olds with its first four picks.
Jordyn Allen was the Dandenong Stingrays captain this year and will slot nicely into the hole across half-back left by Chloe Molloy and her foot injury. She will be supported by Lauren Butler, who reads the play and intercepts well.
Katie Lynch and Sophie Alexander are key forwards who were desperately needed after the club lost several to expansion teams, with Lynch also capable of playing as a tall midfielder.
Competitive midfielder Mikala Cann is quick and plays with great intensity, while former Melbourne rookie Maddie Shevlin's great VFLW season, where she won Casey's best and fairest, was rewarded with a senior Magpies position.
Capable of playing off half-back or on the wing, Georgia Gourlay is one of the better stories of the draft, the 19-year-old having undergone two knee reconstructions.
Dashing midfielder Jordan Membrey will be itching for another go at the top level, having played a few games for Brisbane in 2017, while Erica Fowler is expected to line up as a key forward who provides ruck support for Eliza Hynes.
Katie Lynch could boost Collingwood's midfield or forward line. Picture: AFL Photos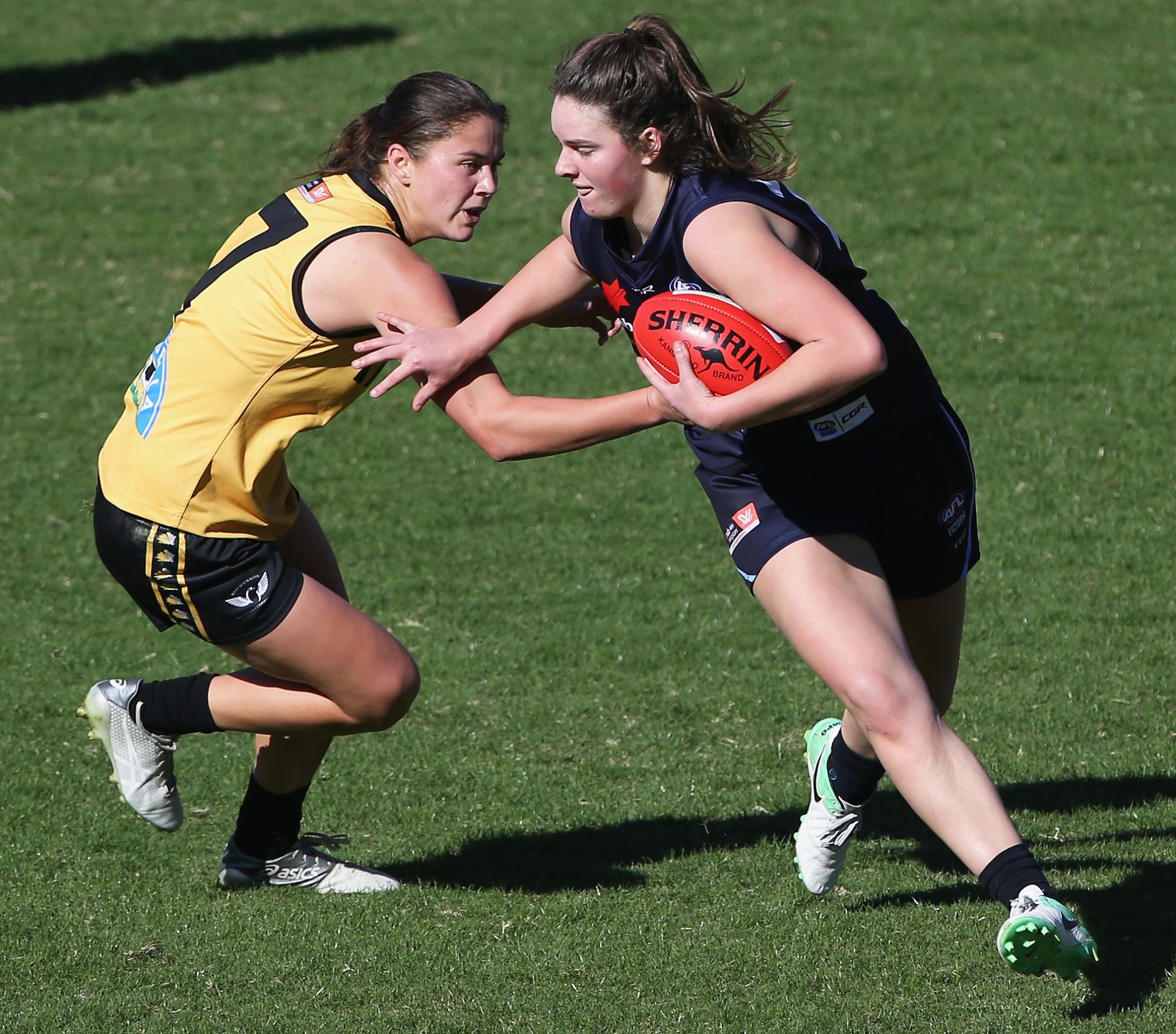 IN: Jasmin Stewart (pick 4, Claremont WA), Sabreena Duffy (17, Peel Thunderbirds WA), Philipa Seth (28, East Fremantle WA), Courtney Stubbs (39, Subiaco WA), Parris Laurie (50, Claremont WA), Laura Pugh (59, West Perth WA), Matilda Sergeant (64, Claremont WA), Ebony Dowson (66, Peel Thunderbirds WA), passed pick 68
Fremantle stayed local and generally older with its selections, although it left room for a free agent by passing on its final pick.
Midfielder Jasmin Stewart will provide great support for Kara Donnellan in the midfield; the 20-year-old who has played state under-18s rewarded for her strong winter which saw her win her club's best and fairest.
State captain Sabreena Duffy can play across any line, but expect her to line up on one of the flanks in her first AFLW season. Another versatile Docker is Philipa Seth, who was runner-up in East Fremantle's best and fairest, and can play in the midfield, across half-back or tag.
Courtney Stubbs has recently returned to the sport from basketball and athletics and will provide some speed through the middle, while Laura Pugh will work in tandem with Ebony Antonio as intercept defenders.
Ruck Parris Laurie will provide support for Alicia Janz, Matilda Sergeant had a strong under-18 carnival in the middle, while half-back Ebony Dowson has been rewarded for her work as a train-on player.
WA U18 captain Sabreena Duffy will add versatility to Fremantle's side. Picture: AFL Photos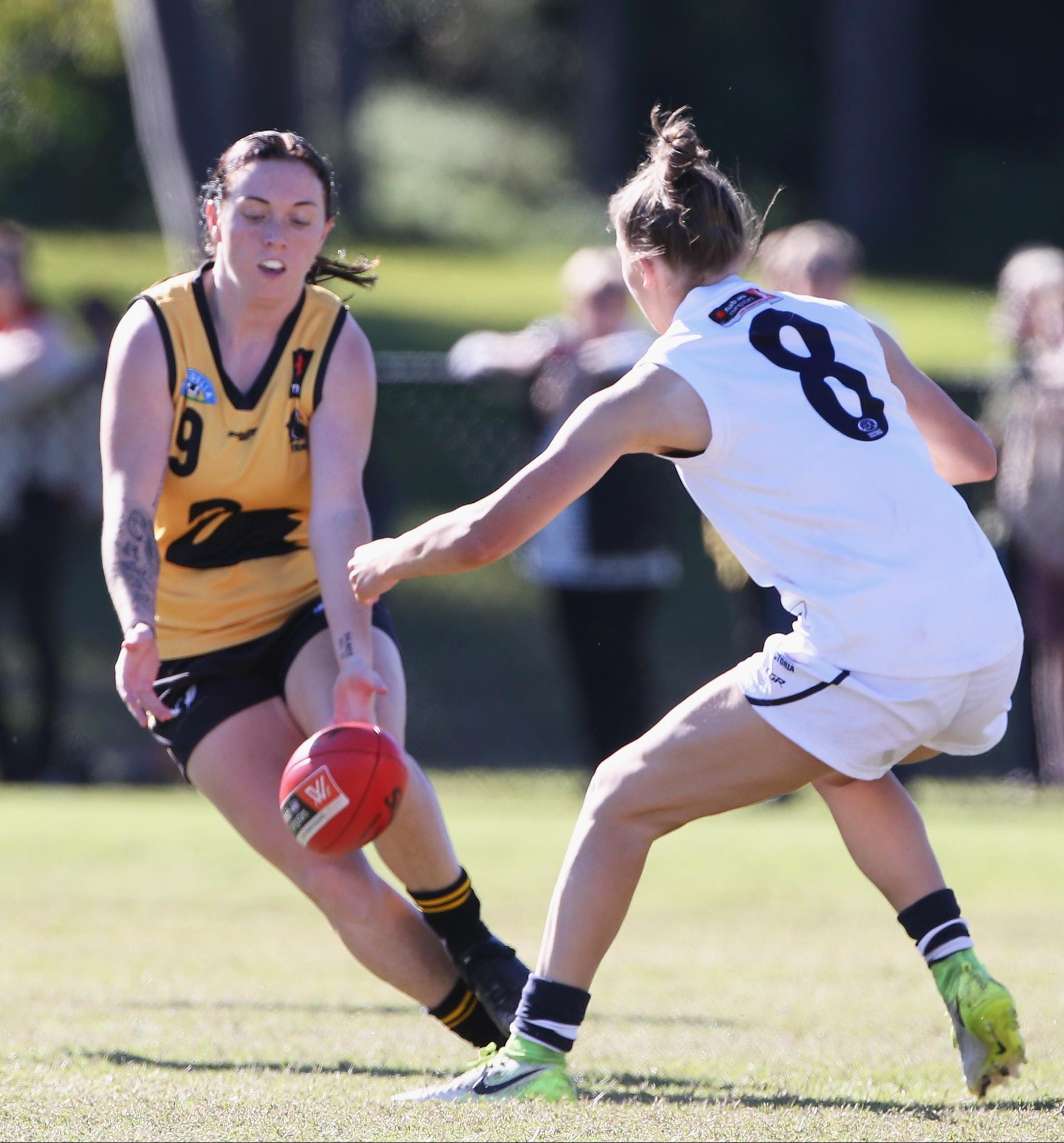 IN: Nina Morrison (pick 1, Geelong Falcons/Geelong VFLW VIC), Sophie Van De Heuvel (pick 2, GWV Rebels/Williamstown VFLW VIC), Rebecca Webster (7, Murray Bushrangers/Melbourne Uni VIC), Olivia Purcell (pick 14, Geelong Falcons/Geelong VFLW VIC), Denby Taylor (20, Geelong Falcons VIC), Georgia Clarke (24, GWV Rebels/Geelong VFLW VIC), Rene Caris (35, GWV Rebels/Carlton VFLW VIC), Maighan Fogas (47, Geelong VFLW VIC), Elise Coventry (57, Geelong VFLW VIC), Maddy Keryk (62, Geelong VFLW VIC)
Geelong filled out its first AFLW list by staying true to its roots, drafting only two girls who have not previously played for either the club's VFLW or the local TAC Cup side.
Under-18s Nina Morrison and Olivia Purcell will add class to the midfield and played for the club in the VFLW Grand Final.
Sophie Van De Heuvel is capable of playing either in the middle or in the forward line and can cause a lot of damage when she gets the ball.
Defender Rebecca Webster is aggressive and reads the ball well and will be joined by up-and-coming tall Georgia Clarke.
Versatile Denby Taylor is a mid-sized player who is comfortable at either end of the ground, while fellow youngster Rene Caris has been one of the best underage rucks in the state for quite some time.
Midfielders Maighan Fogas and Maddy Keryk's strong VFLW seasons were rewarded with promotion to the senior list (Keryk finding a new home after being delisted by Carlton's AFLW team), while Elise Coventry will add further depth to defence.
Geelong draftees Georgia Clarke, Denby Taylor, Sophie Van De Heuvel, Nina Morrison, Rebecca Webster, Rene Caris and Olivia Purcell. Picture: AFL Photos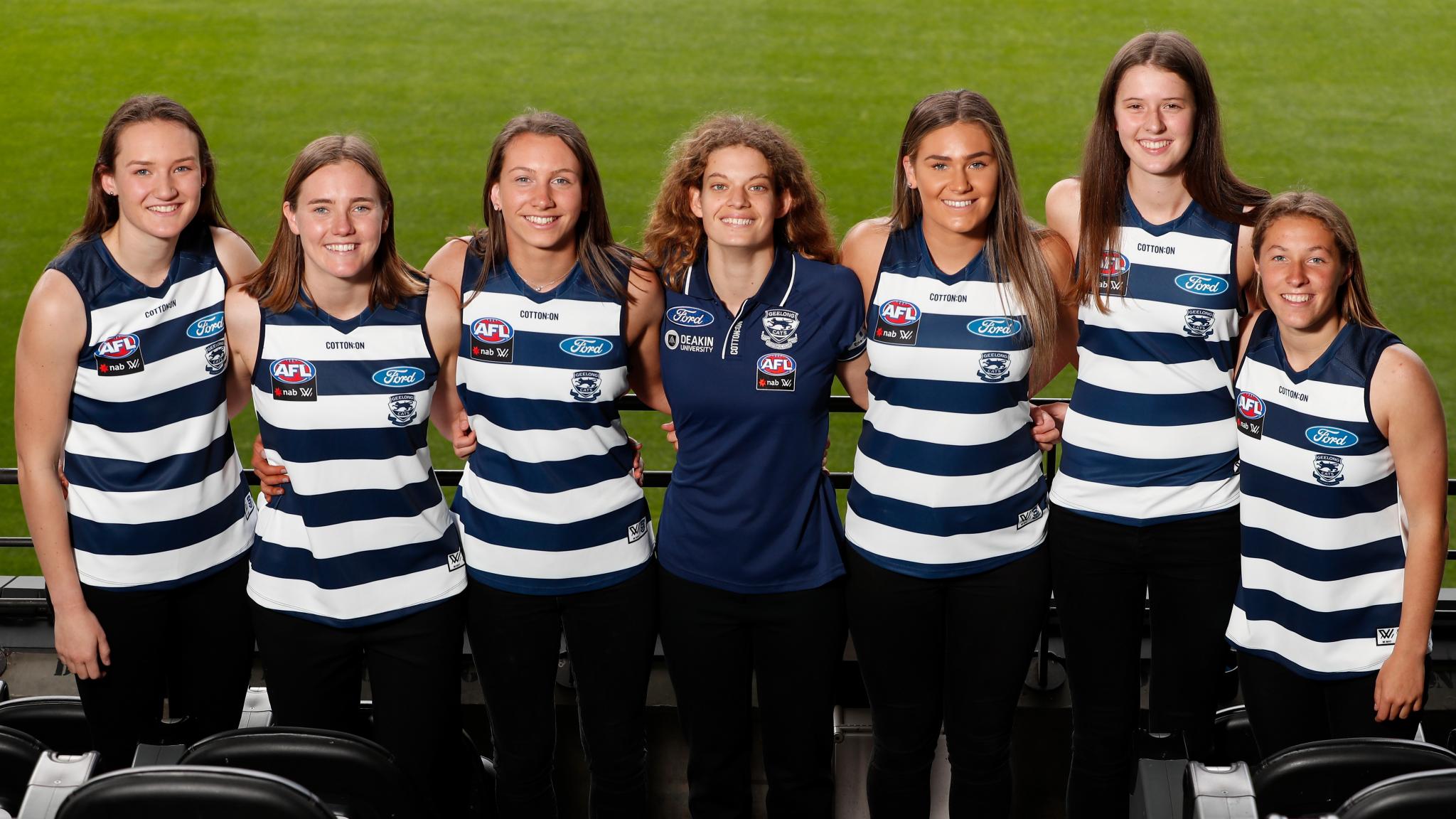 IN: Alyce Parker (pick 12, Thurgoona NSW), Brittany Perry (43, North Adelaide SA), Lisa Whiteley (54, South Adelaide SA), Ingrid Nielsen (60, UNSW-ES Bulldogs NSW), Renee Tomkins (65, GWS AFLW/Penrith-Auburn Giants NSW), Delma Gisu (67, Wilston Grange QLD), Haneen Zreika (69, AFLW/Penrith-Auburn Giants NSW), Ebony O'Dea (71, Norwood SA)
The Giants have traditionally travelled far and wide to find their players and have done so again ahead of the 2019 season.
Midfield bull Alyce Parker is an absolute steal at pick 12 and will comfortably slot into the round one team.
Courtney Gum's partner Krissie Steen has joined the club from South Adelaide as an assistant coach and has brought a few locals with her.
Brittany Perry won the Adelaide Footy League's best and fairest and is a speedy midfielder, key position player Lisa Whiteley will be an important pick-up to provide support at either end of the ground and Ebony O'Dea is a strong inside midfielder.
O'Dea is surely the first player – AFL or AFLW – to hold a world unicycling record, the "platform long jump" her discipline of choice!
Delma Gisu has been around Queensland footy for a while. Hailing from Mer Island in the Torres Strait, she will add dynamism up forward.
Familiar faces Renee Tomkins and Haneen Zreika have been relisted after strong winter seasons for the Penrith-Auburn Giants, while Ingrid Nielson will be a back-up ruck to Erin McKinnon.
New GWS midfielder Alyce Parker (right) thrives when the ball is up for grabs. Picture: AFL Photos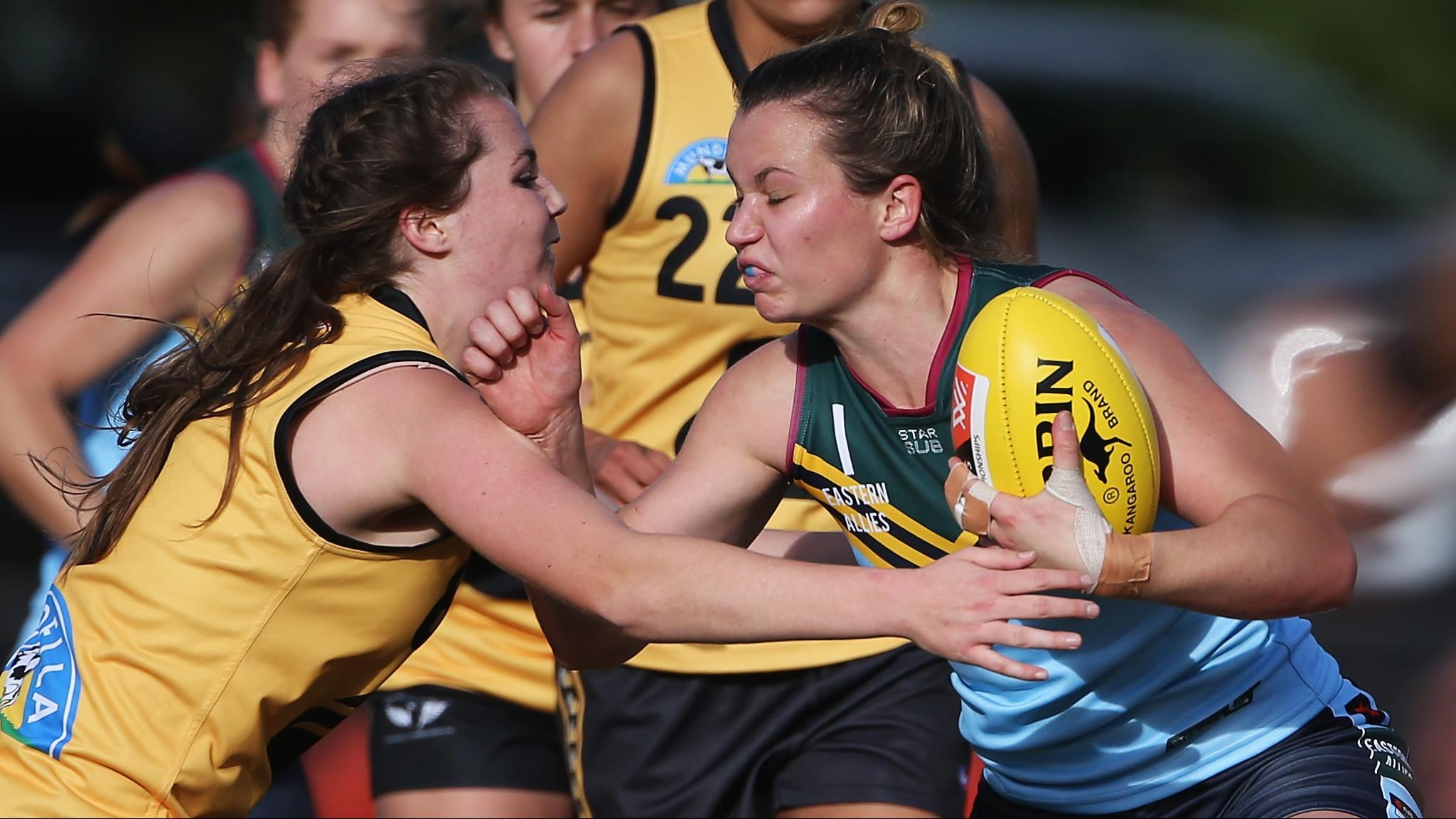 IN: Tyla Hanks (pick 6, Gippsland Power/Carlton VFLW VIC), Madeline Brancatisano (15, Northern Knights/Carlton VFLW VIC), Jordann Hickey (31, NT Thunder NT), Shelley Heath (44, Dandenong Stingrays/Southern Saints VIC), passed pick 52
Melbourne had a smaller draft haul for the second consecutive year, but picked up some elite young talent with its early picks.
Tyla Hanks will be a long-term player for the Demons, the competitive midfielder has a good burst of speed away from stoppages and loves to win clearances, but is expected to line up forward to begin her AFLW career.
Madeline Brancatisano is a pacey inside midfielder whose strength is her clearance work. Both Hanks and Brancatisano captained their respective TAC Cup sides.
Tall forward Jordann Hickey will make the big move from Alice Springs, having had a strong VFLW season in an NT Thunder packed with AFLW players.
One of the strong young crop coming out of the Dandenong Stingrays and Southern Saints, Shelley Heath is a small capable of playing up forward or on the wing and a fierce tackler.
A free agent is on the horizon for the Dees, having passed on their final pick.
Madeline Brancatisano will help the Dees through the middle of the ground. Picture: AFL Photos



IN: Daisy Bateman (25, Oakleigh Chargers/Collingwood VFLW VIC), Courteney Munn (36, Southern Saints VIC), Chloe Haines (55, Burnie Dockers TAS), Libby Haines (58, Burnie Dockers TAS), Nicole Bresnehan (63, Clarence TAS)
North Melbourne had to wait until pick 25 to read out its first name in its first draft, but has probably got the pick of the small forwards in Daisy Bateman.
Bateman has impressed for Collingwood's VFLW side this year, kicking 10 goals in six games.
On the other end of the scale is 182cm forward Courteney Munn, who is yet another graduate from the Southern Saints VFLW side and will complement North's existing forwards nicely.
Tasmanian twins Chloe and Libby Haines are relatively raw players capable of slotting into any position on the ground and will thrive training in an AFLW environment.
Clarence vice-captain Nicole Bresnehan rounds out the signings, the midfielder has sure hands and can play a variety of roles.
The Kangaroos pounced on small forward Daisy Bateman with their first pick. Picture: AFL Photos


IN: Eleanor Brown (pick 10, Sandringham Dragons/Southern Saints VIC), Aisling McCarthy (23, Tipperary Ireland), Kate Bartlett (26, Peel Thunderbirds WA), Selena Karlson (34, Southern Saints VIC), Jessie Davies (46, Western Bulldogs VFLW VIC)
The running half-back in Eleanor Brown has excellent endurance and is capable of also playing on the wing.
Aisling McCarthy is a graduate of the Western Bulldogs' Crosscoders program, which saw international athletes given the chance to try out for AFLW sides. McCarthy comes from Tipperary in Ireland and is a forward for her Gaelic side.
Young forward Kate Bartlett gets her chance after being overlooked last year, meaning the Bulldogs' forward line will have two KBs with the presence of captain Katie Brennan.
Selena Karlson will provide some stability in defence given the loss of Aasta O'Connor to Geelong, while Jessie Davies has been promoted from the club's VFLW side and is a true utility with strong kicking skills.
Kate Bartlett will join another KB in the Dogs' forward line. Picture: AFL Photos

Full NAB AFLW Draft
ROUND ONE

GEEL

1. Nina Morrison (Geelong Falcons, VIC)

GEEL

2. Sophie Van De Huevel (GWV Rebels, VIC)

CARL

3. Madison Prespakis (Calder Cannons, VIC)

FRE

4. Jasmin Stewart (Claremont, WA)

COLL

5. Jordyn Allen (Dandenong Stingrays, VIC)

MELB

6. Tyla Hanks (Gippsland Power, VIC)

GEEL

7. Rebecca Webster (Murray Bushrangers, VIC)

ADEL

8. Nikki Gore (South Adelaide, SA)

BL

9. Paige Parker (Coorparoo, QLD)

WB

10. Eleanor Brown (Sandringham Dragons, VIC)

COLL

11. Katie Lynch (Oakleigh Chargers, VIC)

GWS

12. Alyce Parker (Thurgoona Bulldogs, NSW)
ROUND TWO

COLL

13. Mikala Cann (Eastern Ranges, VIC)

GEEL

14. Olivia Purcell (Geelong Falcons, VIC)

MELB

15. Madeline Brancatisano (Northern Knights, VIC)

CARL

16. Abbie McKay (Sandringham Dragons, VIC)

FRE

17. Sabreena Duffy (Peel Thunderbirds, WA)

COLL

18. Lauren Butler (GWV Rebels, VIC)

COLL

19. Maddie Shevlin (Melbourne rookie list/Casey Demons VFLW, VIC)

GEEL

20. Denby Taylor (Geelong Falcons, VIC)

CARL

21. Jayde Van Dyk (Hawthorn VFLW, VIC)

BL

22. Natalie Grider (University of Queensland, QLD)

WB

23. Aisling McCarthy (Tipperary, Ireland)

GEEL

24. Georgia Clarke (GWV Rebels, VIC)

NMFC

25. Daisy Bateman (Oakleigh Chargers, VIC)
ROUND THREE

WB

26. Kate Bartlett (Peel Thunderbirds, WA)

CARL

27. Charlotte Wilson (Eastern Ranges, VIC)

FRE

28. Philipa Seth (East Fremantle, WA)

COLL

29. Sophie Alexander (Collingwood VFLW, VIC)

ADEL

30. Jessica Foley (Sturt, SA)

MELB

31. Jordann Hickey (Northern Territory Thunder, NT)

COLL

32. Georgia Gourlay (Casey Demons, VIC)

BL

33. McKenzie Dowrick (Subiaco, WA)

WB

34. Selena Karlson (Southern Saints, VIC)

GEEL

35. Rene Caris (GWV Rebels, VIC)

NMFC

36. Courteney Munn (Southern Saints, VIC)
ROUND FOUR

ADEL

37. Chloe Scheer (North Adelaide, SA)

CARL

38. Emerson Woods (Eastern Ranges, VIC)

FRE

39. Courtney Stubbs (Subiaco, WA)

CARL

40. Rhiannon Watt (Southern Saints, VIC)

ADEL

41. Katelyn Rosenzweig (North Adelaide, SA)

CARL

42. Jessica Edwards (Collingwood VFLW, VIC)

GWS

43. Brittany Perry (North Adelaide, SA)

MELB

44. Shelley Heath (Southern Saints, VIC)

BL

45. Lauren Bella (Bond University, QLD)

WB

46. Jessie Davies (Western Bulldogs VFLW, VIC)

GEEL

47. Maighan Fogas (Geelong VFLW, VIC)

ADEL

48. Danielle Ponter (St Mary's, NT)
ROUND FIVE

CARL

49. Pass

FRE

50. Parris Laurie (Claremont, WA)

COLL

51. Jordan Membrey (Wilston Grange, QLD)

MELB

52. Pass

ADEL

53. Hannah Martin (West Adelaide, SA)

GWS

54. Lisa Whiteley (South Adelaide, SA)

NMFC

55. Chloe Haines (Burnie, TAS)

BL

56. Tori Groves-Little (Coorparoo, QLD)

GEEL

57. Elise Coventry (Geelong VFLW, VIC)

NMFC

58. Libby Haines (Burnie, TAS)
ROUND SIX

FRE

59. Laura Pugh (West Perth, WA)

GWS

60. Ingrid Nielsen (UNSW Bulldogs, NSW)

BL

61. Jesse Tawhiao-Wardlaw (Coorparoo, QLD)

GEEL

62. Madeline Keryk (Geelong VFLW, VIC)

NMFC

63. Nicole Bresnehan (Clarence, TAS)
ROUND SEVEN

FRE

64. Matilda Sergeant (Claremont, WA)

GWS

65. Renee Tomkins (Penrith-Auburn Giants, NSW)
ROUND EIGHT

FRE

66. Ebony Dowson (Peel Thunderbirds, WA)

GWS

67. Delma Gisu (Wilston Grange, QLD)
ROUND NINE

FRE

68. Pass

GWS

69. Haneen Zreika (Penrith-Auburn Giants, NSW)

COLL

70. Erica Fowler (Collingwood VFLW, VIC)

GWS

71. Ebony O'Dea (Norwood, SA)