WHILE a host of AFL players have head overseas as part of their annual break, hundreds of amateur footy players living abroad will be vying for glory in carnivals in Ireland and Malaysia this weekend.
Some 350 players from 15 nations have descend on Cork, Ireland, for AFL Europe's Euro Cup, earmarked to be the best in the event's 11-year history.
The city on the south-west coast of Ireland will play host to 64 matches at the Cork Institute of Technology, with Europe's premier men's and women's national teams facing off in a nine-a-side format to determine the champions of Europe.
England won the both men's and women's divisions in in Bordeaux, France, last year.
Matt Whiteley said it was "an honour" to be named captain of the men's Dragonslayers team looking for back-to-back wins.
"To lead the team out will be a magnificent feeling and one that will stay with me for a very long time," Whiteley said.
Shane Quigley (Irish Warriors) and Maeve O Gorman (Irish Banshees), pictured here at Cork's Blackrock Castle, are playing in the Euro Cup in Ireland.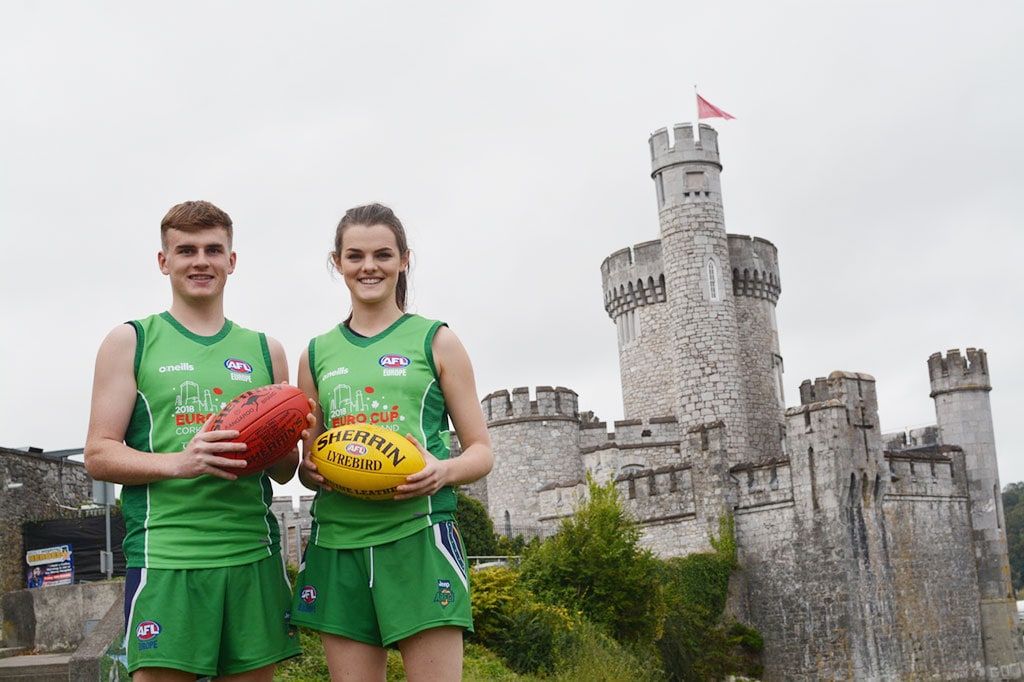 "I'm hoping we can emulate our performance last year and I will be able to lift the trophy once again.
"The squad has several returning players and we have strengthened it with the addition of players from all over the country.
"I am excited to see how some of the new players go as they have shown in our recent warm-up game they have the presence around the ground to compete with anyone," he said.
"With coach Garth Nevin leading us again, we have the personnel capable of defending our crown."
Bringing such a diverse group of players from across the continent to compete in a one-day footy bonanza obviously comes with its logistical challenges, but AFL Europe general manager Ryan Davey said the players' commitment was "a testament to the strength of the European footy community".
"It is always an extensive process putting an event like this together, but with the great collaboration between our team in London and those on the ground in Cork, we've never been more confident of the day proving a huge success than we are this weekend," Davey said.
"Every year, the Euro Cup is a hit with all players, officials, volunteers and spectators who get to experience what is a unique event. Even in footy heartland in Australia there is nothing quite like it.
"There is an extraordinary amount of passion on show as footy people around come together from every corner of Europe," he said.
"Some come in as seasoned campaigners, others might be having their first competitive game. Famously, one player once rode her bike from Sweden to Croatia just to get to the tournament, then played through a knee injury she sustained on the way."
The tournament marks the beginning of a jam-packed 18-month international cycle for European players, encompassing the 2019 Euro Cup in Norrtålje, Sweden, the full-scale 18-a-side European Championships in London, and the 2020 AFL International Cup in Melbourne.
The AFL Asia 2018 Asian Championships and inaugural AFL Women's Asian Championships are being played at the Bukit Kiara Equestrian and Country Resort in Kuala Lumpur.
AFL Asia is expecting more than 500 participants (including 100 women) from 13 countries, with 17 men's teams (five in division one and 12 in division two) and four women's teams taking part.
This is the 19th annual Asian Championships, with this year's event featuring an increased number of Asian-born players and the first Asian-born female umpire adjudicating at this level.
"One of AFL Asia's focuses throughout the 2018 season has been to grow, nurture and develop women's football and as the figures suggest, it has paid off in spades," said AFL Asia president Matt Gale.
How to follow the two events:
AFL Europe's Euro Cup: AFL Europe.org or got to AFL Europe on Facebook
AFL Asia's Asian Championships: AFL Asia.com or go to AFL Asia on Facebook