GREATER Western Sydney star Jeremy Cameron has opened up about the fallout from his five-game ban for striking Brisbane's Harris Andrews, and the critics who wrote off his team's season in the aftermath.
Cameron will take the field against Carlton on Sunday at Etihad Stadium for his first game since the incident in round 14 at the Gabba, one week after Andrews returned for the Lions against Geelong after recovering from his severe concussion.
The backlash in the lead-up to and following Cameron's suspension was intense, but he tried as best he could to steer clear of the attention from the media and the public.
The Giant said his time out of the game had given him plenty of time to think, and while he admitted he hasn't spoken to Andrews since he sent a text after the match, the Brisbane defender has been at the forefront of his mind.
"It's been a long five weeks," he said.
"There was a lot spoken about the incident and the first four or five days were a bit full on, but that whole time my main concern was Harris.
"I hate seeing a player going like that in any sport, let alone be a part of it.
"It was great to see him back out there doing what he does best on the weekend.
"It was a week like I hadn't had before, and it was stressful at times, but I've got the right people around me (for support)."
Harris Andrews was knocked out in collision with Jeremy Cameron. Picture: AFL Photos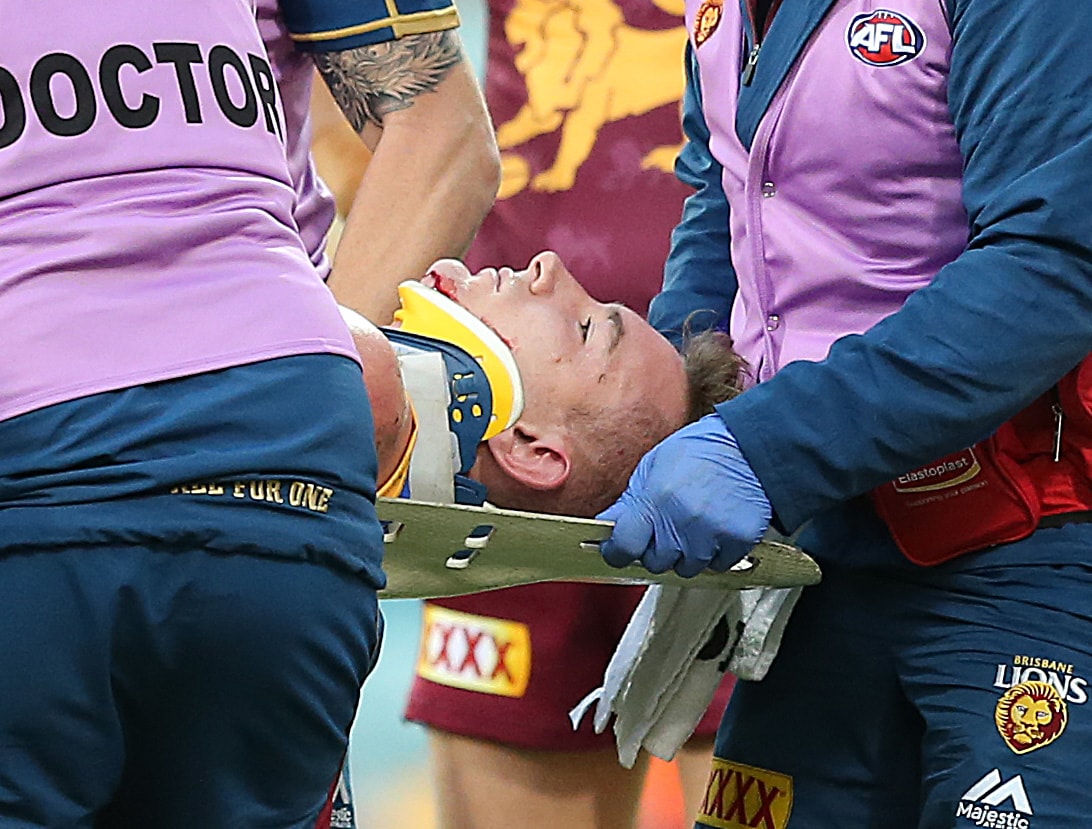 Cameron said he's worked with the club's coaching staff to make some minor tweaks to the way he launches himself at the footy, which has been one of the hallmarks of his game.
But he feels the amount of split-second decisions players are forced to make places them in difficult situations at almost every contest.
"It's a really fine line when you attack the ball hard and there's people all around you, and you don't know what angles they're coming from," he said.
"There's not a lot of people that would go back (with the flight) like Harris did either, we all know how courageous he is.
"It's hard to say what I would do if I had my time again, the first thing that jumps to mind is to not hurt him.
"But how do you do that and go for the footy, and not pull out and look like you're scared at the same time?
"I like to have that aggression in my game and I don't think I'll ever lose that, it's just the way I go about the contest and making quick decisions on the spot that has to get better.
"I don't think it will change me as a player, I've always loved that competitive side (of the game).
"It's unfortunate what happened but that's how I like to play my football, on the edge.
"I just have to make sure I don't go over the edge and miss weeks of football."
Lions defender Harris Andrews has been taken off on a stretcher after this collision with Jeremy Cameron. #AFLLionsGiants pic.twitter.com/ubWZgH8qzR

— AFL (@AFL) June 23, 2018
When the Giants' six-time leading goalkicker was banned, plenty of critics put a line through the club's chances of contending for this year's premiership, with some even ruling them out of finals contention.
But Leon Cameron's men won four of the five matches the star forward missed to sit in fifth heading into round 20, and are poised to challenge for a top-four finish.
"I definitely didn't fear for the boys, I wasn't worried at all," Cameron said.
"I heard there was a little bit spoken about it at the time, that our season was a write-off which was laughable.
"I couldn't believe it, we've had players go out and we've always had one come in and do the job, and we've showed that over the last two years."
GWS key forward Jonathon Patton suffered a torn ACL just one week into Cameron's suspension, and he said seeing his teammate suffer yet another significant injury put his own issues into perspective.
"That was terrible, I was in the clubrooms and was one of the first to see Jon when he came in, and he was devastated," Cameron said.
"To have him go through a third knee reconstruction, it's going to be tough for Jon, so five weeks (out) seemed like nothing when you look at it that way."