DAN Hannebery has had his first beer in months, and it has coincided with a lift in his form.
After the bitter disappointment of Sydney's Grand Final loss to the Western Bulldogs, the Swans midfielder famously stopped drinking.
Over the pre-season he reported a step up in fitness and his general well-being, but as the losses piled up to start the season, even expert commentators began to question whether his self-imposed "booze ban" was worth it.
Now, the 26-year-old has revealed, he's drinking alcohol again – at least in moderation.
"I've had one or two in the last few weeks," Hannebery has told Fairfax Media.
"I'm still basically not drinking, but it's been nice just to remove the stress," he said.
It came as the Swans looked to re-group after their 0-6 start to the season.
"I think everyone started over-thinking it. We were all trying to do too much and I was one of them.
"Then we sat down as a group and started simplifying things and narrowing our focus as a team."
Since that round-six defeat to Carlton, the Swans are on a roll and in no small part due to Hannebery's contributions.
He's kicked five goals across the three wins, and had more of the footy, averaging 30 touches.
Dan Hannebery with Kieren Jack at the 2015 Brownlow Medal ceremony. Picture: AFL Photos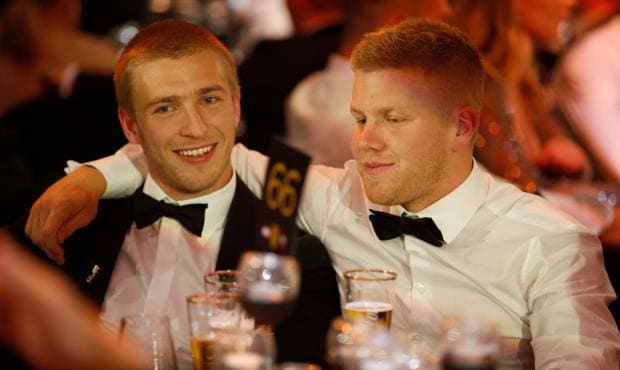 Meanwhile, while coach John Longmire may not be interested in talking finals, star defender Dane Rampe believes his side can definitely make the eight this year.
The Swans started the season with six straight losses and looked certainties to be spectators during the finals for the first time in Longmire's tenure at the club, but they've roared backed into contention with wins over the Brisbane Lions, North Melbourne and St Kilda.
Longmire refused to look any further than Friday night's clash with Hawthorn at the SCG when he fronted the media on Monday, but Rampe didn't mince his words when asked if finals were put on the agenda on Thursday.
The 2016 All Australian hinted that the Swans were too comfortable early in the year but their losing streak certainly shocked them back into line.
"Obviously it wasn't the start we wanted, but we've got full faith in our playing list and our coaching staff as well," Rampe said.
"Maybe we got ahead of ourselves, if we're going to be honest, in the first six rounds, on the back of our Grand Final appearance last year, in terms of excitement around what we can achieve if we put it all together.
"I'm glad it happened because we've been able to rectify those things and we've just gone back to basics."
Have you had your say in the 2017 fan survey?
We want to hear your take on footy's big and small topics, from free agency to the opponent you love your team to beat.
You can share your views via the survey below. It takes around 5-10 minutes to complete.
Survey not working on the app? Click here to open in a web view
Want more?
• Your views on a sledging code