THE PROVOCATIVE Instagram post from Melbourne forward Tom Bugg challenging Western Bulldogs backman Jason Johannisen was just a bit of fun between mates, the Demon says.
Bugg took a photo with teammates Jack Watts before Sunday's 57-point win against the Dogs and put it on Instagram, asking Johannisen: 'You ready?'.
It has since emerged that all three are mates.
"It was a little playful Instagram. I didn't mean too much by it," Bugg told Melbourne radio station 3AW on Sunday.
WATCH: Dogs and Dees clash in fiery first half
"I know Jason, so it was just a bit of playful (banter) before the game.
"I didn't look too far into it. They're a great side so we knew they were going to come at us no matter what. I didn't read too much into it."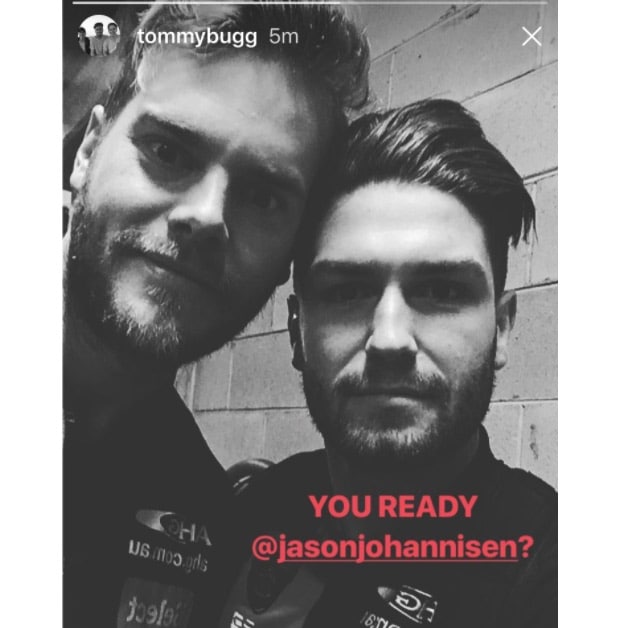 The Instagram post aimed at Johannisen came after he was poor against Sydney in the Dogs' previous game, with the Swans aggressively targeting the Norm Smith medallist.
He was again quiet against the Demons, picking up 15 disposals with Jake Melksham by his side for most of the afternoon.
The Dogs clearly caught wind of the post. Stand-in skipper Easton Wood went straight to Bugg before the first bounce and there was constant niggle throughout the match in what was a feisty affair.
However, Bugg said his work on social media wasn't a factor during the contest.
"We're not worried too much about that. We're worried about what we're doing on the ground," he said.
"At the moment, we're playing some really good footy and we want to do that going forward."
Demons coach Simon Goodwin - a self-confessed social media neophyte - said he hoped players would use Instagram in the right way.
"From speaking to Tom and Jack, they know Jason. It was a bit of banter from their part," he said.
"I think it's really important to establish that we want to be a club that's respectful and humble in the way we go about our business.
"That's the discussions that we've had with our playing group."
To my friends in the media;
Tom Bugg's jibe was exactly what you want more of from players - personality
Remember that before condemning him

— Josh Jenkins (@JoshJenkins24) June 18, 2017