• Follow our LIVE Brownlow Medal blog

IN NEWS that will disappoint fashion lovers, red carpet regulars Nadia Bartel, Jesinta Franklin and Rebecca Judd will not attend the Brownlow Medal ceremony on Monday night.
While the ceremony crowns the league's best and fairest player, it is also known as much for its parade of fashionable wives and girlfriends, affectionately known as WAGs.
Ms Bartel, wife of past Brownlow medallist Jimmy Bartel and regular on the best-dressed lists, said the couple would not attend, offering no reason for their absence while indicating they "will be there in the future".

Brownlow Medal cheat sheet: Your special guide
Ms Judd's management also said she will not attend, with the TV personality last pictured filming Postcards on the Spirit of Tasmania on Sunday.
Ms Franklin, model and wife of Swan's player Lance "Buddy" Franklin, is another no-show, posting a photo of a smoothie and 'sick-face' emoticon on Instagram on Sunday.
Ms Franklin is usually styled by her sister Aleysha Campbell of CM Stylists, who predicts WAGs will be rocking bold colours and feminine silhouettes on the carpet in 2017.
"Embellished details and soft feminine silhouettes have featured as a strong trend this awards season - think ruffles, pleats, bows and beautiful necklines revealing the decolletage," Ms Campbell said.
Meanwhile, celebrity stylist Lana Wilkinson has started posting sneak peaks of her clients getting 'glammed up' at Crown Towers.
Among her clients is Jordan Ablett, who is tipped to be wearing a custom gown by Melbourne courtiers J'Aton. The pair designed both her wedding dress and 2017 Brownlow gown.
Lauren Tscharke and Kahlia Ashton have also called in stylists, choosing sister act Bianca and Bridgett Roccisano of Melbourne Stylists to curate their custom looks.
Bianca said most WAGs hire stylists as they have access to some of Australia's best designers.
"You can tell who has a stylist and who doesn't," she said.
Bianca remained tight-lipped about the ladies' gowns but said to look out for "lots of drama" on Tscharke and a "very unusual colour" on Ashton.
"They're two very different looks which is exciting (for us) as stylists."

Rebecca Judd has been a Brownlow staple for years. Picture: AFL Photos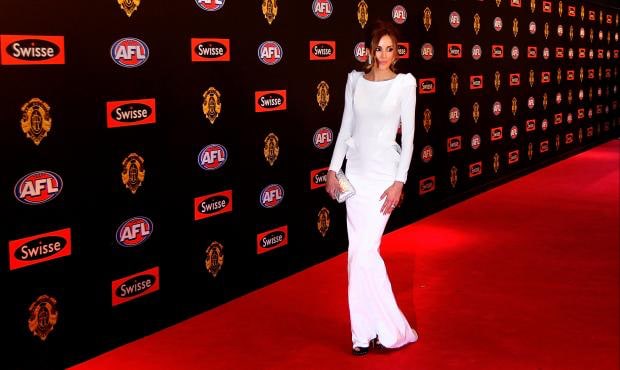 James and Nadia Bartel pose for the cameras. Picture: AFL Photos