In our series leading up to round one, AFL.com.au writers will debate the best moments, players and teams since the turn of the century. From the pick of the Brownlow and Norm Smith medallists to the finest wooden spooners, non-finalists and premiership teams, a rotating panel will turn their minds to footy's big moments since 2000.
Today, Ashley Browne, Ben Collins, Callum Twomey and Matt Thompson clash over the merits of the best club since 2000.
Since 2000 Geelong has won the most games with 263, has the best success rate with 65 per cent ahead of Sydney with 243 wins and 60 per cent and Hawthorn 240 wins at 60 per cent; Sydney has played in the most finals with 34; Sydney, Hawthorn and Collingwood have played in the most Grand Finals with five each, while Hawthorn has won the most premierships with four.
HAWTHORN

Why do we play footy? To win premierships. And as the only club to win four flags since 2000, it stands to reason that Hawthorn is the best club in the AFL since 2000. The shadow the Hawks cast over the competition is enormous. Their bold work at the trade table has caused clubs to reconsider the way they approach list management. And Hawthorn alumni are among the most in-demand in the competition. There are now six former Hawthorn assistant coaches or key offsiders now senior coaches at other clubs – that's a third of the competition. Mark Evans, the AFL's head of football is a former Hawthorn football manager while a former Hawk president – Andrew Newbold – could be the next chairman of the AFL Commission. And with 75,351 members in 2016 and more than $40 million in net assets, no club is bigger or better off the field, either. - Ashley Browne
Shaun Burgoyne and Cyril Rioli celebrate the 2015 flag. Picture: AFL Photos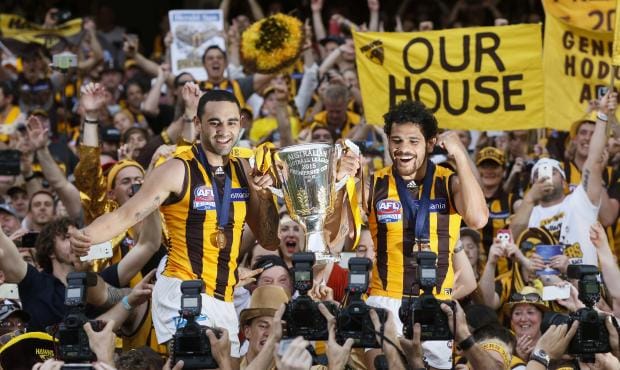 GEELONG

Tough to argue with Browney's compelling case for the Hawks, but there's no disputing that the strongest competition comes from their arch-enemy Geelong. The Cats have comfortably claimed both the most wins and the best strike rate, while winning three premierships over a remarkable five-season period from 2007-11. The Cat empire emerged at the perfect time, their ultra-attacking style injecting new life into the game after two years of strangulation football under the reign of the Swans and Eagles. And it came out of nowhere, with coach Mark Thompson barely surviving a post-2006 internal review before metamorphosing into a messiah after breaking a 44-year drought with a record 119-point victory over Port Adelaide in the 2007 Grand Final. That year the Cats boasted an unprecedented 10 All Australians (including Thompson). The only thing that keeps Geelong a rung below Hawthorn is the 2008 Grand Final boilover – another reason for the Cats to rue their wasted opportunities that day. - Ben Collins
The Cats celebrate their third premiership in five years. Picture: AFL Photos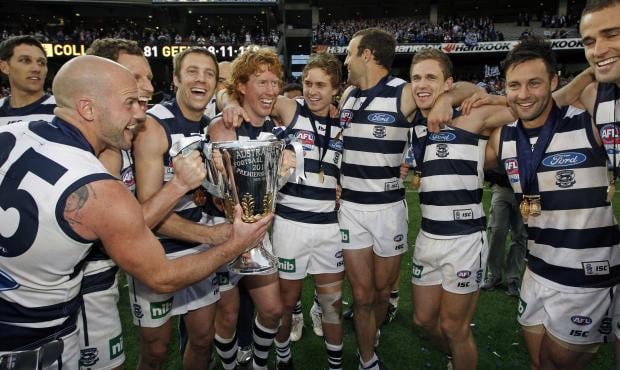 SYDNEY

Hawthorn and Geelong are the obvious choices here, so it's no surprise Ash and Ben have gone with them. The Hawks' and Cats' premiership success makes them hard to top, but if it is just about premierships then the Brisbane Lions should also be in the discussion. However, we know they're not because of their sharp decline since 2004 and their lowly finishes in recent years. This is exactly why the Swans need to be considered strongly in this discussion as the best club. Sydney has made a habit of being in the mix for the best part of a decade – since 2000 the Swans have missed the finals just twice, and have played more finals games than any other side in this period (34). They have also made it to the Grand Final five times. Given their status in the northern market, the Swans can't afford a dip down the ladder and their capacity to stay near the top for so long deserves credit. - Callum Twomey
The Swans upstaged the Hawks in 2012 for their second premiership since 2000. Picture: AFL Photos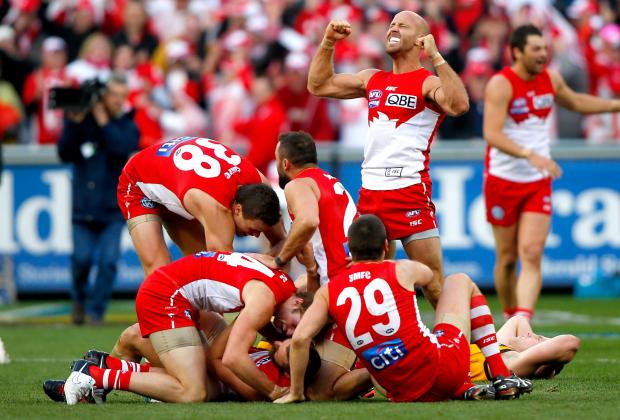 COLLINGWOOD

If you weren't going to pick Hawthorn, and you weren't going to pick Geelong you'd probably pick Sydney. So, thanks guys. Next I was thinking about picking the Lions, but as Cal acknowledged, despite their three flags that club has crashed so badly since that they are impossible to pick. That leaves us with Collingwood. Since 2000 the Pies have made the finals 10 times. They've played in four Grand Finals, five if you count the draw. And of course, they eventually did win the flag in 2010. But it's off the field that blows the other teams out of the water. Whatever you say about president Eddie McGuire, the Magpies have moved from their old dilapidated home at Victoria Park to prime real estate in the heart of Melbourne's sporting precinct. Their brand has grown to iconic status in Australian sport, and they've even added an AFLW and netball team to the mix. Despite Ash boasting about the Hawks, and valid arguments from both Ben and Cal, the reality is footy isn't just about flags in the new millennium. Collingwood has a premiership cup to its name in the modern era, and they've got just about everything else as well. - Matt Thompson
Only one flag since 2000, but still one of the most powerful off the field. Picture: AFL Photos