DISCARDED Magpie Henry Schade remains "confused" about his whirlwind fall from a giant-killing effort on Sydney superstar Lance Franklin to the AFL scrapheap.
However, the former Collingwood and Gold Coast key defender, 24, is "super-motivated" to continue his stop-start career at a third club in as many seasons, believing his best football is still ahead of him.
Schade played 20 games in five seasons for the Suns before being delisted last year, and recently suffered the same fate after just one season at the Holden Centre.
• Check out all the retirements and delistings
The lean left-footer was an early-season revelation, earning promotion from the Pies' rookie list and holding his spot for the opening nine rounds – the high point being his feat of keeping Franklin goalless in a stirring round three win at the SCG – before being dropped and spending the rest of the season in the VFL.
"It was a quick turnaround," Schade told AFL.com.au during a break with family back in his native Hobart.
"You have to work pretty hard and do a lot right to earn your spot for round one, and fast forward two months and I was out of the side and wasn't able to get back in for a few reasons.
"It's the nature of the industry but it was certainly surprising and frustrating.
"I'm still confused as to why it changed so quickly. I don't have an answer for that, unfortunately."
Schade said that at season's end Collingwood coach Nathan Buckley basically told him he was surplus to requirements, given Darcy Moore would be moved from attack to defence.
"'Bucks' was really good to me this year – I really respect him – and he was honest with me. He said Darcy was going down back, and obviously we've got 'Howey' (Jeremy Howe) down there who's an absolute gun, and 'Dunny' (Lynden Dunn) had a really good season, so they felt they had enough defenders," he said.
Buckley also delivered some constructive feedback to help Schade on his journey.
"He talked about self-confidence, and how he feels I should be more confident in myself, which is definitely something I'll take on board," Schade said.
Schade is yet to speak to any AFL clubs about his future and knows he'll find it difficult to get another gig after being delisted by two clubs in the space of 12 months. But he believes he'd repay the faith of any club who afforded him another chance.
Henry Schade tries to close down Lance Franklin at the SCG. Picture: AFL Photos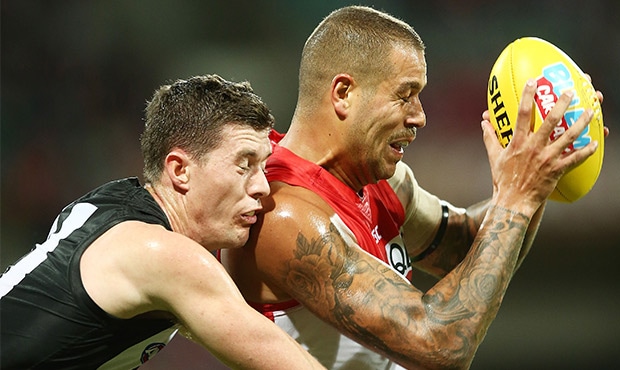 "Being 24 as a key defender, I feel like I'm getting into that age bracket where you start to perform as a key-position player," he said.
"My attitude towards footy is good, and I feel like I've got a lot left in the tank and a lot more to offer.
"Going through the same situation with the Suns last year gave me a huge spark of motivation, and I'm still super-motivated to play AFL footy."
Light-framed for a key backman at 197cms and around 89kgs, Schade feels he hasn't yet reached his physical peak.
"In the early days my body struggled to put on weight but I'm slowly getting there. I'm never going to be as big as Travis Cloke but my body's still maturing and it would be a shame if I wasn't in the AFL system when it does fully mature," he said.
"But if another AFL gig is not meant to be, I'll still be excited for the next chapter in my life."
Schade's contingency plan would entail finishing the final year of an accounting degree and playing footy somewhere, most likely in Victoria.
In the meantime, he retains hope.
And few gave the then 22-gamer any hope of stopping Franklin from celebrating his 250th game in style. That night, Schade restricted the eventual Coleman medallist to just three behinds in a nail-biting victory. The blueprint performance could serve as a reference point for prospective suitors.
"That win was the highlight of my career," Schade said.
"And personally, from a defender's perspective, it was a team effort. A few efforts stood out but there were a lot of times when I was out of position where 'Reidy' (Ben Reid) or Howey covered for me. It was special to be a part of."