"YOU CAN'T beat the genes."
Those five words are the catchcry of the bloodlines-rich St Mary's Football Club, home to the legendary Rioli and Long clans, in the Northern Territory.
A club formed in 1952 as somewhere for Darwin-based Tiwi Islanders to play – and initially rejected for having a team of mostly "full-blood" Aboriginals – has blossomed into one of Australia's most successful.
The Saints, also known as the Green Machine, won their fourth senior men's premiership in five seasons and 32nd overall in March this year.
In that Grand Final side were Ben and Shannon Rioli and Jack Long, as well as ex-St Kilda utility Raphael Clarke, the younger brother of Xavier, who were both top-10 AFL draft picks.
"It takes a touch of courage to coach this club," senior coach Ricky Nolan, son of the late North Melbourne premiership ruckman Mick Nolan, told AFL.com.au.
"People always say St Mary's has a great culture, and it's a culture of hard work. We train harder than any other club, but we also have unbelievable bloodlines.
"Every year you'll be watching a junior game and a Rioli or a Long will pop up from nowhere who's been living on the island."
The on-field success has stretched to AFL and NAB AFL Women's level, to the point eight St Mary's footballers were drafted in the past four years – and many more before that.
ST MARY'S RECENT AFL/AFLW DRAFTEES
2017: Tony Olango (West Coast) and Jasmyn Hewett (Adelaide AFLW)
2016: Ben Long (St Kilda), Willie Rioli (West Coast) and Shaun Edwards (Sydney) and Tayla Thorn (Adelaide AFLW)
2015: Daniel Rioli (Richmond)
2014: Jake Long (Essendon)
Tony Olango was picked up by the Eagles in the NAB AFL Rookie Draft. Picture: AFL Photos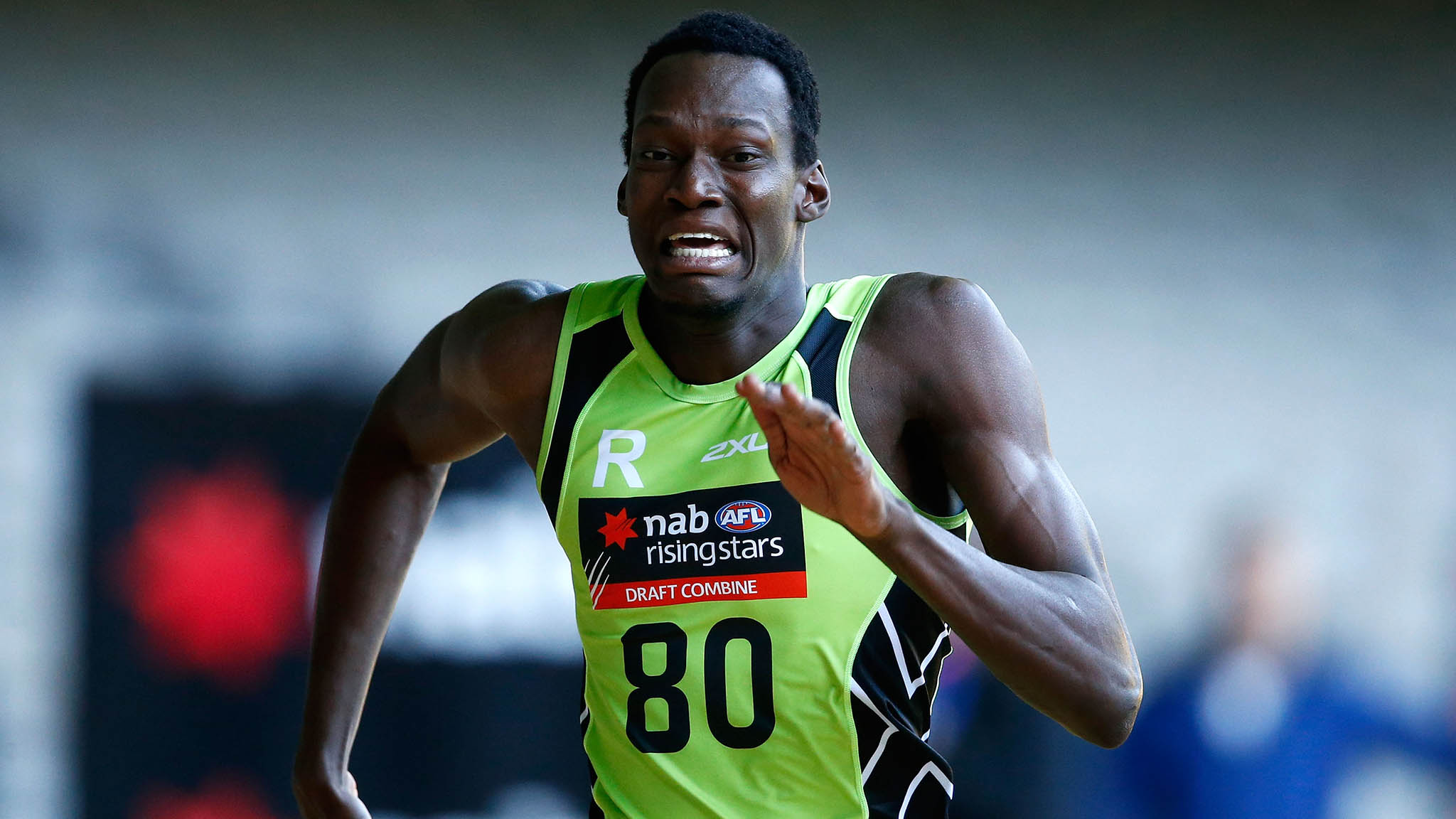 Among that group were Ben and Jake Long and Daniel and Willie Rioli, while Danielle Ponter – Michael Long's niece – is almost certain to join Adelaide for the 2019 AFLW season once she is eligible.
Beyond that, Richmond and Fremantle father-son prospect Maurice Rioli jnr, at age 15, has already played four senior matches for the Saints this season.
He won't be eligible to be drafted until 2020, while his younger sister, Maria Rioli, has kicked seven goals in four under-15 girls' games for St Mary's this year.
The late Maurice Rioli snr's father, Cyril Rioli snr – grandfather of Hawthorn's 2015 Norm Smith medallist – and the Longs' patriarch, Jack Long snr, started their family's long history at the club.
Cyril Rioli snr excelled more at cricket, according to Vic Ludwig, who was club president for an incredible 42 years, while Long snr was a "no-nonsense, tough, uncompromising" footballer.
Long snr used to sell crocodile skins to Darwin businesses to pay his way from the Tiwi Islands to play football for the Saints each week.
Ludwig's son Steven succeeded him as St Mary's president in further evidence of the family links.
"My theory is that right from the beginning there was so much opposition against St Mary's that we said, 'Stuff them, we're going to show these people'," Ludwig told AFL.com.au.
"It's been proven those Tiwi Islanders can play a bit of footy. Ted Egan, our first captain, always says to me, 'You can't beat the genes'."
ST MARY'S VFL/AFL ALUMNI
Excluding draftees since 2014
Peter Burgoyne
Ronnie Burns
Warren Campbell
Scott Chisholm
Raphael Clarke
Xavier Clarke
Michael Long
Cyril "Junior Boy" Rioli
Maurice Rioli snr
Brian Stanislaus
Austin Wonaeamirri