• All you need to know to get to the games
• Fast five: Captains give their predictions
• AFLW awards revealed
WATCH IT LIVE: AFLW, round one
APPROXIMATELY 20,000 fans have witnessed history at the first game of the NAB AFL Women's competition at Ikon Park.
The match has officially been declared a lockout, with Victoria Police asking the AFL to close the gates due to safety concerns.
It is believed that up to 2,000 fans missed out on making it into the ground for the clash between Carlton and Collingwood.
Jasmine Garner created history by kicking the first goal of the AFLW.
The Pies forward slotted her set shot from 25m out to give her side an early lead.
Amazing crowd - can't wait for the game to start! #AFLWBluesPies @aflwomens pic.twitter.com/LbxPh106Yt

— Amanda Bartley (@mandbartley1) February 3, 2017
The Blues celebrate an early goal. Picture: AFL Photos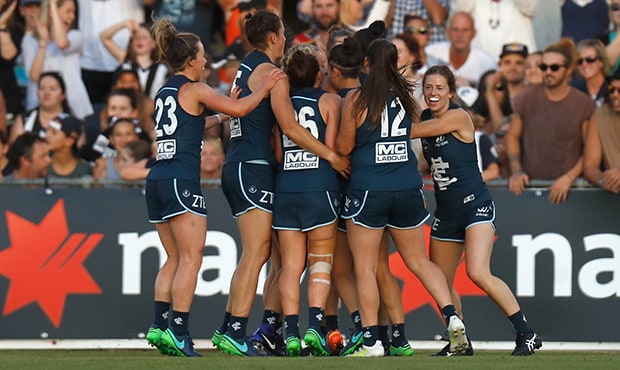 Jasmin Garner celebrates her historic goal. Picture: AFL Photos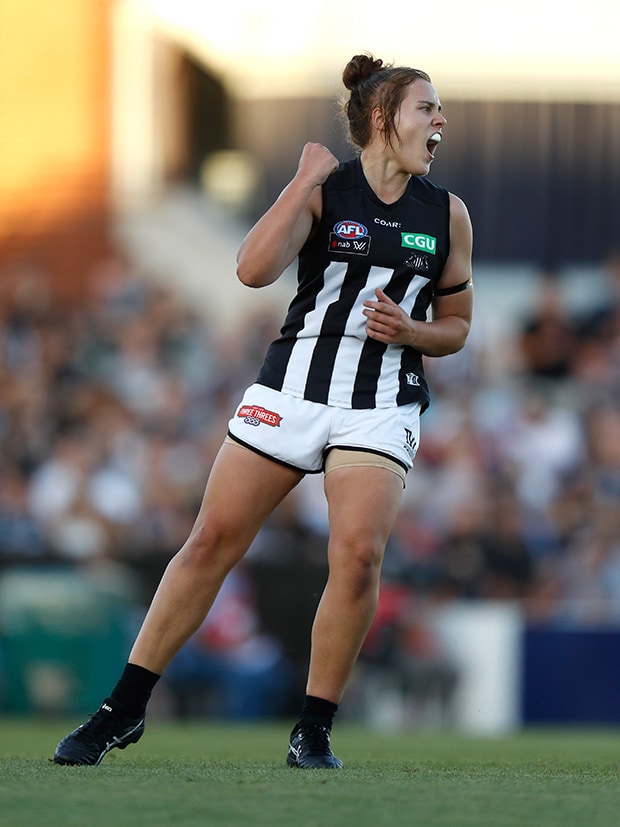 One of the AFL's greatest rivalries takes a new shape on Friday night. Picture: AFL Photos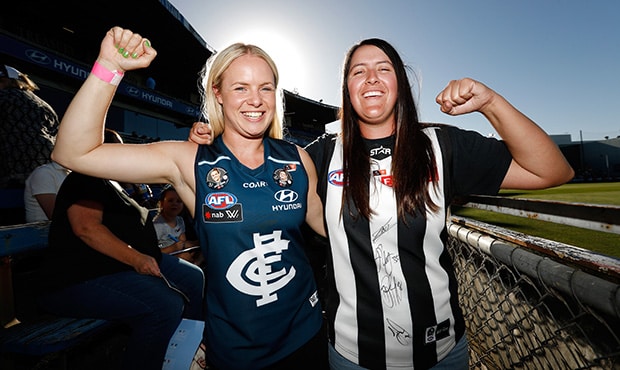 Get 'em while they're hot! Picture: AFL Photos
Carlton v Collingwood
7.45pm (EDT), Friday, February 3
Ikon Park
The AFL is anticipating a strong turn-out for the opening NAB AFL Women's match, which was originally scheduled for Olympic Park Oval but moved to the Carlton venue on January 23.
Pitting two of the AFL's oldest clubs – and bitter rivals – was a no-brainer, and players and coaches from both clubs are well aware of the importance of the historic competition's maiden match.
Collingwood's Moana Hope and Carlton's Darcy Vescio took part in a press conference on Thursday.
"Carlton has some talented players and so do we. It's definitely going to be [a match] to watch," Hope said.
Coach Wayne Siekman said the Magpies had high expectations.
"Our plan from day one has been to make the Grand Final," he said this week.
"You can't win a premiership without making the Grand Final. That's the goal."
Carlton coach Damien Keeping said the versatility of his players was one thing that had impressed him during pre-season.
"That's what we specifically looked for going into the draft," he said.
Adelaide v GWS
4.35pm (CDT) Saturday, February 4
Thebarton Oval
Adelaide co-captain Erin Phillips will be right to go for the Crows' first game after overcoming a quad injury that kept her out of a practice match against Fremantle.
"It was just a bit of a kicking injury. I didn't know you could get those," Phillips said this week.
"I was over-cautious and made sure I was right for round one."
The Northern Territory-based members of the team only joined their Adelaide teammates on Thursday for their season launch, but coach Bec Goddard said the unique arrangement hadn't had a negative effect on the team.
"There's nothing different that they do there [in Darwin], it's just that [the players are] not together," she said on Friday.
"When they do come together, it's the same drills, the same set-ups and it works well."
Both teams will be missing their some of their cross-code stars, with the Crows' Jenna McCormick and the Giants' Ellie Brush still involved in W-League action with Canberra United.
Former WNBL champion Jess Bibby will be playing her first game of football at any level. The WNBL games record-holder was signed by the Giants as a rookie and has been selected to start on the bench.
Western Bulldogs v Fremantle
7.35pm (EDT) Saturday, February 4
Whitten Oval
Women's football returns to Whitten Oval on Saturday night when the Western Bulldogs host Fremantle. The Dogs and Dockers are early favourites for the inaugural AFLW title.
The venue, in Melbourne's inner west, played host to the AFL women's all-stars match last September, with the strong crowd and TV ratings underlining growing interest in women's football.
Western Bulldogs captain Katie Brennan has been picked despite coming off early in a practice match against Collingwood last week due to an ankle injury.
"It was just a little roll of the ankle," she said on Wednesday.
"I came off the ground because it was only a practice match and we rested it to make sure I'm ready for round one."
Former Commonwealth Games gold medalist Kim Mickle won't be making her debut for Fremantle this weekend due to injury, although the club was remaining tight-lipped about the nature of her concern.
"She's come up with a bit of an injury over the last couple of weeks but [she] certainly will be up for selection come round two," Fremantle coach Michelle Cowan told Channel Seven on Tuesday.
Saturday's game will be just the second Fremantle midfielder Kirby Bentley has played in more than a year as she makes her return from an ACL injury.
The Dockers have also named former basketball player Gemma Houghton, who has played only two games but will start as a ruck.
Fremantle midfielder Taylah Angel said the Dockers were ready for the season to start.
"The girls are really well prepared, and we've got some amazing talent. We've all bonded together so we'll put on a good show and work hard as a team," Angel told fremantlefc.com.au.
Speaking at Perth Airport on Friday before the squad flew to Melbourne, captain Kara Donnellan said she was expecting a tough contest from the Bulldogs.
"I've played alongside some (of the Bulldogs players) and against some of them," she said.
"I assume it will be a pretty tight contest, and whoever wants the ball more and puts in a four-quarter effort will get the job done."
Melbourne v Brisbane Lions
5.05pm (EDT Sunday, February 5
Casey Fields
In the final match of the round, women's football pioneer Melbourne host the Brisbane Lions at Casey Fields on Sunday, with star midfielder Daisy Pearce leading the Demons.
Brisbane Lions marquee Tayla Harris has been named to play despite battling a shoulder injury in recent weeks.
Lions captain Emma Zielke said on Wednesday that she expected the exciting key-position player would be ready to go.
"I live with her, so I get the inside 'goss' every day. I think she'll get up for it and she'll be a vital part of our gameplan," Zielke said.
Speaking at Brisbane's season launch, Zielke also predicted the Lions would be strong performers.
"We've got some pace [and] 16-a-side suits us well because we do have some speedsters. The bigger the field, the better for us.
"It's always physical when you come up against a Queensland team. We love the crash and bash," she said.
Melbourne will be without Pepa Randall and Brooke Patterson, with both missing selection due to injury.
The Demons have selected former Australian ultimate frisbee representative Cat Phillips, who Pearce has predicted would be the 'surprise packet' of the season.