DUSTIN Martin in late 2013, Jake Stringer late 2017.
The situations are eerily similar. Prodigiously talented footballers. Wayward in many, occasionally worrying ways in their off-field lives. Question marks about their future impact in the AFL as they set about exploring futures away from their initial clubs.
In a week when Martin won a Brownlow Medal with Richmond, it is easy to forget the heady days of late 2013 when he effectively walked out of the Tigers.
And too easy to dismiss the possibility that Stringer could one day achieve similar success.
Martin was 22 with four seasons and 86 matches behind him when he tested the market in 2013. Stringer is 23, has played for five seasons and managed 89 games.
Martin was the No.3 pick in the 2009 NAB AFL National Draft, Stringer the No.5 choice in 2012.
Martin by 2013 had two placings in Tigers' best-and-fairest awards to his name.
Stringer has arguably trumped him with All Australian selection in just his third season, a premiership in his fourth, and will this year win a third consecutive Western Bulldogs goalkicking award, with a hefty total of 160 goals from his 89 career matches.
Martin stayed with Richmond, Stringer is 100-1 to remain with Western Bulldogs, with Essendon - which will be able to offer the more favourable financial deal - and Geelong desperate to add him to their lists.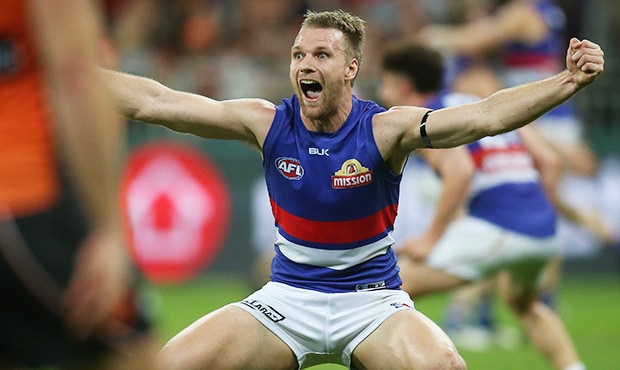 Revisiting Martin's post-2013 exploring of the market place is now a fascinating exercise, given the personal and team success which has followed.
In the two years after he chose to remain a Tiger, Martin added two more best-and-fairest placings.
Last season he won that award, will almost certainly do so again this year and on Monday won a Brownlow Medal with a staggering 36 votes.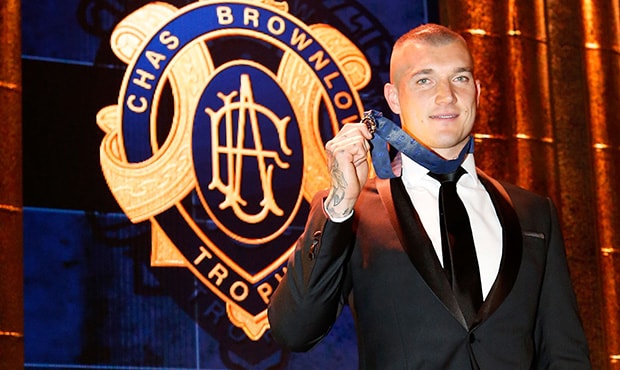 Back to September 16, 2013. Richmond released this statement:
"Richmond Football Club has been advised by Dustin Martin and his management of their desire to pursue offers from other clubs. Given the considerable efforts we have put into Dustin's development both on and off the field, and our efforts to retain him all season, we are extremely disappointed with the decision."
Martin toured GWS facilities, took calls from other clubs, but four days after the Tigers' statement, St Kilda and then the Giants both issued public statements distancing themselves from Martin.
The Saints: "Dustin is not a part of any plans we have in place." The Giants: "The GWS Giants will not proceed with further talks with Richmond's Dustin Martin … we wish Dustin Martin all the best for his career ahead."
Bet the Giants wish they had their time over again, especially when Martin dominated last weekend's preliminary final, leading Richmond to a 36-point win with three goals and a supreme, dominant effect on the match which catapulted his team into a Grand Final.
While the similarities between Martin of 2013 and Stringer of 2017 are obvious, there also is an obvious difference.
The Tigers never wanted to lose Martin. The Bulldogs have had enough of Stringer.
This is obviously a big "if", but if Stringer was to commit himself to correct his flaws and to re-engage with football itself at his new club, as Martin did after his 2013 situation, then he too could reach all-time great AFL significance.
He's got the talent. His pre-2017 football CV is at least comparable to Martin's pre-2013; arguably, Stringer is better-credentialled to the same point.
Exciting times ahead for Essendon. Or Geelong. Or any other club prepared to work with the obvious and many flaws of Stringer.
Richmond did with Martin. And they've got a booking at the MCG this Saturday afternoon.
Twitter: @barrettdamian