AS CLUBS start to finalise their orders ahead of next month's NAB AFL Draft, so are we.
This is the second-last update of the Phantom Form Guide for 2019 – our rankings of the best 30 players in the 2019 draft pool.
It comes after the completion of this month's Draft Combine, which was the prospects' final chance at impressing clubs before names are called on November 27-28.
>> The 2019 NAB AFL Draft runs from November 27-28. Follow all the latest news in the draft hub
A reminder that this is our view of the best players and doesn't take into account where bids for father-son and Academy players may come, or which clubs have which selections.

1/7/01
180cm/78kg
Vic Metro/Oakleigh Chargers
Midfielder
September ranking: 1
The best player of the season and a deserving No.1 choice. Rowell's season ended with another best-on-ground performance, this time an enormous 44-disposal display in Oakleigh's NAB League Grand Final win over the Eastern Ranges. Rowell also booted two goals that day, including one from the centre square. The determined 18-year-old didn't need a game like that to cap his season, but he produced it anyway. He then went on to test well at the NAB AFL Draft Combine, rating in the top 10 for the endurance tests. A ready-to-play gun.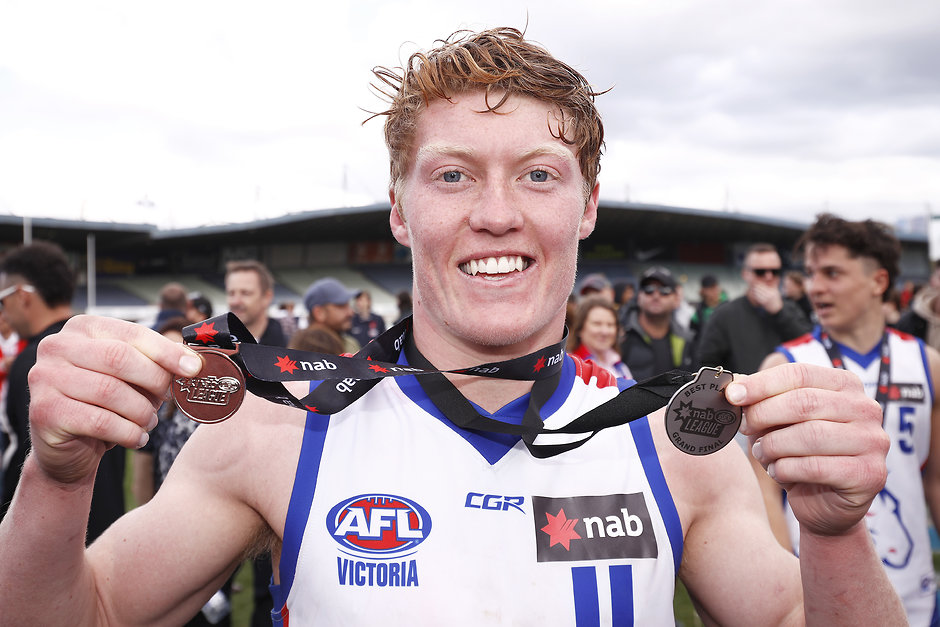 17/2/01
191cm/87kg
Vic Metro/Oakleigh Chargers
Midfielder
September ranking: 2
A tall, versatile midfielder who impacts games in a number of ways. At his core, Anderson is a ball-winner, hard runner and a game-changer. But what makes him even more valuable is his ability to go forward, and he averaged two goals a game in seven appearances for the Chargers this year. He's a natural goalkicker who is good above his head, and at his height, Anderson should be able to match it with senior opposition next year. The son of former Hawthorn and St Kilda player Dean, Anderson's running power was evident at the Combine, where he completed the 2km time trial in six minutes 17 seconds, and also recorded a three-second 20-metre sprint.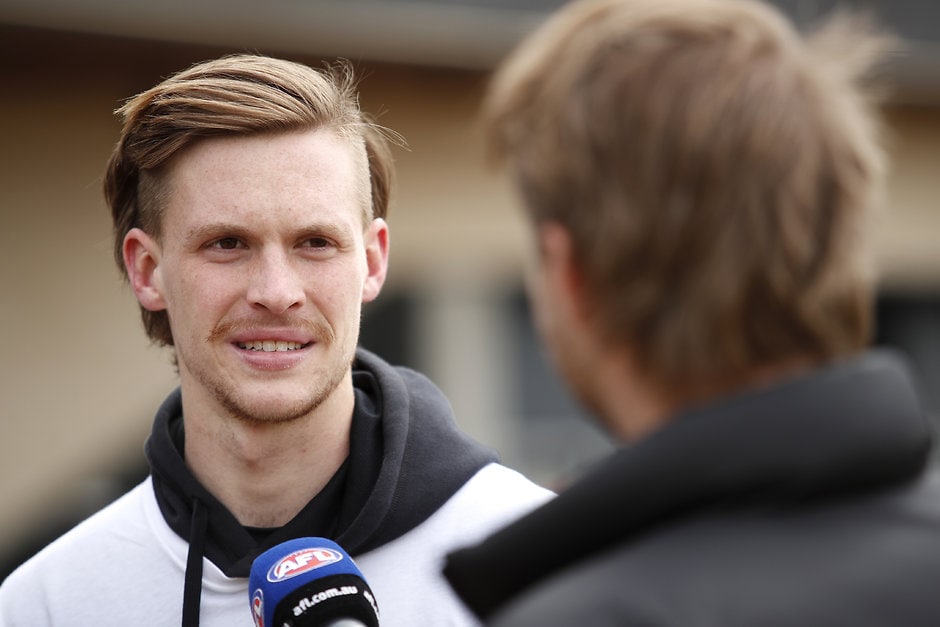 Find Road to the Draft on Apple Podcasts, Google Podcasts and Spotify.
23/1/01
191cm/89kg
NSW-ACT/GWS Academy
Midfielder
September ranking: 5
The thing with Green is that his performances stack up. As one recruiter said recently, if Green was playing in the NAB League and not tied to an Academy, he would have been spoken about more as a No.1 pick contender. His performances for the Allies, leading his side in the midfield against highly rated stars each game, and his consistency for the GWS Academy team, adds weight to his efforts. A tall, big-bodied, strong and hard-headed midfielder who goes and wins the footy and gets it out. Likely to attract a very early bid for the Giants to match.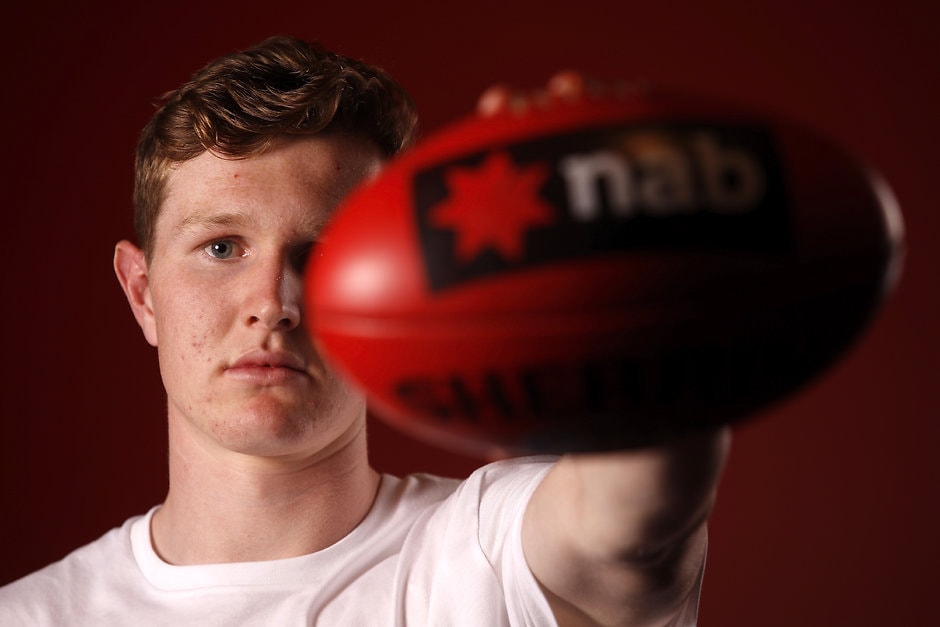 9/2/01
179cm/88kg
Vic Country/Gippsland Power
Midfielder/forward
September ranking: 3
A powerful midfielder who digs in and fights for the ball, and does it over and over. Serong is robust and physical for his size, happy to take the whacks if it means he'll deliver the ball to a teammate. Serong played most of his top-age year as a midfielder, but had shown last year as a 17-year-old he can also position himself across half-forward and be a dangerous goalkicking option. Serong doesn't have the ultra-class of some other top-end players but he's consistent, tough and reliable.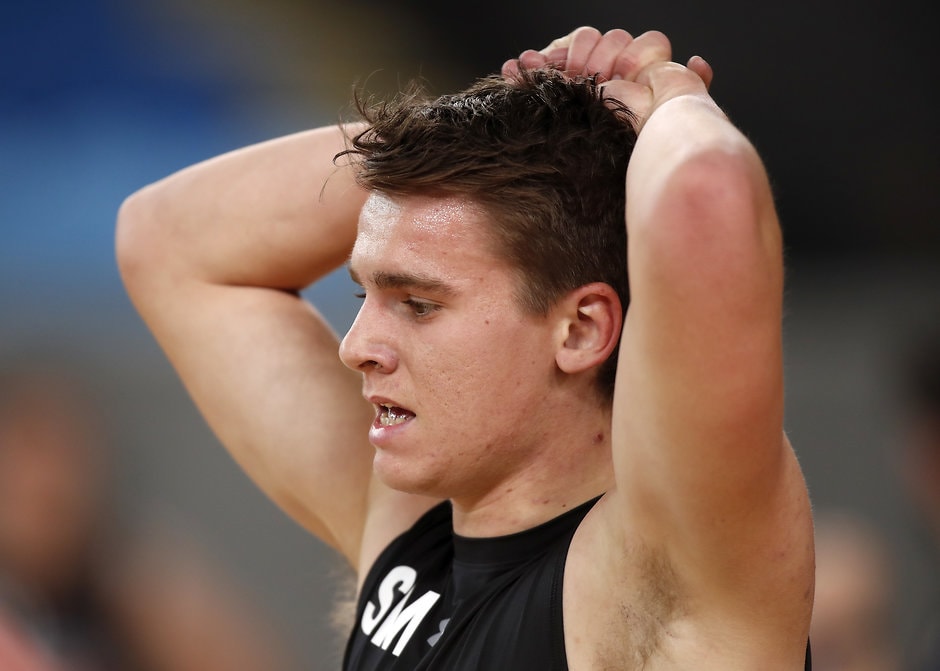 11/4/01
188cm/83kg
Vic Country/Dandenong Stingrays
Defender
September ranking: 4
You know what you'll get from the sharp-kicking left-footer. There was minimal change in Young's performances across the season as he set himself off half-back, intercepted forward forays and delivered the ball sweetly down the field. Young also moved into the midfield, and occasionally spent time closer to goal later in the year for the Dandenong Stingrays. Young took out the agility test at the Draft Combine, running 7.94 seconds.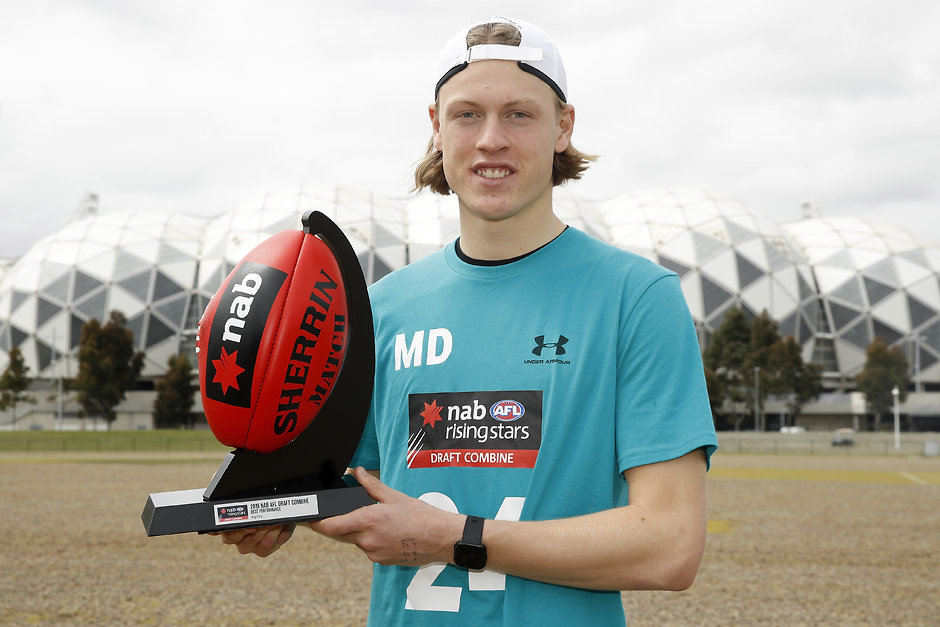 24/7/01
182cm/82kg
Vic Country/Gippsland Power
Forward/midfielder
September ranking: 6
Flanders was one of the stars of the Combine, capping what was an impressive end to the season for the explosive Gippsland prospect. Flanders finished in the top 10 for the standing vertical jump, the running vertical jump, the agility and Yo-Yo test, where he reached level 21.3 to be among the best aerobic runners. He also ran the 20-metre sprint in three seconds, showing a turn of speed that is evident in the way he plays. Flanders pushed himself into top-five contention with his efforts late in the year for the Power, when he was a standout in the finals series.

21/6/01
186cm/80kg
Vic Country/Murray Bushrangers
Defender
September ranking: 7
Everyone knows about Ash's dash – watch him once and you'll see his penchant for tucking the ball under his arm and going for it from half-back. Sometimes it's on a whim and sometimes it's more calculated, but it's easy to see why Ash enjoys watching Essendon's Adam Saad play. At the Combine, though, the 18-year-old showed he also has the endurance to match, recording a level 21.4 Yo-Yo test (putting him in the top 10). Ash enjoyed a strong under-18 championships for Vic Country and shapes as a top-10 selection.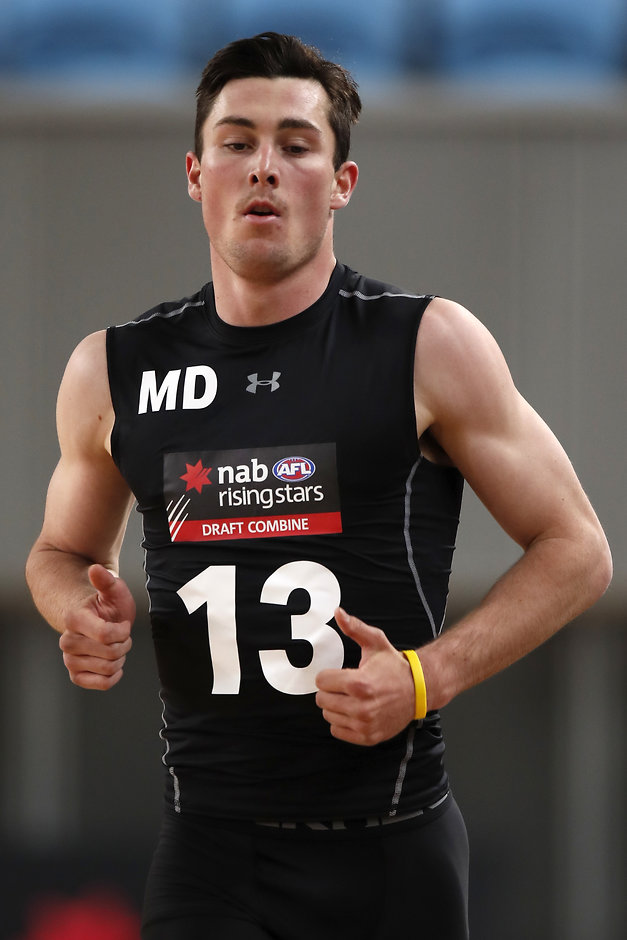 1/5/01
193cm/89kg
Vic Country/Bendigo Pioneers
Utility
September ranking: 8
The knee reconstruction that ended Kemp's season after the under-18 carnival hasn't dented clubs' enthusiasm for the talented utility. Kemp obviously sat out testing at the Combine, but is confident he will recover well from the surgery, particularly given no other ligaments were damaged in the incident. Kemp showed before the injury that he can play with presence, which he did for Vic Country all over the ground – including as a half-back, midfielder and floating defender. Clubs will pick him knowing he is unlikely to be seen at senior level in 2020.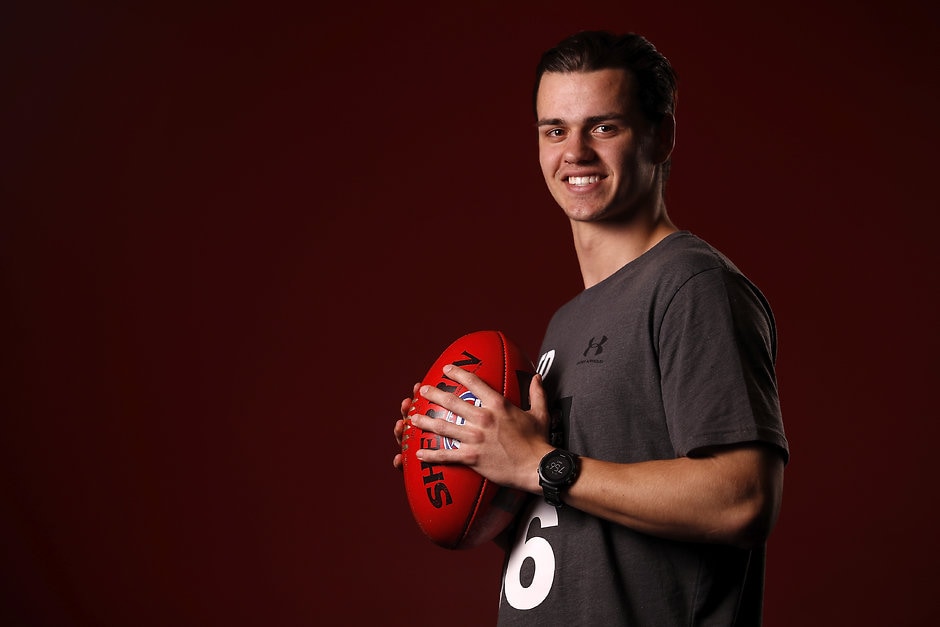 Find Road to the Draft on Apple Podcasts, Google Podcasts and Spotify.

30/6/01
184cm/81kg
Western Australia/Perth
Midfielder
September ranking: 11

Robertson is among the large group of top-rated players to have finished their season on the sidelines, having had shoulder surgery after his starring role at the carnival for Western Australia. Robertson averaged 30 disposals and nearly five clearances during the championships to claim the Larke Medal as the best player in division one, and was also named captain of the All Australian side. An in-and-under player who knows how to find the ball and has an uncompromising streak.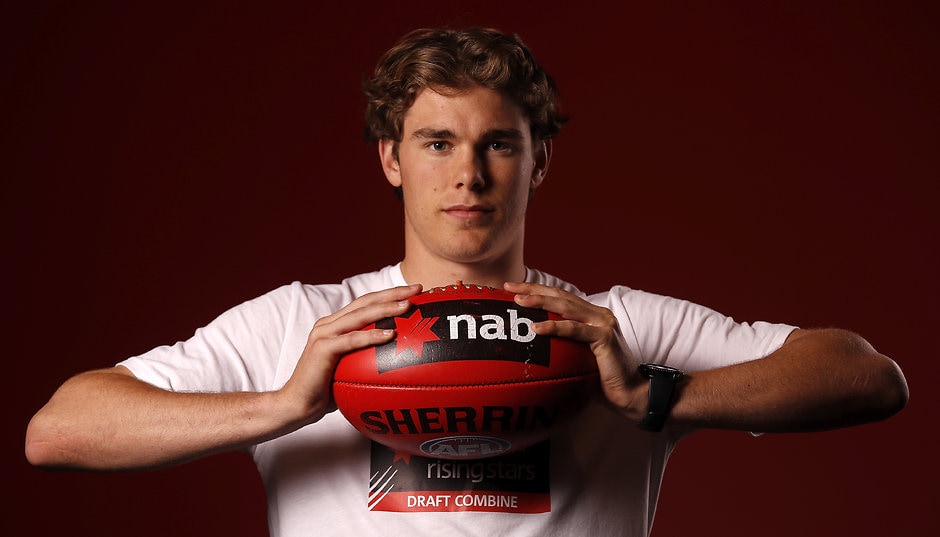 8/3/01
197cm/91kg
Vic Metro/Sandringham Dragons
Key defender/forward
September ranking: 9
A foot stress fracture saw McAsey miss Sandringham's finals and the Combine. But he had already done enough to prove his standing as one of the leading key position players in the pool. McAsey's hands are his selling point. As a forward he can crash packs and take contested marks, and he is just as adept in defence and swinging into a group of players and coming down with the ball. He is also a reliable kick out of defence, or in front of goal as a forward.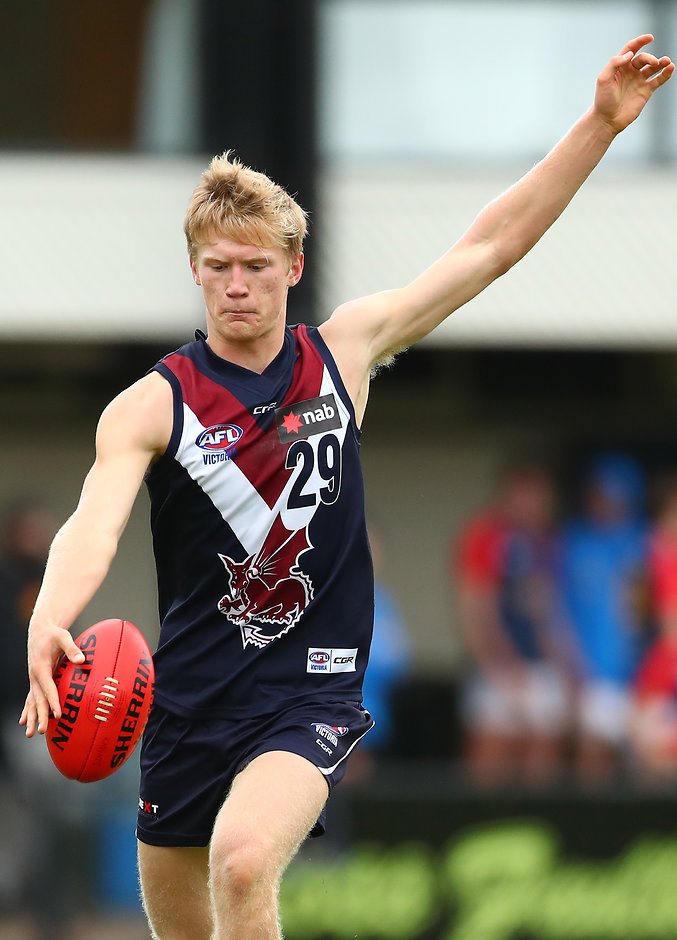 8/1/01
183cm/74kg
South Australia/Norwood
Midfielder
September ranking: 10
Stephens' running power came to the fore at the Combine, when he broke the record for the 2km time trial, running an elite 6:01. Unfortunately for Stephens, he only held the record for about 10 minutes before he was overtaken by two others. Nevertheless, Stephens' run gave extra credence to the Andrew Gaff comparisons that have been made across the year. Stephens also has some acceleration to his game, and the penetrating left-footer will likely start his AFL career as a wingman.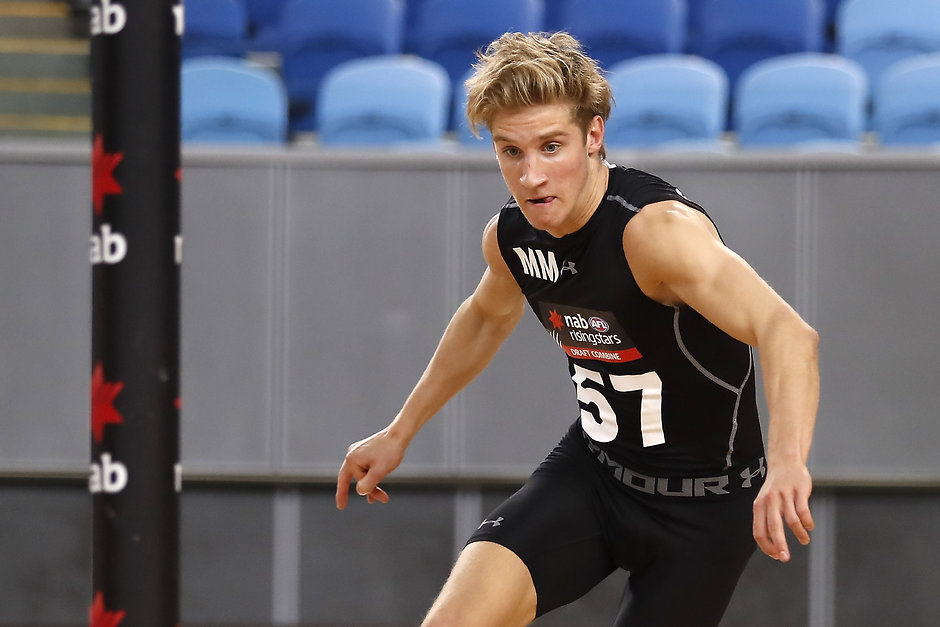 15/1/01
178cm/75kg
Vic Country/Dandenong Stingrays
Forward
September ranking: 12
An exciting, exuberant small forward who can shape a game in a number of ways. Weightman was the standout crumbing goalkicker at the under-18 carnival for Vic Country, booting two bags of four goals, to claim All Australian honours. Weightman backs himself: to kick the harder goals, to fly for his marks, to have worked harder than anyone else and to be better than his direct opponent. Was among the best performers in the standing vertical jump and has power and an explosive streak. 
Find Road to the Draft on Apple Podcasts, Google Podcasts and Spotify.

11/4/01
195cm/83kg
Vic Metro/Sandringham Dragons
Key defender/forward
September ranking: 13
An intercept defender who can read the play well, leave his opponent and help out others in his team's backline. At Worrell's height he can play as a shutdown defender but serves his side better when he's given licence to roll off and help create, too. A strong overhead mark, which has also been seen in attack, where he played at stages during Vic Metro's carnival. Worrell's year finished prematurely due to a shoulder reconstruction.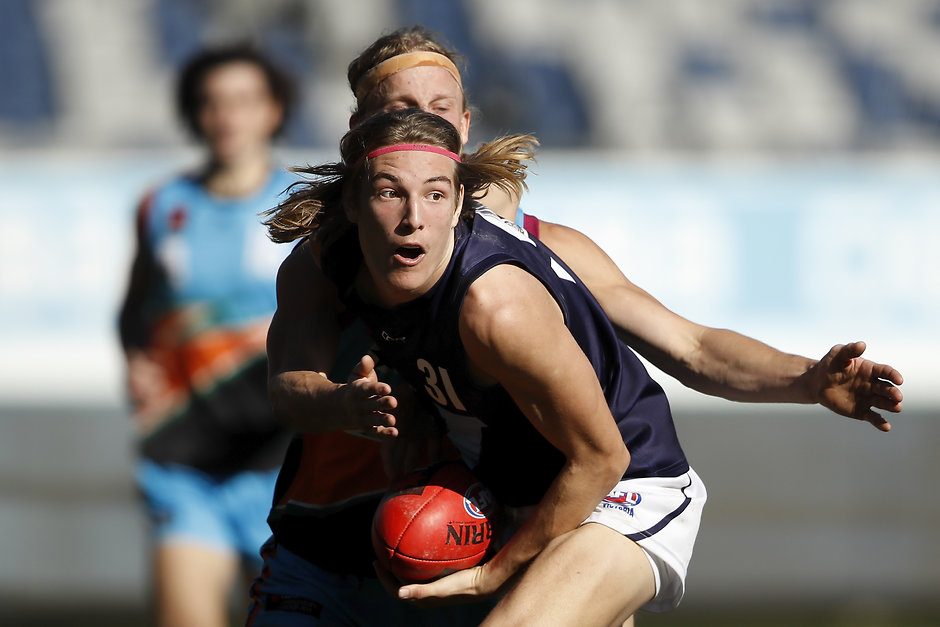 29/9/01
199cm/94kg
Western Australia/East Fremantle
Ruckman
September ranking: 14
Jackson is rocketing up the draft ranks and could break the long drought of ruckmen picked in the top 10. The West Australian big man had a strong season, winning the All Australian jumper as the best ruckman in the under-18 championships. Jackson plays with aggression and competitiveness and enjoys the bash-and-crash nature of his role, including when the ball's at ground level. Some clubs also think Jackson could be a forward in the future.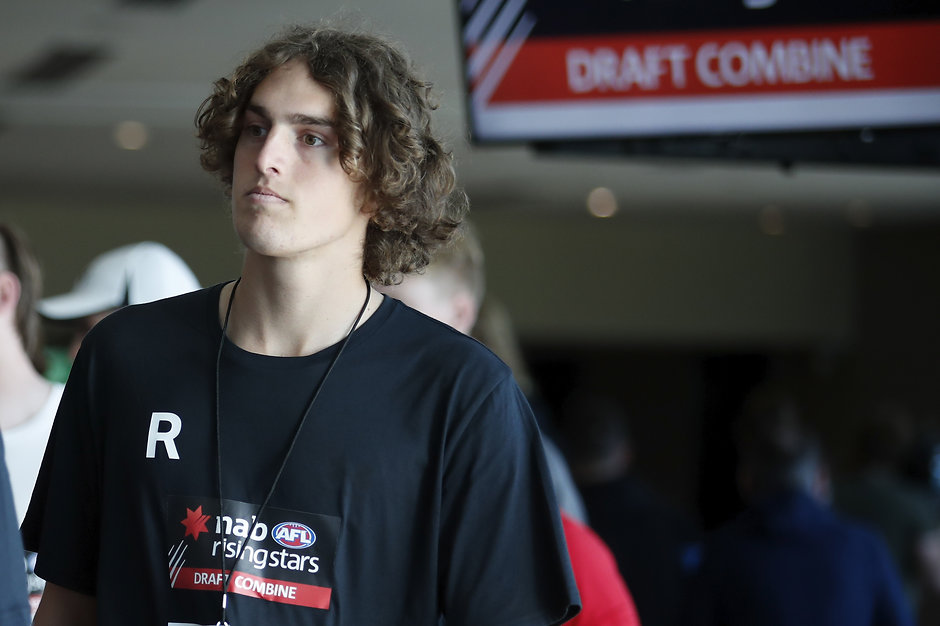 INDICATIVE DRAFT ORDER Your club's latest picks

23/2/01
189cm/82kg
Vic Metro/Sandringham Dragons
Midfielder
August ranking: 16
The standout of the Combine. No player was able to show all their qualities at the testing like Maginness, who firmed as a top-20 pick. Maginness' ability to cover the ground is one of his strengths, and the midfielder showed that at the Combine, when he ran an amazing 5:51 for the 2km time trial. He also placed among the top performers in the Yo-Yo test (level 21.4), and then surprised some with a 2.96-second 20-metre sprint. Looks headed to the Hawks as a father-son.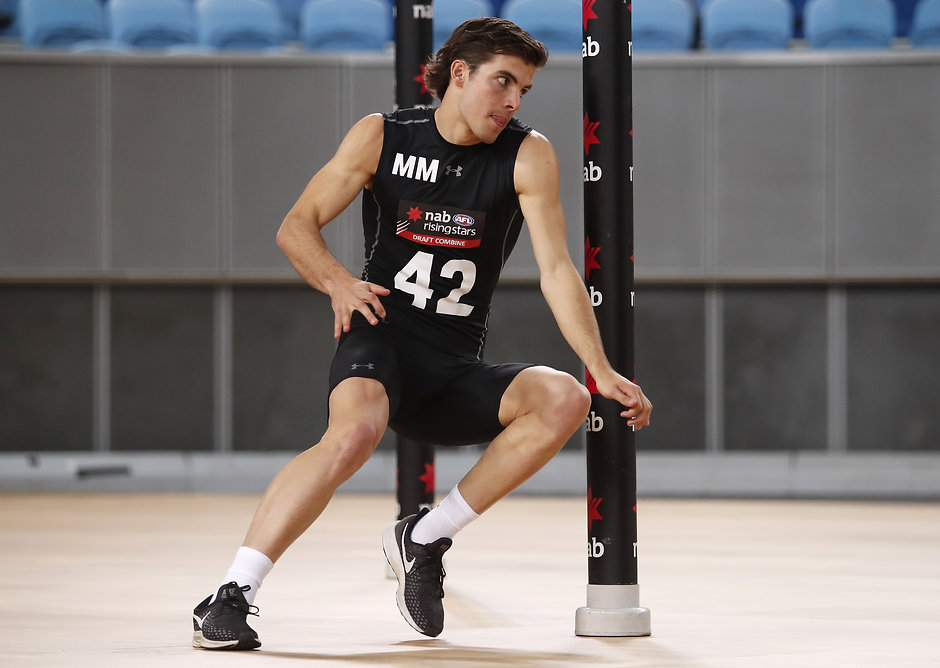 28/8/01
180cm/68kg
Claremont
Forward
September ranking: 15
The exciting indigenous talent is tied to Fremantle's Next Generation Academy and could attract a first-round bid on draft night. He's quick and classy, clever and elusive, smart and effective. All of that makes for a good package for the Dockers, who will be keen to nab the half-forward at next month's draft despite his kneecap injury which came late in the year.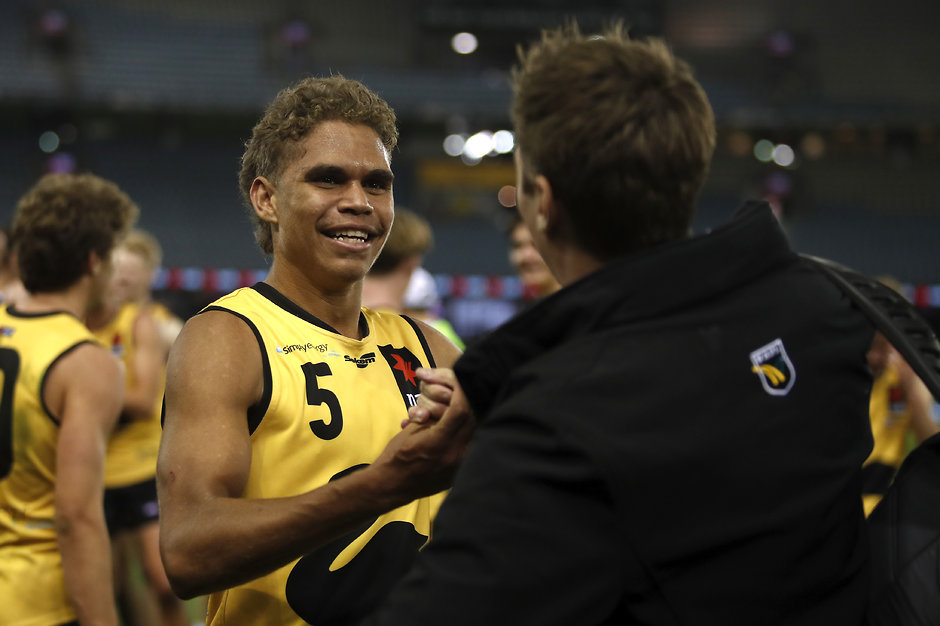 18/10/01
189cm/83kg
Vic Metro/Sandringham Dragons
Midfielder/forward
September ranking: 21
A jumper up the ranks late in the year despite managing shin splints. Bergman hasn't been a high-possession winner at under-18 level, but when he has the ball he makes things happen. He can play on the wing or as a forward – he was stationed deep late in Sandringham's season due to his soreness – and he generally provides some memorable moments, including a high mark or long bomb (he's among the biggest kicks in the pool). An exciting talent.
5/6/01
189cm/76kg
South Australia/West Adelaide
Defender
September ranking: 18
A lightly built half-back who can make things happen as well as shut down opponents. Day moved up to reserves level in the SANFL as the year progressed and didn't look out of his depth, continuing to go for his marks and create the play. Day will take a little bit of time to develop his body but he has the run and carry and the confidence in his play to not be overawed.
KEY DATES What's coming up next in the off-season?

20/1/01
178cm/73kg
Vic Metro/Oakleigh Chargers
Defender/midfielder
September ranking: 20
A consistent if not eye-catching display at the Combine from Bianco, who does most things pretty well. His long-distance results were solid – he reached level 21.1 for the Yo-Yo and ran 6:37 for the 2km time trial – while also doing the 20-metre sprint in 3.09 seconds. Bianco had a very good season, including his finals series for the Oakleigh Chargers, who he captained to the NAB League premiership. A midfielder whose foot skills give him an edge and his vision allows him to set up the play.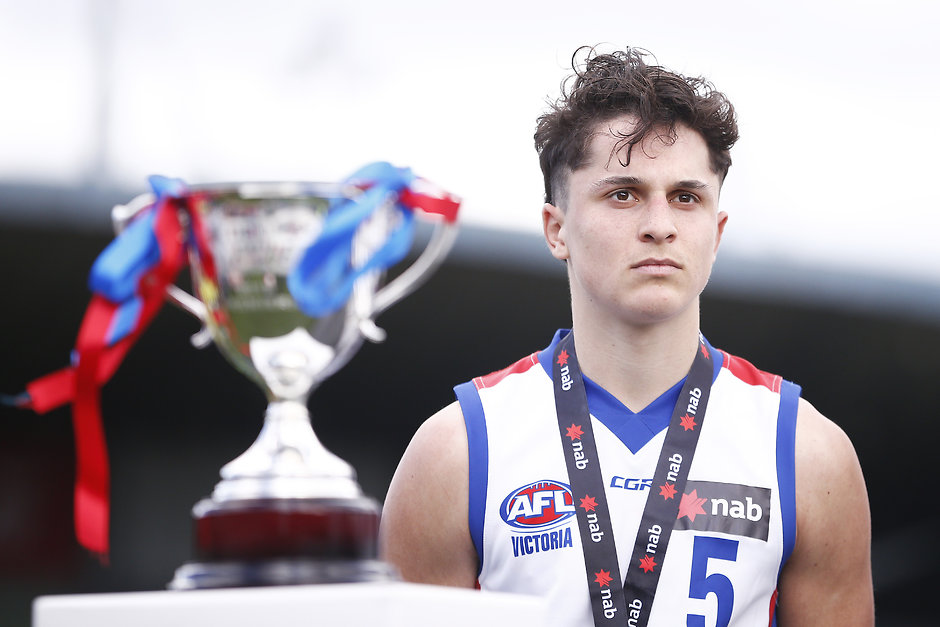 14/1/01
192cm/106kg
South Australia/Glenelg
Defender
September ranking: 17
The mature-bodied half-back completed his draft season playing in a senior premiership for Glenelg in the SANFL, helping the club break its 33-year drought. Gould became a regular member of the side, using his long kicking and straight running to break the lines out of defence. He's an assured presence in the back half, and will be focusing on building his running levels in his first AFL pre-season.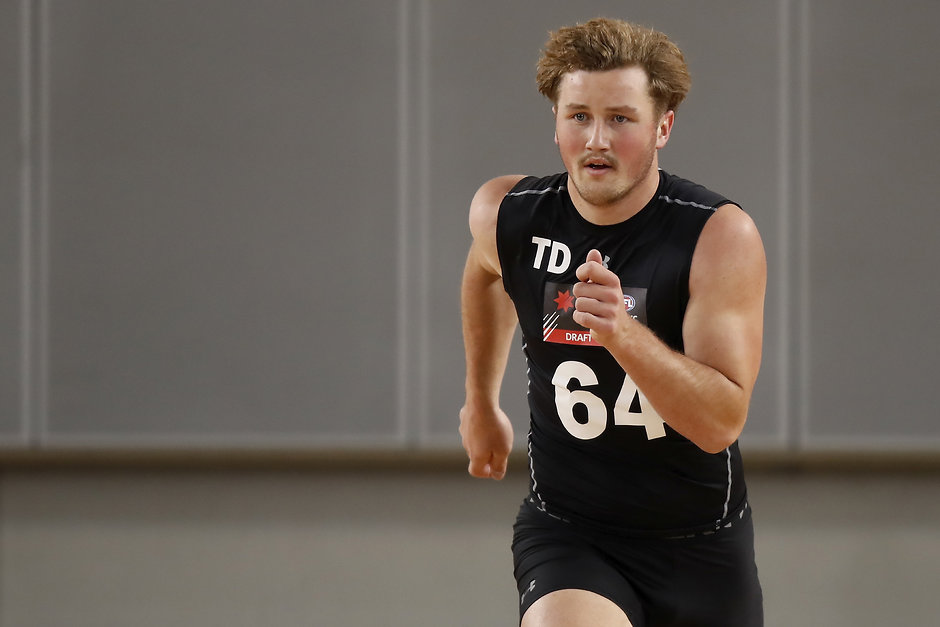 30/9/01
184cm/83kg
South Australia/Woodville-West Torrens
Midfielder
September ranking: 19
The Port Adelaide father-son prospect had a consistent season this year, earning All Australian under-18 honours. He is a brave and hard-working midfielder who can also play as a forward, where he kicked four goals in the SANFL under-18 Grand Final last year and was named best afield. A good mark overhead for his size. The son of former Port best and fairest winner Darren.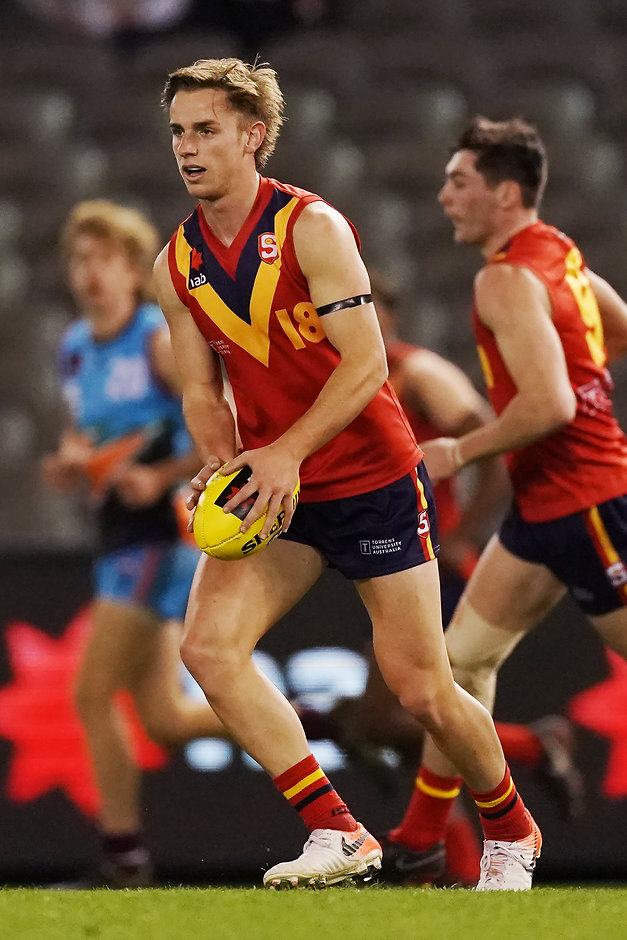 26/2/01
201cm/86kg
Vic Country/Dandenong Stingrays
Defender
September ranking: 22
Nursed an ankle injury late in the year that ruled him out of testing at the Draft Combine. De Koning has played at both ends of the ground, and will be able to pinch-hit in the ruck as well when called upon. Has the reach to close down space against forwards when he's stationed in attack. The brother of Carlton's Tom and son of former Bulldog Terry.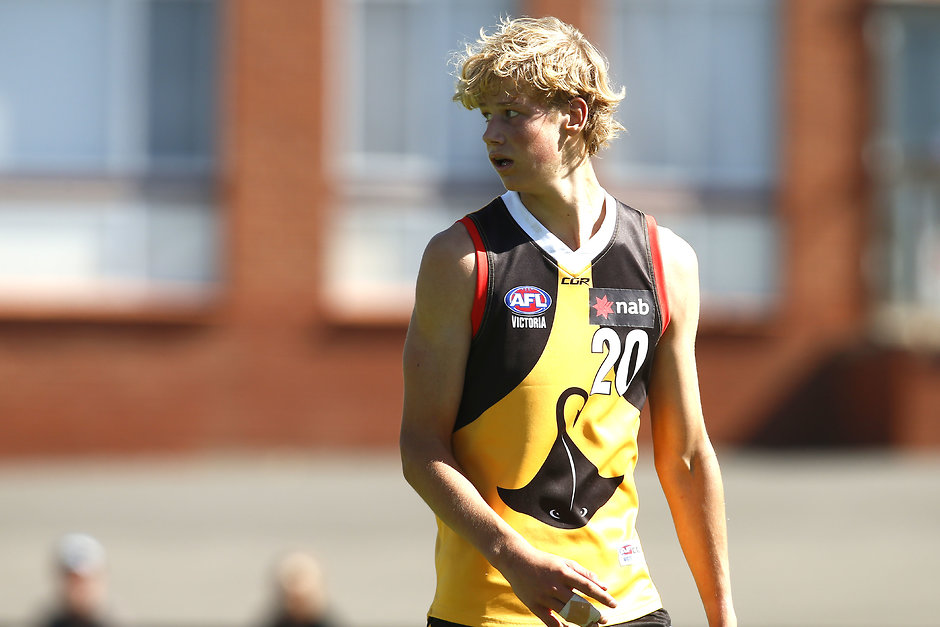 17/1/01
188cm/83kg
Vic Country/Geelong Falcons
Midfielder
September ranking: 28
Another big winner out of his testing at the Combine. Stephens had a point to prove in front of recruiters, given he had not played since April when he broke his leg. The big-bodied midfielder blew scouts away with his performances at the Combine, where he was a joint winner of the Yo-Yo test (level 21.8), and he also finished in the top echelon for the running vertical jump (83cm) and the 2km time trial (6:17). Stephens is a ball-winner who thrives in contested situations.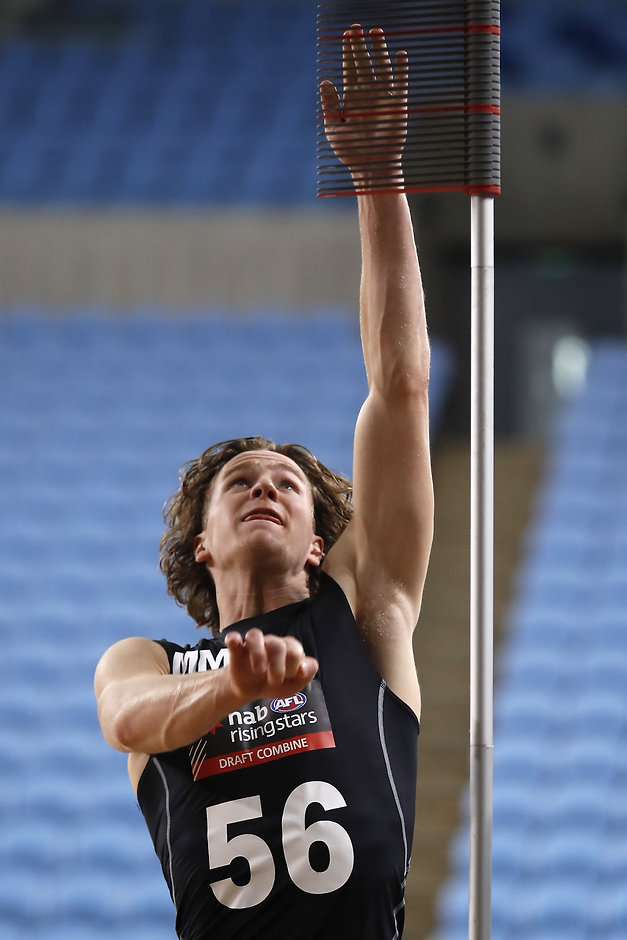 30/7/01
188cm/85kg
Western Australia/East Fremantle
Defender
September ranking: 23
Rivers is an attacking and rebounding half-back flanker who spots his chance to take the game on and goes for it. He averaged 22 disposals at 77 per cent efficiency across the carnival for Western Australia and was a key player in its title win. Hopes to move into the midfield if he can build his endurance in coming year. Rivers came fourth overall in the agility test at the Combine (8.1 seconds).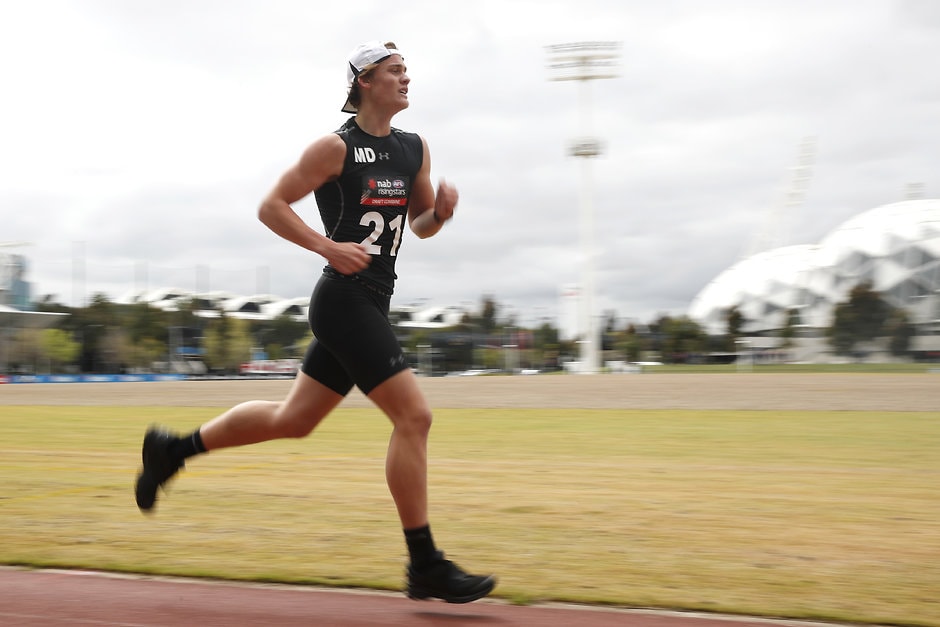 13/8/01
189cm/81kg
Western Australia/East Fremantle
Midfielder
September ranking: 25
The Combine highlighted Sharp's great athletic traits. The tall midfielder is quick – he tested 2.966 seconds for the sprint – was fifth in the 2km time trial (6:12) and was among the best in the Yo-Yo too. Sharp's running is clearly a feature of his game: he's able to play as a wingman and use his tank to power up and down the ground. Is a long kick, which he proved at the mid-year championships, when he was a back-to-back All Australian.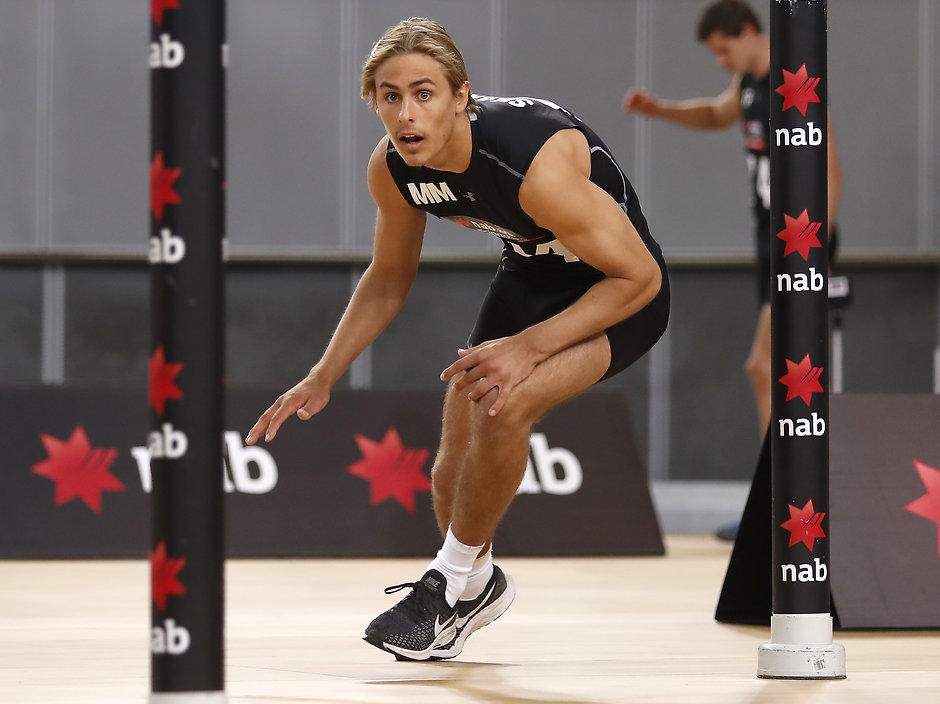 25/2/01
196cm/78kg
Vic Metro/Calder Cannons
Forward
September ranking: 30
It is Jones' athleticism and movement that makes him a player appealing to clubs. Although he is not the type to amass big numbers of marks or possessions, Jones gets up and back down the ground and will continue to present. His endurance was strong for a player his size, getting to level 21.4 in the Yo-Yo and 6:32 in the time trial at the Combine. Is a nice kick for goal and was solid for Vic Metro at the carnival.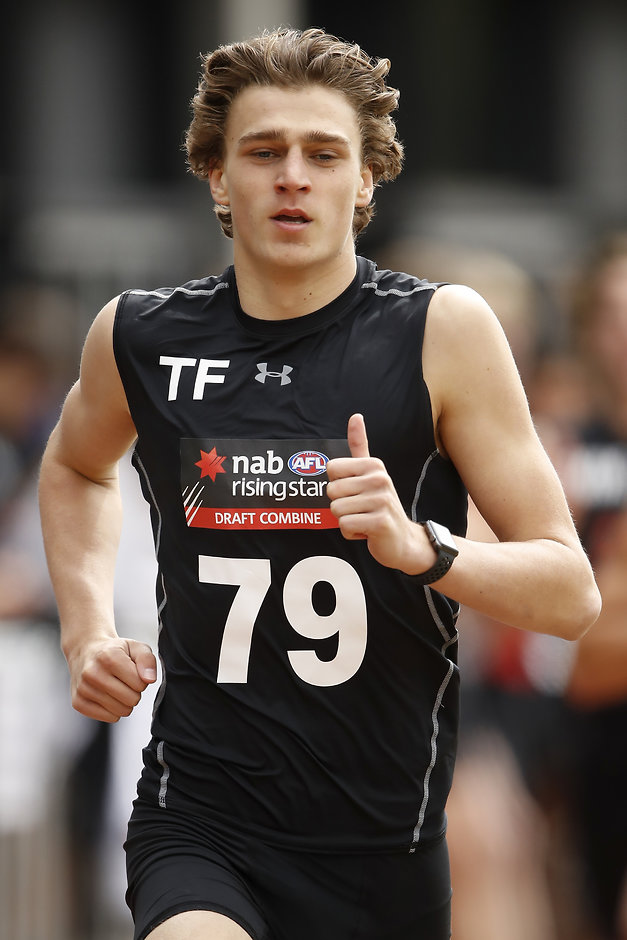 1/7/01
186cm/81kg
Vic Metro/Oakleigh Chargers
Forward
September ranking: 26
A game-turning player whose season was ruined by injuries in 2019. A back stress fracture was the final issue for Williams, seeing him sidelined for Oakleigh's NAB League premiership. It was a stark contrast to how he finished last season, when Williams kicked 14 goals in the Chargers' finals series and was one of their best players. Williams is a crafty half-forward who is great above his head for his size and exciting and agile at ground level, where he knows his way around goal.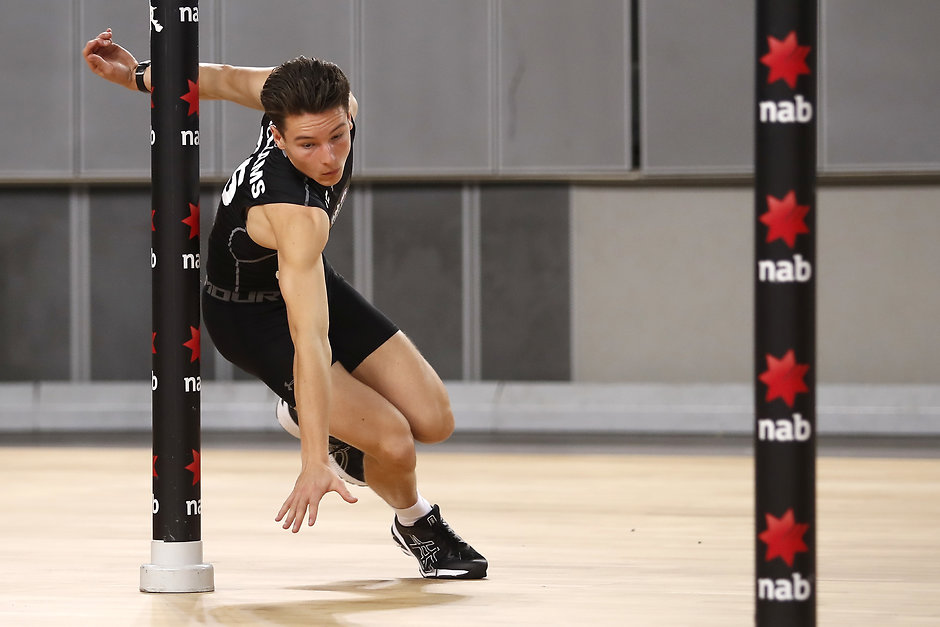 16/10/01
184cm/76kg
Bendigo Pioneers/Vic Country
Midfielder
September ranking: -
Dow was third overall in the agility test at the Combine, ranking elite for his time of 8.061 seconds. The midfielder is likely to feature somewhere in the second round on draft night, and he had some eye-catching moments through his under-18 campaign. The Bendigo Pioneers prospect, whose brother Paddy was a top-three pick to Carlton two years ago, can zip out of a contest or stoppage and fly out of the blocks in a flash. He's also able to go forward and take a grab above his head.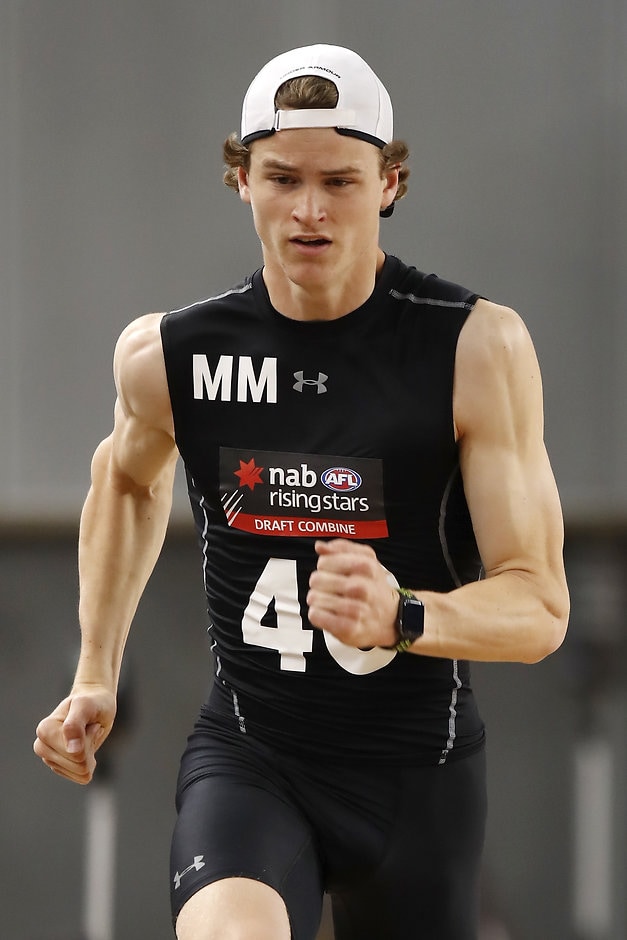 1/5/01
188cm/77kg
Western Australia/Perth
Forward
September ranking: 29
It's harder to place Taylor's draft position than rank his talent, because he's got extreme ability. That much was obvious in his performances at the mid-year championships, where he starred for Western Australia as a free-wheeling half-forward who could leap and kick goals and take the game on. He was also a strong performer at the Combine, where he finished second overall in the agility test (8.005 seconds). Was given permission to train with Fremantle late in the year but is not tied to their Next Generation Academy.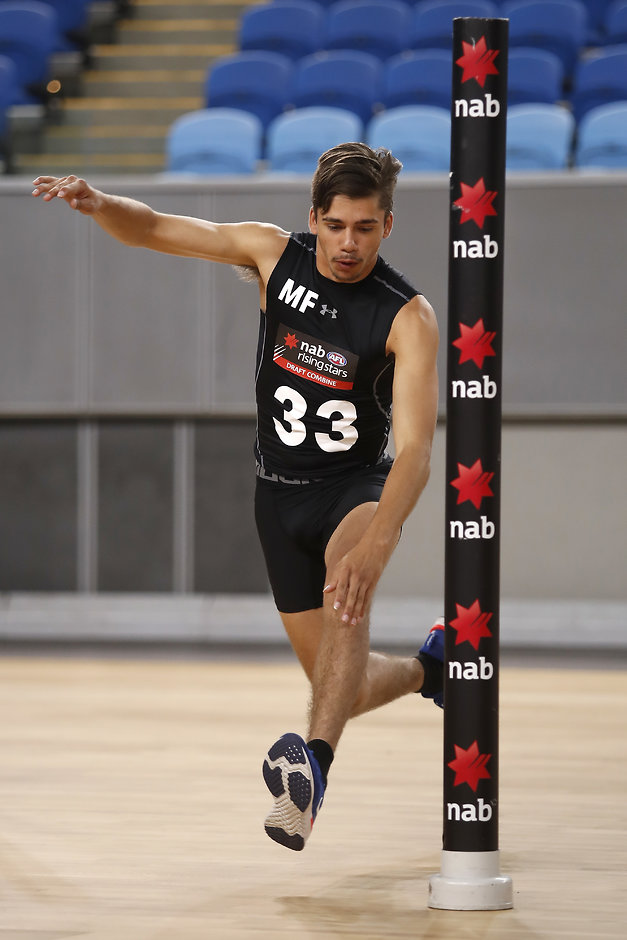 9/11/01
188cm/75kg
Sandringham Dragons/Vic Metro
Midfielder
September ranking: -
It has been an interesting year for Ralphsmith. He didn't hit great heights for Vic Metro at the under-18 championships, and his form for the Sandringham Dragons was also up and down. But let's focus on the ups to his game. Ralphsmith, whose dad Sean played 34 games for Hawthorn and St Kilda, is an elite runner, and he was top five in the 2km time trial and also in the top six for the running vertical jump. He can play as a hard-working midfielder, but has also spent time deep forward, where he flies for his grabs. Has ability and a bit to work with.