THE PROBLEMS for Joe Daniher were many and varied long before he was spotted alongside a rival club CEO by an opposition player outside a Balmain house on a Thursday afternoon in late July.
And then, after that day, those problems became greater.
Welcome back, Joe Daniher! #AFLNorthDons pic.twitter.com/3n9JVhYo9s

— AFL (@AFL) April 19, 2019
They also became major issues for the people around Daniher, blindsided by his overwhelming need to pursue an escape from Melbourne.
THE JOE DANIHER CUP Wantaway Don not waiting long to face Swans in 2020
That Daniher was unable to find a new football home in the 2019 Telstra AFL Trade Period left the 25-year-old shattered, a state in which he remains as he continues holidaying overseas.
Next month he will return to Melbourne to begin an eighth pre-season with a club he was desperate to leave.
Joe Daniher takes a breather during the 2019 pre-season. Picture: AFL Photos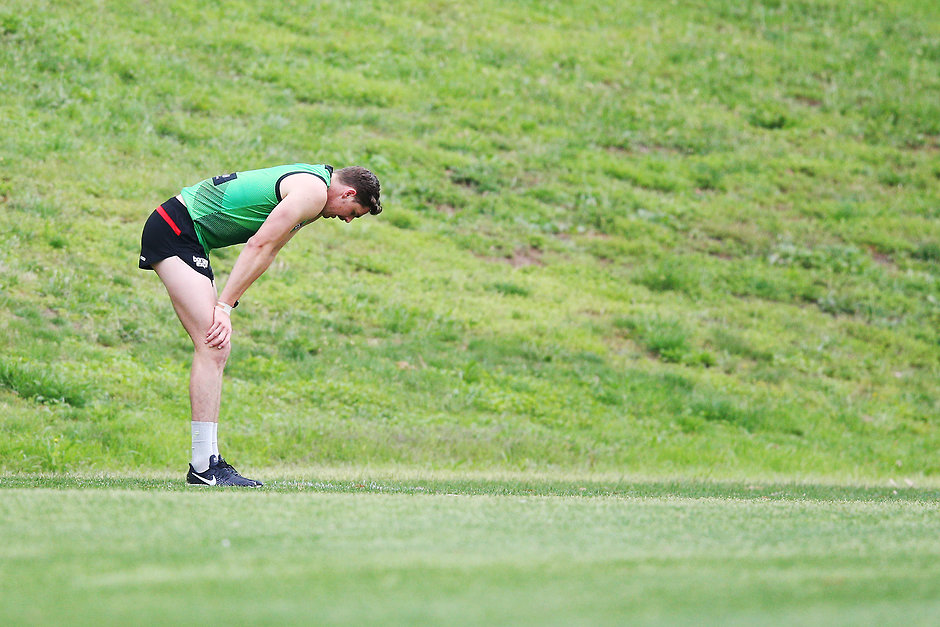 He has, at least, before returning to Australia, committed to attending an Essendon-organised sports injury recovery program at a world-leading practice in Ireland.
Daniher found himself out the front of the Balmain home of Sydney chief executive Tom Harley on July 25, largely due to a deep loathing of the constant public intrusion and interest in his private life in Melbourne.
Sydney – the city and the club – was his path to enlivening a once free but clearly shackled spirit.
The monotony of two seasons of injury rehabilitation sessions at the Bombers had understandably further eroded his zest, leaving him feeling isolated from club pursuits and with little purpose.
He convinced himself he needed drastic change.
Daniher was in Sydney to receive treatment from a medical specialist highly regarded in the NRL industry. Swans champion Buddy Franklin had also been treated by this specialist.
The catch-up with Harley, with whom he had developed a special rapport in 2011 when part of the Australian Institute of Sport squad - which also included Stephen Coniglio, Adam Treloar, Luke Parker and Jeremy Cameron – was a casual one.
Harley genuinely felt the meeting was nothing more than a coffee with a person who saw him as a mentor. As he has observed privately in the months since, Harley regularly catches up with big-name players from rival clubs, particularly some from the team at which he captained to two premierships, Geelong, as well as footballers from Greater Western Sydney, some of whom live near him in Balmain.
Swans CEO Tom Harley during the Trade Period.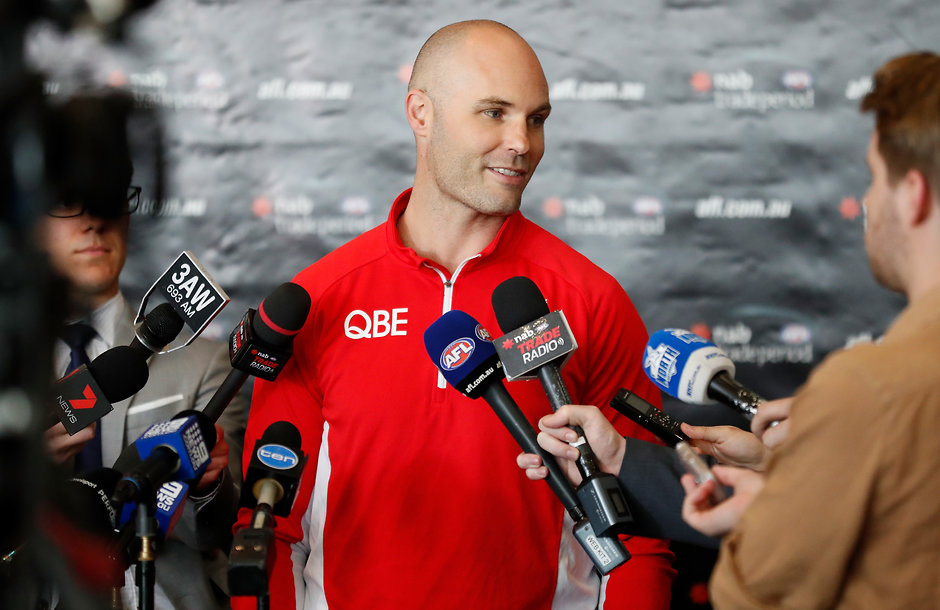 It was a then-Giants player who innocently and inadvertently took the Daniher story away from private conversations into the screaming headlines all the way through to the night of October 16, the close of the Trade Period, when it became official that the Bombers would be holding their player to his contract for 2020.
Adam Tomlinson, who also lived in Balmain and who regularly saw Harley in and around that suburb, just happened to be driving past at the time Daniher – wearing a hood and a hat - came into view.
Tomlinson told a teammate. That teammate told another teammate, who told a group of teammates, the meeting eventually reaching Giants officials who made their own enquiries at the highest levels of AFL headquarters.
New Demon Adam Tomlinson spotted the Daniher meeting while he was a Giant.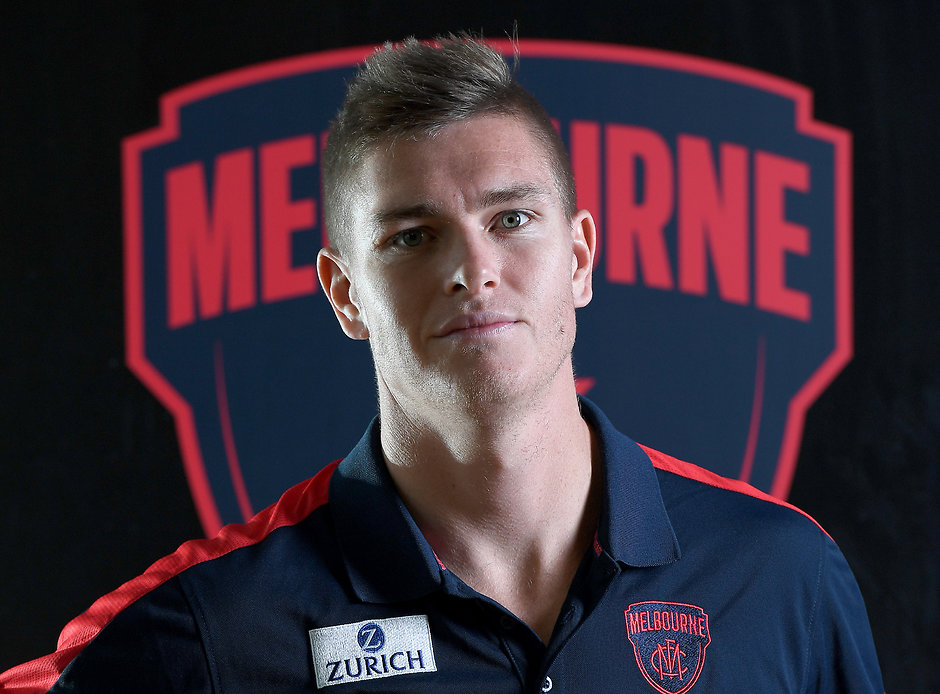 The news spread widely, Sam McClure making it public on SEN in early August.
Every single person deeply connected to the Daniher story has since been busily retro-fitting their knowledge, or even conveniently choosing to forget their knowledge, of the timelines of the player's actions between July 25 and October 16.
Daniher's management group is TLA, his personal agent Nigel Carmody. The company vigorously defends every aspect of Daniher's botched project to become a Swan. It and Carmody, though, were not properly briefed on every aspect of its client's thoughts and actions.
Joe Daniher's manager Nigel Carmody.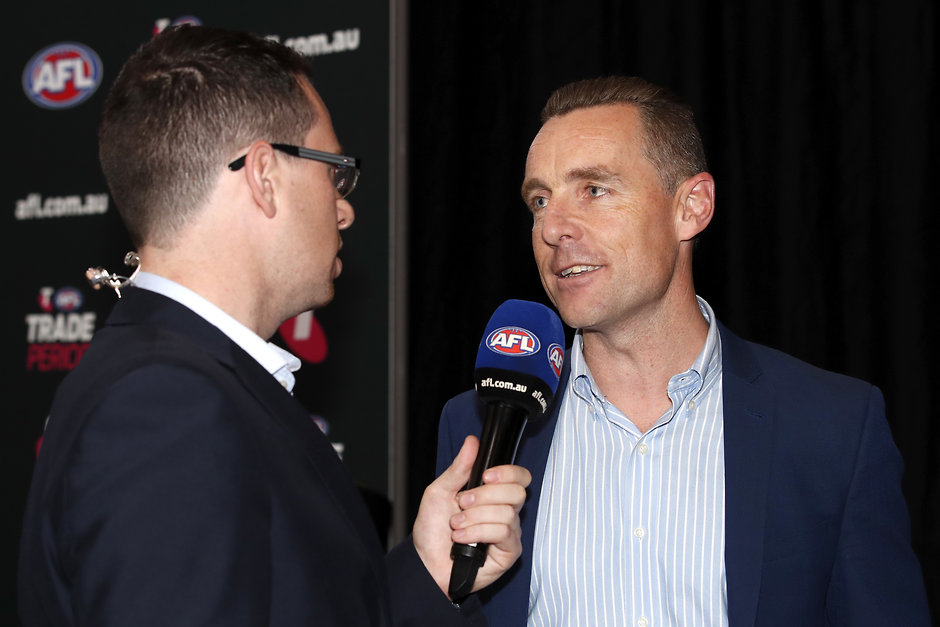 That may say more about Daniher than TLA. But the lack of thorough communication doomed the deal to failure before it had a meaningful breath of life.
Daniher may have had reason to act in stealth, and he caught people off-guard with his desire to escape Essendon.
Everyone now talks of a man of "great strength and character" who was merely pursuing a career change, but Daniher acting as a lone wolf in same facets of his project to become a Swan significantly angered people.
TRADE PERIOD VERDICT We rank your club from worst to best
Harley actually didn't realise at the time of the July catch-up that he was desperate to leave Tullamarine, and the Swans, as well as Daniher's own management, had felt that any exit plans could wait until free agency applied at the end of 2020.
The Bombers were shocked, confused, and hurt when they realised he wanted out. And adamant that he would be held to his contract unless a player of equal quality came back in.
Daniher spoke to at least one big-name Swans player before a public statement, released by Essendon on the Saturday after the Grand Final – two days before the official start of the Trade Period – declared "Joe Daniher has indicated his desire to be traded to the Sydney Swans".
Daniher was desperate to become a Swan.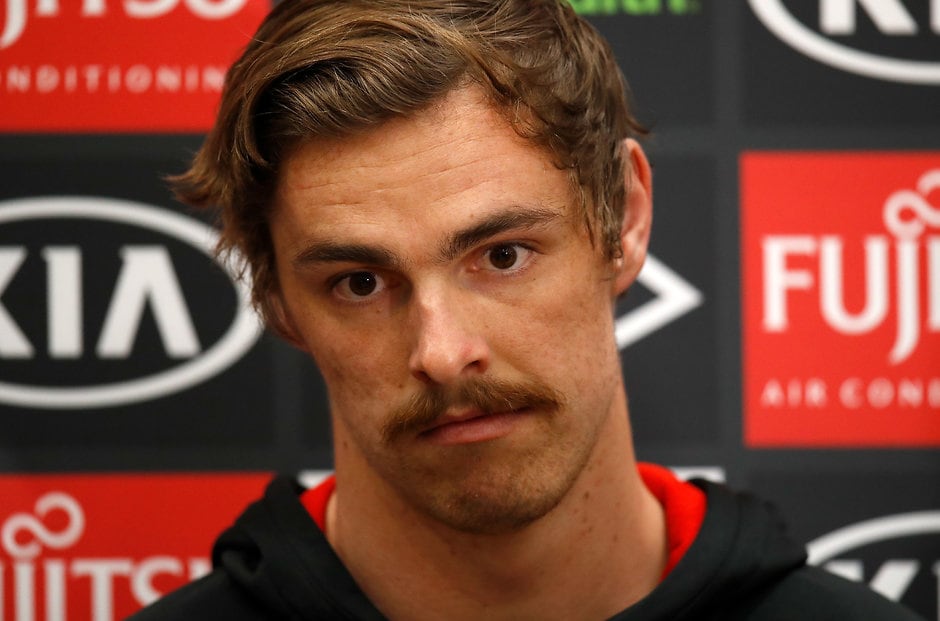 The Swans had no prior knowledge of that statement being released, and still don't understand why it actually was released.
Daniher's management by this time knew of his significant unrest with Melbourne life, but it, too, has claimed it was not actually aware that the information would be released publicly.
Essendon CEO Xavier Campbell wasn't aware of Daniher's meeting with Harley, until Daniher told him after the event, and only when Daniher sensed it could become public.
Campbell is Daniher's closest confidant at Essendon. There is a massive amount of respect between the two, and despite his hurt at not being traded, it is believed Daniher has committed to Campbell that he will act in the club's best interests. For the 2020 season at least.
In the fortnight since it scuttled the trade, the Bombers, through Campbell, have managed to convince Daniher that life will be OK in 2020.
Bombers CEO Xavier Campbell is close with Daniher.
But the player himself remains as frustrated as he was in the lead up to his meeting with Harley. The very reasons he was so desperate to get out of AFL homeland have actually become exacerbated by the failure of his plan. Melbourne and its ways may be even more suffocating to him now that he tried to wiggle out of it and failed.
Daniher was disillusioned during a conference call with Essendon football department officials Adrian Dodoro and Dan Richardson in the closing minutes of the Trade Period, and he remains so while on overseas vacation.
While he has exchanged texts with Essendon teammates, he has continued to ponder his future, including passage to the Swans as a free agent at the end of next season, as well as which management organisation he will choose to act as his agent.
TRADE HUB All the latest news
Wrenching an in-contract, Virgin Australia AFL All Australian player with the famous surname Daniher out of Essendon was always going to be difficult. But it became impossible when the Swans refused to offer anything more than pick No.9 in this year's NAB AFL Draft as well as next year's first-round selection.
Particularly when pick No.9 wasn't actually in the Swans' keeping anyway. It would have only been involved if Tom Papley was traded to Carlton, and he wasn't.
While in an ideal world that may have seemed fair recompense for a terribly injury-prone player, as well as being relatively commensurate with recent big-name trades Dylan Shiel, Jesse Hogan and Jaeger O'Meara, it was never going to get Dodoro – a man some clubs simply refuse to engage with in Trade Period – to the negotiating table.
Tom Papley was another player that wanted out of his current club.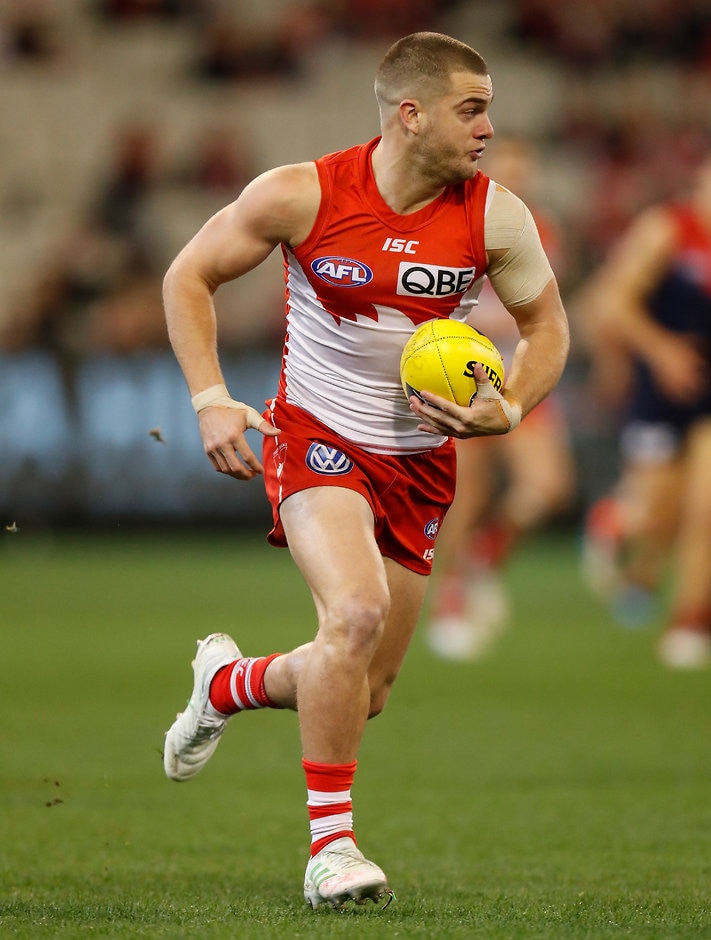 The Swans maintain they acted professionally throughout, and were not going to pay overs for Daniher. Seasoned Trade Period identities were adamant from the outset that unless they paid overs, nothing was going to happen, making many in the industry wonder just why the Swans even bothered from the outset.
Due to Daniher's contract, Essendon always had control. It was, though, prepared to consider a serious offer, which would have allowed it to get back a quality key position forward, and even on the final day of trade, it was ready to listen to a serious Sydney proposal which never came.
There have been problems at Essendon for the past two seasons - reflected in the 2-6 scoreline to begin 2018, and the 3-5 scoreline to open 2019 – and with the 2020 pre-season about to begin, there remains some unease in the playing group about the coaching arrangements which see John Worsfold as coach and Ben Rutten to take over in 2021.
The Worsfold-Rutten arrangement was a decision reached after the club had, in the back half of the season, canvassed senior players for views on the coaching program structure.
Ben Rutten (right) at training with Bombers skipper Dyson Heppell.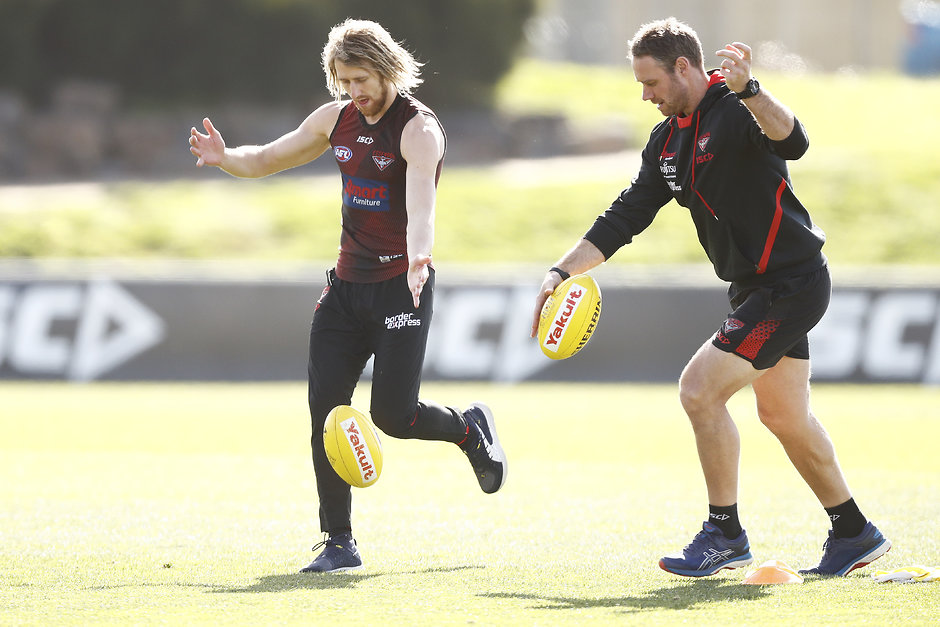 Some players thought the questions were loaded against Worsfold, leading them to believe the final season of his contract would be torn up.
A major revamp to the leadership group of the club after the 2018 season was poorly conceived and didn't work.
Daniher and Orazio Fantasia, who also wanted out of Essendon while in contract before aborting plans to head to his home state South Australia, were two of the three fresh official leadership faces added for the 2019 season, beneath captain Dyson Heppell and vice-captain Zach Merrett.
The third fresh face was David Myers, who by the mid-way point of the 2019 season, didn't want to play in the AFL, instead opting to play VFL.
Our 2019 leaders.

Read » https://t.co/tFjAWyKoIf pic.twitter.com/pT3zm8xqmE

— Essendon FC (@essendonfc) January 23, 2019
The Bombers have privately acknowledged they erred in replacing Michael Hurley and Cale Hooker with Daniher, Fantasia and Myers, and have also conceded they should have acted on the early season moments when they realised the new structure wasn't working.
Hurley and Hooker were stung by their omissions. Some teammates were deeply annoyed, particularly with that of Hurley, who had been long considered by his peers as a sounding board and confidant.
Daniher won't be part of the leadership structure for 2020, and even before the pre-season starts, there is an expectation that he will again seek release from the Bombers next October.
The man who hates a headline will be a walking one all year.