ALL EYES are now turned to next month's NAB AFL Draft.
This is AFL.com.au's take on each club's first pick at the draft and the player who could be on the radar for that selection, and some others who could be in the mix at that draft range.
INDICATIVE DRAFT ORDER Your club's latest picks
Although the Telstra AFL Trade Period finished last Wednesday, clubs are able to complete swaps of picks until November 22, and then during the draft on November 27-28.
>> The 2019 NAB AFL Draft runs from November 27-28. Follow all the latest news in the draft hub

Pick 4: Sam Flanders' finish to the season solidified his credentials as a top-10 pick, and his standout performances in Gippsland's finals series boosted his chances to go even higher. The Crows could consider Flanders with their early choice with some clubs viewing him as a top-five selection. The midfielder is powerful and explosive around the ball, but he's also able to impact games as a half-forward with his eye for a goal and strong leap. 
Around the mark: Hayden Young, Caleb Serong, Lachie Ash
Pick 16: With an exciting carnival for Vic Metro and an eye-catching end to the year for the Sandringham Dragons, Miles Bergman finished his season as one of the buzz players of the draft. As a wingman he can roam up the ground and use his agility and pace to break the lines, and playing closer to goal his natural leap and long kicking makes him a dangerous option. Has real upside and will have his suitors late in the first round.
Around the mark: Cody Weightman, Trent Bianco, Cooper Stephens

Pick 9: Now that they've held onto their draft pick – for now at least – the Blues' focus is on who they can grab with their prized first choice. Brodie Kemp shapes as an early selection despite missing the back-end of the season after a knee reconstruction. He showed he can play as a marking defender, a target in attack and also a big-bodied midfielder. Most recruiters don't think the injury will see Kemp drop significantly down the order.  
Around the mark: Dylan Stephens, Sam Flanders, Lachie Ash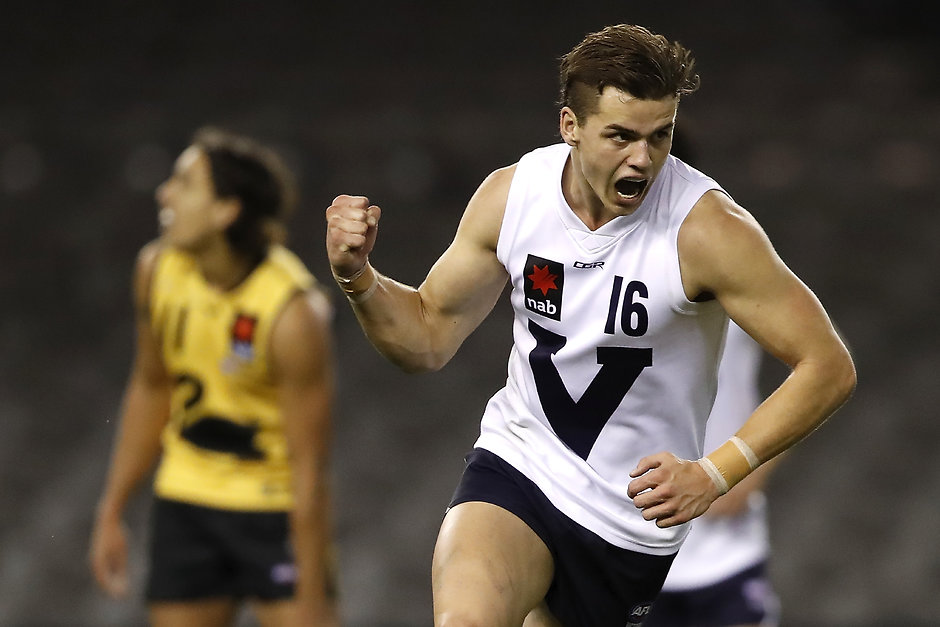 Pick 35: Mitch Georgiades looms as one of the most interesting players in the draft. The key forward didn't play a game this season due to a bad quad injury, but he has fully recovered and tested very well at the NAB AFL Draft Combine. It improved his draft stocks to the point he could even be gone by Collingwood's first pick, but the Pies may look to bring in some young tall forwards given there are few on their list. 
Around the mark: Brock Smith, Thomson Dow, Hugo Ralphsmith

Pick 31: Essendon needs key forwards and strong midfielders. That should be the target areas at this year's draft. Charlie Comben is an exciting tall talent. At 199cm Comben can pinch-hit in the ruck but plays mainly as a forward, where his contested marking and sticky hands makes him a threat in the air. Will be picked on potential more than production but has ability. 
Around the mark: Harrison Jones, Thomson Dow, Jeremy Sharp

Pick 7: Deven Robertson couldn't have done much more this season. The captain of Western Australia led his state to the under-18 title, was named the Larke Medalist as the best player of the carnival and as the skipper of the All Australian side. Robertson is a courageous and brave inside ball-getter who never shirks a contest and enjoys the rough and tumble. A very good distributor by hand and had a standout season before shoulder surgery and would offer the Dockers a local product.
Around the mark: Lachie Ash, Sam Flanders, Luke Jackson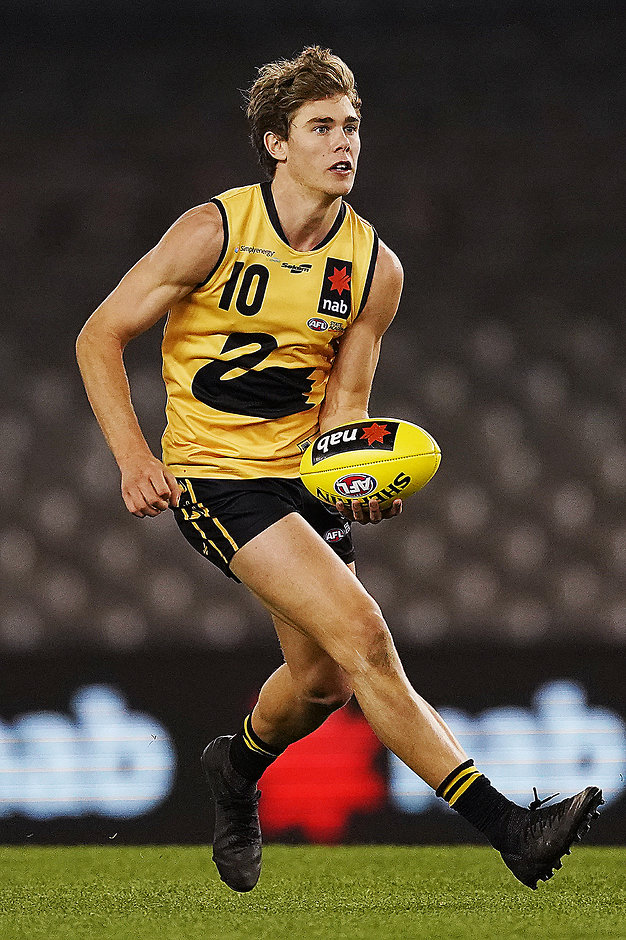 Pick 14: A shoulder reconstruction saw Josh Worrell miss the second half of the season but he had shown before then his ability to be a 'chop-off' defender. Worrell uses his height (195cm) and game-reading ability to be a regular marker in the back half, while he has also performed as a forward target as well, including at the championships. The Cats don't have plenty of young key defenders so Worrell could be a nice fit.
Around the mark: Deven Robertson, Fischer McAsey, Brodie Kemp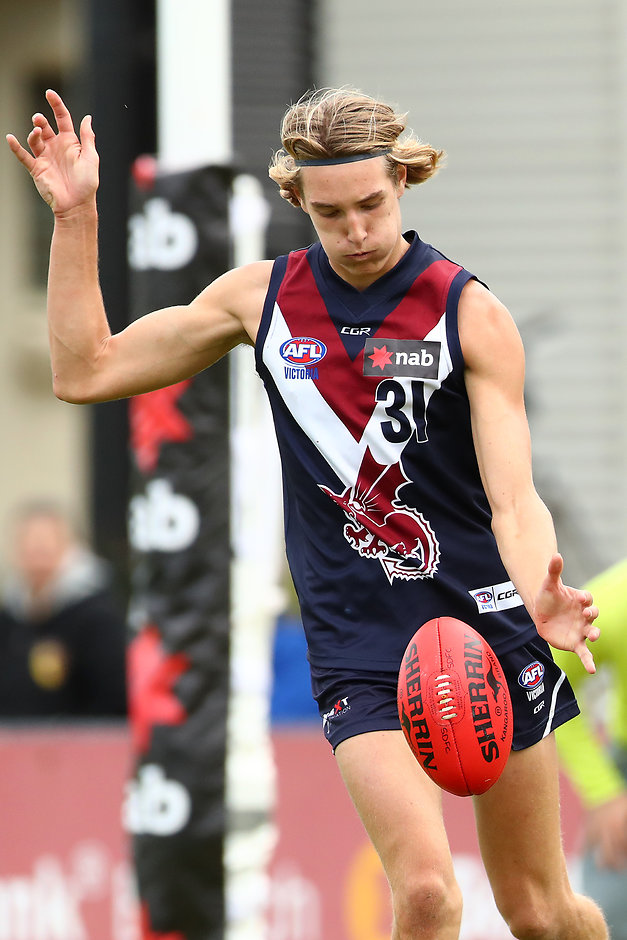 Pick 1: It's Matt Rowell for the Suns at No.1. The midfielder is the perfect fit for Gold Coast and can add to a group of young and talented ball-getters at the club. Rowell didn't play a bad game this season, was ultra-consistent, is tough, a big-game player and has been ready to play at AFL level for 12 months. Rowell starred at all levels and finished with a best-on-ground showing in the NAB League Grand Final. He's the Suns' man.
Around the mark: Noah Anderson

Pick 6: This will depend on whether the Giants are able to move up the draft board or not over the next month. But if not, their first pick looks set to be used on Academy prospect Tom Green. He will be well worth it. The midfielder is a game-changer with his contested ball-winning, clearance work and genuine height and size. Has improved his athleticism and will be knocking on the door of senior selection early.
Around the mark: Luke Jackson, Lachie Ash, Hayden Young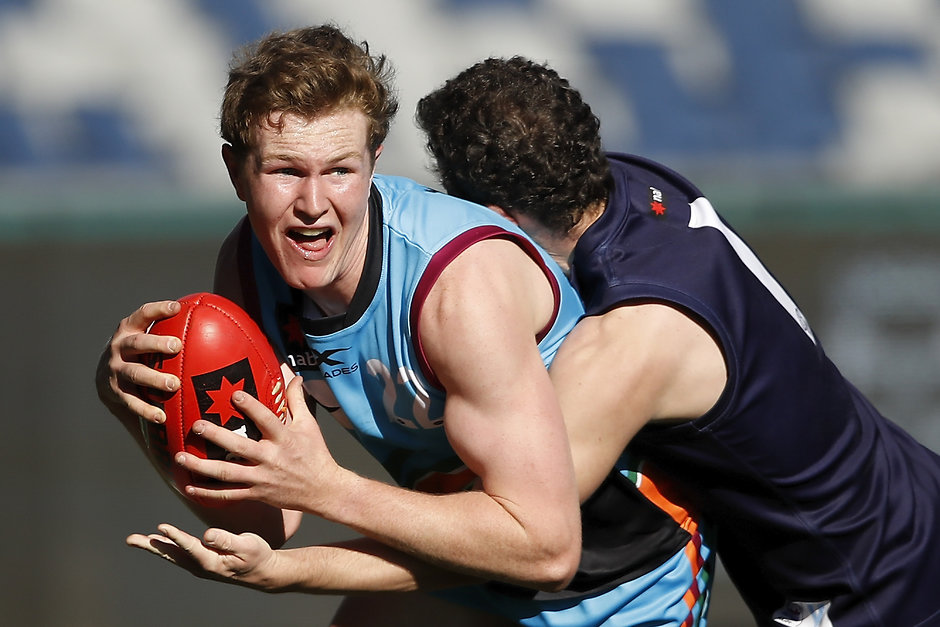 Pick 11: It is most likely a bid for father-son pick Finn Maginness comes after the Hawks' first pick. After addressing their need for talls during the Telstra AFL Trade Period, the Hawks could add another midfielder with their to their ranks alongside Maginness. Dylan Stephens' (pictured) hard-running, elite endurance and speed mix, plus his penetrating left-foot kick could appeal to the Hawks.
Around the mark: Brodie Kemp, Fischer McAsey, Josh Worrell

Pick 3: The Dees will have a few in mind at this spot, which has been referred to as the first 'live' pick in the draft with Gold Coast widely expected to nab Matt Rowell and Noah Anderson with the top two picks. Hayden Young is seen as a leading contender for the third choice overall after a brilliant season across half-back. He could loom as a potential replacement for Michael Hibberd.
Who's in the mix? Caleb Serong, Luke Jackson, Deven Robertson

Pick 26: After their deal with Melbourne, North's recruiters won't get their hands on a player until midway through the second round. Trent Bianco would be worth considering at that stage. The captain of the Oakleigh Chargers' premiership side enjoyed a consistent season through the midfield and across half-back, and his brilliant kicking and vision can set the game up.
Around the mark: Will Gould, Trent Rivers, Cooper Stephens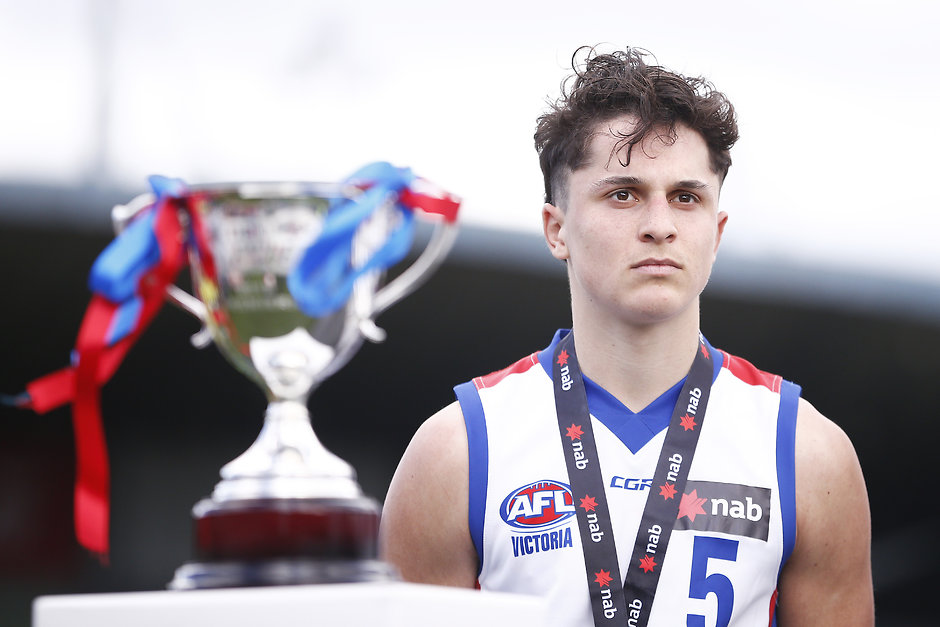 Pick 12: The Power could have access to the best key position player with their opening selection. Fischer McAsey shapes as the leading swingman in this pool, and clubs see him differently where he does things best – he can intercept in the back half and crunch packs in the front. Port Adelaide lost Dougal Howard during the Trade Period and long-term McAsey would be a big addition. 
Around the mark: Dylan Stephens, Brodie Kemp, Josh Worrell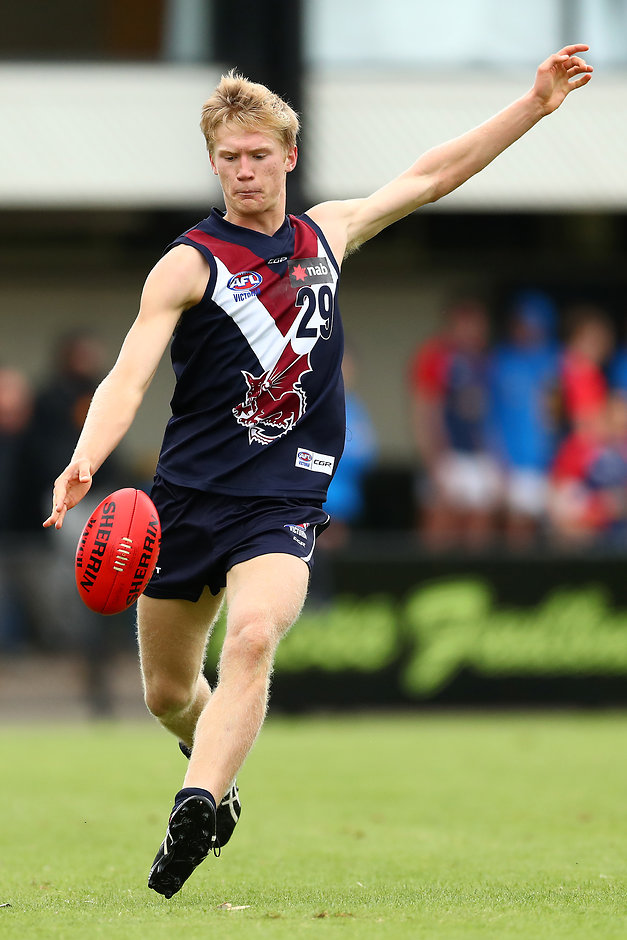 Pick 19: Two flags in three years means the Tigers aren't short in any areas. Again they'll wait and see what gets through to their spot at the end of the first round. South Australian half-back Will Day has plenty of admirers and clubs have liked his development this season. Day has plenty of growth to come physically, but he can set the play up off half-back, he can shut down opponents, and intercept in the air.
Around the mark: Miles Bergman, Trent Rivers, Sam De Koning

Pick 51: St Kilda clearly prioritised the trade and free agency periods ahead of this year's draft pool. At this stage, the Saints will have the longest wait of any club before taking their first pick. Cooper Sharman came onto the scene late at NAB League level but was invited to the national Draft Combine and has club interest. He's a tall forward who can also move up the ground, where his marking is a feature.
Around the mark: Sam Philp, Ned Cahill, Cameron Taheny

Pick 5: The Swans need midfielders, so it wouldn't shock at all if they placed a bid on GWS Academy gun Tom Green. But if they end up choosing from the open pool, the Swans could consider Caleb Serong with their first choice. Serong is a dogged, tough, combative and consistent midfielder who co-captained Vic Country this year. He's another who can drift forward, where he might start his career, and has drawn comparisons to Port Adelaide star Robbie Gray.
Around the mark: Sam Flanders, Deven Robertson, Brodie Kemp

Pick 46: The Eagles have most bases covered and after landing Tim Kelly, will need to wait until the third round before opening their draft account. But they could try to replace small forward Willie Rioli, who faces a long anti-doping ban, with their draft hand. Kysaiah Pickett, a strong and aggressive small forward who is the nephew of Port Adelaide premiership star Byron, is likely to find a home around this point of the draft. An exciting and eye-catching prospect, particularly with his marking.
Around the mark: Elijah Taylor, Jay Rantall, Dylan Williams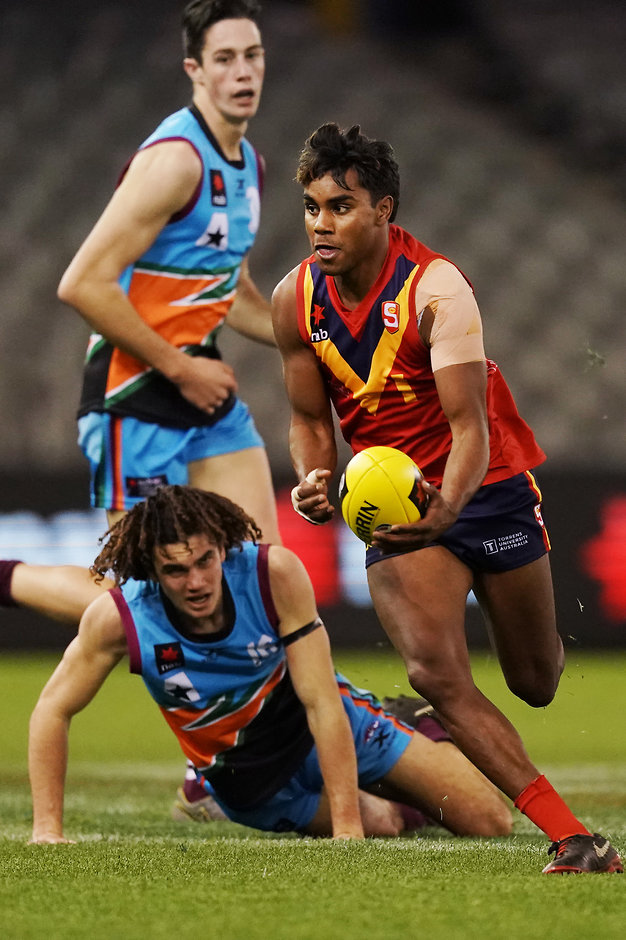 Pick 13: After adding key talls Alex Keath and Josh Bruce during the exchange period, the Dogs could look to the draft to address their need for a small forward. Cody Weightman looms as a consideration. The lively Vic Country goalkicker is good in the air and likes to fly for his marks, but is also clean and crafty at ground level and he has elite foot and finishing skills. Had a strong season at all levels.
Around the mark: Dylan Stephens, Brodie Kemp, Josh Worrell