THE AFL will investigate comments from delisted St Kilda forward Paddy McCartin after he said he deliberately did worse on pre-season concussion testing to allow him to continue playing in games.
McCartin was delisted by St Kilda on Monday despite having one year to run on his contract, giving him ample time to continue his recovery from eight concussions sustained across his five-year career.
SITTING OUT Concussion symptoms force McCartin to put career on hold
Speaking on SEN on Tuesday morning, McCartin said he had intentionally submitted a lower baseline reading during pre-season testing.
"The AFL's done a good job in improving testing … but some of the stuff we do earlier in the season, baseline testing, these computer things and stuff like that, you can bludge your way through if you want to," McCartin said.
"It's your baseline, right, it's what you are at the start of the season, when you're fine.
"And I've done this before as well, because I've had so many concussions, and especially early in my career, [I was] sort of worried about missing games, because I was worried about what people will think and all that sort of crap.
"I've done the testing worse on purpose, so that if I did my baseline again, I'm starting from a worse spot than I would before … I didn't try as hard."
RETIREMENTS, DELISTINGS AND TRADES Your club's list changes
The No.1 pick from the 2014 NAB AFL Draft will sit out the entire 2020 season, but the Saints have indicated they would be open to recruiting him once again should his situation improve.
"I was pretty certain if these tests didn't go well, that was going to be it, I wasn't going to be able to play again," McCartin said.
In the dark and without me being able to control it, my eyes spasm and cross over and it's because a part of my brain that's not working with my eyes, which is a bit scary - Paddy McCartin
"I went in there (the Alfred Hospital) and did these tests and spoke to these specialists and they came to the conclusion that I've got a few things going on in my head and it would be 8-10 months before all this fixes up.
"Hopefully all that can clear up and potentially (I) get back to play.
"Firstly, that I can get back to a quality of life that I had before is the best part. Then, potentially on top of that, I can get back and play footy is awesome."
The 23-year-old's last concussion came in his last competitive match, a pre-season fixture in Ballarat in March.
He then sought expert advice from concussion specialists in Chicago in June.
Paddy McCartin on the bench in a pre-season game in Ballarat. Picture AFL Photos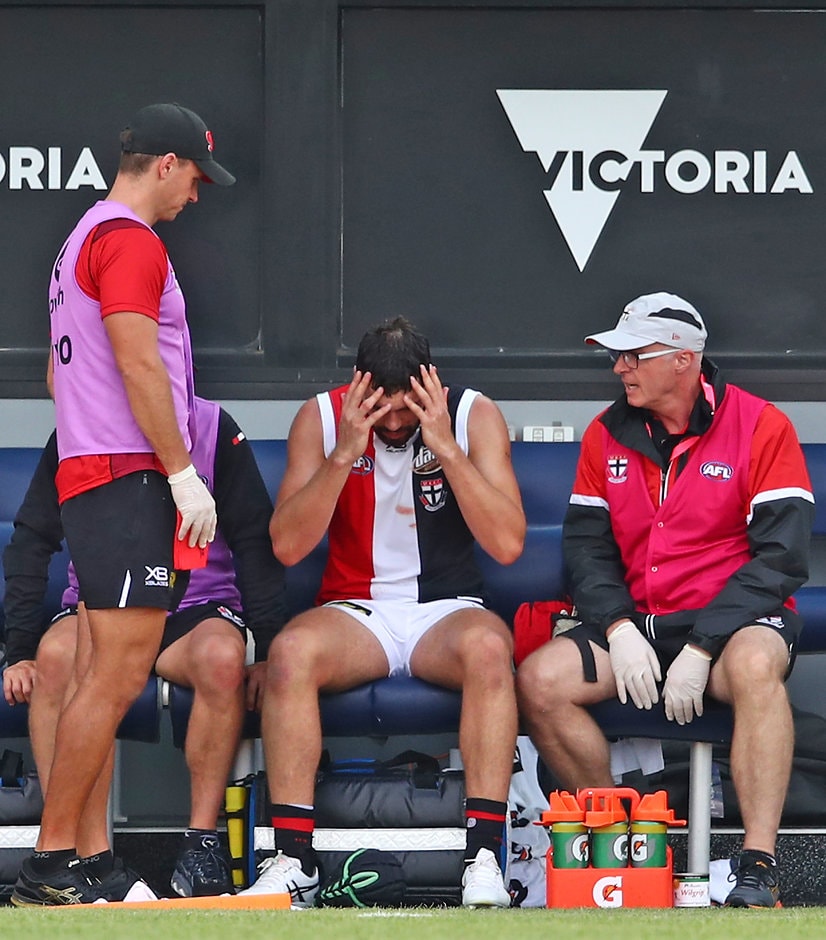 "They found I've got something going on with my eyes and my brain. I've got a convergence spasm," he said.
"In the dark and without me being able to control it, my eyes spasm and cross over and it's because a part of my brain that's not working with my eyes, which is a bit scary, but something can correct itself.
"They were pretty certain it was an accumulative thing."
INDICATIVE DRAFT ORDER Your club's latest picks
McCartin will be forced to go slow in the next phase of his rehabilitation, going against his natural tendencies of pushing boundaries.
"I've been doing a lot of work with a guy in South Yarra, that's been 3-4 times a week for an hour a day for two or three months," he said.
"(Spearately) Owen White (neurologist), his opinion was that I've got neural pathways in my brain which have changed and the way he compared it was to people who've had car accidents.
"That can be corrected and changed and you have to fix it to the way they were normally."
McCartin has played 35 games in his AFL career
Find Road to the Draft on Apple Podcasts, Google Podcasts and Spotify.