GROWING up with a dad that plays in the AFL has its perks.
But for Jaxon Prior, most of them came on the golf course and not on the footy field.
Prior's father, Michael, enjoyed a successful 90-game playing career across 10 years with both Essendon and West Coast throughout the 1990s and the early 2000s.
Jaxon Prior completes the agility test at the NAB AFL Draft Combine.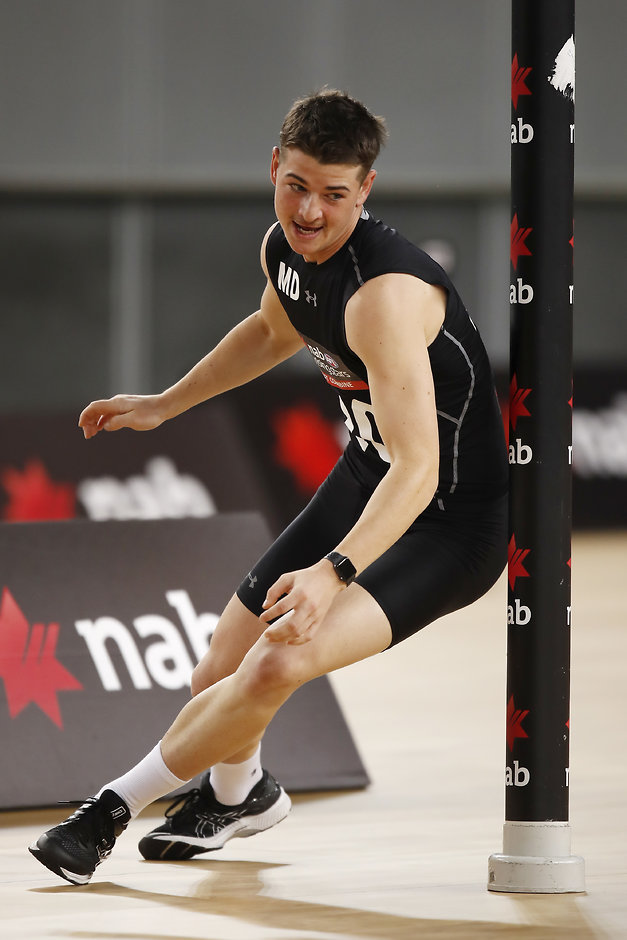 But in between training sessions and game days, Prior recalls his father taking him to the links and not the local footy oval. It's there where Michael used to pull out every trick in the book to help his young son learn the game of golf – without cost, of course.
"Being a footy player, most either surf, play golf or fish … Dad went down the golfing path and got me into it from a young age," Prior told AFL.com.au.
"I used to put my little clubs on the back of the buggy and he used to start me on the second hole so he wouldn't have pay for me. Playing with him has always been a great escape."
>> The 2019 NAB AFL Draft runs from November 27-28. Follow all the latest news in the draft hub
While Prior has hit his best two scores in his last two outings on the course, both four-over par, it's footy where his heart lies. Much like it did with his father.
However, unfortunately for Essendon and West Coast supporters, Michael played just 81 games for the Bombers and only nine for the Eagles. It means the talented Prior will not be eligible to join either as a father-son prospect ahead of this year's NAB AFL Draft.
Find Road to the Draft on Apple Podcasts, Google Podcasts and Spotify.
The 188cm intercept defender is subsequently available in the open draft, where he does have his suitors following an impressive final year of junior footy that included a promising couple of games at senior level in the WAFL.
Having averaged 27.4 disposals and six marks per game in the Colts with West Perth, Prior's senior WAFL debut in August yielded 21 disposals and six strong marks across half-back against East Fremantle.
PHANTOM FORM GUIDE Cal Twomey's October update
"It was a step up, but the senior boys and the leaders found out first and I got heaps of phone calls and texts from them about it," Prior said.
"They made me feel a part of the team before I'd even played, so going into the game I was just trying to take it as another Colts game. I think I did that."
Prior's ability to read the play and his willingness to drift into packs to take big marks was evident in the seniors, as was his clean and composed ball use out of the backline.
While he doesn't necessarily believe those traits were handed down to him by his father, he does credit his dad for a few important words of wisdom delivered throughout his footy journey.
Having retired from AFL football when Prior was just two years old, Michael quickly established himself as an impressive young coach. He took East Perth to the WAFL Colts flag in 2006, before joining Fremantle as an assistant coach in 2008.
It's with the Dockers where Michael has remained for the past 12 years, working under Mark Harvey, Ross Lyon and now Justin Longmuir.
Former Dockers coach Ross Lyon (left) with Michael Prior.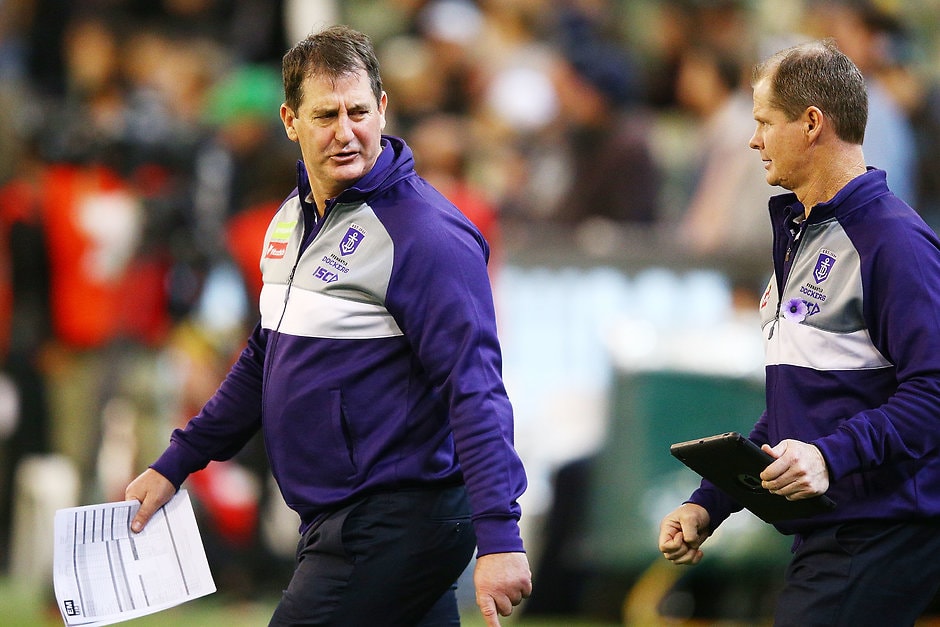 He started as a skills coach, moved into a development role, worked in opposition analysis and looked after the midfield. However, he's spent the past seven seasons in charge of the backline.
Throughout that entire period, he's handed Prior a few important messages to ensure he's ready for the rigours of the next level.
"I can always remember him saying 'sacrifice over indulgence'," Prior said.
"That's with food, nutrition, drinking … all of that sort of stuff. He's drilled that into me from a young age and I've found it really good.
"He's quite good with the coaching I get on the field. He lets that go, he trusts the coaches at West Perth and with the state program and what they're going to do with me. He stays out of it, but he does give me a few tips here and there."
Jaxon Prior has picked up a few handy tips from his dad.
The chances of Prior now landing at Fremantle in this month's draft and subsequently working underneath his dad are growing.
While the Dockers have a strong early hand thanks to their work in the Telstra AFL Trade Period, they also hold a lot of selections later in the draft where Prior is expected to fall.
As things stand, the club has picks No.7, 10, 22, 58, 69, 79 and 83. While a number of those later selections could disappear in order to match a bid on highly rated Next Generation Academy prospect Liam Henry, they could retain enough to consider selecting Prior.
INDICATIVE DRAFT ORDER Your club's latest picks
"It would be quite interesting," Prior said.
"He's coached me in juniors and stuff before and he's never treated me like a son, he's just treated me like another player.
"He respects that it's such an elite environment and that I'd just be another player to him."