NEW ADELAIDE coach Matthew Nicks has flagged a positional switch for 265-game veteran Bryce Gibbs to help reignite the 30-year-old's career.
Gibbs joined a handful of senior players, along with the club's first-to-fourth-year contingent, for their first pre-season training session at Football Park on Thursday.
It's an important summer for Gibbs, who couldn't hold down a regular spot in the side this year after being criticised for his defensive work.
Bryce Gibbs leaves the field after a loss to Geelong.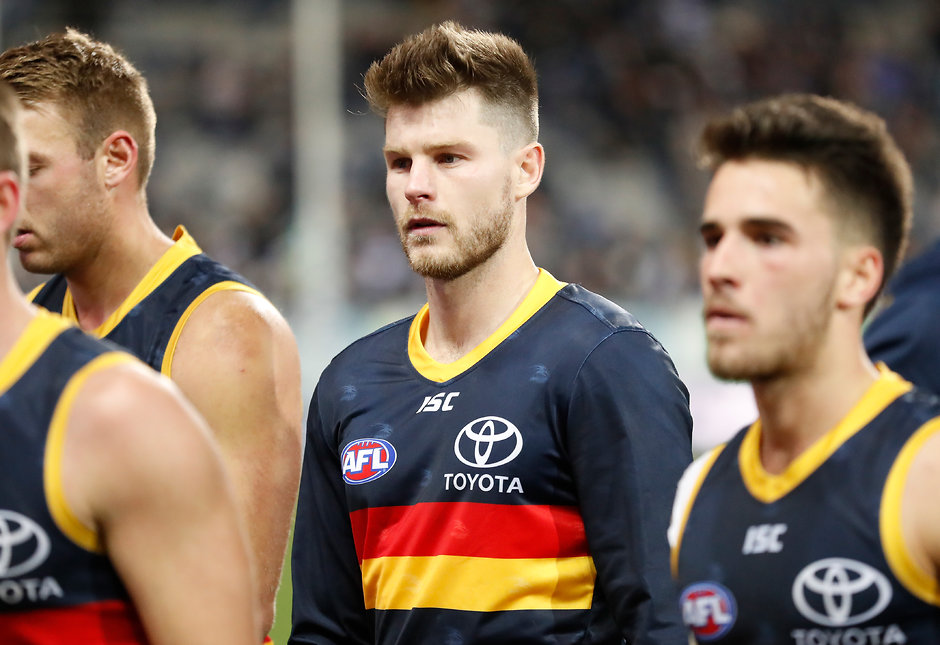 But after playing most of his career as a midfielder, Nicks believes Gibbs could play a valuable role across half-back.
WE RANK YOUR FIXTURE Pros, cons, circle it, who got a raw deal?
"We've had that conversation about … what can we do to allow you to play that style of footy you need to play," Nicks said.
"Whether that was in and around the footy as much as we could get him in there, but he also knows that a half-back position is somewhere that may suit him where he's actually at with his game at the moment.
"He's a super player.
"It's a matter of us helping him in that space and where he can play his best footy.
"I have no doubt he will have a strong season for us."
It was a new-look Crows squad that took to the track for the 90-minute session, having farewelled experienced players Eddie Betts, Josh Jenkins, Hugh Greenwood, Alex Keath, Cam Ellis-Yolmen, Richard Douglas and Andy Otten, while also parting ways with coach Don Pyke, senior assistant Scott Camporeale and head of football Brett Burton.
Nicks confirmed his assistant coaching panel would keep the same roles they filled this year, with Michael Godden looking after the midfield, Martin Mattner in charge of defence, Ben Hart to coach the forwards and Matthew Clarke to remain the ruck coach.
RETIREMENTS, DELISTINGS AND TRADES Your club's list changes
"We've got an outstanding assistants group that have already taken everything on board," Nicks said.
"Michael Godden has stepped up into that midfield role and really driven our training standards to this point as far as what are we going to set for the group.
"With Clarke, Hart and Mattner, the coaches I am working with, it is an outstanding young group."
New Adelaide coach Matthew Nicks after his appointment.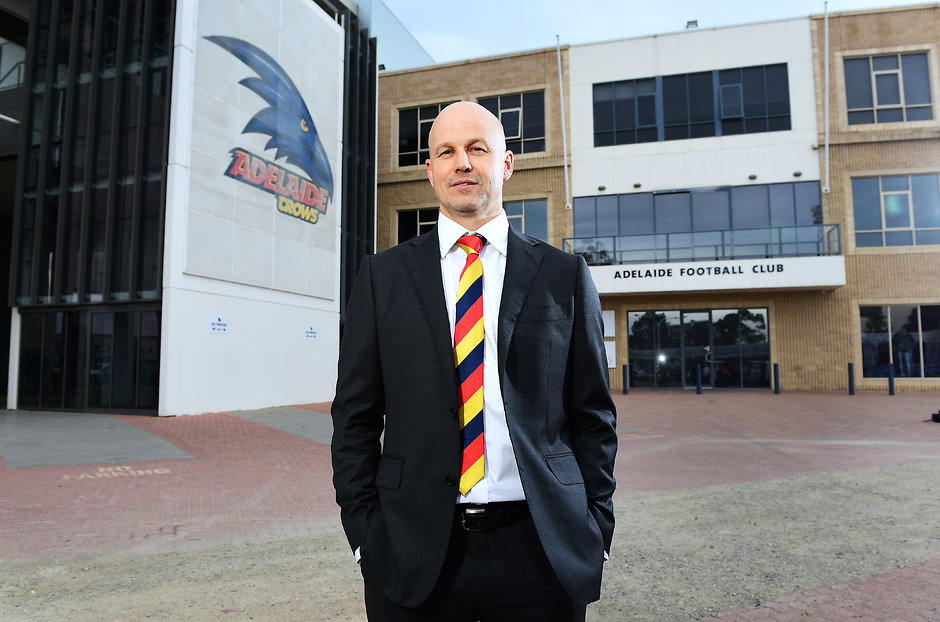 Nicks said they were getting close to appointing a new head of football, but wouldn't rush the decision.
He also didn't completely shoot down former captain Taylor Walker's left-field suggestion of becoming a winger in 2020.
Day one done! Here's some of the best moments from our first day back on the track #weflyasone pic.twitter.com/oOC0tHtC0a

— Adelaide Crows (@Adelaide_FC) November 14, 2019
"If he wants to play on the wing and he can prove to the group that he can play a role for the team that gets that wing role done, then he can play on the wing," Nicks said.
"There's certain things you have to do to play on a wing.
"You need to have speed, you need to have endurance.
"We've got a lot of good players that have those attributes.
"Don't be surprised if he pops out there every now and then if he can get it done."
Defender Tom Doedee is on track to return from a torn ACL in round one next year after re-joining the main group.
Crows defender Tom Doedee will not return after injuring his knee against the Hawks.

Adelaide suspect it is an ACL injury, with scans to come in the following days. #AFLCrowsHawks pic.twitter.com/NdMG46XgOL

— AFL (@AFL) March 23, 2019
Doedee completed field kicking drills before doing some light side-to-side movements while his teammates ran repeat efforts along the boundary.
"Tommy was out there today, he's moving really well," Nicks said.
You guys seemed to enjoy that one, so here's a lil' video we put together from Doedee's first day back. Enjoy! #weflyasone pic.twitter.com/xL1tXAHHMT

— Adelaide Crows (@Adelaide_FC) November 14, 2019
Second-year midfielder Chayce Jones impressed in the leading running group and looked to have added a few kilograms in the off-season.
The rest of the Crows squad returns on Monday.
Find Road to the Draft on Apple Podcasts, Google Podcasts and Spotify.