AS OF December, Lazy Moe's restaurant in Oakleigh will need to readjust its waiter rosters. The eatery is about to lose one of its staff.
Trent Bianco, whose dad Frankie runs the family business, has been serving tables, taking orders, clearing plates – "… and all that sort of stuff," he said – throughout this year.
>> The 2019 NAB AFL Draft runs from November 27-28. Follow all the latest news in the draft hub
He finished school at Marcellin College last year, meaning he had time this season to focus on his football, plus put in plenty of shifts. It has worked out well – Bianco could be a top-20 pick in just over two weeks when the NAB AFL Draft is held at Marvel Stadium. Plus, the boss is happy.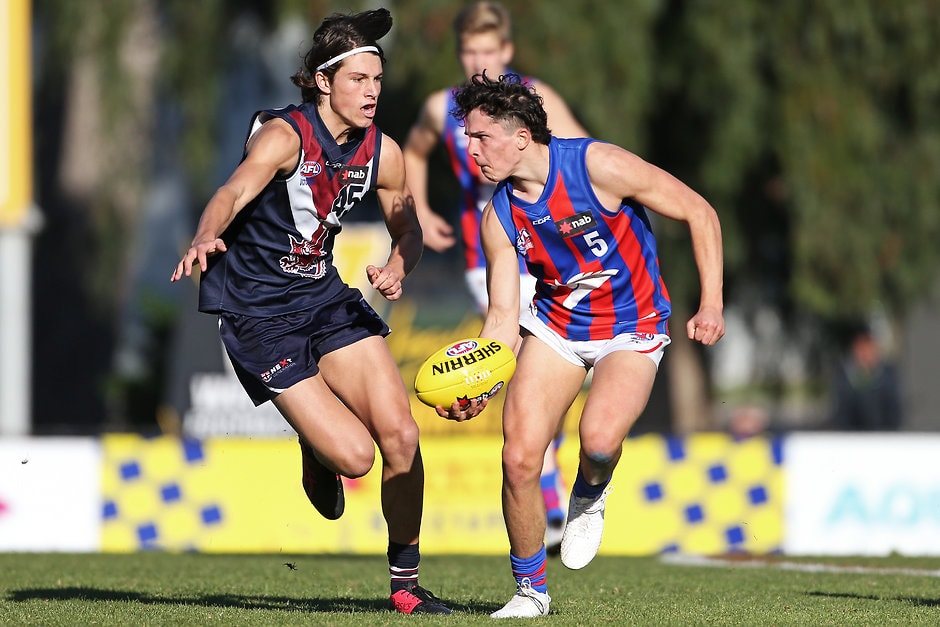 "I usually start at work at about 10.30 in the morning. Or maybe 11, Dad's pretty generous," Bianco told AFL.com.au.
"I've been pretty steady with the plates. That's the one thing that goes through my head: just don't drop the plates. Nothing too horrendous has happened, though.
"I've had a few people in there follow my footy this year and regulars who have watched me for a few years now, which is pretty cool in a way."
Bianco has European blood – his dad is Italian and his Mum's Croatian – but he has always harboured ambitions to play the Australian game, since he fell in love with Collingwood at a young age. He trained there earlier this year, just part of a season jam-packed with highlights for the 18-year-old.
The midfielder, considered one of the best kicks and decision-makers in this year's pool, used his gap year to hone his football. He would leave work at 3pm, head a couple of minutes away to the Oakleigh Chargers' NAB League ground and prepare for training.
As captain of the Chargers, Bianco wanted to set an example, being one of the first to arrive, and have a thorough preparation routine. It tended to work out.
PHANTOM FORM GUIDE Cal Twomey's October update
"It was definitely a good thing for me to have a year off school, without a doubt. It's got me in a really good head space where I didn't overthink footy too much and made for a really good balance for me," he said.
"I was pretty pleased with my year. Going into the season I didn't have too many expectations on myself, I was pretty open-minded and just tried to stay in the present and not think too far into the future.
"I think I did that pretty well and put some consistent games on the board."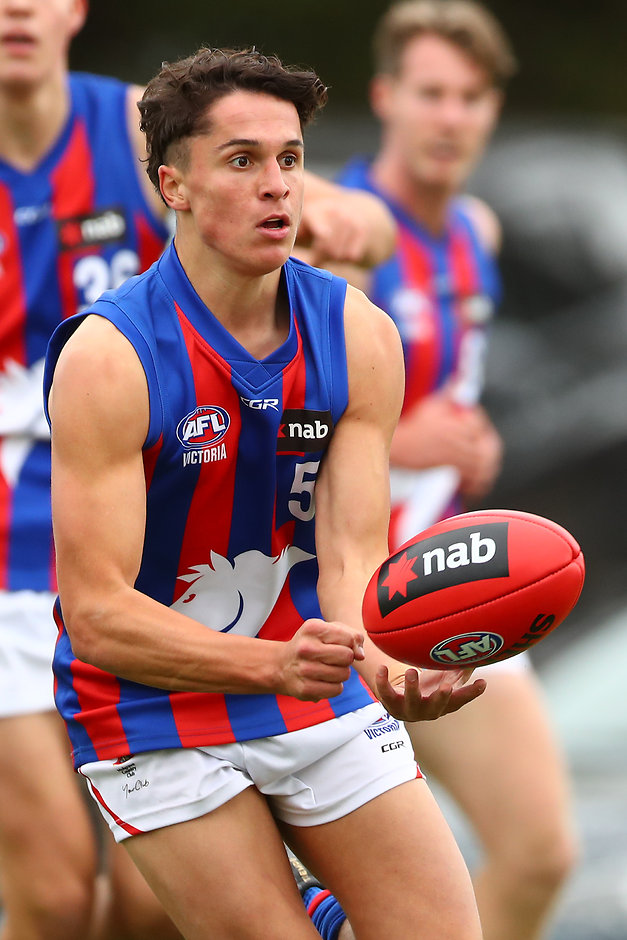 Bianco never really hit a flat patch throughout 2019. Early in the year he picked up 42 disposals for the Chargers, and then at the NAB AFL Under-18 Championships he was shifted to half-back for Vic Metro.
He averaged 18 disposals in four games and grew into the carnival, using his brilliant vision to set up the game from the back half. After the carnival he returned to lead the Chargers, finishing the season averaging 27 disposals and as the skipper of their premiership team.
"I like to get up and down the ground and use my running as a strength," he said.
"I was always a midfielder growing up. The last few years I've played down back, but I'd much rather be up around the ball. That's where I prefer to play for sure, it's where I think I can impact more and help the team."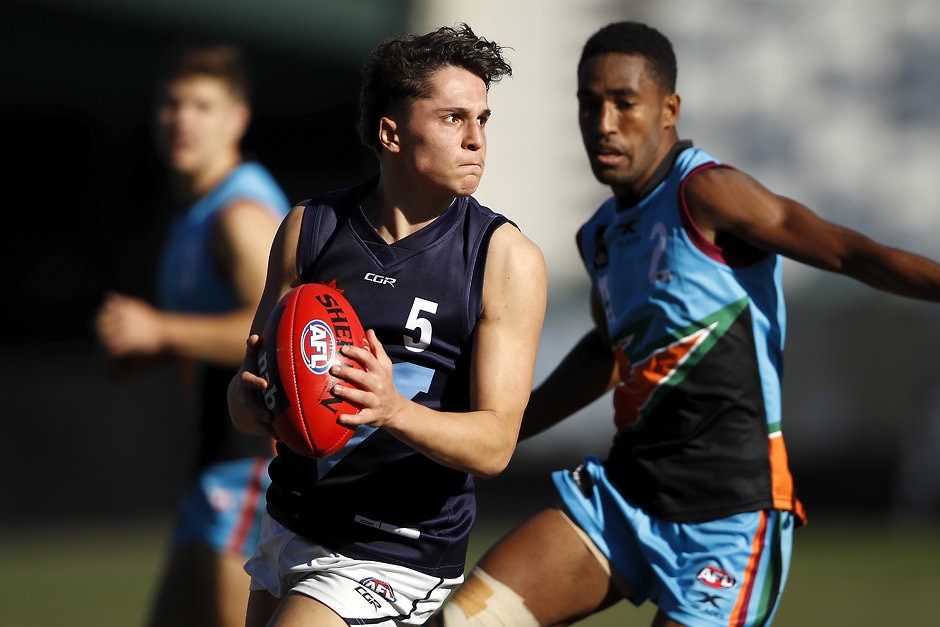 It's where Bianco shone in the Chargers' finals series – a relatively hard task in itself, given some of the company he kept throughout the year.
Playing in the same team – and midfield – as likely top-two picks Matt Rowell and Noah Anderson means it is easy to go a little unnoticed. Bianco made sure that didn't happen in the final month of his season though.
He started his campaign with 24 disposals and a goal in the qualifying final, before 27 touches and five inside 50s in the preliminary final.
Bianco gets a kick away during the NAB League qualifying final against Gippsland Power. Picture: AFL Photos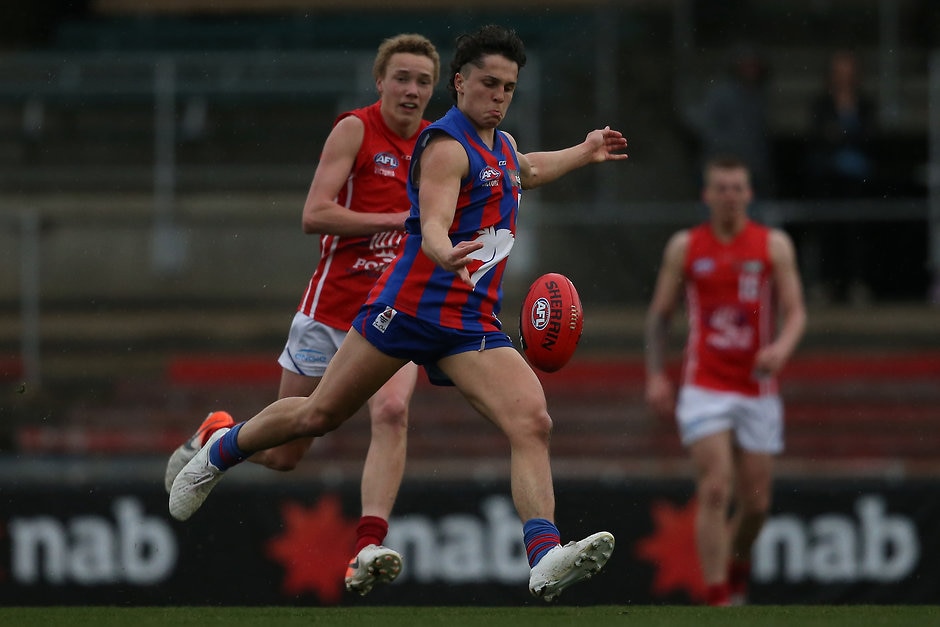 Then, in the Grand Final win over the Eastern Ranges, Bianco gathered 29 disposals and 10 marks to lead his side to a premiership win, a year after he played in Oakleigh's Grand Final loss to Dandenong.
"It's an honour to captain such a talented and good group. It was an unreal feeling when that siren went and everyone got together. It was such a relief in potentially our last game of junior footy. To hold up that cup was special," he said.
Bianco's ball use throughout the finals stood out, using both his preferred right foot and non-preferred left to spot targets, open up space, deliver to teammates and make things happen. The 178cm prospect only needs a look, or a flash in the corner of his eye, to make the right call with the ball in his hands.
INDICATIVE DRAFT ORDER Your club's latest picks
It's why the likes of Richmond, Gold Coast, Port Adelaide and Geelong have all been linked to Bianco in the first 20 picks on draft night. For now, Bianco will patiently wait. Lazy Moe's might have taught him that skill.
"There's not much more I can do now," he said. "It's been a very long road and I'm really looking forward to what's next."
Find Road to the Draft on Apple Podcasts, Google Podcasts and Spotify.