NORTH Melbourne goalkicker Nick Larkey is back training after undergoing surgery last week to combat the heart palpitations that impacted him several times during games this year.
As AFL.com.au reported in July, doctors diagnosed Larkey with SVT (Supraventricular tachycardia), a relatively common condition.
There's just like a tiny little hair hole in (my heart), so I think it's actually a pretty common procedure - Nick Larkey
Carlton ruckman Matthew Kreuzer and former Kangaroo Leigh Adams, who has returned to the club as a development coach, are other AFL footballers who suffered from the condition.
Nick Larkey is eyeing even more improvement in 2020. #JoinInTheChorus pic.twitter.com/qM5Swh8foK

— North Melbourne (@NMFCOfficial) November 14, 2019
Larkey had a cardiac ablation on Thursday last week, a minor procedure that scars, or destroys, tissue that triggers an abnormal heart rhythm.
"There's just like a tiny little hair hole in (my heart), so I think it's actually a pretty common procedure – they do about 150-odd a year, the surgeon was saying," Larkey told reporters on Friday.
"They go through your leg, which is amazing, then they come up, find the hole, burn over it and come out, so it was over in about an hour and I stayed in (hospital) overnight but I'm feeling good.
Larkey at training on Friday. Picture: AFL Photos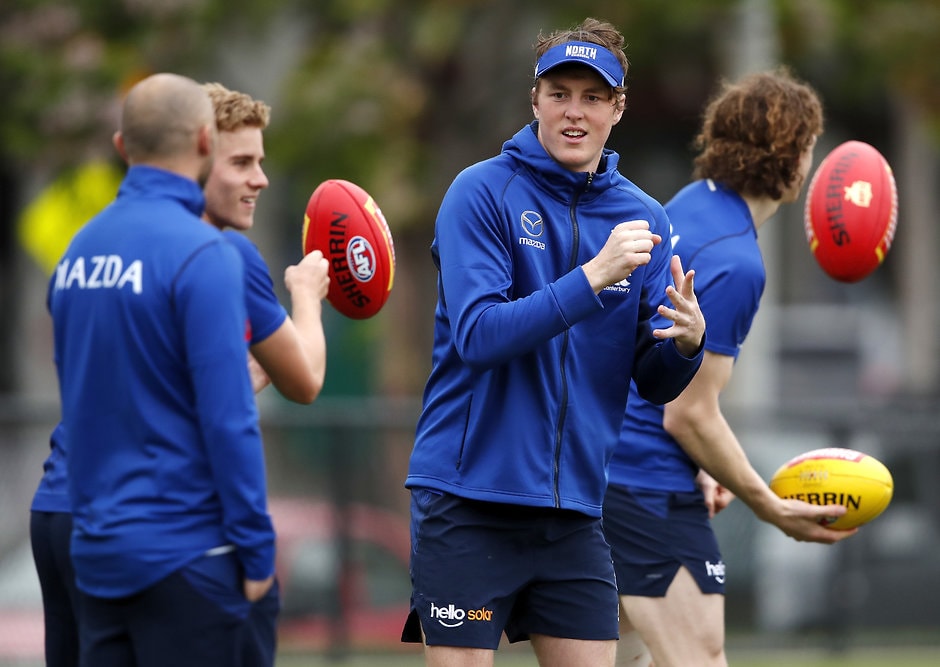 "My heart rate would go from real low sometimes to real quick, just like that, and you'd have to come off, lie down and then it'd go back to normal, so it was just good to hit it on the head.
"It wasn't life threatening or anything, it just made you feel a bit dizzy and it was all better when you lay flat on the ground but it's good to hit it on the head and now it's gone, hopefully."
Larkey left the field during North's narrow round 17 loss to Essendon in mid-July and also sat out the final term of the club's VFL game against the Bombers in April.
Nick Larkey in action against essendon in round 17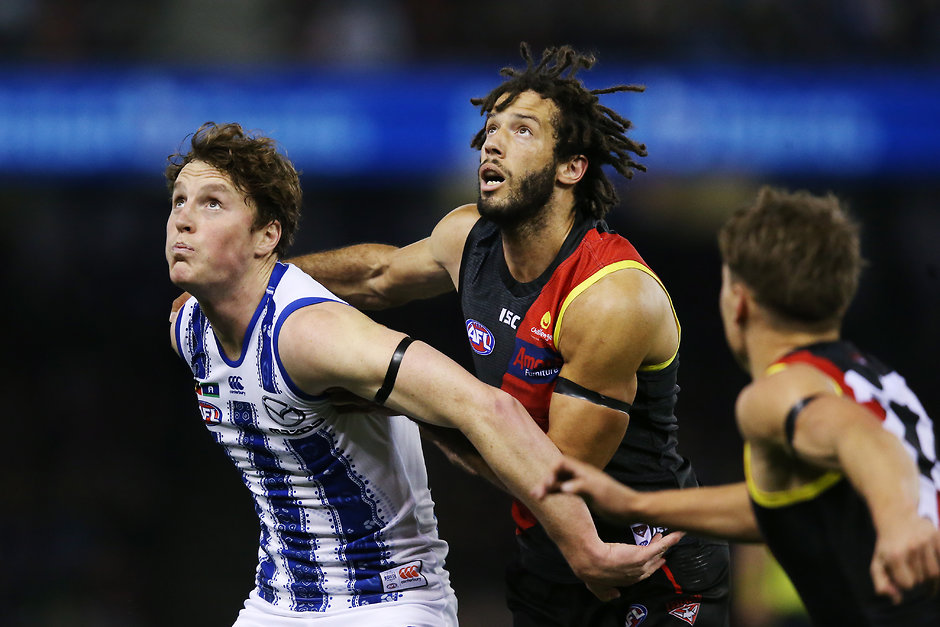 "I might ease back into training today, (but) I feel pretty good," he said.
"Hopefully I get a full session in today but I took it easy the last few days and I'm back into it – I shouldn't be too load managed.
"I sort of noticed it in my first year (in 2017) and the episodes were few and far between, so it wasn't something that happened all the time. It was pretty random, actually."
Find Road to the Draft on Apple Podcasts, Google Podcasts and Spotify.
It's been an eventful year for Larkey, who enjoyed a breakout season with 26 goals from 17 games and a NAB AFL Rising Star nomination.
The 21-year-old also scored a fresh two-year deal to remain at Arden Street until the end of 2021 as Ben Brown's main aerial support in attack.
"He's an absolute ripping fella, he's a nice guy, and he's just so keen to make everyone feel better," Larkey said of Brown.
"In our eyes here, he should be dual All Australian and probably dual Coleman but he's been very stiff, but … he's all for the team.
"In my opinion, he's the best goalkicker in the League and so to learn off someone like him is a privilege."
Larkey managed two five-goal games, against St Kilda and Port Adelaide, and kicked three majors on two other occasions, but also kicked one goal or none in 12 matches.
Improving his consistency and finding a way to be valuable when he's not kicking goals is among his goals for season 2020.
"As a key-position forward, my disposal numbers have never been really high," Larkey said.
"So finding ways I can impact the game (is a focus) or making sure that when I do have a chance to impact the game that I really take that.
"That will be a big thing for me this year, I think – hopefully taking a few more contested marks, just bigger things that impact the game, because I feel I'm more of an impact player at the moment.
"I'm definitely not an accumulator, so I think all the little things you do in pre-season and at training and times like now are going to help me in those games where I can impact a bit more."