IT'S RARE for five players in the top 30 of the NAB AFL Draft to come from the same NAB League team, let alone from the same junior club team.
That possibility is alive and kicking ahead of the 2019 draft, which will shine a light on the East Brighton Vampires.
TWOMEY'S LATE MAIL McAsey the wildcard in top 10
The Vampires are the lifeblood of this draft, with the South Metro Junior Football League club laying claim to prospective draftees Fischer McAsey, Josh Worrell, Finn Maginness, Hugo Ralphsmith and Miles Bergman.
All five appear in the top 30 in the Phantom Draft compiled by AFL.com.au's resident draft whisperer Callum Twomey.
This year they joined forces for both NAB League team Sandringham Dragons and Vic Metro.
Remarkably, they never won a junior premiership together with the Vampires.
Finn Maginness fires off a handball in a NAB League game for the Dragons. Picture: AFL Photos

They were teammates in an under-13s side that finished runner-up in 2014, and two years ago four of them (the exception being Bergman, who returned to Hampton Rovers where he spent the bulk of his junior days and also played seniors) lost another Grand Final at under-16 level.
Their under-16s coach, John Black, is naturally proud to have played a small part in their development and is excited about what the future holds for each of them.
"We were incredibly lucky to have such a terrific group and those boys were clear standouts," Black told AFL.com.au.
Vampires U16s (circled): Top row L-R: Fischer McAsey, Josh Worrell, Finn Maginness. Middle: Hugo Ralpsmith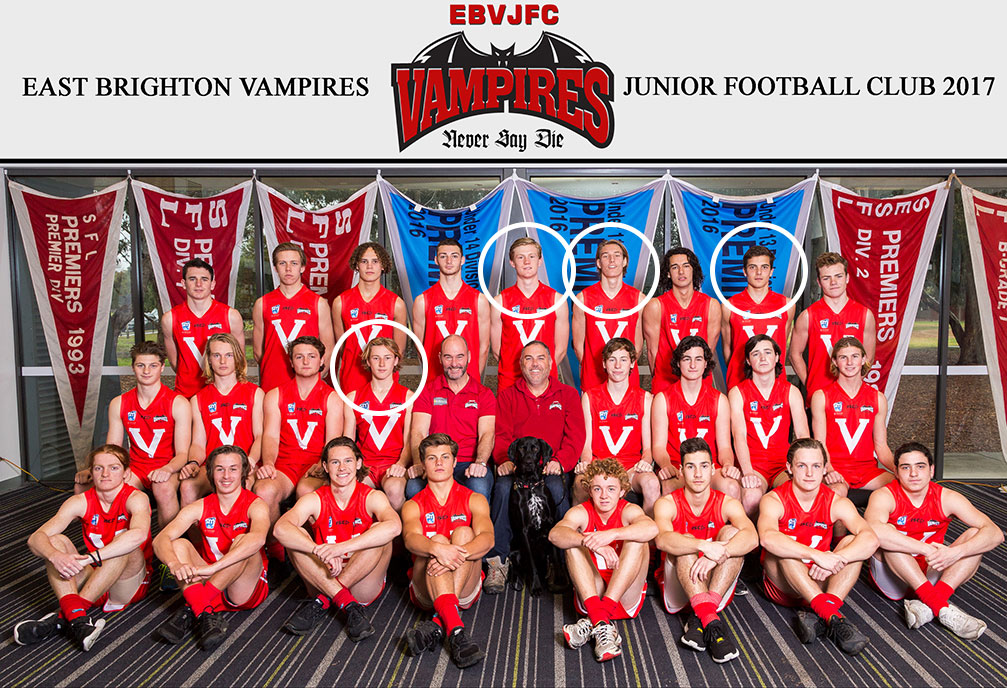 >> Follow the 2019 NAB AFL Draft on Fox Footy from 6.30pm AEDT on Wednesday, November 27 and Thursday, November 28. Not a Foxtel or Kayo subscriber? Cal Twomey, Nat Edwards, Riley Beveridge and Mitch Cleary bring you Draft Night Live on AFL.com.au and the AFL Live Official App, from 6.30pm AEDT on Wednesday, November 27.
"They showed they were prepared to do the work that's required – none of them ever shied away from that, and it has held them in good stead.
"And they all suffered various injuries and setbacks and they all worked through them because they were very good at taking care of themselves."
Miles Bergman in action for Vic Metro at this year's under-18 championships. Picture: AFL Photos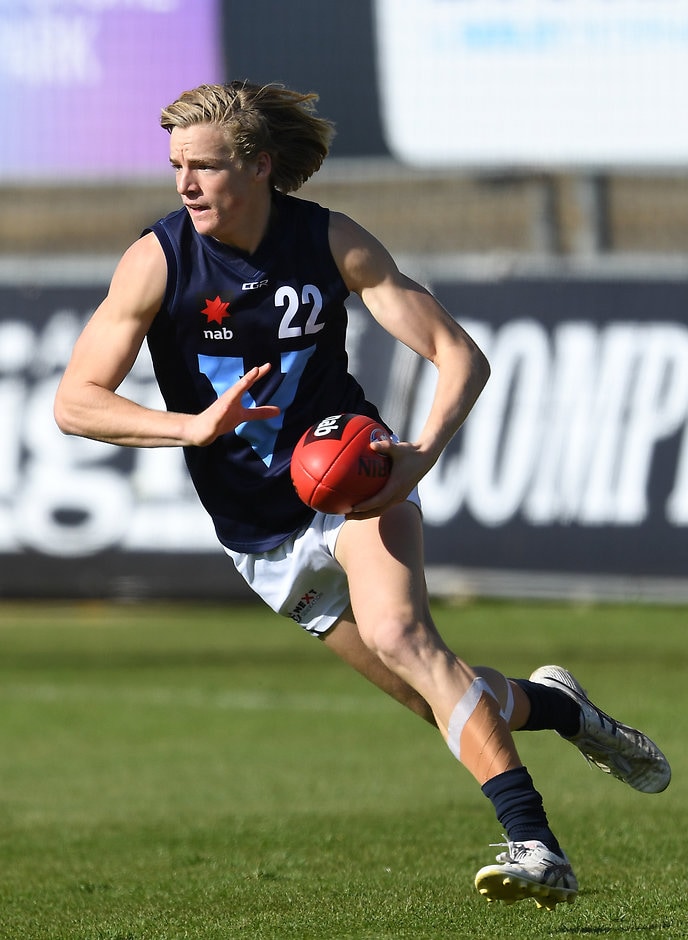 None of the quartet were official team leaders, simply because school football commitments took priority and they weren't always available to play for the Vampires. However, that didn't stop them from leading from the front.
>> The 2019 NAB AFL Draft runs from November 27-28. Follow all the latest news in the draft hub
The fathers of Maginness (Scott, who played for Hawthorn), Ralphsmith (Sean – Hawthorn) and McAsey (Chris – St Kilda) had each played League football and were actively involved in their sons' development, so for Black there was no shortage of good advice from the sidelines.
Hugo Ralphsmith during this year's NAB League preliminary final against Oakleigh. Picture: AFL Photos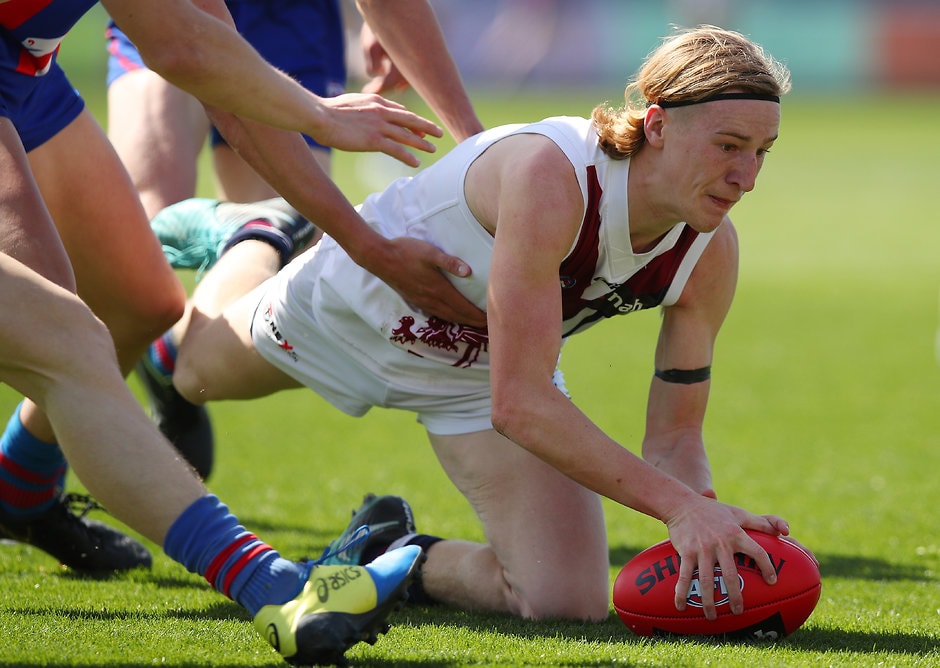 With such rich talent at their disposal, why didn't the 'Vamps' win the under-16s flag? What the heck happened?
Black recalled that eventual premier Beaumaris was a similarly talented team that boasted just as many players in the Dragons' program.
FINAL DRAFT ORDER Check out your club's picks
Though conceding he could have made a couple of moves that might have made the difference in a close game, Black said the Vampires were duty-bound to reward players who had helped them throughout the season, so they gave each of their 10 interchange players a run.
"If we'd just played with our best 22 we probably would've won," he said.
Josh Worrell is tipped to go inside the top 30 of the draft. Picture: AFL Photos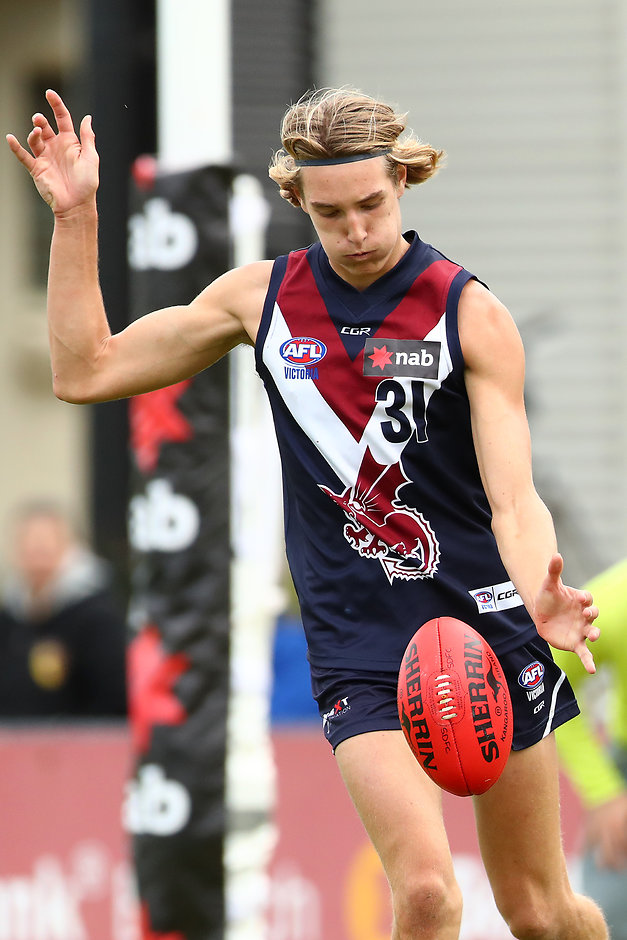 "We look back on that Grand Final as an opportunity missed. That experience might help drive the boys to better things in the future. We all want to win but sometimes it doesn't happen, and I'd say those guys took something out of it to take with them as they go onto bigger things.
100-PLUS PROFILES Get to know the top players ahead of the NAB AFL Draft
"It was a great honour for me to coach them. To all their credit they've pushed on and it's a fantastic testament to all the work they've done, and I'm really looking forward to watching their careers unfold."
Cal Twomey reckons Fischer McAsey could be snapped up by Adelaide at pick No.6. Picture: AFL Photos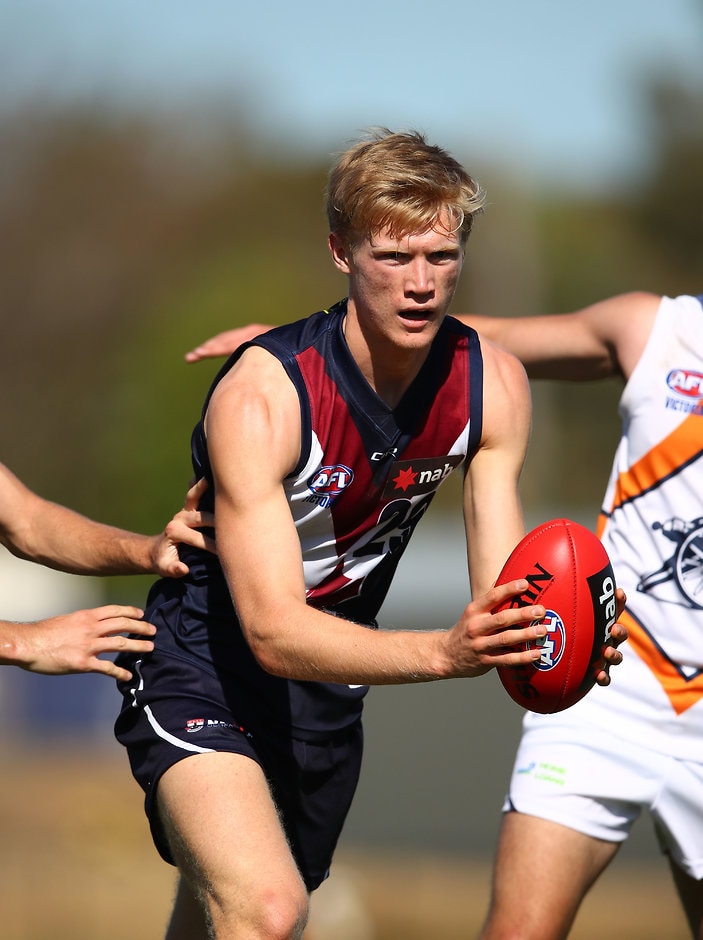 Black said it would be unfair to nominate the player he expected to achieve the most in the game, adding it was too difficult a task to make such predictions anyway.
However, he offered the following recollections of the awesome foursome he coached two years ago.
Finn Maginness – midfielder
"Finn was always probably the one who seemed most likely out of all of them because of the background with his dad, and he was very dedicated and hard at it – not to say that the other boys weren't. He was always very strong at the ball and always put in the work in terms of two-way running. He kicked three goals in the Grand Final and it wasn't for lack of effort from him that we lost the game."
Fischer McAsey – now a key defender
"Fischer played more forward for us than defence, and he was instrumental in helping us knock off Beaumaris in the second semi-final when he went into the ruck and got the game on our terms."
Josh Worrell – now a key defender
"Josh played a number of roles, mostly in the ruck and also down back and up forward, and that flexibility really helped us. His mobility, marking and kicking were also really impressive. He also had a terrific Grand Final. In the last few minutes he was disallowed a mark that should have been his and it would've given us a chance to win."
Hugo Ralphsmith – midfielder
"Hugo missed about six weeks after he did his collarbone after an unnecessary tackle. He was pretty disappointed but he recovered beautifully and managed to come back and play in the finals. Hugo was a terrific half-forward/wingman who played a number of great games for us in a number of roles. He has tremendous marking skills, especially for his size at the time, and always had great pace."