FORMER player and coach Neale Daniher is beating the odds in his fight against motor neurone disease.
While there remains no cure for the crippling condition, which will eventually claim his life, Daniher has revealed his disease is progressing slower than it does in many cases.
"Once you're diagnosed, you're dead," he told Seven's Sunday Night program.
"I've now had the diagnosis for three years ... most people pass away within three years.
"Ninety per cent pass away in five. So I'm quite fortunate that my progression is quite slow."
Neale Daniher leads the Freeze MND walk before 2015's fundraising match at the MCG. Picture: AFL Media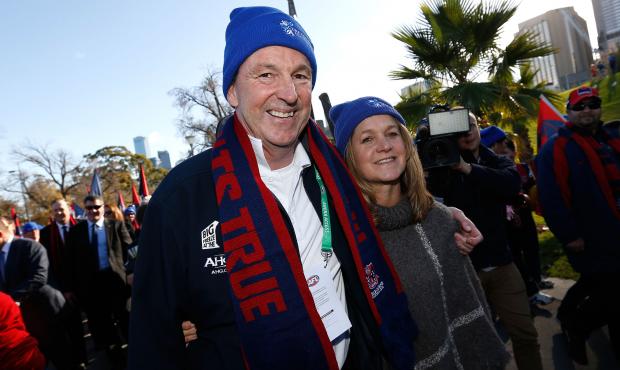 Daniher played 82 games for Essendon and then coached Melbourne in 223 matches.
In August, 2014 it was first revealed he had been diagnosed with MND, but he can still walk and talk, and since that time he has been working to raise funds for much-needed research.
Sunday Night also detailed the fight of two other people with MND, including former tennis star Angie Cunningham and, incredibly, a nurse who has helped care for her for several years.
Cath Baker received her diagnosis only recently and Daniher said it showed how the disease could strike anyone.
"The disease is indiscriminate. It seems to pick people out at random," he said.
"She would be going through a tough time. It takes a while for you to absorb that this is what you've got and this is what it will do to you."
Daniher said things would still be "quite raw" for both her and her family and yet "tomorrow there will be two or three others who will get the diagnosis".
Angie Cunningham and her husband Pat have joined with Daniher in his fund-raising efforts, forming the group, Cure for MND.
Their efforts include the Big Freeze event at the MCG on June 13 when celebrities will slide into a pool of ice during the half-time break of the Melbourne-Collingwood game in return for donations.
• Revisit 2015's Big Freeze at the 'G: Stars take the plunge to raise huge sum