BRISBANE Lions skipper Tom Rockliff says recent queries about his captaincy have been difficult to accept but he still hopes he can keep his role as team leader.

Rockliff, 26, has been captain at the Lions since the start of 2015 in a turbulent time at the club. Under his tenure, there has been a player exodus, the team has won just seven times and had consecutive finishes in 17th place.

Rockliff has also had to put up with public debate about his negative influence on his peers and recently he was forced to apologise for posting an offensive and degrading comment about a woman on Twitter.

"It is definitely challenging when people question you," he said.

"The way the world is at the moment, you can print something or say something and it's taken as factual. As a player, you have to suck it up."

While Rockliff wants to remain skipper, he said he was prepared for someone else to take over the role. He nominated Dayne Zorko, Dayne Beams and Daniel Rich as alternative options.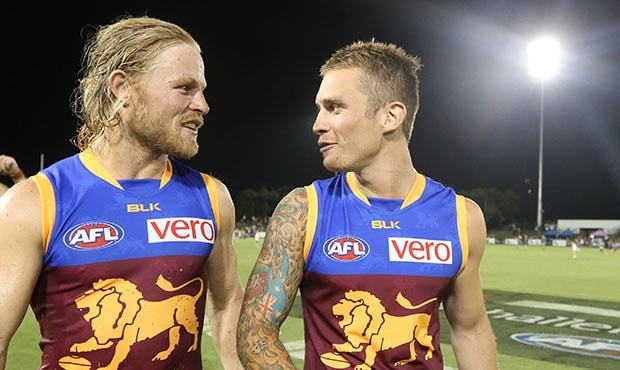 "(Fagan) outlined clearly to me that there will be a process that we go through to select the leaders for 2017. If I remain captain, then I remain captain and, if not, I'll fully support who it is," he said.

"That's not why I play football. You play for team success."

Rockliff comes out of contract at the end of 2017 and will be a restricted free agent.

However, at the end of this season, the club and Rockliff were open to a trade but no deal could be found.

Rockliff denied speaking to any other clubs about a possible move but when asked if his management held discussions with other teams, Rockliff was tight-lipped on SEN on Friday morning.

"I couldn't answer that," Rockliff said.

After meeting with new coach Chris Fagan and recently appointed football manager David Noble, both parties agreed Rockliff would remain a Lion.

"Once we had that meeting, [the plan] was just to go away and have some thinking time and work out what was best for me and what was best for the football club. In the end, we both came to the decision that it was best if I stayed," he said.

It has been another trying year for the Lions with most of it focused on the performance of coach Justin Leppitsch - who was sacked at the end of the season. Leppitsch is now at Richmond and Rockliff remained supportive of the Tigers' new assistant coach.

"'Leppa' didn't have a great deal of support and did a really good job in difficult circumstances. We obviously lost a lot of experience over the time that he was here," Rockliff said.